Mineral Sunscreen Market By Skin Type (Dry, Oily), Sun Protection Factor (Up to 29 SPF, 30 SPF – 49 SPF), Consumer Orientation (Male, Female, Unisex), Nature (Natural, Organic), Price Range (Economic/Mid-range, Premium), Age (Adult, Children), Sales Channel (Direct, Indirect) & Region - Forecast to 2020-2030
Global Mineral Sunscreen Market - Analysis, Outlook, Growth, Trends, Forecasts
July 2020

REP-GB-12226

200 pages
Global Mineral Sunscreen Market: Key Takeaways and Outlook
Global mineral sunscreen market to register a CAGR of over 5% between 2020 and 2030
Mineral sunscreen to lead the way as they act with immediacy against their chemical counterparts
Europe and North America to lead as regions boast travellers by the beach
Increasing number of outdoor sporting activities to ensure mineral sunscreen has an excellent revenue stream
Tinted sunscreen that double up as light complexion cream to present unique opportunities
Effective Messaging through Advertisements Shifts Pushes User from Chemical to Mineral Sunscreen
Advertised and understood as the most critical component of beauty regime, sunscreen has become a part of every vanity kit. The sudden rise in importance of sunscreen is attributable to the growing awareness about the exposure to UV rays.
Depletion of ozone layer has led to penetration of unfiltered sunrays causing premature aging and appearance of sun spots. In worst case scenarios, prolonged exposure to UV rays of the sun can lead to severe skin damage and cancer. This has caused a monumental surge in the demand for sunscreen.
Part of the same category, mineral sunscreen is an effective remedy to chemical ones. The biggest difference between the two is that mineral sunscreen sits on the skin surface to block harmful rays, while chemical one converts the penetrated UV rays into heat, releasing it from the skin.
The basic difference has been the turning point for mineral sunscreen to make humungous sales in the past few years. The recent realization about harmful effects of ingredients such as avobenzone and oxybenzoe used in the production of chemical-based sunscreens has upped the demand for mineral-based one. In the light of these factors, the global mineral sunscreen market is projected to show an incremental opportunity of US$ 1.8 Bn by the end of 2030.
Influx of Luxury and Local Brands Present Multiple Buying Options to Various Consumers
Like most cosmetics, the mineral sunscreen market is also benefitting from the strong presence of brands in the market. A wide range of product availability has given consumers a plethora of choices with varying ingredients to pick from.
Mineral sunscreens, manufactured to suit the needs of differing skin types, are projected to bode well for the market. From luxury brands to generic drugstore brands, the market is filled with products ranging from high to low prices.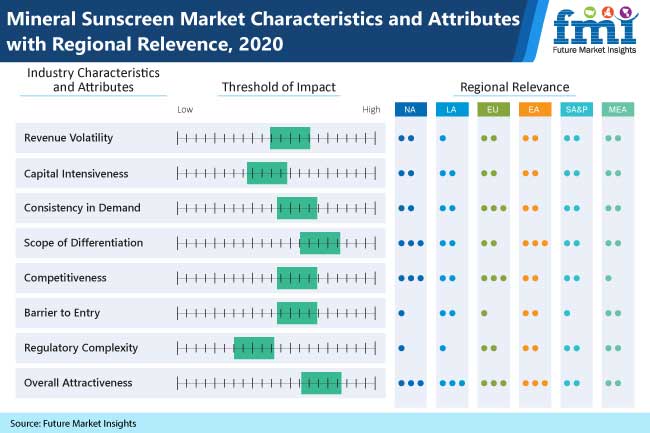 Brands offering organic skin care have truly made a remarkable sale in the market as they promise a chemical-free treatment to the skin. The strengthening trend of organic skin care is expected to fuel the demand for mineral sunscreen and customers look for healthy skincare routines for long-term benefits.
The industry has a large number of players operating in the global mineral sunscreen market. However, the revenue volatility is quite consistent across all regions as due to relatively low entry barrier, which allows local players to eat into revenue share of established ones. Furthermore, influx of counterfeit products also chips away revenue avenues.
Capital intensiveness and consistency in demand is projected to remain the same across all regions. However, only across Europe, the demand is higher the region is higher awareness about skin care and has more inflow of tourists.
The scope of differentiation has been high for all regions as manufacturers are constantly trying to develop products that are suit the needs of population specific to certain weather conditions. From adding various fruit and flower extracts to wide range of SPF, the scope of differentiation for products is relatively high.
The competitiveness is quite high as the number of players continue to increase with every passing year due to medium barrier to entry. Furthermore, navigable regulatory complexity across most regions is expected to add to the competitiveness as it allows easy entry for new players.
Despite the ups and downs, the overall attractiveness of the global mineral sunscreen market is exceptionally high across North America, Latin America, Europe, South Asia and Pacific, and the Middle East and Africa as the influencers voicing the importance of wearing sunscreens remain all pervasive to communities and cultures.
Increasing Participation in Outdoor Activities Remains Key Driver for Mineral Sunscreens
One of the key reasons that is has spiked the demand for mineral sunscreen is the growing number of outdoor activities. Increasing participation in sports, hiking, and leisure activities has increased the demand for sunscreen as protecting the skin is important.
Higher awareness and better diagnostics about health risks associated with prolonged exposure to sun have upped the sale of sunscreen while being outdoors. According to Skin Cancer Foundation, about 90% of non-melanoma skin cancers are related to UV radiation from the sun.
As more and more number of end users become aware of this peril of prolonged exposure, they are likely to invest in good quality of sunscreens. Sunscreens between SPF 15-SPF 30 are expected to do well in the forecast period as they are manufactured to protect against 97% of UVB rays.
Studies suggest that one ounce of sunscreen of SPF 30 is an excellent protection from the harmful sunrays while being outdoors.
Broad Spectrum Protection Option Wins the Day
The demand for mineral sunscreen is especially high amongst pregnant women and young children. Its chemical-free production has made it an apt option for sensitive skin and for pregnant women who go through a precarious phase that demands extra caution.
Similarly, as its free of harmful chemicals and other hard substances, it is a preferred sun protection cream for young kids as it does not irritate the skin. Furthermore, it works immediately as opposed to chemical sunscreen that take about 20-30 minutes to act after application.
In some cases, chemical sunscreen irritates the skin, leading to acne. These salient features are expected to promote the sales for mineral sunscreen and make it a go-to option amongst dermatologists for prescription.
The market for global mineral sunscreen is also on an upward trend as it offers a broad spectrum protection exactly like its chemical counterpart. Protection from UVB, which leads to sunburns and UVA, which causes premature aging has upped the demand for this safe choice of skincare product in recent years.
Influencers, Generation Z, and Beauty Trends Define Grounds of Success for Mineral Sunscreens
Sunscreen, as a part of beauty regimen and cosmetics, are gaining popularity largely due to growing number of social media influencers who are advertising, reviewing, and promoting products. Increasing fan following of influencers and their loyal fan base has helped certain products gain traction in recent years.
A huge pool of Generation Z and Millennials have also contributed to the increasing demand for mineral sunscreens. Participation in outdoor activities by these age groups and tremendous awareness about ill effects of harmful sunrays have helped the market see explosion of sales.
Rise of travel and tourism, especially to beach locations have also created a massive demand for mineral sunscreen in recent years. As growing number of people belonging to Generation Z take a gap year to travel, participate in volunteer activities, and pursue sports, they inadvertently end up spending on mineral sunscreen, which is an unavoidable beauty product.
Global Mineral Sunscreen Market: Regional Analysis
North America and Europe hold a lion's share in the global market for mineral sunscreen. The regions have a first-mover's advantage as sunscreen is predominantly a western product.
Increasing number of travellers, higher awareness about skin cancer, beauty regimens that have crossed over a generation, and wide range of products on constantly display have all added this to mammoth market share.
Future Market Insights predicts that South Asia and Pacific will be the fastest-growing market for mineral sunscreen as economies such as India and China have a younger population base that is slowly beginning to understand how sunscreen protects the skin.
Availability of disposable incomes, expanding and accessible field of dermatology, and influencers are all projected to add to region's demand for mineral sunscreen.
Similar trends are expected to drive demand in Oceania as well as the number of surfers grow. Increasing participation beach-related sporting activities and holidaying at the beach are expected to drive this demand in the coming days.
Global Miner Sunscreen Market: Competitive Analysis
The global mineral sunscreen market is quite fragmented due to large number of players and constant entry of local players. This has significantly intensified the competition in the market over the last few years. However, companies are trying to balance the price of the product and its quality to remain relevant and to increase profit margins.
Some of the key players operating in the global mineral sunscreen market are:
New Avon Company
EltaMD, Inc.
Sun Bum
Johnson & Johnson Consumer Inc.
La Roche-Posay
Avalon Natural Products, Inc.
J&JCI
Australian Gold LLC
Edgewell
Goddess Garden
Coppertone
Neutrogena
Drunk Elephant
BeautyCounter
Vitamin-enriched Sunscreens to Lead Growth for Global Mineral Sunscreen Market
The future of global mineral sunscreen market lies in the hands of Vitamin-E enriched sunscreen. Best known to reverse the signs of aging by reducing the UV damage to the skin, Vitamin-E enriched sunscreen are expected to be vogue. The growing preference and emerging beauty trends of youthful skin have prompted the sale of these specific sunscreens.
The market also has a tremendous potential as several manufacturers are focussing on developing tinted sunscreens that act as a light complexion creams for adding brilliance to the skin. Thus, the two-in-one formula of sunscreens is expected to carve a special niche for these sunscreens in the forecast period
World's Most Profilic Intelligence Engine
Get Access To The World's Largest Market Research Database.
Sign Up Now
Key Segment
Skin Type
Dry
Oily
Sensitive
Upright/Non-Portable garment steamer
Sun Protection Factor
Up to 29 SPF
30 SPF – 49 SPF
50 SPF – 69 SPF
70 SPF and more
Consumer Orientation
Nature
Natural
Organic
Synthetic
Price Range
Economy/ Mid-Range
Premium
Age
Sales Channel
Direct
Indirect

Supermarkets/Hypermarkets
Convenience Stores
Independent Small Stores
Discounted Stores
Online Sales Channel
Others
Region
North America
Latin America
Europe
South Asia
East Asia
Oceania
MEA
Need specific information?
Our Clients