Calcite Makes up for over 40% Share
Calcite accounts for a higher share in market revenues against other minerals such as Dolomite, and Aragonite, and the trend is likely to continue through 2029. Particularly in producing papers, calcite or calcium carbonate is becoming the preferred mineral as it enhances the finishing characteristics of paper including gloss, and whiteness.
Smithsonite is also accounting for a significant market share and its sales are expected to exceed US$ 10 Bn in 2019. While both calcite and smithsonite continue to influence market revenues, the former will grow 2x over the latter in terms of value.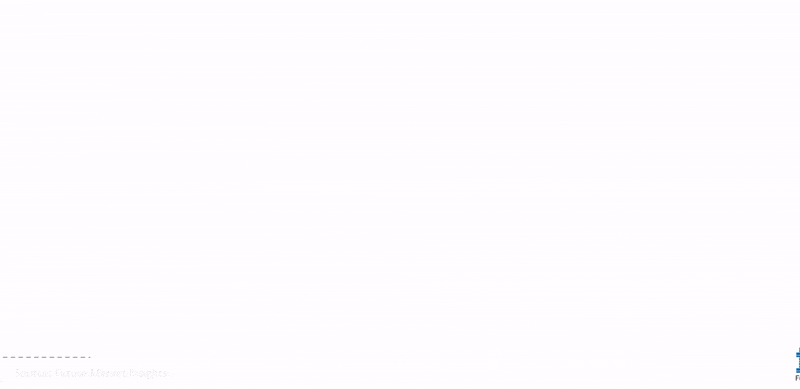 Market in APAC Leading the Way
Asia Pacific (APAC) will maintain its supremacy in the global carbonate minerals market, with the regional market revenues projected to surpass US$ 25 Bn by 2029 end. While upsurge in construction spending is boosting market growth in China, and India, continuous innovations in the mining technology in Japan are also garnering huge stakeholders' attention. Further, North America represents the fastest-growing carbonate minerals market and is likely to take over Western Europe in terms of revenues in the coming years.
Paints & Coatings Industry - Key Growth Influencer
The painting & coating industry is emerging as one of the key revenue generators for the global carbonate minerals market. Application of carbonate minerals in paints and coatings ensures consistency of the paint as well as promotes reliability of the end product. This, in turn, is leading to rising adoption of carbonate minerals in the paints, which capture nearly 16% of the total revenues.
How Growth will Unfold
The paper & pulp industry will remain the key consumer of carbonate minerals, where they are used as fillers or coatings on paper. As the end-use category accounts for around 25% share of total consumption, market players should view it as their target customers. Given immense utilization of carbonate minerals as components of binding agents in construction aggregates, and sandstone, the building & construction sector is also attracting high capital investment from manufacturers.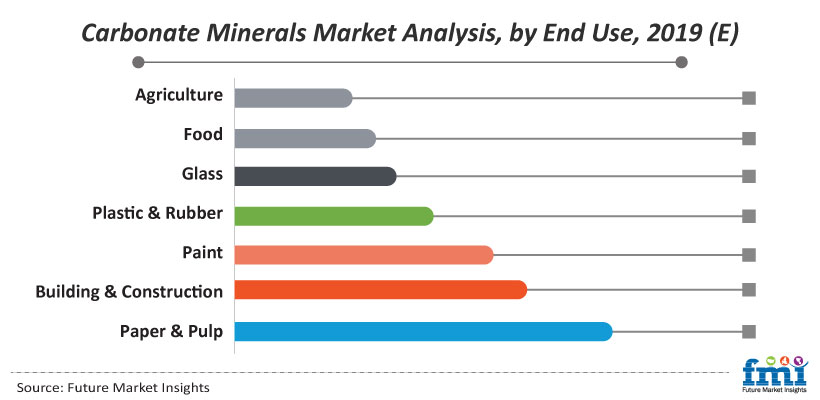 FREQUENTLY ASKED QUESTIONS ABOUT CARBONATE MINERALS MARKET
Which factors will drive the market in the future?
Carbonate minerals continue to dominate as a preferred component in the paper & pulp manufacturing and construction materials such as cement, and mortar. These are also used in steel and glass as for brightening and enabling better binding of the product.
How will the carbonate minerals market be critical in the future?
Though, carbonate minerals have specific characteristics and benefits for applications in various industries, however stringent regulations on CO2 emissions caused by carbonate minerals are hindering the demand for carbonate minerals over the coming years.
Will the presence of substitute products affect the future trajectory of the carbonate minerals market?
By virtue of the reduced carbon emission, easy availability and competitive prices of substitutes, carbonate minerals are expected to face high competition from alternatives such as Kaolin during the forecast period.
Which application area holds potential growth opportunities for players in the carbonate minerals market?
While the paper & pulp industry continues to influence growth strategies of key players, growing demand from construction industry and paint & coating industry is expected to result in increased market share.
What is the degree of competition in the carbonate minerals market?
The carbonate minerals market shows a perfect competition structure, with a large number of regional and local market players. In the current scenario, industry leaders such as Minerals Technologies, Inc., IMERYS Carbonates Llc, Calcinor SA Maruo Calcium Co., Ltd., Magnesita Refractories SA, and Lhoist North America Inc. collectively hold around one-fifth of the total revenue share.
Which region will lead the global sales of carbonate minerals?
Asia Pacific Excluding Japan (APEJ) remains at the forefront of the carbonate minerals market, with flourishing construction industry in emerging countries such as China and India. Manufacturers are focused for capitalizing on establishing new sales and service facilities in these emerging markets to fortify their network in these region in order to capture higher market share.
CARBONATE MINERALS MARKET TAXONOMY
The global carbonate minerals market is segmented in detail to cover every aspect of the market and present a complete market intelligence approach to readers.
Mineral
Calcite
Magnesite
Aragonite
Smithsonite
Dolomite
Source
End Use
Food
Paint
Plastic & Rubber
Paper & Pulp
Building & Construction
Agriculture
Glass
Region
North America
Latin America
Western Europe
Eastern Europe
Japan
APEJ
Middle East & Africa
Need specific information?
Talk Show:
The Rise of Intelligent Packaging
Personalized, Connected and Sustainable
November 18, 2021
11:00-11:45 AM PST (USA & Canada)
This is a LIVE session