Polycarbonate Sheets Market By Type (Solid, Multiwall, Corrugated), End-Use (Building & Construction, Automotive, Electrical & Electronics) & Region - Forecast to 2019 - 2029
Polycarbonate Sheets Market - Analysis, Outlook, Growth, Trends, Forecasts
March 2020

REP-GB-11125

300 pages
Polycarbonate Sheets Market Gains Toehold in Asia Pacific
The global sales for Polycarbonate Sheets Market witnessed a minor slowdown in the Covid-19 crisis as all the factories were closed and supply of only basic necessity goods was permitted. Since the lockdown has been lifted up to improve economic conditions, the manufacturing companies are trying hard to gain traction and attract customers globally through innovative launches and technological upliftments in 2021.
Prominent manufacturing companies including SABIC, Trinseo, Spartech, Covestro, Gallina India, Evonik Industries, Mitsubishi Gas Chemical, ArlaPlast, 3A Composites, Excelite, Palram Industries and others are investing in the establishment of a strong distribution network to remain competitive in the Polycarbonate Sheets Market. Adoption of business strategies like research and developments, new product launches, product approvals, patents and events, joint ventures, product innovations, partnership agreements, collaborations, digital marketing, mergers and acquisitions etc continues to be on the prime attention of leading players to emerge as a recognized and profitable business firm.
For instance, in March 2021, Sabic and Polray announced their collaboration in order to introduce renewable and polycarbonate into eyewear applications which are certified. Sabic also launched their BioPC® lens as a part of their Bio-Line portfolio which has been shown a whole lot of interest from varied sections. BioPC lenses can be used as sunglasses lenses, demo lenses and many other lens applications etc. in addition to this, SABIC and King Abdulaziz City for Science and Technology (KACST) signed a Joint Development Agreement (JDA) to develop high performance and lightweight materials for advanced applications. The technology is designed to help in achieving sustainability targets by reduction in greenhouse gas emissions in transportation markets. This is mainly because of lesser weight with the use of lightweight materials.
In terms of growth of polycarbonate sheets Market, the Asia Pacific region is anticipated to stay ahead at a promising rate during the forecast period owing to increase in the developmental activities in the aerospace, automotive and construction industries. Indian, Chinese and Japanese polycarbonate sheets market will contribute majorly to the increasing demand of the polycarbonate sheets. As the European economy improves, the market will account for substantial consumption and production of polycarbonate sheets.
Fuelled by introduction of innovative plastic technologies, global polycarbonate sheets market is set for moderate growth at approximately 4.3% CAGR during the projection period (2019-2029). The Polycarbonate Sheets Market revenue exceeded approximately US$ 1.6 Bn in 2018, majorly on the back of building & construction industry. Polycarbonate sheets have been witnessing greater adoption as a preferred thermoplastic material amongst leading global producers.
Moreover, high-performance attributes of polycarbonate sheets such as superior thermal resistance, outstanding impact resistance, impressive optical clarity and dimensional stability is soaring the demand. As compared to other thermoplastics such as acrylic and polymethyl methacrylate (PMMA), polycarbonate sheets undergo minimal degradation when heated or cooled.
Preponderance of Environmental Concerns to Boost Polycarbonate Sheet Market Sales
Besides construction, polycarbonate sheets are being extensively utilized in automotive industry. Increasing role of polycarbonate sheets in making fuel-efficient, lightweight automotive components is accelerating the market growth. Owing to reduced carbon emissions, polycarbonate sheets are being preferred by manufacturers worldwide.
In addition, emerging economies are generating prolific demand for automobiles. Hence, polycarbonate sheets are being used to manufacture exterior, interior and under hood components of several automobiles. Besides, United Nations and other regulatory bodies are promoting the use of energy-efficient vehicles to achieve sustainability development goals by 2030.
Building & Construction to Remain Key End-use Industry for Polycarbonate Sheets
A majority of demand for polycarbonate sheets is generated from the building & construction industry. Polycarbonate sheets are increasingly being used for cladding, skylight roofing and greenhouses in commercial and residential spaces. Moreover, they have relatively low price point and offer smooth finish. Manufacturers are thus churning up the production of polycarbonate sheets.
Polycarbonate sheets have greater resistance to fracture and shock as compared to acrylic and glass. This in turn facilitates the installation, handling and transportation process. Additionally, the maintenance cost associated with polycarbonate sheets is minimal. These attributes along with excellent insulating properties is supplementing the demand for polycarbonate sheets in building & construction industry.
Asia Pacific Reveals Remunerative Opportunities for Leading Producers
Thriving construction, aerospace and automotive industries in Asia Pacific will bolster the demand for polycarbonate sheets through 2029. The regional market is supported by the robust supply chain network of leading players. On that premise, Asia Pacific will account for over 43% share in overall market stack through 2029. Japan, China and India are major lucrative markets which would contribute substantially to regional demand.
Furthermore, growth of Asia Pacific polycarbonate sheets market will be propelled by key manufacturers' constant drive for innovation. On the other hand, Europe will account for substantial consumption and production of polycarbonate sheets. The region is projected to contribute significant chunk of revenue by 2029.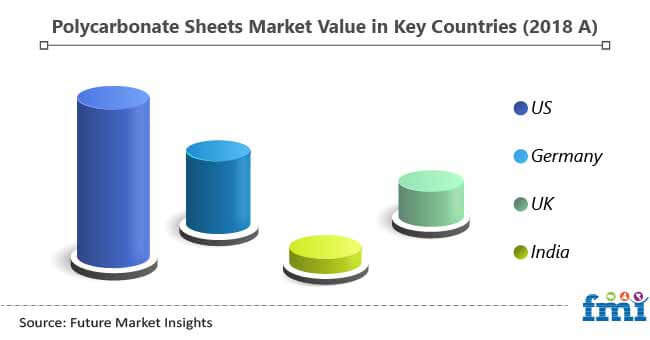 Innovative Manufacturing Processes to Foster Competitive Ascendancy of Polycarbonate Sheets Market Leaders
Key players operating in the global polycarbonate sheets market are profiled in this report. Some of the global players include, SABIC, Trinseo, Spartech, Covestro, Gallina India, Evonik Industries, Mitsubishi Gas Chemical, Arla Plast, 3A Composites, Excelite, and Palram Industries. Innovating and implementing new manufacturing processes continues to remain the key strategy of global players.
For that purpose, leading players are accelerating R&D activities. Major manufacturers must engage in mergers and acquisitions of regional players to gain stronghold in global polycarbonate sheets market. Key manufacturers must leverage the ongoing infrastructural activities in Asia Pacific region, particularly for safety, security screening and roofing applications.
World's Most Profilic Intelligence Engine
Get Access To The World's Largest Market Research Database.
Sign Up Now
Market Segmentation
The global polycarbonate sheets market is segmented in detail to cover every aspect of the market and present a complete market intelligence approach to readers.
Type
Solid
Multiwall
Corrugated
End-Use
Building & Construction
Automotive
Electrical & Electronics
Region
North America
Latin America
Europe
MEA
Asia Pacific
Need specific information?
Our Clients