Mobile Augmented Reality Market - Key Research Findings
The global mobile augmented reality market size to be worth US$ 3 Bn in 2020
Travel and tourism to see a rise of 24.4% between 2020 and 2030 as the museums and artists seek to reach wider audiences
Digital transformation in armed forces leads to adoption of mobile AR as warfare gets sophisticated, to register a CAGR of 21.4% from 2020-2030
Europe and East Asia to lead global mobile augmented reality market, collectively accounting for 50% of the market by 2030
Skyrocketing demand for online games amidst pandemic to create a massive stream of revenue for mobile augmented reality
Healthcare and education to emerge as key application areas, assuming about a quarter in the overall market share
5G Penetration to Fuel Mobile Augmented Reality Market
Deployment of 5G technology that comes with a promise of no latency and high-quality videos is expected to result in high adoption of advanced technologies such as augmented reality & virtual reality (AR/VR), and Internet of Things (IoT).
The implementation of 5G connectivity and development of the required infrastructure are expected to boost the adoption of mobile augmented reality technology as it is likely to make digital experiences better. However, its affordability remains questionable for now.
Mobile Augmented Reality is the New Reality of Social Media and Gaming
Every alternate smartphone user is already using mobile augmented reality, either in the form of a character filters, viewing interactive advertisements or playing games.
Social media applications such as snapchat and many more offer allow users to play around with camera filters, which has been the unique value proposition of such smartphone applications. Over 350 million active users of snapchat is a testament of consumer's inclination towards mobile augmented reality.
Success of Pokémon GO is another evidence that consumers would like to experience the next generation of entertainment in the form of augmented reality. However, such developments works in smartphone gaming industry has gone on standstill mode with only a few games available with mobile augmented reality capability.
Albeit, leading mobile phone OS provider Google and Apple have already introduced platform aimed to enable developers to build user accepted mobile augmented reality experiences.
Mobile augmented reality is not only catching the attention of smartphone users but have also garnered sizable interest from investors. Consumer-facing mobile augmented reality market has the potential to grow five folds over the span of next five year says FMI.
Since, success of such products and services are determined by GenX and GenY population group, the subscriber base of mobile phone application that offers augmented reality feature sum up the story by creating a space in the smartphone of over 70% of such population group.
Improved Consumer Engagement While Shopping Prompts Uptake of Mobile AR
Mobile AR is expected to become an integral part of a consumers shopping experience in the coming years. Furniture retailers are making excellent use of this technology to give the consumers an actual experience of their purchases through simulations. Availability of this technology at the fingertips is expected to offer quick solutions to frequently asked questions about size, dimension, and color of furniture pieces while shopping.
Ever since the release of ARkit by iOS and Tango by Google, the furniture shopping experience has been improved as mobile AR has truly crossed language barriers, personalized the experience, and entertained consumers. All of these features have upped the adoption of mobile AR across interior designing communities such as Houzz and furniture selling stores such as IKEA.
Mobile AR Rushes to Build Consumer Confidence by Enabling Visualization of Purchases
A similar trend has been observed amidst retailers selling via online stores. The ability to preview products, understand their measurement, and look before purchase has immensely won the mobile AR market a steady clientele. According to 35% of users, mobile AR encourages them to shop online more. Sephora, a cosmetic giant, has successfully capitalized on this opportunity by allowing its users to visualize their purchases, making the consumer confident about their choices.
As the world shifts to a new normal, characterized by strict social distancing norms, it is likely that e-commerce will replace brick and mortar shops, giving mobile AR tremendous scope to cash in on this opportunity of persuading users to shop online.
Automotive Sector Promises Excellent Opportunity to Mobile Augmented Reality
Augmented reality plays a critical role in the automotive engineering, lending a unique insight into design and manufacturing. Car manufacturers have used AR for car interiors and maintenance. The sector is now realizing the potential benefits of mobile AR, and is developing enhanced safety for driver by contributing to development of holographic AR display.
Constant efforts to improve navigation and safety is projected to accelerate the adoption of mobile AR in the automotive sector. Companies focusing on creating new in-vehicle experiences are likely make mobile AR an integral part of their design in the coming years.
Increasing Mobile Augmented Reality Technology for Healthcare Applications
Percolation of technological advancements have been inevitable in recent years. Healthcare sector too has adopted by transformational technologies such as mobile AR to reach out to a wider patient pool.
Adoption of mobile AR in healthcare allows consultation and diagnostic from miles away, making healthcare reach remotest parts of the world. With access to real-time data and patient information over cloud, understanding medical conditions, their progression, and timely intervention have been possible.
AR has brought in significant value to healthcare education as well. It has given students and trainee physicians to visualize healthcare issues, adding a new dimension to learning. With access to smartphones and tablets, both patients and physicians can ensure timely life-saving. In the light of these observations, the healthcare segment is expected to acquire a share of 15.6% in the global mobile augmented reality market by the end of 2030.
East Asia is Projected to Grow at over 30% Annual Growth
North America and Europe dominate the mobile augmented reality market as these regions have had early movers advantage. Presence of pioneering companies has also added to this status. Development of automotive technology such as driverless cars and holographic prompts for navigation have definitely added to the upward trend of these regional markets.
The booming online gaming industry in these regions has also fuelled their dominance in recent years. Access to better equipment and enhanced connectivity have contributed to a steady uptake of mobile augmented reality in these regions.
Similar trends are taking shape in East Asia as smartphones and tablets become ubiquitous to everyday lives. Growing interest of e-tailing companies in ramping up their consumer experience is projected to favour uptake of mobile AR. In China, companies are already running marketing campaigns via augmented reality experiences.
Furthermore, the sudden jump in online gaming numbers and shift of traditional schooling methods to virtual spaces are expected to give this regional market a shot in the arm.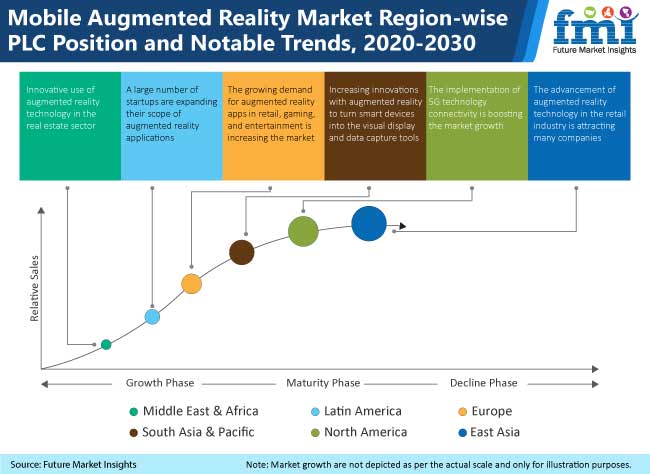 North America and East Asia will emerge as the leading regions in the mobile augmented reality market by 2030 as the adoption of advanced augmented reality technology surges in various sectors.
The gaming, and the entertainment sector has been increasing significantly due to factors such as increasing usage of smartphones, online shopping, and rising expenditure on entertainment.
Startups are also ready to experiment with innovative ideas and are thinking of offering new solutions for augmented reality to enhance their user experience.
VR Vision Inc. is an AR/VR developer based in Toronto, has provided an impactful and innovative experience to the users by using AR and VR technologies.
The advancement of 5G technology in augmented reality is propelling the forethought of the market. The deployment of a 5G mobile network takes into consideration higher flexibility in wide range of use cases. The 5G technology makes augmented reality technology much faster, with much more data flows, which would increase the demand for mobile augmented reality solutions
Leading Mobile Augmented Reality Solutions Vendors:
Samsung Electronics Co. Ltd.
Google Inc.
Microsoft Corporation
Intel Corporation
Apple Inc.
Micro Focus
Amazon
Qualcomm Inc.
Daqri LLC
Wikitude GmbH
Metaio GmbH
*The list is not exhaustive, and only for representational purposes. Full competitive intelligence with competition deep dive available in the report
Immersive Opportunities in the Years to Come
The future of mobile augmented reality is bright, as apart from commercial and industrial application – the technology is also gaining traction from academia. Power to educate via 3D design will make mobile AR one step ahead of conventional learning methods.
Its value to architects will also be immense as tools such as Google Street View will open doors to research through virtual tours. The demand for mobile AR is expected to see a whopping rise as world moves to a virtual reality amidst the ongoing pandemic. As several organizations mull permanent closures, mobile AR will serve as an incredible tool for connecting employees for learning and executing ideas
Mobile Augmented Reality Market: Segmentation
Solution
Mobile AR Software

Mobile AR Application Platform
Mobile AR SDKs

Services

Integration & Deployment
AR Design & Development
Support Services
Application
Military
Education
Healthcare
Gaming
Media & Entertainment
Travel & Tourism
Others
Region
North America
Latin America
Europe
East Asia
South Asia & Pacific
Middle East & Africa
Need specific information?