Motion Control Software in Robotics Market - Key Research Findings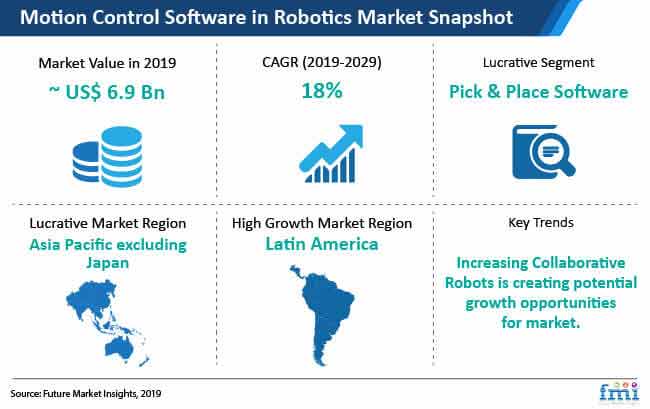 The global motion control software in robotics market size in 2018 was ~US$ 6 Bn.
The motion control software in robotics market is expected to grow at a CAGR of ~18% during the forecast period of 2019-2029.
The increasing adoption of robots by different industries is one of the factors driving the sales of motion control software in robotics.
Asia Pacific excluding Japan is likely to account for half of the revenue shares in the motion control software in robotics market by the end of 2029.

North America and Western Europe, due to the strong presence, will continue to be among the prominent regional markets for motion control software in robotics.

To provide high-performance motion control software in robotics with enhanced technology and meet the ever-rising demand for motion control software in robotics, prominent players in the motion control software in robotics market are focusing on entering into acquisition and partnership agreements with other market players in the motion control software in robotics market.

On 26 February 2018, Teradyne entered into a contract to acquire Energrid Technologies. Energrid Technologies help in simplifying the programming of complex robotics motion, which is used in a wide variety of industries utilizing collaborative robots and traditional robots.
In 2017, B&R was acquired by ABB Ltd; B&R is a provider of software-based, product-based, and open architecture solutions for factories and machine automation.
In 2016, Yaskawa Electric Corp acquired DOOLIM Robotics; DOOLIM Robotics is a Korean robotic painting and sealing system integrator.
In 2015, FANUC Corporation introduced new products FANUC Robot CR-35iA (Collaborative Robot) and FANUC ROBOGUIDE automatic path generation function. FANUC also introduced the integration of ROBODRILL and ROBOTs; ROBOSHOT and ROBOTs; and ROBOCUT and ROBOT.
Key Factors Shaping the Motion Control Software in Robotics Market
Industrial Safety Increasing the Demand for Motion Control Software in Robotics Market
In industrial environment, the term safety is being used as a productivity tool. Industries are using collaborative robots as these are built to safely complement the work of manual processes. Collaborative robots have the ability to stop quickly when it collides with a human worker and this happens as collaborative robots have advanced motion control capabilities. This factor is increasing the demand for motion control software in the robotics market.
Automation Adoption in Automotive Sector Increasing the Demand for Industrial Robots
The growing adoption of automation in the automotive sector is driving the demand for industrial robots as the automation technology is being adopted by industries and is improving the efficiency and productivity by reducing the operating cost. The shifting of the automotive industry towards autonomous and electric vehicles is also increasing the demand for industrial robots.
Rising Adoption of SCARA Robots in Automotive and Food Industries
The demand for SCARA robots is increasing as industries, such as electrical and automotive are using SACARA robots for achieving better operational efficiency and quality, high flexibility and reliability, and low operational cost. The adoption of SCARA robots is increasing in the food and beverage industry, which is a key contributor for enhancing the market revenue of palletizers & boosting the demand for SCARA robots.
Adoption of Robots in a Multitude of Industries
Instead of using human resources, industries are utilizing robotic arms for completing assigned tasks. Robotic arms are generally used for assembly, arc welding, material handling, painting, and spraying. Robotic arms are designed for industries and home applications. These can be mobile or fixed. Robotic arms are widely used in industries for packaging or handling materials.
A major trend that has a positive and deep impact on the society is the development of advanced robotics. In hospitals, robots work with a nurse to bring medicines and meals to patients without delays. Nowadays, innovative robots are supporting doctors with surgeries that are less invasive and safe to perform.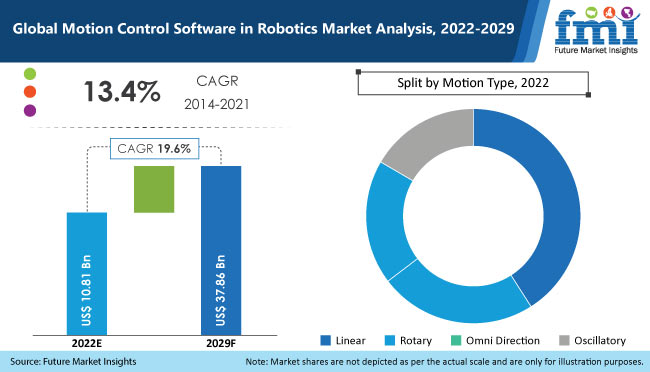 Motion Control Software in Robotics Market Structure Analysis
The global motion control software in robotics market serves fairly consolidated competition landscape, where a majority of key players maintain their strategic focus on partnerships, acquisitions, mergers, takeovers, product developments, and target stronger global footprint.
The global motion control software in robotics market is fragmented in size, which remains a key factor for its dynamic competitive nature.
Tier-1 motion control software in robotic vendors account for ~38%-40% of the global market. Vendors, such as ABB Ltd, is among the prominent and most experienced in the industry, and have a significant regional coverage across the globe.
Urgency for Factory Automation to Create Lucrative Opportunities
Automation of the factory floor across several industrial sectors is a noteworthy trend that is projected to continue over the course of the next few years. Thus, increase in the automation of factories has resulted in a global demand for highly efficient and cost-effective motion control software in robotics. Industrial automation activities are on the rise owing to increased production rates and efficiency; factors imperative to gain a competitive edge in the dynamic industrial landscape worldwide.
The automotive sector was the fastest to leverage the benefits offered by industrial robots. However, the popularity of industrial robots has gradually caught up with key industrial sectors including, food & beverage, aerospace, and electronic among others. In addition, the growing concerns over safety in the industrial space in conjunction with growing demand for robots across multiple industries is likely to propel the growth of the motion control software for robotics market in the coming years.
Collaborative Robots – Aiming Augmentation of Human Capabilities
Collaborative robots, also known as 'cobots', are one of the fastest growing segments in robotics. The tremendous surge in the popularity of collaborative robots is primarily attributed to factors including, safe human interaction, ease of programming, inexpensive installation, and ability to perform complex tasks with high-levels of efficiency. Thus, collaborative robots have emerged as the most preferred automation tool for manufacturers in the recent times and the trend is showing no signs of slowing down.
The penetration of collaborative robots in the industrial space raised concerns over job security within factory workers as they saw it as a potential threat. However, in reality, collaborative robots were developed to augment human capabilities without replacing them.
The advent and evolution of cost-effective collaborative robots is a ray of light for small-medium sized enterprises who were miles behind their competitors in the automation race.
Due to advancements in technology, rapid innovation, and surge in R&D activities, at present, the prices of collaborative robots are spiraling in the downward direction. Although, the adoption in the industrial space is at a nascent stage, with growing awareness regarding the potential of collaborative robots, its demand is set to witness a substantial growth in the years to come.
Demystifying Opportunities in Asia
The high demand for industrial robots in Asia has directly impacted the growth of the motion control software in robotics market in the region. In addition, rise in the adoption of robots along with strong growth of key industries such as semi-conductor and electronics has created several lucrative opportunities for motion control software market players.
Further, owing to rapid industrialization and improvement in the healthcare sector, the demand for industrial and medical robots in Asian nations such as China, South Korea, and Japan is on the rise. In addition, several companies operating in the industry have prioritized mergers and acquisitions as an integral strategy to establish a strong presence in the market.
For instance, in 2016, Yaskawa Electric Corp acquired shares of DOOLIM Robotics, to diversify their operations and setup a business of robotic painting and sealing system integration.
Technological Innovations Propel Demand for Vision Guided Robotics
Vision guided robots, which at one point of time were dismissed by manufacturers are flocking their way into the market. The revival of vision guided robots is majorly due to the onset of sophisticated technologies and the current innovative landscape. In addition, the combination of advanced imaging systems and inexpensive robotic technologies has paved way for numerous applications that are ideal for robots especially in small-medium enterprises.
Further, high-quality vision technology has come a long way in the last decade which has played an instrumental role in the resurgence of vision guided robotics. Further, the onset of 2D vision technology, 3D machine vision technology, and growing demand for 3D vision for material handling is expected to increase the demand for vision guided robots in the foreseeable future.
How Growth Will Unfold
As industries continue their quest towards automation, the demand for motion control software in robotics from the industrial sector is projected to witness a noteworthy growth. Further, the onset of cost-effective and efficient collaborative robots will further fuel the demand for motion control software in the robotics industry.
Automation has played a vital role in shaping the current landscape of the automotive sector by enhancing efficiency and reducing operation costs. Thus, the demand for advanced motion control software in robotics (automotive sector) is predicted to surge in the foreseeable future.
Key Segment
By Robot Type
Articulated
Cartesian
Cylindrical
Polar
SCARA
Delta
By Robotic System Type
Manipulation Robotic System
Mobile Robotic System
Data Acquisition and Control Robotic System
By Application
Industrial Robot

Assembly Line Robot
Inspection Robot
Warehouse Robot
AGVs
Others

Medical Robot

Surgical Robot
Medical Transportation
Dispensing
Sanitation and Disinfection

Consumer Robot
By Offering
By Software
Pick & Place
Drilling
Hold & Rotate
Painting
Striking, Punching & Blanking
Welding
Inspection
Cutting
Layout, Marking & Measurement
Grinding & Polishing
Other
By Software by Motion Type
Linear
Rotary
Oscillatory
Omni-Directional
By End Use
Manufacturing Industries

Automotive, Aerospace & Shipbuilding
Pharmaceutical
Mining and Metallurgy
Power
Consumer Electronics and Appliance
Electrical & Heavy Machinmery
Chemical & Agrochemical
Other

Oil & Gas
Healthcare
Research Academia
Others
By Region
North America
Latin America
Western Europe
Eastern Europe
Asia Pacific excluding Japan
Japan
Middle East and Africa
Need specific information?
Talk Show:
The Rise of Intelligent Packaging
Personalized, Connected and Sustainable
November 18, 2021
11:00-11:45 AM PST (USA & Canada)
This is a LIVE session