Neurointerventional Devices Market - Outlook & Key Findings
Neurointerventional devices market to surge at 8% CAGR from 2020-2030
High incidence of brain aneurysm and associated neurological disorders to drive market growth
Faster patient recovery will accelerate coil embolization procedures in the long-run
Carotid stents shall capture a significant chunk of the market, attributed to rising number of carotid surgeries across prominent regions
Nanotechnology to play an influential role in endovascular intracranial aneurysms treatment
North America to witness maximum proliferation, with a market share exceeding 2/5th
Neurointerventional Devices Adoption Growing in Brain Aneurysm Treatment
Over the years, the incidence of neurological disorders has surged. As the global geriatric population soars, the prevalence of brain tumors, epilepsy, aneurysm, strokes and Parkinson's disease have increased. Amongst these, the frequency of brain aneurysm is increasing at an exponential rate.
Brain aneurysm, also called cerebral aneurysm, refers to a bulging, weakened area of the artery wall within the brain, resulting in an abnormal ballooning or widening of the tissue. As a result, there is a heightened risk for rupture of the aneurysm.
According to the National Center for Biotechnology Information (NCBI), worldwide prevalence of cerebral aneurysms is approximately 3.2%, with a mean age of 50 and equal gender ratio. However, this ratio becomes skewed post the age limit, with women at twice the amount of risk as men.
Due to this increasing prevalence, patients are undergoing several non-invasive procedures, including coil embolization, thereby expanding the scope of neurointerventional devices, with manufacturers concentrating on accelerating production. Players such as Stryker and Terumo have been at the forefront, manufacturing the TARGET 3D and AZUR CX embolization coils respectively.
Manufacturers Introduce Technologically Advanced Embolic Coil Devices to Expand Revenue Pools
As the number of aneurysm surgical processes increase, vendors are seeking to flood the neurointerventional devices market with technologically enhanced products to gain a firm foothold. Increased demand for efficient healthcare has induced adoption of technologically sophisticated devices across various healthcare verticals in recent decades.
In 2019, Shape Memory Medical's TrelliX Embolic Coil acquired the CE mark for intracranial aneurysms and other neurovascular abnormalities such as arteriovenous fistulae and arteriovenous malformations. The coil system features a proprietary shape memory polymer technology, offering greater thrombogenicity than bare-metal platinum coils, producing credible aneurysm eradication results.
Likewise, in 2018, Johnson & Johnson Medical Device Company launched is Galaxy G3 mini coil through its Cerenovus branch. It has touted as the company's smallest and softest embolic finishing coil to be used in treating cerebral aneurysms and hemorrhagic strokes. The coil is designed to assume random shapes, making them conformable and fill open spaces in aneurysms.
That same year, Cook Medical published its findings about the potential applications of embolic coils as an option to overcome the problem of underdiagnosed pelvic congestion syndrome. Since a majority of the physicians tend to overlook the problem, intense collaboration has been underway to treat this condition through embolization.
Rising Carotid Angioplasty Surgeries to Accelerate Adoption of Carotid Stents
In recent years, carotid angioplasty surgeries have seen a significant upsurge, attributed to rising incidences of brain strokes. Strokes, or cerebrovascular accidents, are the 2nd leading cause of death and third leading cause of disability. It is also the primary cause of depression and dementia.
The aforementioned problems primarily arise due to malfunctioning of the carotid arteries, which are responsible for transporting oxygenated blood to the brain. Due to aging or external injuries, patients develop a condition called carotid arterial stenosis, a narrowing of the arteries. This results in reduced blood flow to the brain causing strokes.
Abbott Laboratories is at the forefront of the carotid stents segment, marketing a wide range of sophisticated products. Its Xact Carotid Stent System is used for improving the lumen diameter of carotid arteries in patients requiring percutaneous carotid angioplasty and stenting for occlusive artery disease.
Likewise, Boston Scientific Corporation markets the Carotid WALLSTENT which is a low-profile, highly flexible delivery system designed to provide excellent tracking via tortuous anatomy. Its monorail delivery system allows for rapid catheter exchanges. The device is highly suitable for patients experiencing acute ischemic neurological strokes.
Easing of Regulatory Barriers Accelerates Adoption of Neurointerventional Devices
Faster regulatory approvals by government bodies worldwide is broadening the scope of neurointerventional device manufacturers across the most lucrative geographies in recent years. Easing of restrictions have enable vendors to penetrate the markets in a better manner and offer high quality products to potential end-users.
In 2019, for instance, the U.S FDA amended its regulations on the Neurovascular Mechanical Thrombectomy Device for Acute Ischemic Stroke Treatment, christened 21 CFR 882.5600 to permit development of high-quality, safe and effective medical devices of public health importance and facilitating patient access to them.
This has permitted several manufacturers to penetrate the North American market, doling out several technologically advanced neurointerventional devices. According to FMI's projections, the North American market is scheduled to capture over 40% of the global neurointerventional devices market.
East & South Asia to Register Substantial Growth in the Forecast Period
Over the years, neurological disorders in Asia have witnessed a consistent increase. Cerebrovascular diseases such as ischemic strokes and transient ischemic attacks (TIA), are widespread across the region. Between 1/5th and 1/3rd of all premature deaths occur due to strokes, particularly in India and Indonesia.
According to the Journal of Internal Medicine, Alzheimer's disease is the most common neurogenerative disorder in Asia, with more than 3 out of 5 patients suffering from it. A total of 12.5 million people are afflicted by this condition across China, India and Japan, the countries with the majority of the world's geriatric population.
Based on these facts, the East & South Asian regions are expected to register a market share of nearly 30% throughout the forecast period.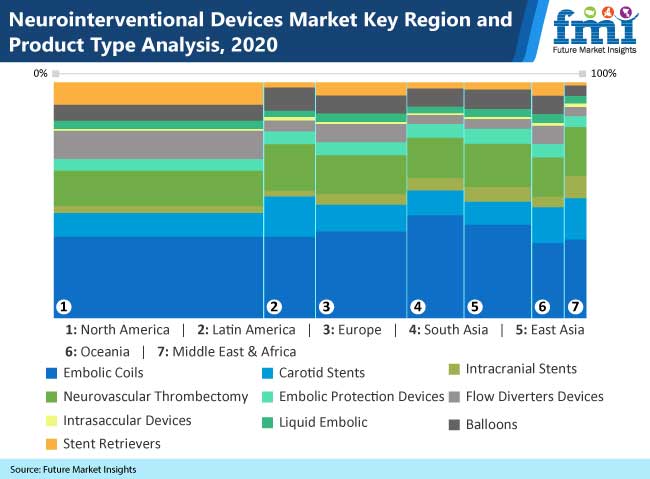 COVID-19 Pandemic to have Substantial Impact on Growth Prospects in the Short-Run
The severe acute respiratory syndrome coronavirus 2 (SARS-CoV-2) pandemic has majorly disrupted the entire world. Amongst all the existing coronavirus strains, the current one is by far the deadliest, with no potential cures being discovered till date. Hence, healthcare practitioners are facing an uphill task eradicating the same.
With respect to neurological disorders, several hospitals and clinics have reported complications in severely or critically ill patients with co-morbidities. COVID-19 has the potential to affect the central and peripheral nervous systems. The virus invades the brain either through the olfactory system or a hematogenous route. Once inside, the virus may cause hypoxic and metabolic abnormalities.
A series of case studies on over 200 COVID-19 positive patients in Wuhan, China, 36.4% of patients exhibited neurologic symptoms such as acute cerebrovascular events, muscle injury and impaired consciousness. Based on these aforementioned trends, the neurointerventional devices market is poised to remain afloat in the near-term forecast period.
Since neurological disorders fall under the critical treatment umbrella, hospitals are not expected to register a decline in footfalls, keeping the demand for neurointerventional radiology devices consistent. Significant increases in mechanical thrombectomies were reported since April 2020, with majority of the patients seeking treatment for acute strokes from large vessel occlusions (LVOs).
Competitive Landscape
Prominent vendors are focused on streamlining their research and development capabilities to develop novel products. Players are emphasizing on expanding their businesses through partnerships, collaborations and mergers & acquisitions and participation in trade fairs. Many of them are also aligning with research institutes to augment their research capacities.
Some influential vendors within the landscape include: Stryker Corporation, Covidien Public Ltd., Penumbra Inc., Terumo Corporation, Johnson & Johnson Private Limited, Medtronic PLC, Boston Scientific Corporation and Abbott.
In August 2020, Stryker Corporation successfully launched its Surpass Evolve flow diverter after receiving FDA clearance in the U.S market. The device has already been in use in Europe since 2019 and consists of a 64-wire cobalt-chromium flow diverter designed to heal aneurysm by redirecting blood flow.
Recently, Medtronic PLC has acquired FDA approval for its InterStim Micro neurostimulator along with the InterStim SureScan MRI to regulate fecal incontinence, overactive bladder and non-obstructive urinary retention. This announcement has made another addition to the company's existing neurostimulator products portfolio.
In September 2020, Penumbra Inc. shall participate in the virtual Global Embolization Symposium & Technologies 2020 Conference. The company hopes to broaden its outreach and collaborate with other leading players to develop and launch new neurointerventional devices, thus expanding its existing product portfolio.
In 2019, Terumo Corporation acquired U.S-based Aortica Corporation with the objective of advancing the science of personalized vascular therapy. This acquisition will help Terumo contribute its expertise in the latter's AortaFit case planning software, helping advance quality care to neurological patients.
Boston Scientific Corporation, in July 2020, received FDA approval for next-generation WATCHMAN FLX Left Atrial Appendage Closure Devices. These contraptions are equipped with a new stroke reduction technology designed to advance procedural performance and safety, thereby treating a wider range of patients.
Key Segments Covered
Product
Embolic Coils
Intracranial Stents
Carotid Stents
Thrombectomy Devices
Intrassacular Devices
Balloons
Embolic Protection Devices
Liquid Embolics
Stent Retrievers
Technique
Neurothrombectomy Procedures
Cerebral Angioplasty
Stenting
Coiling Procedures
Flow Disruption
End User
Hospitals
Ambulatory Surgical Centers
Region
North America
Latin America
Europe
Middle East & Africa (MEA)
East Asia
South Asia
Oceania
Need specific information?
Talk Show:
The Rise of Intelligent Packaging
Personalized, Connected and Sustainable
November 18, 2021
11:00-11:45 AM PST (USA & Canada)
This is a LIVE session