Non-opioid Pain Patches Market by Product Type (Lidocaine Patches, Diclofenac Patches, Methyl Salicylate Patches, Capsaicin Patches, Ketoprofen Patches & Others), End User (Hospitals, Retail Pharmacies & Drug Stores, Online Pharmacies) & Region - Forecast to 2019 – 2029
Non-opioid Pain Patches Market - Analysis, Outlook, Growth, Trends, Forecasts
April 2020

REP-GB-11286

195 pages
Lidocaine Patches Continue to Shape Value Creation
Market players continue to invest in manufacturing lidocaine patches, which would generate greater total return to shareholders (TRS). Benefits of lidocaine patches - superior topical effectiveness with minimal side effects and prolong transdermal drug release - are enabling their broader application.
By 2029, lidocaine patches worth over US$ 3 Bn will be leveraged in treating chronic pain conditions. Influenced by these numbers, manufacturers are indulging in continuous R&D activities to develop lidocaine-based non-opioid pain patches.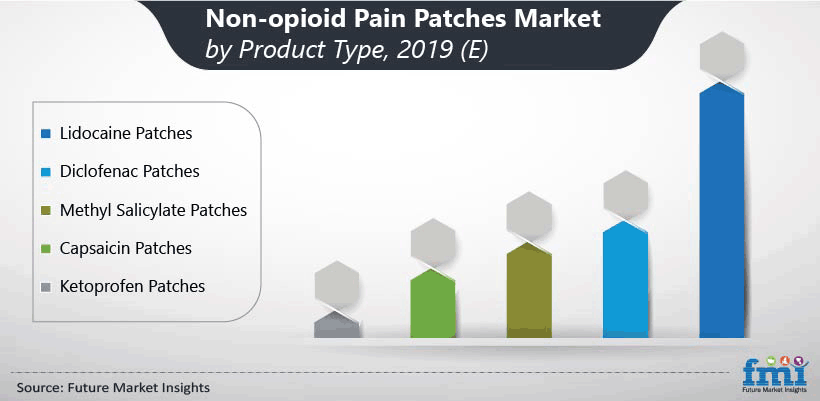 North America Represents Most Prospective Market
The U.S. Department of Health and Human Services (HHS) has found that, pain-related conditions are the most common reason for frequent hospital visits in the U.S. Further, the Centers for Disease Control and Prevention has underlined opioid misuse as among various factors burdening the national economy, every year. These trends are underpinning the non-opioid pain patches market in North America.
To curb expenses incurred for addiction treatment, governments in this developed region are introducing regulations to speed up the approval of novel non-opioid pain patches for chronic pain treatment. This study further reveals that, the North America non-opioid pain patches will hit US$ 2 Bn in 2022.
Manufacturers Must Focus on Developing Topical Therapeutics
Given the addictive vulnerability of opioid analgesics, manufacturers are turning to the development of non-addictive topical pain patches for acute as well as chronic pain. These novel new alternative therapeutics are developed with an aim to increase the duration of analgesic action and improved skin adhesion.
For instance, Sorrento Therapeutics has developed the ZTlido (lidocaine topical pain patch) 1.8% patch that can deliver pain relief for up to 12 hours, including during workout sessions. The product has been approved for the treatment of pain associated with post-herpetic neuralgia (PHA)
How Growth will Unfold
Majority of non-opioid pain patches are available as over-the-counter (OTC) products, and are purchased across various distribution channels according to a physician's suggestion. Conventionally, hospitals have been accounting for substantial sales of non-opioid pain patches, attributable to frequent patient visits for pain management, especially musculoskeletal disorders.
Moreover, the prolonged consumption of painkillers triggers medication-related adverse effects, and, as such, physicians prescribe these patches as an alternative to oral drugs. However, in developed regions, consumers prefer retail pharmacies and drug stores for purchasing OTC pain medication drugs and prescription medicines. Market players are thus uncovering new revenue lines through these distribution channels, which will outperform hospitals in 2024, in terms of value share.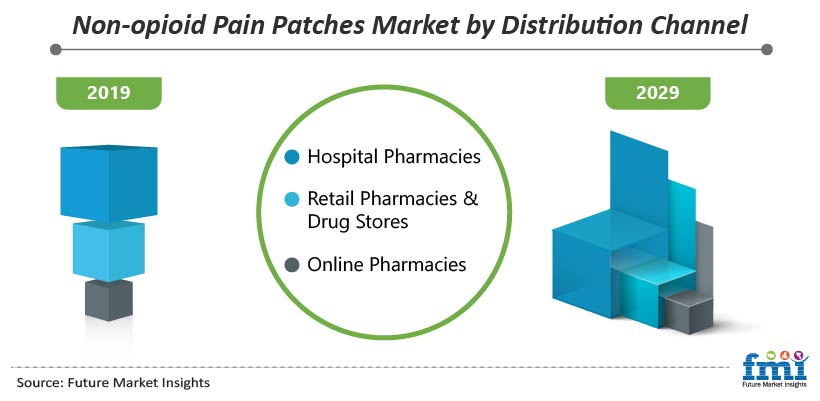 World's Most Profilic Intelligence Engine
Get Access To The World's Largest Market Research Database.
Sign Up Now
NON-OPIOID PAIN PATCHES MARKET TAXONOMY
The global non-opioid pain patches market is segmented in detail to cover every aspect of the market and present a complete market intelligence approach to the reader.
Product Type
Lidocaine Patches
Diclofenac Patches
Methyl Salicylate Patches
Capsaicin Patches
Ketoprofen Patches
Others
Distribution Channel
Hospital Pharmacies
Retail Pharmacies & Drug Stores
Online Pharmacies
Region
North America
Latin America
Europe
East Asia
South Asia
Oceania
Middle East and Africa
Need specific information?
Our Clients