An Incisive, In-depth Analysis on the Oem Insulation Market
This study offers a comprehensive, 360 degree analysis on the Oem Insulation market, bringing to fore insights that can help stakeholders identify the opportunities as well as challenges. It tracks the global Oem Insulation market across key regions, and offers in-depth commentary and accurate quantitative insights. The study also includes incisive competitive landscape analysis, and provides key recommendations to market players on winning imperatives and successful strategies.
Industrial growth to set the growth of insulation materials, dominated by Foam plastic insulation
OEM stands for Original Equipment Manufacturer whereas insulation is referred to a product that minimizes heat gain or loss and provide sound attenuation and absorption, as well as critical fire resistance by creating a block between the surfaces. This comprehensive research report covers different materials of OEM insulation namely, glass wool, mineral wool, foamed plastic and others. The foamed plastic is also further sub segmented into extruded polystyrene, expanded polystyrene, Polyurethane foam etc. The research report briefs all about the segments and sub segments. According to the analysis, foamed plastic possess the highest market value during the forecast period, and is expected to reach a market value of over US$ 13,000 Mn by the end of 2028. However, in terms of growth rate mineral wool is expected project a CAGR of 4.5% during the forecast period. The growth of different materials market is also a result of increasing energy costs in industrial operations. As conserving energy usage becomes more crucial than ever, the OEM insulation market is set to reap the rewards dramatically, particularly as sustainable manufacturing in the coming years becomes a priority.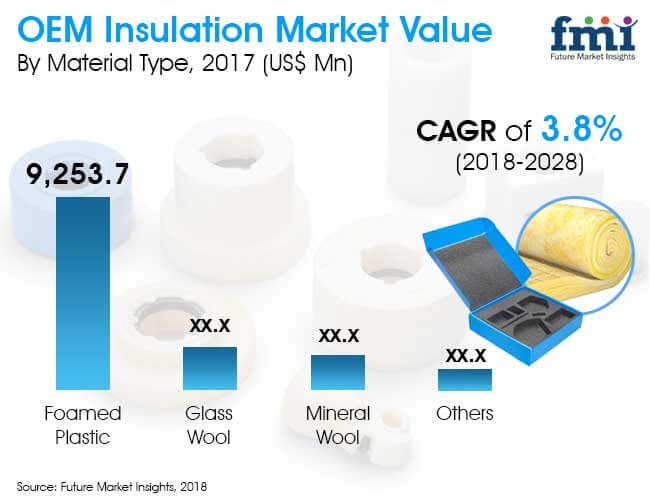 Fire resistance properties of Fiber glass insulation to support it being the most attractive type
Among different material types that are used to make insulation blankets, rolls and batts, fiberglass insulation has been the primary choice for many decades. Along with the popularity of fiberglass, the market also witnesses high prevalence of mineral wool insulation in the coming times. The fire resistance properties associated with fiberglass makes it popular in developing regions like China. Fire safety is a large concern in China, thus the material holds a significantly higher market value in the region. Other than fiber glass, foamed plastic is expected to depict attractive market gains in the near future. Foamed plastic insulation will be used in the OEM applications because of its high insulation values, allowing it to capture market share from fiberglass and mineral wool insulation. Demand for plastic foam insulation will benefit from rising nonresidential construction worldwide, including an expected rebound in Western Europe, will drive insulation usage. Additionally, insulation demand in the industrial, HVAC, and OEM markets will be boosted by expanding manufacturing activity, appliance output, and HVAC system installations.
Hazardous properties of insulation material to hinder the growth of OEM insulation market
Many insulation materials contain CFCs, making it a hazardous waste after demolition.The two most common insulation materials containing CFCs are PUR (polyurethane) and XPS (extruded polystyrene). Currently, transport and destruction of CFC containing insulation components involves expenses. However, the restraint is likely to pose minimal impact as market players are coming up with new technologies to make these solution sustainable. The fluctuation in the raw material price can also be a factor hampering the growth of market. Additives, binders, resins, and pigments are some of the common raw materials used to produce insulation solution. Fluctuations in crude oil prices negatively affect the price of raw materials, thereby influencing the cost of insulation coating.
In the report titled – OEM Insulation market – FMI analyzes the demand, trends, scenario and global outlook for the OEM insulation market for the designated forecast period, 2018-2028. OEM Insulation market is estimated to create opportunity at a moderate growth rate. The HVAC and Automotive sector use a significant amount of insulation materials for acoustic, thermal, and fire related purposes. OEM insulation materials such as glass wool and foams are mainly used in pipelines, pumps, compressors, power generators, and turbine rooms in the industrial sector.
Global Chemicals and Materials Industry Outlook
Recycle and reuse practices are impacting the sales of virgin materials, resulting into lesser dependency
Manufacturers continue seeking low-priced feedstock in a bid to marginally reduce pre-production costs. Industry leaders are joining forces to replace fossil fuel-derived feedstock with bio-based alternatives. However, concerns related to producing affordable and sustainable feedstock at mass scale remains a challenge. Access to quality and affordable feedstock will continue to remain a focus area for manufacturers. Chemical manufacturing processes are running on limited energy, while volume of feedstock is getting stranded at ports as disapproval from import authorities keeps disrupting supply chains in sectors, such as oleochemicals and petrochemicals industries.
Chemical manufacturers have promised support and adherence to governments & regional authorities that are committing towards green, sustainable initiatives. Development of bio-alternatives is gaining momentum. Research & academic institutes are teaming up with manufacturers to formulate sustainable substitutes for commonly-used chemical substrates. Many companies are keeping a close eye on advancements in "green chemistry." Shift towards eco-friendly chemicals will gain momentum in the future on the back of government regulations and end-user preference. Rising costs of fossil fuels will also instrument the upsurge for sustainable chemicals manufacturing.
Research Methodology
FMI utilizes robust methodology and approach to arrive at market size and related projections. The research methodology for this report is based on 3 dimensional model. We conduct about 45-60 min duration detailed interviews with product manufacturers; apart from this we also collect market feedback from industry experts. To validate this data, we interact with senior panel members having more than 10 years of experience in relevant field. The panel members help in validating the findings and fill the gaps if any. In addition, we leverage on our existing pool of information, paid database and other valid information sources available in public domain. Usually industry interactions extend to more than 50+ interviews from market participants across the value chain.
Data Collection
FMI collects data from secondary sources including company annual reports, association publications, industry presentations, white papers, and company press releases apart from these we leverage over paid database subscriptions and industry magazines to collect market information and developments in exhaustive manner. After being done with desk research, detailed questionnaire and discussion guide is formulated to initiate primary research with key industry personnel; the discussion aims at collecting key insights, growth perspectives, prevalent market trends and quantitative insights including market size and competition developments. Both of these research approaches help us in arriving at base year numbers and market hypothesis.
Data Validation
In this phase, FMI validates the data using macro and micro economic factors. For instance, growth in electricity consumption, industry value added, other industry factors, economic performance, growth of top players and sector performance is closely studied to arrive at precise estimates and refine anomalies if any.
Key Questions Answered
How the market has performed over the past few years?
What have been the challenges for market participants and how did they overcome them?
How has the technology landscape evolved over the past years?
How the competitors have performed and what have been their growth strategies?
What is the market potential expected to look like in near future across the globe?
How to sustain and grow market share?
What should be the future course of action?
Where do I currently stand?
Which are the segments, factors, regions offering promising growth potential?
What are the trends in the market and am I ready for them?
Market Taxonomy
By Material

By Insulation Type

By End Use

By Region

Glass Wool

Mineral Wool

Foamed Plastic

Others

Blanket

Rolls & Butts

Loose Fill & Others

Aerospace

Automotive

Marine

HVAC Equipment

Building & Construction

Consumer Appliances

Other Industrial

North America

Western Europe

SEA & Other APAC

Latin America

Eastern Europe

MEA

Japan

China

India
COVID -19 : Impact Analysis
Request the coronavirus impact analysis across industries and markets
Request Covid -19 Impact
CASE STUDIES
See how our work makes an impact.
At FMI, we design strategies that are adaptive, impactful, and implementable.