Alloying Steel with Diverse Elements for Resistance against Extreme Conditions
Oil and gas exploration activities are performed within adverse settings, driving the requirement of stainless steel oil and gas fittings owing to high CRA (Corrosion Resistance Alloys) specifications. Stainless steel oil and gas fittings counter the impacts of carbon dioxide and hydrogen sulfide, as well as high temperatures. Further, inclusion of titanium enhances the resistance aspect of stainless steel oil and gas fittings against seawater.
Rich content of chromium and molybdenum content in stainless steel oil and gas fittings ensure high thermal conductivity, and low thermal expansion, while the presence of nickel assures high resistance against corrosion cracking. In addition, the austenitic-ferritic chemical composition of steel alloy oil and gas fittings provides exceptional efficacy under low cryogenic and high temperature – up to 1000 degrees Celsius.
Frequently Asked Questions About oil and gas fittings market
What are the key factors shaping the oil and gas fittings market?
An upsurge in the number of new onshore wells and demand for replacement of aged fittings and flanges are the factors that are impacting the growth of the oil and gas fittings market. In addition, a growing number of drilling wells are increasing the sales and installation of pipes, valves, and fittings (PVF), which in turn, are propelling the market growth.
What impact will alloy steel have on the market growth?
Exploration activities for oil & gas are performed with adverse settings, driving the requirement of stainless steel fittings for their high corrosion resistance alloys (CRAs) attributes. CRAs are best suited to fulfill various functional requirements in oil & gas exploration and production.
What are the factors driving the demand for tees in the global market?
Demand for tees continues to surge, as it embraces a restriction bar welded internally to avoid entry of scrappers. The major purpose of tees is to make a 90-degree branch that enables directional change and size reduction of pipe in the piping system.
Which region is expected to hold the highest revenue share in the oil and gas fittings market?
North America and East Asia will continue to hold major revenue shares in the global oil and gas fittings market. This growth is attributed to the high applicability in onshore activities. Furthermore, the rapid growth of onshore drilling activities and a number of oil and gas pipeline projects in the U.S., Canada, and China will contribute to the market growth.
What strategies are the market players implementing to capitalize on growing demand for oil and gas fittings?
Most of the exploration & production companies are expanding their product portfolio by constructing new pipeline, plants, and production facilities. Adoption of online sales platform has emerged to be a supportive factor for the growing sales of oil and gas fittings.
Oil and Gas Fittings – Altering Dimensions to Tackle Pressure Drops
Long radius oil and gas fittings are gaining high traction in oil and gas platforms following lower pressure loss during directional change of flow, along with smooth pigging (maintenance). Oil and gas fittings – tees - encompass a restriction bar welded internally to avoid entrance of scrappers. The bars are welded in a manner to enable hurdle-free transit of the scrapper from the run pipe.
The 90 degree-reducing oil and gas fittings enable directional change as well as size reduction of pipe within the piping system, eliminating one pipe fitting, and decreasing welding process by almost a third. The progressive decline in diameter throughout the arc of the reducing oil and gas fittings provides lesser resistance to flow, as well as reverses the impact of stream turbulence and potential intrinsic corrosion. As a consequence, the reducing oil and gas fittings avoid significant pressure lapses during distribution.
Soaring Onshore Exploration Projects in North America and East Asia Promises Sales Opportunities
North America and East Asia are set to remain the frontrunners in the global oil and gas fittings market primarily due to increasing onshore exploration activities. The US is substituting the legacy wrought iron-based tees and flanges with durable versions, including carbon steel, and alloy steel at a sweeping rate. In addition, the country has kick-started projects of natural gas exploration and transportation pipelines – more than 100.
Furthermore, increasing intra-country and inter-country onshore pipeline projects in the US, Canada, and China to satiate the growing demand for oil and gas are capturing the attention of oil and gas fittings manufacturers.
Application-centric Requirement – Key Tenet to Define Stakeholders' Tactics
Oil and gas fittings require regular maintenance due to prolonged exposure to high-pressure distribution of the same. As such, market players, including Anvil International, and Probe Oil Tools, are entering into agreements in a bid to receive maintenance and replacement services for valves, and pipelines in oil and gas applications for leakage prevention, and corrosion.
Conventional rubber absorbs oil and swells up in size, resulting in leaks, thereby influencing market forces to focus on manufacturing nitrile rubber gasket for ductile steel applications suitable for natural gas, petroleum, and aromatic fuels. Realizing consumers' reliance on internet for purchasing products owing to competitive prices, and fast-paced lifestyles, market players are distributing oil and gas fittings via online platforms. Furthermore, Market leaders and followers are targeting countries – the US, Russia, and Saudi Arab – citing escalating demands for oil and gas.
Carbon steel to witness high traction
Moderate demand for stainless steel
Downstream remains highly preferred
Growing adoption of upstream
High applicability in onshore
How Growth will Unfold
Upswing in transcontinental pipeline projects in Middle East, and ASEAN, as well as steady growth in new onshore wells across the globe is set to drive the demand for oil and gas fittings. Countries, including Russia, China, and Argentina, are leveraging hydraulic fracturing to boost the production of natural gas, which will keep the manufacturers of PVF (Pipes, Valves and Fittings) products intrigued. Furthermore, developing countries – India, Brazil, and Nigeria – are observing uptick in demand for oil and gas, thereby propelling the growth of oil and gas fittings market.
On the other hand, trade disputes between the US and China resulting in hiked tariffs for steel and aluminum – key component in oil and gas fittings - tends to remain the weak spot in the progress of oil and gas fittings market.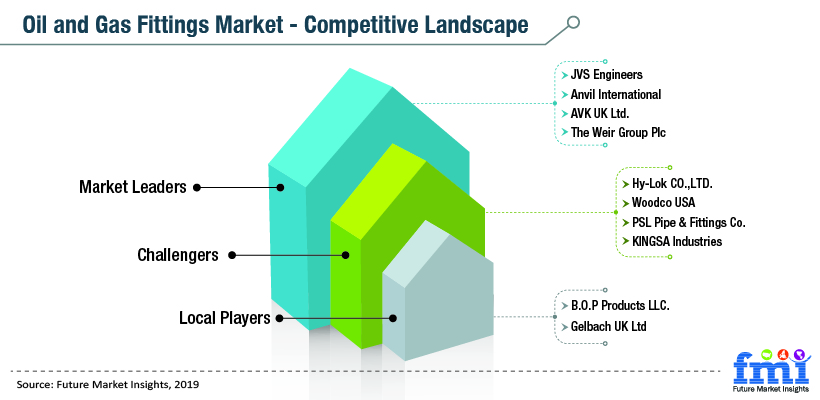 * This data is only a representation. Actual data may vary and will be available in report.
Click Here To Know How The Growth Will Unfold
Custom Market Research Services
FMI offers custom market research services that help clients to get information on their business scenario required where syndicated solutions are not enough.
Overview
Oil and Gas Fittings Market Analysis 2019-2029
A recent market study published by FMI on the oil and gas fittings market includes the global industry analysis 2014-2018 & opportunity assessment 2019-2029, and delivers a comprehensive assessment of the most important market dynamics. After conducting a thorough research on the historical as well as current growth parameters of the oil and gas fittings market, the growth prospects of the market are obtained with maximum precision.
Oil And Gas Fittings Market Taxonomy
The global oil and gas fittings market is segmented in detail to cover every aspect of the market and present complete market intelligence to the reader.
By Working Pressure
Less than 2,000 psi
2,000 - 4,000 psi
4,000 to 6,000 psi
6,000 to 10,000 psi
10,000 to 15,000 psi
Above 15,000 psi
By Product Type
Tees
Flanges

Blind/Test
Companion
Weld Neck

Adapters

Bottom Hole Test Adapter
Double Studded Adapter

Male Pins
Studded Crosses
By Material Type
Carbon Steel
Stainless Steel
Alloy Steel
Fiberglass
Composite
Others
By Operation
Upstream
Midstream
Downstream
By Region
North America
Latin America
Europe
East Asia
South Asia
Oceania
Middle East and Africa
How the research was conducted?
Primary Research
C - Level Executives
Marketing Directors
Product Managers
Business Development Officers
Production Managers
Procurement Heads
Sales Executives
Distributors
Traders
Raw Material Suppliers
Industry Experts
Operators
End Users
Current market dynamics and challenges
Yesteryear trends
Market characteristics
Market performance and growth quadrants
Competition structure and market structure
Strategic growth initiatives
Near-term and long-term market growth prospects
Market segment splits and authenticity
Opinions on market projections and validity of assumptions
Secondary Research
Industry Publications
Industry Associations

International Trade Association

Factiva
Company Press Releases
Annual Reports and Investor Presentations
Research Papers
Government Websites and Publications
Trade Websites
Primary Interview Splits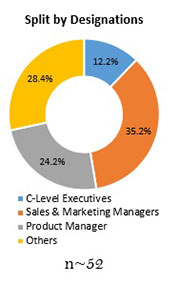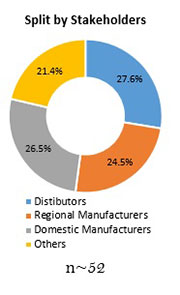 To Learn More About our Comprehensive Perspective on Oil And Gas Fittings Market ,
Get in touch
COVID -19 : Impact Analysis
Request the coronavirus impact analysis across industries and markets
Request Covid -19 Impact
CASE STUDIES
See how our work makes an impact.
At FMI, we design strategies that are adaptive, impactful, and implementable.