KEY GROWTH INFLUENCERS – OIL & GAS PIPELINE COATINGS MARKET
Oil & Gas Industry Players Focus on Optimum Corrosion Protection
Oil & gas pipelines are an essential part of the energy infrastructure, and tackling corrosion is one of the primary challenges for the industry. Pipeline failures can cause environmental damage on a global scale; hence, the application of oil and gas pipeline coatings is of utmost importance to operators.
According to the 'International Measures of Prevention, Application and Economics of Corrosion Technology (IMPACT)' study, the global cost of corrosion removal was estimated to be around US$ 2,505.4 Bn in 2013. This is equivalent to 3.4% of the global GDP. However, by using current available corrosion control practices, approximately 15% to 35% of the total cost of corrosion can be saved, which is between US$ 400 Bn to US$ 900 Bn, globally.
Therefore, manufacturers involved in the pipeline coatings industry have added new solutions such as self-healing and damage-tolerant pipeline coatings. These have microcapsules loaded with film forming, and anti-corrosion agents that create a barrier to prevent any moisture from reaching the surface.
Rising Investments in E&P Exploration Paving the Way for New Pipeline Projects
Pipelines play a major role in the transportation of oil and gas products from one facility to another. Major intra-country and inter-country pipeline projects are under development to meet the growing demand from the oil & gas sector across the globe. With the global crude oil prices recovering, global investments in the industry are anticipated to grow by 6% between 2017 and 2023.
As a part of these investments, an estimated 36,000 kilometers of onshore and offshore pipelines are planned in the coming 5 years to connect various production facilities, processing plants, refineries, and distribution facilities.
Stringent Regulations on VOC (Volatile Organic Compound) Emissions
The coatings industry is one of the most heavily-regulated industries across the globe. Hence, in recent years, manufacturers have been focusing on the production of coating technologies, which meet regulatory standards. Due to high VOC emissions, the solvent-based coatings market is witnessing volatility.
Various environmental regulatory bodies such as European Environment Agency (EEA) and Environment Protection Agency have set VOC content limits for various coatings in the market. Therefore, the increasing stringent regulations on VOC emissions are expected to hinder market growth of traditional solvent-borne coatings.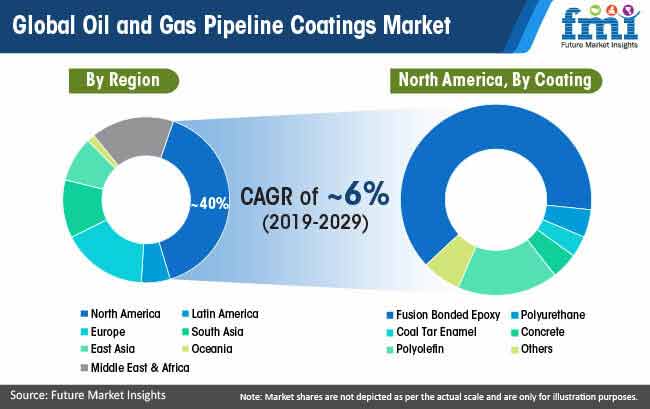 OIL AND GAS PIPELINE COATINGS MARKET STRUCTURE ANALYSIS
The global oil and gas pipeline coatings market is a moderately fragmented market owing to the presence of more number of players in the global market.
Manufacturers operating in the oil and gas pipeline coatings market are focusing on business expansion through mergers, acquisitions, and joint ventures. Key market players focus on strategies such as offering customized products, adding production lines in developing countries, and enlargement of distribution channels, which will help increase sales of oil and gas pipeline coatings.

For instance, in July 2019, Akzo Nobel N.V. announced plans to add three new production lines in China at its Changzhou powder coatings plant.
In September 2019, Shawcor started offering custom coatings to ensure maximize protection for customer projects.
In September 2016, RPM International Inc. acquired Specialty Polymer Coatings, a manufacturer of oil and gas pipeline coatings.

Major players in the oil and gas pipeline coatings market include, Akzo Nobel N.V., Axalta Coating Systems, Sherwin-Williams Company, PPG Industries, RPM International Inc., BASF SE, LyondellBasell Industries Holdings B.V., 3M, Koninklijke DSM N.V., Shawcor Ltd., Arkema SA, and Chase Corporation.
Fusion Bonded Epoxy Powder-based Coating Accounts for over 40% Share
Fusion bonded epoxy coating continues to witness higher demand as compared to its polyolefin and polyurethane counterparts. A gradual shift from solvent-based coatings to powder- and water-based coatings, as the latter reduce the concentration of flammable materials that build up in a confined space, has contributed to growing demand for fusion bonded epoxy coating.
Accounting for over 40% of total sales of oil & gas pipeline coatings, manufacturers are specifically emphasizing this category. Concrete and coal tar enamel coatings, on the other hand, are accounting for relatively low revenue share, despite their primacy in pipeline industry for over a century.
South Asia's Opportunistic Potential Rising
Demand for oil & gas pipeline coatings is currently based on increasing number of oil & gas pipeline projects, significant advances in pipeline coating technologies, and ongoing exploration of new energy reserves.
Growth prospects of the market will remain high in North America owing to increasing energy demand at above-average levels and ascending oil production in the U.S. South Asian market is also set to reflect a lucrative opportunity, as a number of projects lined up for the years to come. With oil & gas companies seeking to further develop their downstream sector, South Asia becomes the top target market for them.
Key Players Targeting Whitespaces in Nanotechnology
Manufacturers are focusing on leveraging new technologies and formulations to stay ahead of the curve and are currently focusing on the use of nanotechnology. Nanostructured pipeline coatings are not only hard and abrasion-resistant but also provide effective coating to internal and external complex surfaces. Moreover, greater emphasis on eco-friendly products has led to realignment of manufacturers' strategies with the use of nanotechnology.
How Growth will Unfold
With an exponential rise in oil exploration activities, deeper offshore installations, and more unconventional oil and gas transporting through pipelines, new corrosion challenges are appearing. This, in turn, is leading to surge in demand for innovative oil & gas pipeline coatings.
Aggressive chemicals and erosion-corrosion continue to take a toll on equipment and structures in the downstream sector, thereby potentially raising the demand for oil & gas pipeline coatings. Adoption in the downstream sector accounts for relatively high sales, while growing application of oil & gas pipeline coatings in the midstream sectors is expected to result in increased market share in near future.
World's Most Profilic Intelligence Engine
Get Access To The World's Largest Market Research Database. Ngage with a revolutionary intelligence engine that scale and pricing that flexes as per your needs
Sign Up Now
OIL & GAS PIPELINE COATINGS MARKET TAXONOMY
Coating
Fusion Bonded Epoxy
Polyurethane
Coal Tar Enamel
Concrete
Polyolefin
Others
Formulation Base
Water-based
Solvent-based
Powder-based
Application
Upstream
Midstream
Downstream
Region
North America
Latin America
Europe
South Asia
East Asia
Oceania
MEA
Need specific information?