Oracle Services Market - Key Research Findings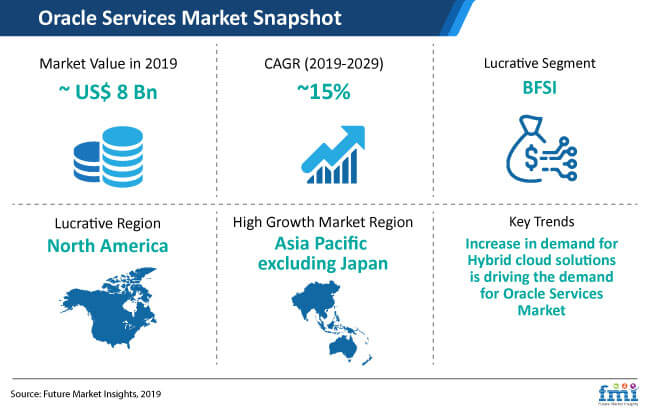 The global Oracle services market size in 2018 was ~US$ 7 Bn.
The Oracle services market is expected to grow at a CAGR of ~15% during the forecast period of 2019-2029.
Increasing cloud adoption are among some factors that have been driving the sales of Oracle services.
Collectively, North America are likely to account for half of the revenue shares in the Oracle services market by the end of 2029.

Western Europe and APEJ, due to the strong presence of cloud-based solutions, will continue to be among the prominent regional markets for Oracle services.

To provide high-performance oracle services with enhanced technology and meet the ever-rising demand for oracle solutions, leading players in the Oracle services market are focusing on entering into acquisitions and partnerships agreements with other market players in the 0racle services market.

In February 2019, the Wipro introduced Quick Migration to Cloud (QuMiC), a platform that allows enterprises in smooth migration to Oracle Cloud.
Cap Gemini introduced hybrid cloud solution for Telco providers to deploy the Oracle Communications Rapid Offer Design and Order Delivery Solution using Platform as a Service (PaaS) and Infrastructure as a Service (IaaS) together with Software as a Service (SaaS) components.
Infosys Finacle Collaborated with oracle to offer cloud services to transform the customer experience.
Key Factors Shaping the Oracle Services Market
Cloud Integration Driving the Demand for Oracle Services
Oracle offers solution and services through cloud computing which is accessed over internet and used by large number of customers simultaneously at the low cost. The various services offered through cloud computing are SaaS applications (Supply Chain Management, Enterprise Resource Planning, Human Capital Management, Enterprise Performance Management) and Platform as a service (Data Management, Application development, Business Analytics).
The various benefits of cloud-based offerings to oracle are increasing operational productivity, increasing revenue and lower costs. The companies such as oracle has years of experience of cloud computing and adoption of cloud computing results in various advantages such as fast implementation, no-upfront cost, scalability, accessibility and better security.
Oracle Cloud ERP (Enterprise Resource Planning) Brings Value to Businesses
The adoption of oracle ERP cloud is increasing in businesses as the ERP cloud delivers better decision making and improve workforce productivity. Oracle ERP offer faster time to value, scalability, and innovation to the businesses.
The demand is increasing for 0racle cloud ERP because ERP allows businesses to implement new functionality at a faster and more reliable rate compared to conventional on premise implementations. With enhanced reporting functionality, companies can acknowledge data request without depending on the IT department.
Oracle HCM (Human Capital Management) - A Complete Digital Transformation of HR Model
Recruitment is often done on a manual basis which is difficult task due to which the adoption of cloud HCM is increasing as the HCM cloud provides talent acquisition functionality to recruit, screen and hire applicants efficiently and collaboratively. Cloud HCM has the ability to set performance management goals, capture feedbacks about employees to help guide career development and perform talent reviews.
Many organizations have multiple HR solutions due to mergers and acquisitions that have taken over a number of years, so the demand is increasing for the Oracle cloud HCM for full HR transformation as one project, bringing global HR functions on one platform.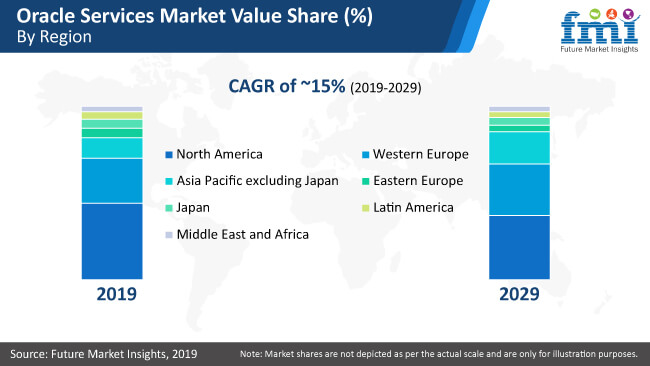 Oracle Services Market Structure Analysis
The global oracle services market serves a reasonably consolidated competition landscape, where a majority of key players maintain their strategic focus on the development, joint enterprises, & partnerships, and target a stronger global footprint.
The global oracle services market is estimated to be fragmented, which remains a key factor for its dynamic competitive nature.
Tier-1 Oracle services vendors account for around 38%-40% of the overall market. Vendors such as Deloitte Touche Tohmatsu Limited, Capgemini SE are among the largest and most experienced in the industry, and have a significant regional coverage across the globe.
Tier-2 Oracle services vendors account for around 20%-25% of overall market. Vendors such as DXC Technology Company, and HCL Technologies Limited and Wipro Limited are among the experienced companies in the industry, and have a significant regional coverage across the globe.
Tier-3 Oracle services vendors account for around 10%-15% of overall market. Vendors such as Accenture PLC, Tata Consultancy Services Limited, Cognizant, Tech Mahindra Limited, Infosys Limited, and PwC are among other companies that have a significant regional coverage.
Oracle Services- Reimagining Business Operations
Enterprises across the globe are reimagining their businesses models and capabilities, with an aim to consolidate their position by outdoing their competition. As these enterprises continue to focus on winning the business agility race, they are always on the lookout for valuable services that would help them increase relevance quotient of their businesses.
Multiple studies point to the fact that agile enterprises show a higher degree of adeptness in sustaining customer relationships, which warrants the growing investments in advanced services well-aligned with their strategies and capabilities.
However, the demand to avail multi-disciplinary solutions from a single platform continues to intensify, so that enterprises are saved from the inconvenience of seeking multiple services from independent sources. In addition, multi-disciplinary services in one single platform offers umpteen cost benefits to end users, with an added advantage of personalization. Such factors are likely to offer rewarding opportunities for the Oracle service providers to reap substantial profits through 2029.
The Massive Tide of 'Cloud' Integration
Evolving nature of business paradigms have called for high-scale implementation of solutions with exceptional promptitude and efficacy. Burgeoning investments in cloud-based offerings continue to be one among the key factors attesting the overhaul of business operations, worldwide. With 'value addition' being the epicenter of their strategic moves, Oracle service providers help enterprises to gain maximum returns out of their investments in Oracle solutions via three major service models- cloud services, consulting services, and financial services.
Among the wide-spread litany of brands offering comprehensive solutions for enterprise needs, Oracle's suite of solutions has gained massive traction by enabling end users to boost their performance across supply chain, human resources, customer relationship, and financial management. End-users' quest for services that would help them drive maximum value from their investments in Oracle solutions is estimated to propel growth of Oracle services market in 2019 and beyond.
APEJ- Promising a New Dawn of Opportunities for Stakeholders
While North America continues to be highly lucrative for the market players to aim at, fast-growing economies in Asia Pacific except Japan (APEJ) are likely to turn the tables around throughout the assessment timespan. Booming countries, including China and India, are reflecting a strong wave of enterprise growth, which is a key factor encouraging market players to expand their operational bases across these regions. Recognizing the exceptional growth potential in these regions, the leading service providers are capitalizing on demand for 'best-in-class' Oracle services coming from the SMEs to procure high profit margins.
The Broader Perspective
Customer assistance is of critical importance to businesses of varying stature, as it successful customer service is the elixir to long-term buyer retention. Realizing the importance of unparalleled customer assistance, the service providers will not only be able to recoup the customer acquisition costs, but also cultivate a loyal customer base. In addition, 24X7 customer assistance services also help the key vendors in building their brand image, wherein the customer assistance personnel act as key representatives of the brand's values to the customer bases.
However, over-the-top annual subscription charges in case of specific services offered by Oracle are likely to pose sizeable challenges for the service vendors. High cost of ownership and rigidity in price models will continue to impact customer satisfaction, which, in turn, has resulted in price renegotiations or withdrawal of contracts by customers. Sensing the aforementioned and its future repercussions, key vendors are introducing a wide range of services in available in affordable prices that would turn the odds in their favor.
How Growth Will Unfold?
Key vendors active in the oracle services market are zooming in their focus on opportunities brimming in the arena of small and medium enterprises, and are supporting growth of these businesses in the best possible ways. To capitalize on these opportunities, market vendors are using their industry-leading expertise to offer advanced and tailored services that are best-suited to the enterprises' needs.
With 'digital transformation' emerging as a buzzword across every field, key service providers operating in the oracle services market are providing access to professionals with in-depth knowledge across Oracle's range of comprehensive solutions, so that enterprises are able to take their businesses to the next level.
Key Segment
By Service
Consulting Service
Financial Service
Cloud Service
By Enterprise Size
Small & Medium Enterprise
Large Enterprise
By Vertical
BFSI
High Tech
Communication & Media
Retail & CPG
Energy & Utilities
Healthcare & Life Sciences
Public Sector
Others
By Region
North America
Latin America
Western Europe
Eastern Europe
Asia Pacific excluding Japan
Japan
Middle East & Africa
Need specific information?
Talk Show:
The Rise of Intelligent Packaging
Personalized, Connected and Sustainable
November 18, 2021
11:00-11:45 AM PST (USA & Canada)
This is a LIVE session