Tableau Services Market Overview
[280 Pages Report] The tableau services market revenue totaled ~US$ 896.1 Mn in 2021, according to Future Market Insights (FMI). The overall tableau services market is projected to reach ~US$ 2,183.2 Mn by 2028, growing at a CAGR of 13.6% for 2022 – 28.
| | |
| --- | --- |
| Attribute | Details |
| 2022 Market Value | US$ 1,016.5 Million |
| 2028 Market Value | US$ 2,183.2 Million |
| CAGR% (2022 to 2028) | 13.6% |
| Share of Top 5 Players | 30% |
The tableau services growth will continue to accelerate due to the continuous developments in business intelligence technologies. The growth of this market is driven by factors such as growing adoption of cloud computing services, increasing demand for data proliferation, rising internet penetration, rising trend of Bring-Your-Own-Device (BYOD) and increasing infrastructural development. Tableau services market is nearly 7.0% of the business intelligence platform market.
Don't pay for what you don't need
Customize your report by selecting specific countries or regions and save 30%!
How The Market Progressed Till June 2022?
| | |
| --- | --- |
| Market statistics | Details |
| H1,2021 (A) | 13.1% |
| H1, 2022 Projected (P) | 13.4% |
| H1, 2022 Outlook (O) | 13.6% |
| BPS Change: H1,2022 (O)-H1,2022(P) | (+) 20 ↑ |
| BPS Change : H1,2022 (O)-H1,2021(A) | (+) 50 ↑ |
Future Market Insights predict a comparison and review analysis for tableau services market. H1,2022(O)-H1,2022(P) witnessed a growth of 20 BPS points. Several companies irrespective of their sizes are implementing tableau services.
Social media and internet based companies also tend to rely on obtaining user insights in order to better understand consumer demands and requirements. Analytics is also being implemented for inner business operations such as, HR analytics due to which there is a growing demand for Tableau among data-based companies as well as enterprises of various sizes and domains.
H1,2022(O)-H1,2021(A) witnessed a growth of 50 BPS points, due to growing momentum of data analytics, business analytics, data science among the SMEs and large enterprises. There has been an increasing amount of data visualization in sectors like IT & telecom, retail and government which has supported this growth for tableau services.
Tableau Services Market Demand Outlook 2013-2021 Compared to 2022-2028 Forecast
Tableau is a Business Intelligence (BI) tool used to connect to virtually any data source. The tableau software allows real-time collaboration and data blending. Increase in use of tableau services for visual data analysis by several government organizations, academic researchers and businesses fueling the market growth.
The tableau services demand is estimated to rise at 13.6% CAGR between 2022 and 2028 in comparison with 11.6% CAGR registered during 2013-2021.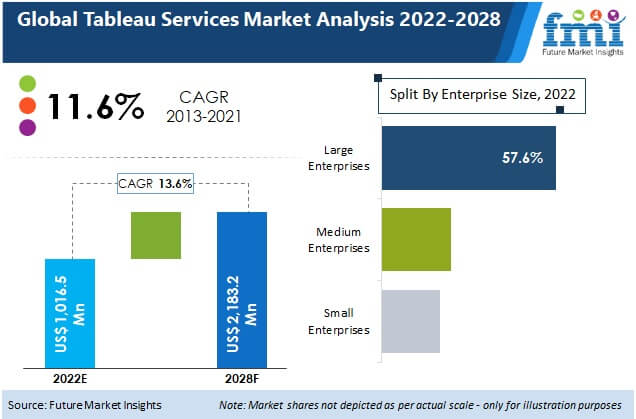 The global tableau services market is anticipated to witness an increase in revenue from ~US$ 1,016.5 Mn in 2022 to ~US$ 2,183.2 Mn by 2028.
Growth in IoT and Big Data analytics fueling growth of Tableau Services Market
A substantial penetration of the Internet of Things (IoT) and Big Data Analytics in the global business environment has boosted the need for smart Business Intelligence (BI) systems, which can, to a large extent, automate decision making, thus assisting data professionals in collecting useful and important information.
Moreover, business intelligence solutions, along with Big Data, are currently in high demand as businesses are aiming at coping with a large data stream to survive in this competitive market environment. Therefore, due to the rapid growth of IoT and Big Data analytics, the adoption of tableau BI tools is increasing.
Tableau Services Market - Country-wise Insights
How big is the Opportunity for Adoption of Tableau Services in the China?
China is predicted to remain one of the most attractive markets during the forecast period. According to the study, the country is expected to witness an incremental opportunity of US$ 85.1 Mn by 2028.
The boom in the manufacturing, consumer electronics and automotive sector in China is boosting the demand for advanced business intelligence tools, which is creating potential growth opportunities for the tableau services market. For instance, Tableau integrated with Amazon Web Services (AWS) in China to empower enterprises to maximize the return on organization's data.
At the back of these factors, the tableau services market in China is expected to grow at a significant rate.
Why is Demand for U.S. Tableau Services Increasing?
The tableau services demand in the U.S. is expected to account for 91.4% market share through 2028, in the North America. The U.S. is anticipated to grow in upcoming years as the country is a huge market for tableau services for advanced data visualizations among the large enterprises.
Continuous development in the business infrastructure in the country will fuel the growth of tableau services. There is an increase in data production from devices such as tablets, mobile, laptops and other computing devices.
This is one of the major factor driving the tableau services market in the US. Businesses in the country are scaling their BI projects with the latest Tableau 2021.3 version. Such factors will contribute to the growth of tableau services market in the US, during the forecast period.
How will the Sales Prospects for Tableau Services unfold in India?
The Indian tableau services market is estimated to increase at an impressive rate of around 16.4% CAGR by 2028. The tableau services market is rapidly evolving with advancements in digital transformation technologies and methodologies in India.
There is an increase in adoption of business intelligence tools and software solution in the country driving the demand of tableau services. Rapid digitalization in businesses is also one of factor driving the market growth in India. Growing adoption of IoT and big data analytics, and rising interest of small and medium enterprises towards the adoption of business intelligence technology, will support the growth tableau services in India.
Tableau Services Market - Category-wise Insights
How will the adoption of Tableau Services for Data Preparation fuel the Market Growth?
The data preparation segment is expected to register 10.8% CAGR by the end of 2028, in the tableau services market.
As tableau services provides direct visual experience of data, it gives businesses a deeper understanding of their data and make data preparation more accessible and easier. Tableau is a data preparation tool helps businesses overcome data prep challenges.
The smart algorithms of tableau prep turn repetitive tasks into one-click operations. Users can open Tableau Prep Flow in Tableau Desktop and share it with their colleagues over Tableau Online analytics platform.
The tool is taking the tedious task of data preparation and making it accessible to anyone by making it visual, easy, and direct. Hence the adoption of tableau services for data preparation will the market growth in upcoming years.
Why is the demand for Tableau Services Increasing in Medium Enterprises?
The medium enterprise segment is expected to showcase a strong CAGR of 13.4% over the upcoming years, in the overall tableau services market.
In the past few years, along with large enterprises, medium-sized enterprises are also prioritizing their focus on business intelligence technologies and initiatives. It has been observed that medium enterprises are interested in cloud computing, open source and social media analysis, and Power BI solution.
Therefore, to offer advanced analytics solutions, the providers of business intelligence solutions are focusing on providing related services through a stand-alone company or in partnership with professional service providers to medium enterprises to broaden the pool of business intelligence technology for small and medium-sized enterprises. Such factors are expected to increase the demand of tableau services in medium size enterprises.
How will Increasing adoption of Business Intelligence in the Manufacturing Sector Support Tableau Services Market Growth?
The manufacturing segment is expected to showcase an impressive CAGR of 11.2% over the upcoming years, in the tableau services market.
Business intelligence solutions are being adopted by manufacturing companies as tools for innovation in manufacturing processes. The increasing adoption of business intelligence solutions is offering manufacturers various business opportunities for growth.
By using the available computations of vast volumes of data, manufacturers use data-driven insights to understand the needs of end consumers and product performance under various operating conditions.
This data automation in the manufacturing industry is facilitating the growth of the business intelligence solution market, which is creating growth opportunities for the tableau services market.
Get the data you need at a Fraction of the cost
Personalize your report by choosing insights you need
and save 40%!
Competitive Landscape
Many key BI solution providers are inclined at investing heavily in Big Data analytics solution innovation and feature enhancement practices to uncover increased applications of tableau services among the enterprise customers.
With the use of advanced visualization technology, major vendors are also focusing on lowering the cost of tableau services and customer satisfaction for captivating an increased customer base.
For an instance, in May 2018, the company, in partnership with Tableau Software, introduced Taxalytics, which is aimed at supporting the tax function, in its role as a strategic advisor to larger enterprises. This new solution works as a link between an organization's tax, finance and IT departments by integrating financial data, ERP systems and visual analytics technology into analytics dashboards.
For an instance, in June 2017, the company launched Liquid Health, a new practice aimed at re-imagining engagement in healthcare. Through this innovation, the company create insights-driven and innovative experiences for patients, providers and payers.
Scope of Report
Attribute
Details
Market value in 2022
US$ 1,016.5 Million
Market CAGR 2022 to 2028
13.6%
Share of top 5 players
Around 30%
Forecast Period
2022 to 2028
Historical Data Available for
2013 to 2021
Market Analysis
USD Million for Value
Key Regions Covered
North America, Latin America, Western Europe, Eastern Europe, SEA & others of APAC , China, Japan, and Middle East & Africa
Key Countries Covered
US, Canada, Germany, France, Italy, Spain, UK, Benelux, Nordic, Russia, Poland, India, Australia, New Zealand, China, Japan, South Korea, India, Malaysia, Indonesia, Singapore, Australia & New Zealand, GCC Countries and South Africa
Key Segments Covered
Service Type, Enterprise Size, Vertical, and Region
Key Companies Profiled

Perceptive Analytics
Accenture
Deloitte
Bilytica
Nabler
Vizual Intelligence Inc.
SA Technologies, Inc.

Report Coverage
Market Forecast, Company Share Analysis, Competition Intelligence, DROT Analysis, Market Dynamics and Challenges, and Strategic Growth Initiatives
Customization & Pricing
Available upon Request
Tableau Services Market Outlook by Category
By Service Type:
Consulting
Maintenance & Support
Data Preparation
Governance
Dashboard Development & Designing
Server Development
By Enterprise Size:
Small Enterprises
Medium Enterprises
Large Enterprises
By Vertical:
Technology
Healthcare
Automotive
Consumer Goods & Retail
Manufacturing
BFSI
Government
Media & Entertainment
Energy & Power
Others
By Region:
North America
Latin America
Western Europe
Eastern Europe
SEA and other of APAC
Japan
China
Middle East and Africa (MEA)
Frequently Asked Questions
China is poised to stay highly attractive, projecting a US$ 85.1 million opportunity by 2028.
The global tableau services market is projected to reach a valuation of US$ 2,183.2 million by 2028, registering a CAGR of 13.6%.
Key countries in the global tableau services market include the United States, the United Kingdom, China, and India, with the United States being a dominant market.
Tableau services for data preparation are gaining traction because of its capability to optimize data processing.
The India tableau services market is set to achieve a robust 16.4% CAGR by 2028, driven by advancing digital transformation in the country.
The manufacturing sector is projected to take the lead by vertical, demonstrating a notable 11.2% CAGR through 2028.