Orthopaedic Prosthetics Market Heading Towards Connected Future
Future Market Insights' new report examines how the technological advancements and greater emphasis on value-added care will shape the future of prosthetics. In 2018, the orthopaedic prosthetics market was valued at US$ 1.8 Bn, which will attain moderate 4% yearly growth in 2019.
Today's sophisticated prostheses go far beyond replicating the general contours of a missing limb or a body part. In recent years, convergence of healthcare applications with state-of-the-art technologies has triggered advances in the field of orthopaedics and prosthetics. With connected technologies on the horizon, new surgical techniques, and more customized approaches, the field of orthopaedic prosthetics is set to evolve significantly.
Key Growth Influencers - Orthopaedic Prosthetics Market
Technological Innovations in Prosthetics
Increasing elderly population represents opportunities for hip implant device manufacturers as major root of amputations are diseases related to ageing such as osteoarthritis, rheumatoid arthritis, tendinitis, bursitis etc. Increasing accident rate due to increasing urbanization is also a major factor expected to drive the growth of the global orthopaedic prosthetics market. Manufacturers are also introducing advanced T & ceramic material and technological innovations in orthopaedic prosthetics to leverage untapped market opportunities and to provide better aid to elderly people. Top producers of hip implants have expanded the value chain to forward integrate the market in developing economies.
In addition, growing initiatives by government to improve healthcare facilities is expected to fuel the demand for orthopedic prosthetics products during the forecast period. For instance, Saudi Arabia unveiled an ambitious plan 'Vision 2030' in April 2016. Vision 2030 plan is expected to propel the development of the healthcare industry with a definite move towards privatization and increased healthcare expenditure from a current 25.0% to 35.0% of the total expenditure by 2020. This creates a favorable opportunity for all types of healthcare segments including orthopedics and orthopaedic prosthetics market players to harness a fair share.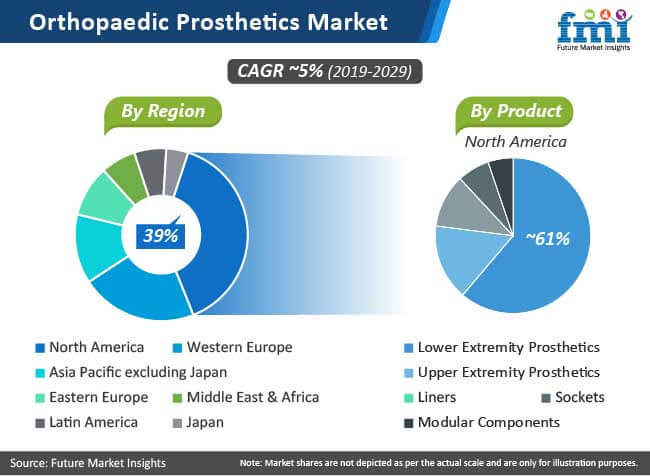 Reimbursement Policies for Orthopaedic Prosthetic Procedures
Growing government expenditure on healthcare infrastructure, globally, is encouraging favorable reimbursement scenarios in the prosthetics market. This in turn is anticipated to propel the orthopaedic prosthetics market growth. For instance, according to the Centers for Medicare and Medicaid Services, in North America, the overall healthcare spending has been increased by an average of 4.6% per year from 2016 to 2019.
National healthcare expenditure in the U.S. is anticipated to grow by an average of 5.6% per year because of the wide health insurance coverage of the Affordable Care Act. Due to increasing government initiatives, the U.S. is going to experience increasing attention to overall prosthetics procedures that are intended to restore normal functions of the amputated part of the body. Such initiatives by the government is expected to boost the market growth for orthopaedic prosthetics.
Orthopaedic prosthetics Market Structure Analysis
The global orthopaedic prosthetics market is a fairly competitive market. Smith & Nephew plc, B. Braun Melsungen AG, Johnson & Johnson and Ossur are the major key players contributing to the maximum market share in terms of revenue.
Business expansion through franchising, expanding distributor network, acquisitions, and collaborations are policies pursued by major participants in the orthopaedic prosthetics market.
Tier I key players participating in the orthopaedic prosthetics market are Ossur, Johnson & Johnson, Smith & Nephew plc and B. Braun Melsungen AG. Tier II companies include Hanger Inc. and Zimmer Biomet Holdings Inc. Lastly, tier III companies comprise of Otto Bock Healthcare GmbH, The Ohio Willow Wood Co., Blatchford Limited, and Fillauer LLC.
The local and global business stakeholders profit from a significant local and foreign marketing network of distributors.
FREQUENTLY ASKED QUESTIONS ABOUT Orthopaedic Prosthetics Market
How the Orthopaedic Prosthetics market is expected to grow in forecast period?
The market will grow moderately over the forecast period owing to technological advancements and greater emphasis on value-added care
Which key product will impact the market growth?
Amongst various products, growing demand for Lower Extremity Prosthetic products for treating medical conditions such as diabetes will have the highest impact in the Orthopaedic Prosthetics market
Which key countries will contribute majorly in revenue generation?
North America is anticipated to contribute majorly in revenue generation
Who are the Top 3-5 companies dominating the market?
Ossur, Johnson & Johnson, Smith & Nephew plc and B. Braun Melsungen AG are the key companies that dominate the market
Demand for Lower Extremity Prosthetics on Significant Rise
Accounting for over 60% of total revenue share, lower extremity prosthetics continue to influence growth strategies of market players. Increasing prevalence of medical conditions such as diabetes increases the risk of development of severe symptoms in lower part of the body. Moreover, several feet- and ankle-related disorders require surgical interventions. This, in turn, contributes to a notable increase in the demand for lower extremity prosthetics. Upper limb prosthetics are also garnering significant traction, on the account of growing number of sports injuries and road accidents.
North America's Market to Cross US$ 1 Bn Mark by 2026
North America continues to offer lucrative opportunity to market players, banking on more advanced healthcare settings. The North American market for orthopaedic prosthetics is set to surpass US$ 1 Bn mark by 2026, attracting huge attention from stakeholders. Market consolidation in developing countries in Asia Pacific also remains a key to gaining distinct competitive edge, given consideration to rising per capita healthcare expenditure and several government initiatives for integrated healthcare systems in the region.
Advanced Technologies to Bridge Gap between Orthopaedic Prosthetics and Human Body Parts
Connected technologies such as Artificial Intelligence in healthcare, virtual reality (VR), and Internet of Things (IoT) have been enabling researchers and manufacturers to fabricate orthopaedic prosthesis that can approximate the dexterity of human body parts. An embrace of R&D on technology for decoding neuromuscular signals and microprocessor controlled prosthetic is underway to allow prosthetic limbs to work much more like natural limbs. Apart from cutting edge technologies paving the way for the next-generation of orthopaedic prosthetics, advances in surgery are taking the field to a new level. With cloud swirling around robotic surgeries and emergence of rotationplasty, key players in the orthopaedic prosthetics are expected to witness a period of robust development and sustained demand.
Lower extremity prosthetics remain top selling category
Surging adoption of upper extremity prosthetics
High demand for electric-powered prosthetics
Conventional prosthetics to witness slow adoption
Prosthetic clinics take the lead
Adoption by rehabilitation center increases significantly
How Growth will Unfold
Demand for orthopaedic prosthetics is currently based on increasing incidence of accidental injuries and amputations in line with introduction of customized implant products. Electric powered prosthetics continue to witness innovations and investments as compared to their conventional and hybrid counterparts. Orthopaedic prosthetics worth of around US$ 855 Mn implanted on patients across the globe in 2018 were electrically powered, and the number is set to increase over the next decade. While better functional outcome continues to influence the demand for hybrid orthopaedic prosthetics, conventional variants will lose their revenue share in the near future.
* This data is only a representation. Actual data may vary and will be available in report.
Click Here To Know How The Growth Will Unfold
Custom Market Research Services
FMI offers custom market research services that help clients to get information on their business scenario required where syndicated solutions are not enough.
Overview
Orthopaedic Prosthetics Market Analysis 2019 - 2029
A recent market study published by Future Market Insights on the orthopaedic prosthetics market includes global industry analysis for 2014 - 2018 & opportunity assessment for 2019 - 2029, and delivers a comprehensive assessment of the most important market dynamics. After conducting a thorough research on the historical as well as current growth parameters of the orthopaedic prosthetics market, the growth prospects of the market are obtained with maximum precision.
Orthopaedic Prosthetics Markets Taxonomy
The global orthopaedic prosthetics market is segmented in detail to cover every aspect of the market and present a complete market intelligence approach to the reader.
Product
Upper Extremity Prosthetics

Hand Prosthetics
Elbow Prosthetics
Shoulder Prosthetics

Lower Extremity Prosthetics

Foot & Ankle Prosthetics
Knee Prosthetics
Hip Prosthetics

Liners
Sockets
Modular Components
Technology
Conventional
Electric Powered
Hybrid Orthopaedic Prosthetics
End User
Hospitals
Prosthetic Clinics
Rehabilitation Center
Others
Region
North America
Latin America
Western Europe
Eastern Europe
APEJ
Japan
Middle East and Africa
How the research was conducted?
Primary Research
C - Level Executives
Marketing Directors
Product Managers
Business Development Officers
Production Managers
Procurement Heads
Sales Executives
Distributors
Traders
Raw Material Suppliers
Industry Experts
End Users
Current Market Dynamics and Challenges
Yesteryear Trends
Market Characteristics
Market Performance and Growth Quadrants
Competition Structure and Market Structure
Strategic Growth Initiatives
Near-term and Long-term Market Growth Prospects
Market Segment Splits and Authenticity
Opinions on Market Projections and Validity of Assumptions
Secondary Research
Industry Publications

Journal of Prosthetics and Orthotics
Prosthetics and Orthotics International
Journal of Neural Engineering

Industry Associations

American Orthotic & Prosthetic Association Administration
The Association of Bone and Joint Surgeons
International Society for Prosthetics and Orthotics
National Association for the Advancement of Orthotics and Prosthetics

Factiva
Company Press Releases
Annual Reports and Investor Presentations
Research Papers
Government Websites and Publications
Trade Websites
Primary Interview Splits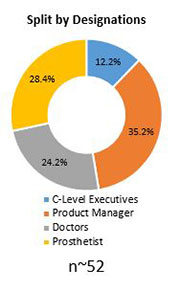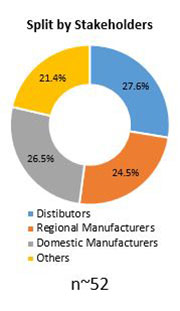 To Learn More About our Comprehensive Perspective on Orthopaedic Prosthetics Markets,
Get in touch
COVID -19 : Impact Analysis
Request the coronavirus impact analysis across industries and markets
Request Covid -19 Impact
CASE STUDIES
See how our work makes an impact.
At FMI, we design strategies that are adaptive, impactful, and implementable.