Orthopedic Insole Market By Insole Type (Prefabricated, Custom), Base Material (Polymer, Plastic, Rubber, Carbon Fiber, Silicone), Consumer Operation (Men, Women, Kids), Sales Channel (Direct, Indirect) & Region – Forecast 2021 – 2031
Orthopedic Insole Market - Analysis, Outlook, Growth, Trends, Forecasts
March 2021

REP-GB-13037

300 pages
Orthopedic Insole Market Overview
[300 Pages Report] The orthopedic insoles market is expected to surpass US$ 4.9 Bn by 2021. Global orthopedic insoles market to grow at CAGR of 10.4% throughout the forecast period 2021-2031
Orthopedic insoles are a game-changer for those suffering with postural issues, foot pain, spine problems and flat feet, among other locomotory concerns. Increasing number of people with foot pain, rising prevalence of osteoporosis in middle-age women, and a surge in the adoption of technologically advanced products are driving the global orthopedic insoles market.
The efforts on the part of industry players to promote their innovative products to find a foothold in the competitive environment are expected to reflect a steady growth in the coming few years.
ESOMAR-certified consulting and market research firm Future Market Insights (FMI) offers detail insights about key drivers and factors driving the demand for orthopedic insoles. The study tracks down global sales of orthopedic insoles in 20+ high growth markets, along with the COVID-19 analysis on the industry in general.
How Historical Sales of Orthopedic Insoles Compare with Future Outlook?
Growing obesity rate, high penetration of diabetes, and increase in various foot and back issues are the key factors fuelling the demand for orthopedic insoles. Internet penetration has been surging on a year-on-year basis across the globe. This has enabled customers to gain easy access to information about the various shoe inserts available in the market.
This factor has encouraged various manufacturers of shoe inserts to promote and sell products through various e-Commerce and social media sites. While a significant number of companies are showing keen interest in expanding their distribution channel in the global arena, some of the manufacturers are facing challenges in following rules and regulations in terms of product transportation.
Increasing focus on supply chain management and increasing investments on logistics, warehouses, and transportation of the orthopedic insoles might help overcome risks associated with supply chain management. These are a few aspects that are expected to drive orthopedic insoles sales during the forecast period. FMI projects the global orthopedic insoles market to grow at CAGR of 10.4% throughout the forecast period 2021-2031.
High Prevalence of Planar Fasciitis Driving Orthopedic Insoles Demand
Plantar fasciitis is a typical degenerative disease influencing grown-ups aged between 45 and 50 years or beyond. It often causes incessant heel pain, with diabetic patients particularly at the most noteworthy danger. According to the World Health Organization (WHO) there are about 422 million people worldwide suffering from the condition and it is anticipated to increase to 629 million in the coming foreseeable future.
Further, with rise in the number of diabetic patients, prevalence of plantar fasciitis is bound to increase. According to American Podiatric Medical Association (APMA), approximately 2 million people will suffer from plantar fasciitis, one of the most common foot pains. Moreover, diabetic patients face intense recuperating issues, and fasciitis inflicts debilitating effect over these patients, leading them to look for proper preventive measures.
Based on the aforementioned factors, the demand for the orthopedic insoles is expected to increase in the forecast period. Sales will rise especially as diabetic patients seek effective shock absorbent and cushioning footwear. Orthopedic insoles are thus considered the most appropriate non-invasive and cost-effective approach.
How is Initial High Cost of Orthopedic Insoles Restraining Sales?
While orthotic insoles have played an instrumental role in ensuring maximum comfort of patients suffering from foot ailments, improper prescription in several cases have exacerbated problems, increasing pain and discomfort and aggravating pre-existing medical conditions.
People with especially high risk are those suffering from heel pain, knee problems and Achilles tendon pain respectively. Furthermore, the initial cost of purchasing orthotic insoles is discouraging healthcare providers and individuals from investing in them which is likely to contract demand. Also, limited awareness across developing nations is expected to limit the product's penetration.
What is the Commercial Potential of Custom Orthopedic Insoles?
Custom orthopedic insoles are specially made shoe inserts, which are designed to fit perfectly to the feet. These products provide support and comfort to users. They are manufactured after complete evaluation of the foot structure of the user. Custom orthopedic insoles are effective in relieving conditions such as lower back pain, leg fatigue, heel pain/plantar facilities, and other painful conditions of the foot associated with other diseases such as diabetes and arthritis.
Moreover, clinical studies performed to compare the effectiveness of custom-made and prefabricated insoles conclude that custom made foot orthotics are more effective than prefabricated ones as they provide foot comfort while reliving painful foot conditions.
For instance, according to research published by the journal PLOS ONE in February 2017, custom- made foot orthotics reduced tibial and head acceleration rates compared to prefabricated insoles. Thus, advancement in the technology to offer customized foot orthotics is anticipated be a lucrative opportunity for new players willing to enter the market.
Orthopedic Insole Market Country-wise Insights
How Colossal is the Opportunity for Orthopedic Insoles Market in US?
As per the FMI analysis, the U.S. holds high potential within the global market and is anticipated to continue exhibiting lucrative opportunities through the course of the forecast period. Consumers across the region are willing to pay more for premium or custom products, thus augmenting the orthopedic insoles market in US.
Population category which is more prone to orthopedic diseases is the obese and geriatric population. Progression of age causes arthritis and other complications in which connective tissues such as ligaments attached to the bones become less flexible and more constrained. These factors are expected to drive demand for orthopedic insoles in the U.S. as the country continues to register rising prevalence of both obesity and diabetes.
According to the Centers for Disease Control and Prevention, prevalence of obesity was nearly at 42.4% between 2017 and 2018. With the prevalence projected to rise even further, the demand for orthopaedic insoles is expected to rise considerably in the coming years.
Lifestyle changes along with changes in eating habits lead to increase in obesity, which puts pressure on the joints in lower extremity and result in joint damage and other joint disorders. Increase in percentage of geriatric and obese populations is likely to continue augment the adoption rate of orthopedic insoles over the forecast period.
According to the United Nations - Department of Economic and Social Affairs in 2019, there were 703 million persons aged 65 years or over in the global population and is anticipated to double to 1.5 billion in 2050. According to the American Association of Orthopedic Surgeons, the obese population is 20 times more likely to undergo knee replacement surgery when compared to those who are not overweight.
Will e-Commerce Drive the Orthopedic Insoles' Demand in India?
The development of e-Commerce platforms allows customers to browse and order from a range of orthopedic insoles offerings provided by vendors through online portals. It makes the shopping experience of buyers calmer and supports in brand retaining and prominence. Online sale results in higher revenue and increase in market share.
Furthermore, rise in penetration of e-Commerce is expected to enable vendors to provide a broad range of products in user segments such as teenagers to adults to reach new potential customers and increase the customer base of these products.
Availability of a wide range of orthopedic insoles on these platforms provides users a unique buying platform to compare prices, features, and product promotions. Individual users get to interact with fellow consumers and get to know their feedback on the products. Indian market offers humungous opportunity for investors, citing which leading global giants are entering into distribution agreements within the sub-continent and are also actively undertaking mergers & acquisitions.
How will 3D Technology Increase the U.K. Orthopedic Insoles Demand?
The U.K. market is expanding because of significant insurance coverage and focused government efforts toward increasing the acceptance of advanced products among end-users in the country. The 3D printing production process adopted by several footwear manufacturers has revolutionized the industry. 3D printing is a new buzzword among companies engaged in the production of tangible goods.
The footwear industry also cannot escape from this development. Several footwear startups have engaged themselves in production using 3D printing technology in manufacturing. 3D printing is also becoming popular as it has less environmental footprint. 3D printing can formulate custom shoes, and companies have an opportunity to grow with the usage of 3D printing technology.
Is Technological Advancement Driving the German Orthopedic Insoles Demand?
Germany is a highly lucrative market for orthopedic insoles in the region, owing to superior technological advancements from local manufacturers in the country. Large numbers of global manufacturers who have technical expertise and core competencies are undertaking constant efforts to develop and manufacture novel products to attract more customers.
Improved biomaterial-based insoles offering high strength and low wear are witnessing an exponential rise in demand in developed as well as in developing countries. Further, rapid adoption rates are observed for technologies such as 3D bio-printing, custom made orthopedic insoles, and computer-aided fixation of orthopedic insoles.
The newer materials used in orthopedic insoles include thermoplastics and carbon composite fibers. A range of techniques have been developed which enable computer or robotic aided manufacture of custom foot orthotic insoles. These advanced products that offer advantages such as reduced complications, and improved life cycle of the product are rapidly gaining momentum in terms of demand among end-users.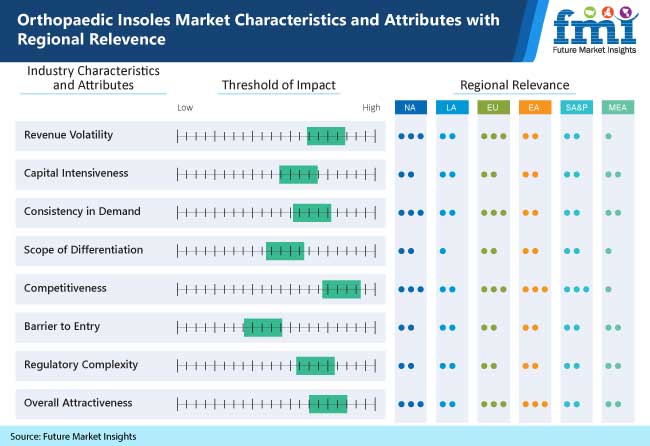 Orthopedic Insole Market Category-wise Insights
Why is Shock Absorb Gel Insole projected to Reflect High Growth?
Pressure and impact on the heel can be effectively distributed to prevent soft tissue damage, using gel insoles. Owing to the shock-absorbing capabilities of gel insoles, this segment within the casual and sports insoles market is set to register a high CAGR over the forecast period. Key participants of the casual and sports insoles market such as Aetrex Worldwide, Inc., Currex GmbH, Atlantic Footcare, Inc., Digitsole, Implus Footcare LLC, and among others are commercially marketing shock absorption technology using materials such as gels.
Gel insoles are highly preferred by sportsmen, athletes, regular walkers, and runners, as these activities require high shock absorption. The gel plays a critical role in absorbing the shock generated from intense physical activities, thus preventing foot injuries.
How is the Demand for Environmental-friendly Raw Material?
Increasing adoption of eco-friendly materials in manufacturing orthotic insoles is opening new avenues for growth. Favorable reimbursement policies in developed countries, growing investments by key industry players, and increased spending on research and development are expected to boost revenue in the coming years. Due to increase in pollution, many countries including China, India, and others have banned single-use plastics and implemented strict government norms to reduce environmental impact.
This has compelled manufacturers to make products using materials that can be recycled such as recycled plastics, recycled polyester, and recycled cotton, helping companies to make eco-friendly products for its customers.
For instance, in February 2020, Texon International Group Limited announced to set out its sustainability ambitions and to become a zero waste organization by 2025 by reducing carbon footprints, ensuring 90% of waste is recyclable and many others steps.
How are Women Benefitting from Advanced Products like Anti-fatigue Insoles?
Osteoporosis affects men and women of all races, but white and Asian women have high susceptibility, especially the older women who are past menopause. Anti-fatigue insole are gaining traction among people who work in standing and walking position for longer period of time.
Insoles with anti-fatigue technology help people to keep themselves healthy, fit, and happy, while work to their full potential. The demand for anti-fatigue is high as it has been proven to be inexpensive and a sensible solution to be implemented in workplace, which naturally helps to eliminate the lost work time by preventing negative health effects such as backaches, headaches, and foot problems and also helps to increase employee productivity.
However, anti-fatigue are made from doubled layer memory foam that is, with high quality and high-tech materials, which helps to absorb shock at each step hitting the ground. High quality anti-fatigue insoles help to keep the moisture away from the foot and resist mold, bacteria and fungus.
How is Online Retailing Benefitting the Market?
No sooner did the COVID-19 pandemic hit, a majority of the store retailers shifted to internet retailing. The trend of Omni-channel retailing had begun even before the COVID-19 pandemic became known to the world, however, the lockdown period was a nail in the coffin. A more important fact is that a considerable section of new e-Commerce users intend to continue with online retailing. Primarily, stores that develop effective Omni-channel capabilities so as to maintain position among the physical grocers and also in a digital sphere are driving the market's momentum.
According to the analysis of FMI, the online retailers is expected to reach an approximate 15.7% market share by 2031.
Orthopedic Insole Market Competitive Landscape
Companies such as Reckitt Benckiser Group plc., Aetrex Worldwide, Inc., Currex GmbH, Atlantic Footcare, Inc., Digitsole, and Implus Footcare LLC, are expanding the special shoe insert (insole) collection and giving importance to arts position in today's culture.
There is high focus on new ideas and out-of-box thinking, flexibility in designing the product, innovation in product style, and increasing global footprints through supply chain and distribution networks. For instance, in 2019, Aetrex partnered with True Fit, a data-driven personalization platform, to integrate True Fit's size, fit, and style recommendations with the Aetrex technology ecosystem.
Some of the leading companies operating in the market are:
Otto Bock SE & Co. KGaA
Birkenstock Digital GmbH
Steeper, Inc.
A.Algeo Limited
Aetrex Worldwide, Inc.
Superfeet Worldwide, Inc.
Digitsole
Allied OSI Labs
Bauerfeind aG
Stable Step, LLC
Cascade Dafo, Inc.
*The list is not exhaustive, and only for representational purposes. Full competitive intelligence with SWOT analysis available in the report.
Scope of the Report
Attribute

Details

Forecast Period

2021-2031

Historical Data Available for

2016-2020

Market Analysis

USD Million for value and '000 Units for Volume

Key Regions Covered

North America, Latin America, Europe, East Asia, South Asia, Oceania Middle East & Africa

Key Countries Covered

US, Canada, Germany, U.K., France, Italy, Spain, China, Japan, South Korea, India, Thailand, Malaysia, Indonesia, Australia, New Zealand, GCC Countries, , Northern Africa, South Africa

Key Segments Covered

Insole Type, Sales Channel, Consumer Orientation, Base Material Type, and Region

Key Companies Profiled

Reckitt Benckiser Group plc
Otto Bock SE & Co. KGaA
Birkenstock Digital GmbH
Steeper, Inc.
A.Algeo Limited
Peacocks Medical Group
Aetrex Worldwide, Inc.
Superfeet Worldwide, Inc.
Digitsole
Allied OSI Labs
Bauerfeind aG
Mile High Orthotics Lab, Inc.
Stable Step, LLC
Cascade Dafo, Inc.

Report Coverage

Market Forecast, brand share analysis, competition intelligence, DROT analysis, Market Dynamics and Challenges, Strategic Growth Initiatives

Customization & Pricing
World's Most Profilic Intelligence Engine
Get Access To The World's Largest Market Research Database.
Sign Up Now
Orthopedic insoles Market by Category
Insole Type
Base Material Type
Polymer
Plastic
Rubber
Carbon Fiber
Silicone
Consumer Orientation
Sales Channel
Direct
Indirect

Hypermarkets/ Supermarkets
Departmental Stores
Multi-Brand Stores
Specialty Stores
Exclusive/ Franchised Stores
Online Retailing
Others
Region
North America
Latin America
Europe
East Asia
South Asia
Oceania
Middle East and Africa (MEA)
Key Questions Answered in the Report
Which is the most lucrative market for orthopedic insoles?
Europe currently leads the global market for orthopedic insoles. The increasing demand for high-quality care and increasing prevalence of foot issues, coupled with technological advancements have played a significant role in facilitating regional growth.
Which is the top-selling orthopedic insoles category?
As per FMI, factors such as low cost, increasing penetration of advanced technologies such as 3D printing used for custom foot orthotic insoles, and attractive product offerings by leading players have been fuelling prefabricated foot insoles sales in various categories of sizes and material quality.
Which is the prominent sales channel in the orthopedic insoles market?
Direct sales still account for a notable share in the market, however, sales via multi-brand stores and exclusive/ franchise stores are anticipated to grow considerably over the forecast period.
Which are some of the leading companies offering orthopedic insoles?
Some of the leading companies offering orthopedic insoles include Reckitt Benckiser Group plc, Otto Bock SE & Co. KGaA, Bauerfeind aG, Mile High Orthotics Lab, Inc., Stable Step, LLC, Cascade Dafo, Inc., Birkenstock Digital GmbH, Steeper, Inc., A.Algeo Limited, Peacocks Medical Group, Aetrex Worldwide, Inc., Superfeet Worldwide, Inc., Digitsole, and Allied OSI Labs.
Need specific information?
Our Clients