Sports and Athletic Insoles Market Snapshot
Internet of Things (IoT) is being implemented in the manufacturing of various types of traditional consumer goods, which include sports and athletic insoles, to promote ease of use. The evolution of sports and athletic insoles has gone above and beyond the convenience of consumers.
Future Market Insights (FMI) has forecast the market to register a year-on-year growth rate of 6.2% in 2021. As per the FMI analysis, the sports & athletic insoles market size will surpass US$ 7,735.7 Mn in 2021.
Between 2021 and 2031, the market is expected to exhibit compound annual growth rate (CAGR) of 7.0%. In terms of base material type rubber segment is expected to dominate with an above average CAGR of 6.5% through the assessment period.
Key Points Covered in the Sports & Athletic Insoles Market Report
Market estimates and forecast 2016-2031
Key drivers and restraints impacting market growth
Segment-wise, country-wise, and region-wise analysis
Competition mapping and benchmarking
Brand share and market share analysis
Key product innovations and regulatory climate
COVID-19 impact on sports & athletic insoles market and how to navigate
Recommendation on key winning strategies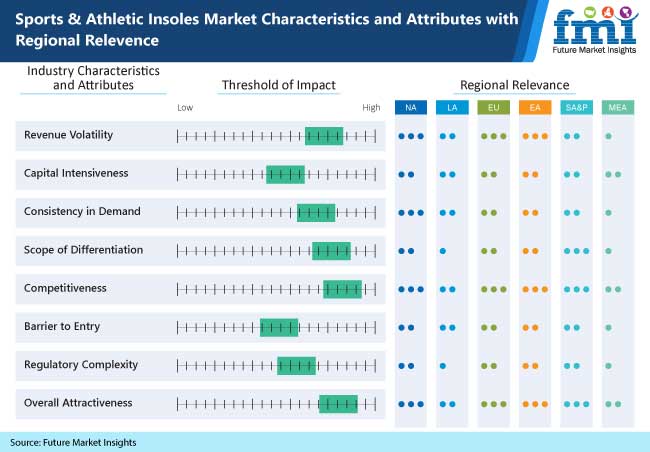 2021-2031 Sports & Athletic Insoles Market Outlook in Comparison to Sales Registered in 2016-2020
As per recent surveys, shock absorbing insoles are highly preferred when it comes to sports & athletic shoes as these insoles help relieve the pressure placed on the feet. These insoles help to lessen the impact on feet by absorbing the damaging shock waves during physical movements.
Some of the leading companies manufacturing sports and athletic insoles are actively marketing their gel insoles as shock absorbing technology. Such strategies are expected to register a positive market growth trend in the following years. FMI has forecast the sports & athletic insoles market to rise at 7.0% CAGR between 2021 and 2031.
Ascend in the acceptance of environment-friendly materials in production of sports & athletic insoles is opening new avenues for manufactures. In addition, implementation of strict government norms and regulations and regulations on making leather products to reduce environmental impact, which leads companies/ manufacturers to make products that can be recycled such as reused plastics, reused polyester, and reused cotton. This helps companies to make eco-friendly products for its customers.
For instance, in February 2020, Texon International Group Limited announced to set out its sustainability ambitions and to become a zero waste organization by 2025 by reducing carbon footprints, ensuring 90% of waste is recyclable and many others steps.
How will Bluetooth Compatibility Insoles Improve Athlete Performance?
The demand for Bluetooth compatibility insole is rising due to increase in demand for smart sports and athletics in the footwear market. Bluetooth compatibility insoles are connected to a smartphone via Bluetooth, which help to link the activity of an individual with the smartphones.
As pressure sensors implemented inside the insole help an individual to provide information on distribution of body weight mid-gait. Further, Bluetooth compatibility insoles plays a vital role to boost comfort, convenience, good health, measuring athletic performance and fitness.
For instance, Digitsole's smart heated insoles are designed for people who work outdoors all day in the cold. The shock-absorbing heel allows the Digitsole's smart heated insoles to be ergonomically accommodating for individual feet and will even track how many calories an individual has burned in a day.
Thus, with the increase in demand for smart Sports and Athletics by millennial generation, the demand for smart insoles with Bluetooth compatibility has been increasing in the sports and athletic insoles market.
How is Increasing Availability of Counterfeit Products Impacting Sports & Athletic Insoles Market?
The surge in brand awareness has steered consumer preference in favor of using high-end and high value footwear products, though this also has created a sudden arrival of a pool of manufacturers of counterfeit products who use the logo of established brands to sell their products a cheaper price.
Thus, an unorganized market is created that is not only taking away genuine customers from the real product, but also creating confusion among customers and changing their perception about a particular brand due to the missing attributes of the real brand in the counterfeit product, which they have been purchasing.
The market of counterfeit products is also growing as manufacturers do not need to spend on advertisement, though they reap the benefits from the advertisement efforts put in by real manufacturers. This growth of counterfeit products is mostly being observed in the developing countries where a large number of consumers are driven by the logo of the brand. This unorganized market is largely unchecked and thus, has been posing serious threats to the organized players.
Country-wise Insights
How Will Integration of 3D Technology Scale Up the Need for a Sports & Athletic Insoles in the United States?
North America is predicted to be one of the most attractive markets during the forecast period, according to Future Market Insights. The United States is expected to account for over 70.0% of market share in North America through 2021.
The 3D production process embraced by a footwear producers has reformed the insoles market. 3D printing is a new buzzword among the companies engaged in production of tangible goods. The footwear industry also could not escape from this development. Several footwear startups have engaged themselves into the production of 3D technology-led manufacturing.
For example, Feetz, an American custom sports and athletic insoles startup has fostered its own 3D printer utilizing a fused filament fabrication technique. 3D printing is likewise becoming mainstream as it has less natural impression.
What is the Demand Outlook for Sports & Athletic Insoles in Italy?
Italy is expected to account for over 11.3% of market share in Europe through 2021. The sports and athletic insoles market is anticipated to capitalize on opportunistic trends prevalent in the country in the foreseeable. This will be bolstered by increasing in sports activity, particularly football and high popularity of insoles in the country.
Further, the rise in foot injuries and loss of consciousness among sportsperson in the Italian club football events leads customers for opting high-performance insoles in their footwear. This has also provoked the entry of new players in the production of sports & athletic insoles in particular country.
Why is the Demand for Sports & Athletic Insoles Increasing in India?
In 2021, India will account for over 29.7% market share in South Asia. Development in the nation is catalyzed by the developing pervasiveness of foot issues among athletes. According to the Healthy Athlete (HA), 2019 Fit Feet Screening Program of Special Olympics Bharat uncovered that middle age group athletes had the most elevated rate of regular foot issues. In addition, female competitors were found to have more pervasiveness than men.
Moreover, to increase their market share manufacturers are launching innovative products more frequently in order to expand their product portfolios. For instance, Cure Foot (India-based), offers a vast portfolio of insert and insole replacements that gives support to the foot, changing the way entire body feels and functions so that users can keep moving freely.
Category-wise Insights
Which Base Material is More Preferred for Sports & Athletic Insoles?
On the basis of base material type, rubber is witnessing most popularity among others. This segment is anticipated to continue with its lead in the coming near future. As rubber material in sports and athletic insoles help in engrossing the shock on the impact point, and keep up with the arch of the foot, which makes these base material primary inclination of buyers.
Apart from rubber, the polymer segment is anticipated to showcase remarkable growth. Players such as Amercule's JMAC manufacture polymer based insoles. The company's proprietary polymer shoe inserts are made with abrasion-resistant polyurethane, offering unparalleled impact reduction and shock absorption.
What Makes Women Leading Consumers of Sports and Athletic Insoles?
Based on consumer orientation, the men segment is leading the market. This segment is forecast to continue its leads due to the rising participation of women in sports and athletics coupled with their growing interest in products that are a combination of style and comfort. According to Statathlon, the percentage of women's participation in the Summer Olympic Games 2016 grew over 10% of total participants after 1950s.
Why are Online Sales Expected to Scale up during the Forecast Period?
Web infiltration has been rising year-on-year in different parts of the world. It empowers customers to acquire simple admittance to data about the different sports and athletic insoles accessible in the market. This factor has empowered different manufacturers of sports and athletic insoles to advertise and sell items through various social media channels and e-Commerce websites.
Internet business is currently acquiring prevalence among retailers to know purchaser's shopping inclinations and experiences. There are likewise numerous nearby and homegrown players entering an online stage to sell sports & athletic insoles by offering the comfort of a single click solutions, home conveyances, and different other lucrative features to their customers. Shoppers, especially the millennial generation are purchasing insoles from online retailers owing to the accessibility of enormous brand choices, one of a kind things, and better client support.
For instance, in 2019, Reckitt Benckiser Group plc set digital means through e-Commerce websites over the stores to increase the sales of its cleaning brands in emerging markets such as in India and China.
Competitive Landscape
Technology plays a vital role in the manufacturing of insoles, as it ensures quality and precision in the manufacturing process. Nowadays, many insole manufacturers are investing more in robotics technology, which helps in reducing the risk of error and also ensures the quality of product supplied to its customers.
Further, to compete with other players in the coming years, being technology-oriented will help manufacturers to reduce the cost of the product and provide better products within less time.
Scope of Report
Attribute

Details

Forecast Period

2021-2031

Historical Data Available for

2016-2020

Market Analysis

USD Million for Value

Key Regions Covered

North America, Latin America, Europe, East Asia, South Asia, Oceania, and the Middle East & Africa

Key Countries Covered

US, Canada, Germany, U.K., France, Italy, Spain, China, Japan, South Korea, India, Thailand, Malaysia, Indonesia, Australia, New Zealand, GCC Countries, Turkey, Northern Africa, and South Africa

Key Segments Covered

Base Material Type, Size (U.S.) (% of Demand), Consumer Orientation, Sales Channel, and Region

Key Companies Profiled

Invent Medical Group, s.r.o. (8 Sole)
Materialise Phits Insoles
ALINE Systems, Inc.
ARNEPLANT, S.L
Bauerfeind
Birkenstock USA
Currex GmbH
Diafarm Laboratories (Noene)
Foot Science International
Footbalance System Ltd.
Guangzhou Shunyang SM Co Ltd.
Implus LLC
Ottobock Holding
Peacocks Medical Group
Reckitt Benckiser (Scholl)
RSscan Lab Ltd.
Sorbothane, Incorporated
SUPERFEET WORLDWIDE, Inc.
Texon International Group Limited
Wiivv Wearables Inc.
Digitsole

Report Coverage

Market Forecast, Company Share Analysis, Competition Intelligence, DROT Analysis, Market Dynamics and Challenges, and Strategic Growth Initiatives

Customization & Pricing

Available upon Request
Key Questions Answered in the Report
How much is the sports & athletic insoles market worth?

In 2021, the sports & athletic insoles market is expected to reach a valuation of over US$ 7,735.7 Mn.

What was the rate of growth for sports & athletic insoles sales in the last 5 years?

The sports & athletic insoles market grew at a CAGR of 4.8% from 2016 to 2020.

What is the share of the top players in the sports & athletic insoles market?

Aetrex Worldwide Inc., Invent Medical Group, s.r.o. (8 Sole), AF Group, Aline Systems, Inc., ARNEPLANT, S.L, Bauerfeind, Birkenstock USA, Currex GmbH, Diafarm Laboratories (Noene), Foot Science International, and Footbalance System Ltd., are some of the leading market players, cumulatively accounting for 20 -25% value share.

Which are the top countries driving demand for sports & athletic insoles?

The U.S., Brazil, Germany, China, India, and Australia are major countries reflecting consistently high demand for sports & athletic insoles.

Which countries are key producers of sports & athletic insoles?

Aetrex Worldwide Inc., Brikenstock USA, Currex GmbH, Foot Science International, AF Group, Digitsole, Superfeet Worldwide Inc., RSscan Lab Ltd., Reckitt Benckiser, and Implus LLC are the leading manufacturers of sports & athletic insoles.

What are the global growth statistics for the sports & athletic insoles market between 2020 and 2021?

The sports & athletic insoles market grew by US$ 449.7 Mn between 2020 and 2021.

What is the North America sports & athletic insoles market outlook?

The market in North America is set to rise at a 5.1% CAGR through the end of 2031.

How fast will the sales of sports & athletic insoles grow in Europe?

The Europe sports & athletic insoles market is set to rise at an impressive 4.6% CAGR through the assessment period.

What are the key statistics of the South Korea and Japan sports & athletic insoles market?

Japan and South Korea account for 10.6% and 9.4% of the East Asia sports & athletic insoles market in 2021.
Market by Category
By Base Material Type:
Polymer
Plastic
Rubber
Carbon Fiber
Silicone
By Size (U.S.) (% of Demand):
4 – 5
6 – 7
8 – 9
10 – 11
12 – 13
By Consumer Orientation:
By Sales Channel:
Direct Sales
Indirect Sales

Hypermarkets/Supermarkets
Departmental Stores
Specialty Stores
Multi-brand Stores
Exclusive Stores/Franchised Stores
Online Retailers
Other Retail Channels
By Region:
North America
Latin America
Europe
East Asia
South Asia
Oceania
Middle East and Africa (MEA)
Need specific information?
Talk Show:
The Rise of Intelligent Packaging
Personalized, Connected and Sustainable
November 18, 2021
11:00-11:45 AM PST (USA & Canada)
This is a LIVE session