Orthopedic Braces and Support Market Outlook & Key Findings
The global orthopedic braces and support market is anticipated to register revenue worth around US$ 5 Bn by 2030
Institutional sales channels to account for roughly 70% of overall revenue; hospitals to be at the forefront
North America and Europe collectively account for over 50% market share, status-quo to remain unchanged
6 in 10 respondents in FMI's survey affirmative on injecting capital to develop superior and comfortable products
Orthopedic Braces and Support Market Analysis – Growing Patient Base to Offer Major Growth Impetus
Given their better clinical efficacy and rapid recovery compared to conventional therapies such as pain medications, orthopedic braces and supports are increasingly gaining traction during clinical management of several orthopedic disorders including, rheumatoid arthritis (RA), osteoarthritis (OA), carpal tunnel syndrome, and osteoporotic fractures.
Recent estimates suggest that over 78 million individuals are expected to suffer from doctor-diagnosed arthritis by 2040.
Globally, one in five men and one in three women aged at least 50 years are likely to get affected by an osteoporosis-related fracture, states the International Osteoporosis Foundation (IOF). Further, about 200 million people are subject to osteoporosis, leading to a fracture every 3 seconds.
FMI finds that that arthritis is more prevalent among people who have chronic conditions such as, diabetes, cardiovascular diseases (CVD), and obesity.
Incidences of orthopedic disorders are projected to swell further over the years ahead with rising prevalence of obesity and related lifestyle diseases, as obese people are at a higher risk of orthopedic and musculoskeletal injuries, as well as diabetes.
Going forward, rising cases of sport-related injuries have also become a leading cause for OA. Health-conscious individuals are continuously engaging in fitness-related pursuits, which can result in muscle pain, thus spurring the demand for orthopedic braces and supports.
At times, athletic activities also result in ankle injuries or knee joint disorders, with the former considered as the most prevalent sporting injury overall.
Sprained ankles are estimated to make up for about 30% of all injuries reported in sports medicine clinics. Furthermore, majority of football-related injuries are orthopedic. Such trends are further bolstering the adoption of knee and ankle braces.
Orthopedic Braces and Support Market Trends - Retail and Online Key Channels
Certain orthopedic braces can only be used under supervision of healthcare practitioners or orthopedic technicians as they require customization or product variation as per patient characteristics.
That said, braces including, wrist/hand braces, ankle braces, and elbow braces, are increasingly being distributed via retailers - off-the-shelf - and e-commerce platforms as their usage does not require authorization from healthcare professionals.
About 6 in10 orthopedic braces and support are distributed either via online sales channel or retail pharmacies. Moreover, sales through both these channels are poised to collectively hit US$ 1 Bn towards the end of forecast period.
Patients are regularly banking on these products as preventative measures to prevent injuries. Amazon, BraceAbility, and Alibaba are leading e-commerce platforms that sell orthopedic products.
Governments and insurance bodies are increasingly recognizing the effectiveness of orthopedic braces and support in delivering optimum patient care.
They are promoting online sales, as well as offering better reimbursement and insurance coverage policies. Agencies such as the Centers for Medicare and Medicaid (CMS) provide up to 80% reimbursement for knee braces and support.
As such, growing sales of orthopedic braces and supports via e-commerce platforms and off-the-shelf channels, as well as the increasing availability of reimbursements for these products across established markets, are expected to offer lucrative growth opportunities for manufacturers of orthopedic braces and supports.
Knee Braces and Supports Remain Top-selling Categories
Knee braces and support are leveraged as a subsequent treatment after knee surgery associated with injuries such as sprained medial knee ligament, anterior cruciate ligament (ACL) rupture, and posterior cruciate ligament (PCL) rupture.
Adoption of knee braces and supports is increasing, attributable to umpteen benefits they offered - reduced knee rotation, lateral and medial support, protection from post-surgical risk of injuries, and limited injuries during movement.
Knee braces and supports capture about 60% of lower extremity segment, and about 40% of the total orthopedic braces and support market value.
Orthopedic Braces and Support Market: Regional Analysis
North America, at present, represents a multi-billion-dollar opportunity in the global orthopedic braces and support market. Recent studies reveal that in the US,
Over 21 million individuals suffer from osteoarthritis
Nearly 2.1 million have rheumatoid arthritis
About 40 million persons are affected by arthritis, which includes over 250,000 children
Roughly 60% of people affected by arthritis comprise of women, of which over half age below 65
Arthritis and other non-traumatic joint disorders are among the five most expensive conditions among adults aging 18 and above
Such facts and figures are triggering the demand for orthopedic braces and supports, especially upper extremity products.
By 2030, revenue generated by the upper extremity products will be nearly double that of lower extremity products in North American market.
In a similar vein, Europe is also offering fertile breeding ground for market players. About 400,000 people in the UK suffer rheumatoid arthritis, suggest recent data. FMI reveals that the regional market is slated to enter the billion-dollar club over the following decade.
The costs of orthopedic braces and supports – both upper and lower extremity – in both the developed regions is significantly high. As such, patients are traveling to Asia owing to cost–effective procedural costs – spurring medical tourism in the region.
FMI finds that upper extremity products in Asia cost almost half that in North America and Europe. Moreover, knee replacement surgeries in Singapore and Thailand cost about 2/3 of the price in the US.
Government in India has slashed the cost of knee implants by 59-69%. Cost of special metals such as oxidized zirconium and titanium for complete knee replacement surgery has been capped by 70% and by 59% for cost of revision knee replacement after introduction of this new policy in India.
Manufacturers of orthopedic braces and supports must grab these untapped opportunities to increase their odds of outsized returns.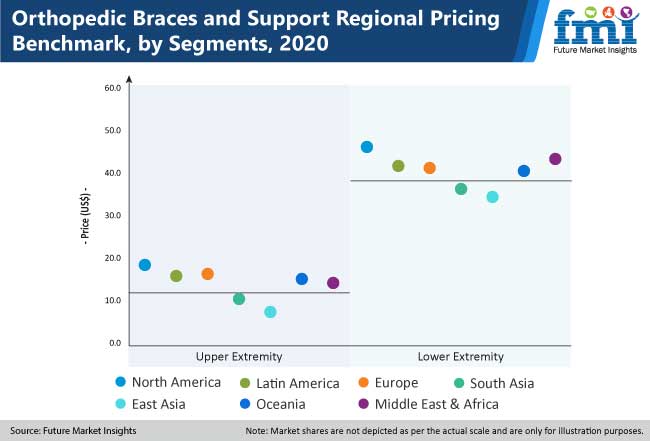 Orthopedic Braces and Support Manufacturers – Product Launches Hold the Key to Success
The global orthopedic braces and support market is moderately fragmented with a majority market share held by a number of players. Investments in innovation and diversification are imperative for market players to accelerate sales growth, expand customer reach, and improve customer retention and loyalty. For instance,
Leatt Corporation has launched new Z- frame knee braces for contact sports
Breg Inc. has launched Breg Quantum™ OA for mild to severe OA in a bid to address the need for pain management in arthritic patients
Otto Bock Healthcare has launched Agilium® Vantage - a low-key, wrap-around knee brace - that is designed for offering prolonged pain relief for patients with mild unicompartmental OA
Ortho Dog has developed quality orthopedic braces to help in enhanced function, mobility, and rehabilitation of dogs
Apart from this, market players are also investing in acquisitions in order to expand their regional foothold. Case in point, 3M has acquired Acelity Inc. and its KCI subsidiaries, globally. The acquisition has assisted 3M expand its solutions in advanced wound care.
Orthopedic Braces and Support Market Future Outlook – Tech Intervention for Better Patient Comfort
The healthcare industry is increasingly shifting towards more patient-centric and participatory health, and that is likely to drive several companies to incorporate connected, on-demand, and data-enabled patient engagement solutions.
The shift towards participatory medicine is transforming the cornerstone of healthcare infrastructure, from a supply-side push of services to consumer, to one where the pull of patient demand defines activity and value.
Following this trend, market players such as DJO have developed X-ROM™ Post-Op Knee Brace. Equipped with the company's most advanced range of motion (ROM) protection and better user-centric design for swifter and simpler adoption and adjustment, the X-ROM™ brace aids patients in recovering from ACL and other knee surgeries with better stability and convenience.
New business models that generate substantial value - considerably better cost, quality, and outcomes - will be critical to orthopedic braces and support market. Case in point, players rethinking the next-gen care model with meaningful engagement in healthcare delivery including integration of patients' care journey, are witnessing greater returns.
In a similar fashion, players that are streamlining the continuum of care and decreasing dependence on acute care assets are outperforming significantly. They will need to devise strategies to drive this practical innovation and push it beyond what they have done in previous years.
World's Most Profilic Intelligence Engine
Get Access To The World's Largest Market Research Database. Ngage with a revolutionary intelligence engine that scale and pricing that flexes as per your needs
Sign Up Now
Key Segment
Product
Upper Extremity

Shoulder Braces and Support
Neck Braces and Support
Elbow Braces and Support
Wrist Braces and Support
Spinal Braces and Support

Lower Extremity

Knee Braces and Support
Ankle Braces and Support
Hip Braces and Support
Distribution Channel
Institutional Sales

Hospitals
Orthopedic Clinics
Nursing Facilities

Retail Sales

Online Sales
Retail Pharmacies
Drug Stores
Region
North America
Latin America
Europe
South Asia
East Asia
Oceania
Middle East & Africa (MEA)
Need specific information?