Accurate and Secured Implant of Pedicle Screw System with Robotics and IG Navigation
Image guidance (IG) and robotics are creating leeway in the healthcare bracket owing to visualization of intraoperative patient data, and safety during surgical procedures. Pedicle screw system, assisted with advanced IG, enables surgeons to critically perform spinal surgeries via tiny incisions, ensuring minimal invasion, tackling muscle damage, and shielding organs near the operative location.
Clinical researches suggest that IG platforms drastically enhance manual capability of medical professional, enabling greater control and movement through a low invasive working portal, as well as diminishing physiological tremor of surgeons in unison. Surgical navigation allows accurate and safe placement pedicle screw system as compared to surgeries exclusive of intraoperative strategy.
The navigation software aids surgeons to create a coherent re-formation of the computed tomography or magnetic resonance imaging scans of the patients, enabling the surgeons to strategize and implement the required surgical route for exact positioning of pedicle screw systems. In addition, the navigation software allows surgeons to respond intra-operatively and rectify the executed treatment steps during surgery, improving overall back function, and prolonged life of placed pedicle screw systems.
Frequently Asked Questions About pedicle screw systems market
What dynamics are expected to drive the demand for pedicle screw systems?
Growing preference for minimally invasive surgeries, increasing incidences of spinal cord injuries, and an increase in the demand for short segment surgical treatments are bolstering the demand for pedicle screw systems.
How are image guidance and robotics trends creating opportunities for growth of the market?
The use of IG and robotics continues to expand in spine surgery as they improve the accuracy and clinical outcomes. Incorporation of both real-time IG and robotics enhances the manual capability of the medical professional and improves control and movement through low invasive working portals.
How is minimally invasive procedure presenting high sales opportunities?
Minimally invasive procedure is becoming popular as it facilitates fast-track surgeries and rehabilitation in younger patients. In the current scenario, rapid shift from conventional surgery to minimally invasive surgeries due to its numerous advantages such as faster recovery is opening a window of innovation opportunities for market players.
How is government supporting the pedicle screw systems market?
Globally, government and regulatory bodies are increasing investments in the development of treatment options and noble spinal plants to lessen financial burden of spinal cord injury on the patients. Furthermore, governments are also sponsoring projects for the development of effective treatment modalities.
Which is end user of pedicle screw systems is experiencing the most growth?
Hospitals will continue to be the key end-user of pedicle screw systems, owing to a growing number of patients admitted to the hospitals meeting with road accidents and issues related to bones. On the other hand, demand from specialized clinics is expected to see a quantum leap in near future.
Alloys and Composite-based Equipment for Better Strength and Resistance
Pedicle screw systems based on titanium alloys enables faster implantation and greater pullout strength in spinal fusion procedures. The titanium alloy (Ti/CoCr) pedicle screws shrink head splaying, improving biomechanical performance owing to spontaneous formation of oxide layer on the metal surface. Low tendency of ionization in aqueous settings of titanium alloy pedicle screw systems, make them suitable for reconstructive bones. However, studies find that the titanium alloy showcases toxicity due to biochemical reaction between body liquids and chemical composition of the alloy, resulting in loosening of pedicle screw systems.
Carbon fiber reinforced (polyetheretherketone) pedicle screw systems are a great fit for patients suffering from spinal tumors in light of reduced image artifacts on CT and MRI scans. The carbon fiber reinforced PEEK pedicle screw systems do not interfere with postoperative radiation therapy, allowing surgeons to perform radiotherapy sans side effects. Furthermore, the carbon fiber reinforced PEEK material ensures minimized dilution of External Beam Radiation (EBRT), permitting emissions to traverse through pedicle screw systems with negligible reduction in the radiation dose level.
Market Players Eye North America and East Asia for Lucrative Prospects
Increasing spinal deformities in North America and East Asia are anticipated to drive the growth of pedicle screw systems market, with the US witnessing complaints of scoliosis among ~2% of the general demographic. The FDA is granting approvals to certain pedicle screws - carbon/PEEK, cement-augmented and serrato, realizing non-interference with radiotherapy. Upsurge in key therapeutic spine fusion procedures in countries, including China, and the US, is an attention-grabbing factor for the market players. Furthermore, the aging population are highly susceptible to degenerative spinal deformities, as such, the US, and China, with increasing geriatrics, appear to become the epicenter of high sales opportunities.
Manufacturing Deformity-specific Equipment to Maintain Supremacy
Minimal invasive surgeries are becoming commonplace among the millennial following reduced damage during and post-surgical procedure, sweeping recovery, prolonged functionality, and decreased hospital stay. As such, players are setting their sights on the manufacturing of one-level pedicle screw systems.
Biomechanical and biological studies emphasize that molybdenum rhenium (MoRe) super-alloy exhibits greater strength, fatigue and biofilm resistant, osteoconductive as compared to titanium alloys – influencing manufacturers to design pedicle screw systems based on proprietary MoRe super-alloy.
Recognizing the fact the US observes tremendous incidents of lumbosacral fusion procedures – above 4 lakhs, market players are ramping up the development of thoraco-lumbar pedicle screw systems. Participants are shifting their focus on the production of cervical pedicle screw systems in developing countries – China, and India – citing significant incidents of cervical fusion.
Surging demand for thoraco-lumbar
Cervical to gain momentum
High demand for titanium alloys
Stainless steel to garner high traction
High applicability in treating fractures
Use in spondylolisthesis treatment on rise
High adoption in specialized clinics
How Growth will Unfold
Spinal surgeries with minimal invasion tends to prioritize the list of surgeons, patients, while hazardous emission of X-rays during legacy surgical methods affects the medical professionals – factors trailblazing the demand for non-invasive pedicle screw systems. MoRe super-alloys are set to make forays into pedicle screw systems on the account of hydrophilic, and superlative bio-friendly aspects. Degenerative scoliosis impacts a majority of the geriatric demographic cohort. With countries – Japan, Monaco, and Italy - harboring geriatrics aging above 65 years, manufacturers are set to channelize their product portfolio into Asia and Europe.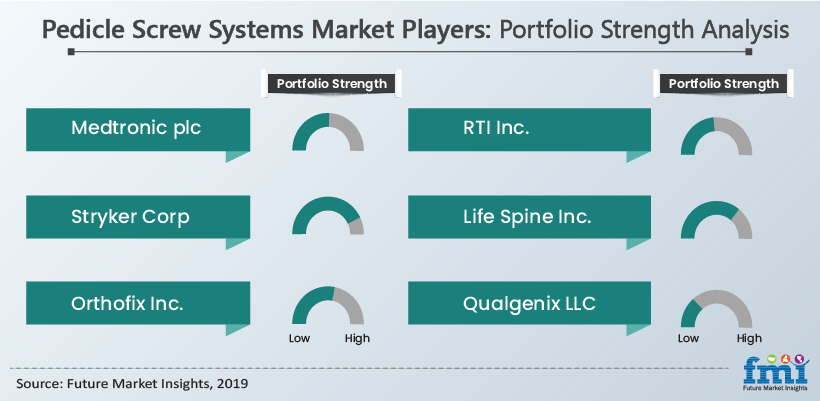 * This data is only a representation. Actual data may vary and will be available in report.
Click Here To Know How The Growth Will Unfold
Custom Market Research Services
FMI offers custom market research services that help clients to get information on their business scenario required where syndicated solutions are not enough.
Overview
Pedicle Screw Systems Market Analysis 2019-2029
A recent market study published by FMI, "Pedicle Screw Systems Market - Global Industry Analysis 2014-2018 and Opportunity Assessment 2019-2029," offers a comprehensive assessment of the most important market dynamics. After conducting thorough research on the historic as well as current growth parameters of the pedicle screw systems market, the growth prospects of the market are obtained with maximum precision.
Pedicle Screw Systems Market Taxonomy
The global pedicle screw systems market is segmented in detail to cover every aspect of the market and present a complete market intelligence approach in front of the reader.
By Product
Cervical Pedicle Screw Systems
Thoraco-Lumbar Pedicle Screw Systems
By Material
Stainless Steel
Titanium Alloys
Unalloyed Titanium
Application
Spondylolisthesis
Fracture
Scolisis
Spinal tumor
Failed fusion
Others
By Level of Surgery
One-level Pedicle Screw Systems
Two-level Pedicle Screw Systems
Three-level Pedicle Screw Systems
Four-level and higher Pedicle Screw Systems
By End User
Hospitals
Ambulatory Surgery Centers
Specialized Clinics
By Region
North America
Latin America
Europe
South Asia
East Asia
Oceania
Middle East & Africa
How the research was conducted?
Primary Research
C - Level Executives
Marketing Directors
Sales Heads
Portfolio Managers
Purchasing Managers
Medical Officers
Device Development Heads
Strategy Advisors
R&D Managers
Product Manufacturers
Distributors
Component Suppliers / OEMs
Hospital Purchasing Departments
Physicians / Nursing Managers
Industry Experts
Current Market Dynamics and Challenges
Market Characteristics
Market Performance and Growth Quadrants
Competition Structure and Market Structure
Strategic Growth Initiatives
Product Adoption, Installed Base, Replacement Cycles, Refurbishment
Regulatory Landscape
Products in Pipeline and Clinical Development
Near-term and Long-term Market Growth Prospects
Market Segment Splits and Authenticity
Opinions on Market Projections and Validity of Assumptions
Secondary Research
Industry Magazines
Factiva
American Association of Neurological Surgeons
American College of Rheumatology
Spinal Injuries Association
United Spinal Association
American Spinal Injury Association
Company Press Releases
Annual Reports and Investor Presentations
Peer-reviewed Journals
Government Websites and Publications
Trade Websites
Clinical Trial Registries
Country-specific Regulatory Authorities
World Bank, WHO, IMF, OECD
Primary Interview Splits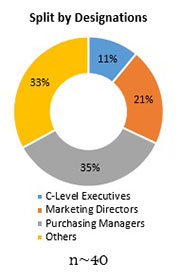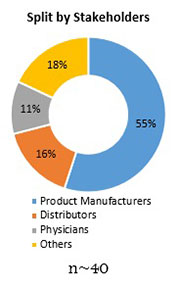 To Learn More About our Comprehensive Perspective on Pedicle Screw Systems Market,
Get in touch
COVID -19 : Impact Analysis
Request the coronavirus impact analysis across industries and markets
Request Covid -19 Impact
CASE STUDIES
See how our work makes an impact.
At FMI, we design strategies that are adaptive, impactful, and implementable.