About the Report
Steady increase in consumer awareness levels about ethics of producing animal-based foods & beverages, and the impact of animal husbandry on the environment are key factors that are driving demand for plant-based butter. Further, the surging vegan and vegetarian global population, and the culinary importance of butter is creating a surge in shelf space and retail sales in the market. The wide range of plant-based dairy sources and the associated flavor profiles, positively influence growth of the market, appealing to a wider consumer demographic.
According to a new report from ESOMAR-certified market research and consulting firm Future Market Insights (FMI), the global plant-based butter market surpassed US$ 2.4 Bn in 2020. The market study has tracked demand in more than 20 countries, with a comprehensive section on the effects of the covid-19 pandemic on the industry.
Historical Sales and Future Outlook on Plant-based Butter Market
In the recent past between 2015 and 2019, the plant-based butter market has grown steadily. According to FMI report, during this period dairy volumes slumped by around 300 million gallons. On the other hand, the consumption of plant-based alternatives went up by around 50 million gallons. This trend has continued post 2019 and is likely to rise through 2030.
While the covid-19 outbreak is expected to slow down growth, the market will witness steady growth post 2021 to reach an estimated US$ 5.1 Bn valuation by the end of 2030. North America, led by the United States will have a major role to play in future growth. According to the Good Food Institute, dollar sales of plant-based foods have increased by 29% in the past 2 years, creating a favorable environment for plant-based butter sales.
Why is Plant-based Food Industry Focusing on Flexitarian Consumers?
While plant-based butter products are largely aimed towards vegans and vegetarians, flexitarians are rapidly emerging as a major consumer group. According to the Food Industry Association, around a third of all households hold at least one vegan, vegetarian, flexitarian, or pescatarian. However, only 5% of households adhere strictly to animal-free diets.
The Food Industry Association report states that more than 10% of all Gen Z, Gen X, and millennial consumers adhere to a flexitarian diet. On the other hand, only around 5% of older boomer demographics are flexitarians. Consequently, with the increased interest in plant-based food products, plant-based alternatives have risen by more than 19% between 2018 and 2019. This trend is projected to aid growth in the market through the forecast period.
How has Home Cooking Influenced Sales of Plant-based Butter?
As per Virginia-based FMI Foundation, a non-profit organization on nutrition, health, and food, 40% of the American population has increased cooking activities following the covid-19 pandemic. Restrictions on the food service sector has made home cooking a viable option, creating opportunities for plant-based butter sales.
According to the United States Census Bureau, nearly 50% of households have reported a loss income during the pandemic. As per the European Commission disposable income levels have dropped by over 700 euros in 2020. Consequently, home cooking is becoming more popular as an option for savings. This will create potential revenue generation opportunities during this period.
Why are Nutritional Profiles Gaining Traction?
Consumption of conventional butter has widely been associated with obesity, heart disease and other ailments. As per a report by Switch4Good, a health awareness non-profit organization, a tablespoon of butter accounts for more than 30% of the daily recommended saturated fat in a 2000 calorie diet.
Also, a 2018 study by the United States Department of Health and Human Services has stated that high fat diets can also result in alternation of red blood cells, and immunity cells aside from heart disease. This will create opportunities for clean label, organic plant-based butter alternatives, which are characterized by lower fat levels.
What Challenges Does Plant-based Food Face as a Category?
The global market for plant-based butter is steadily becoming mainstream, as supply chains are more resilient in comparison to that of industrial animal agriculture. However, participants in the industry are likely to face challenges that affect the potential for growth through the forecast period.
For instance, the costs of producing conventional plant-based butter and the resultant pricing is expected to be higher than that of conventional butter alternatives. This will limit adoption rates for the foreseeable future.
Also, the plant-based butter industry is largely reliant on the yields of vegetable and nuts. The fluctuation of yields and prices of these raw materials owing to environmental factors is also a challenge to market players in the industry.
Region-wise Insights
United States Plant-based Butter Market
North America is a major market for plant-based butter products and is projected to account for more than 35% of the global market share by the end of the forecast period in 2030. The United States holds the lead with a valuation of approximately US$ 200 million.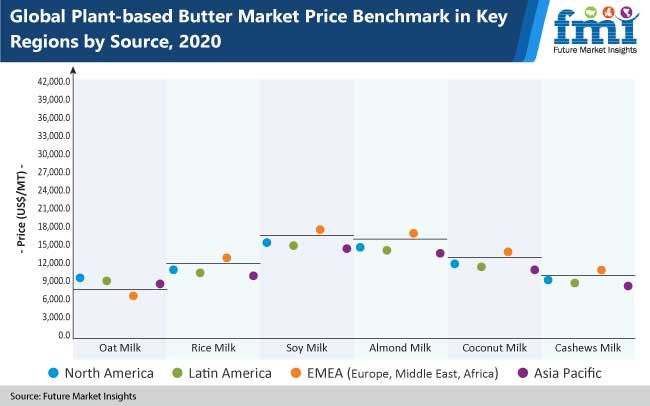 According to a report by the Good Food Institute, the sales of plant-based butter in the United States has jumped by 15% between 2017 and 2019. The report also states that sales of plant -based products have surpassed animal based alternatives in meat and dairy sectors following the advent of the covid-19 pandemic.
A study by Cornell University has also found that more than 10% of the overall American population is lactose intolerant. This factor will also support the adoption of plant-based butter in North America through the forecast period.
Will Plant-based Butter Sales Benefit from UK's Growing Veganism Trend?
According to the Vegan Society, the number of vegans has gone up four times between 2014 and 2019. Also, in 2018 UK launched the highest number of vegan products in comparison to any other nation. Also, the UK's sales and consumption of vegan butter, milk, margarine, cheese, and ready meals have become the highest in Europe.
The Vegan Society has also stated that the UK plant-based milk sector was worth more than 320 million in 2019, accounting for more than 15% of the overall European market share. This figure is projected to more than double with a CAGR of close to 14% through 2025. This is likely to create a highly favorable environment for the expansion of plant-based butter producers in the country.
According to FarmingUK, dairy farmers in the U.K. were hit by a 50 percent slump in profits from milk sales between 2018 to 2019, with a quarter of Brits now opting for plant-based dairy products, including butter. However, the covid-19 pandemic has created challenges for manufacturers. As per the Journal of Food Science and Technology, dairy-free products reflected a growth rate of less than 1% between late 2019 and early 2020.
Bullish Plant-based Butter Sales in France
As per the Association Végétarienne de France, plant-based dairy products are most commonly consumed in the UK and Belgium, with France being among the lowest at around 40%, attributed to general consumer preference for conventional milk-based options.
However, France has been facing a crisis in terms of conventional butter stocks. 30% of demand for butter in French supermarkets was not met in October 2020. Also, butter prices have tripled between 2016 and 2020 reaching a valuation of 7,000 euros per ton. According to the FNPL milk-producers federation, the issue can be largely attributed to a price war occurring among French retailers.
This is a key factor that is likely to generate opportunities for growth in the plant-based butter sector in the near term. According to Mercy for Animals, a 17% annual growth of plant-based products is expected between 2019 and 2021 in France, creating a favorable atmosphere for the industry.
How will Plant-based Butter Demand Fare in Germany?
As per a USDA report, 15 percent of all new vegan food and beverage product launches for 2017-18 took place in Germany. As per Proveg International the country is home to around 1.3 million vegans, and approximately 8 million vegetarians. The USDA report has also stated that around 70 % of German households would like to see a larger variety of vegetarian products in supermarkets, with close to two-thirds purchasing vegan and vegetarian products intentionally.
Further, the projected growth of dairy alternatives product sales between 2019-2024 is expected to be more than 7% CAGR, and plant-based milk accounted for 15 percent of the overall milk sales in 2018. According to a study by Veganz, 30% of Germany's population is flexitarian. These factors are likely to generate favorable conditions for long-term growth of the plant-based butter industry in Germany.
Are Spanish Consumers Ready for Plant-based Butter?
As per a report by the Irish Food Board, lactose-free products are gaining ground in Spain with close to 35% of the country's population suffering from lactose intolerance, which is among the highest numbers in European countries.
Further, a report from the USDA has stated that retail sales of free-from products in Spain reached a value of US$ 1.2 billion in 2018, which was a 12% increase over the previous year. Also, the free-from dairy retail value sales went up by 17% in 2018. The Green Revolution has stated that food stores and restaurants catering to vegans and vegetarians has doubled between 2016 and 2019.
According to WhiteWave Foods, Spain has emerged as a key market for non-dairy alternatives, with soy-milk being the primary source, while almond and oats reflecting stronger growth. Also, 2% of the country's population is vegan or vegetarian, while flexitarians account for 8%. This bodes well for the future of the country's plant-based butter industry.
Italy's Shift-away from Meat an Influencer for Plant-based Industry
According to the Vegan Society, close to 50% of all Italian consumers have stated an interest in lowering meat intakes, with close a quarter pushing to increase consumption of vegetarian processed foods in daily diets. Also, Vegan Society has also indicated that Italy has the fastest growing population of animal-free consumers.
A report by the European Data Journalism Network, the population of Italian vegans, albeit small at 3%, nearly doubled between 2016 and 2018. Also, a report by the National Library of Medicine Northern and Southern Italy populations reflect 52% and 41% lactose malabsorption cases, while central Italy accounts for only 19%. These trends are likely to have significant influence on the prospects of plant-based butter purchases in the country.
Has 'Plant-based' Really Caught Up in Indo-China?
According to the Good Food Institute, the growth of plant-based product sales has surpassed that of animal-based products in China in terms of dairy and meat products. As per Health Ingredients China, Asian consumers, of which the Chinese comprise a large percentage, are prioritizing healthy food choices, with approximately 90% of Asians being lactose intolerant.
Also, the adoption of vegan labeling on food packaging has increased by more than 400% between 2016 and 2018. Health Ingredients China has also stated that between 2015 and 2017, the sales of plant-based milk rose in the country by 17%. According to the Xinhua News Agency, the Chinese vegan population has surpassed 50 million individuals.
Also, the Chinese government has set up standards for plant-based dairy including the GB/T 10789-2015 General Standard for Beverages which provides details on the different standards used in different plant milks: GB/T 31325-2014 for walnut milk, QB/T 2439 for peanut milk, and GB/T 30885-2014 among others. These factors are likely to aid China as a high potential market for plant-based market in the near future.
According to the Census data from the government of India, around 30% of the country's population is either vegan or vegetarian. On the other hand, a substantial percentage of this demographic is lacto-vegetarian, with the consumption of milk products. These trends are likely to influence the sales of plant-based butter products.
Some of the prominent brands in India offering plant-based butters include Dakini Health Foods, i2Cook, and JUS' AMAZIN Seed who have launched sesame, sunflower, peanut, cashew, and almond-based butter offerings.
While higher levels of health awareness among the Indian population will prove beneficial, the higher costs of vegan products in the country are likely to hold back growth of the plan based butter industry in the near term.
Category-wise Analysis
What are the Commercial Prospects of Soy Milk as a Source?
Plant-based butter can be sourced from oat milk, rice milk, corn milk, soy milk, pea milk, almond milk, coconut milk, cashew milk, flax milk, and hemp milk. Of these soy milk will account for major market share, holding more than 40% of the overall market share in 2020.
Easy access to soy raw materials and significant cultivation efforts around the world result in low costs and prices, which is a key factor likely to drive demand throughout the assessment period. Almond milk is also witnessing strong growth, supported by a favorable flavor profile and higher consumer preference.
What Percentage of Plant-based Butter Sales Occur through Online Mode?
Prominent distribution channels for the market are B2B and B2C. B2B distribution can be further segmented into hotels, restaurants, and cafes. B2C distribution can be divided into hypermarket/supermarket, convenience stores, mom and pop stores, discount stores, food & drink specialty stores, independent small groceries, and online retail. Online retail is expected to be a fast-growing segment with a significant market share.
Online retail has been gaining ground in the food and beverage industry, with advantages in terms of consumer engagement, with minimal costs. Sales through online channels are especially expected to rise in 2020 owing to lockdown restrictions arising from the covid-19 pandemic.
Competitive Landscape
The global plant-based butter industry is competitive and fragmented in nature, with the numerous small scale players operating in the industry. Top players are increasingly investing in product launch and geographical expansion strategies to consolidate their position in the market.
In December 2020, Nestle announced the launch of Harvest Gourmet range of vegan foods including butter among others for consumers in China. The products will be manufactured at a new facility in the Tianjin province.
Kite Hill Launched its Plant-based Butter Alternative in the summer of 2020, which is produced with almond milk, and oils from sunflower, olives, and coconut, for consumers in the United States.
Further, ForA has launched a plant-based butter, with key ingredients of the original recipe being coconut oil, coconut cream, sunflower oil, aquafaba, and cocoa butter. The product is largely aimed towards bakery applications.
Future Market Insights has also studied the following plant-based butter manufacturers in its detailed study*:
Conagra Brands Inc.
Upfield Foods
Miyoko's Creamery
Wayfare Food
Prosperity Organic Food Inc.
Lyrical Foods Inc.
Califia Farms
Premier Organics
Naturli Foods
Ekogram-the real food
Wildfriend Foods
The J.M. Smuker Co.
The Leaviet Corp.
Milkadamia
Chobani LLC
Carley's Organic
Pintola
Alpino Health Foods
Vegan Way
Dhatu Organics
Kitchen Garden
Naturally Organic
Daisya Fine Food
Ceres Organics
*This list is indicative- full details about the plant-based butter manufacturers are available upon request.
Plant-based Butter Market- Report Scope
| | |
| --- | --- |
| Attribute | Details |
| Forecast Period | 2020-2030 |
| Historical Data Available for | 2015-2019 |
| Market Analysis | USD Million for Value, Mn Units for Volume |
| Key Regions Covered | North America, Latin America, Europe, Middle East & Africa, and Asia Pacific |
| Key Countries Covered | US, Canada, Mexico, Greater China, Japan, India, South Korea, Australia, and New Zealand |
| Key Segments Covered | Source, Distribution Channel, and Region |
| Key Companies Profiled | Conagra Brands Inc., Upfield Foods, Miyoko's Creamery, Wayfare Food, Prosperity Organic Food Inc., Lyrical Foods Inc., Califia Farms, Premier Organics, Naturli Foods, Ekogram-the real food, Wildfriend Foods, The J.M. Smuker Co., The Leaviet Corp., Milkadamia, Chobani LLC, Carley's Organic, Pintola, Alpino Health Foods, Vegan Way, Dhatu Organics, Kitchen Garden, Naturally Organic, Daisya Fine Food, and Ceres Organics |
| Report Coverage | Market Overview, Key Market Trends, COVID-19's Impact, Demand Analysis, Market Background, Segmental Analysis, Regional Profiling, Market Structure Analysis and Competition Analysis |
| Customization & Pricing | |
Key questions answered in the report
How will the plant-based butter market expand through 2030?

As per the Future Market Insights (FMI) market study, the global plant-based butter market is likely to derive growth from the wide range of plant-sources, and flavors, surpassing US$ 2.4 Bn by 2020 and rising at a value CAGR of 7.6%.

Which is the largest plant-based butter market?

US is expected to be the leading market for plant-based butter products, accounting for over 35% of the global revenue share by the end of the forecast period. Growth in the region is attributed to higher health awareness and adoption in fast food applications.

How is COVID-19 impacting the plant-based butter growth projections?

The COVID-19 pandemic has created opportunities for growth. While the lockdown regulations in early 2020 has hurt demand from the food service sector, the demand for planned, healthy, vegan diets will create higher demand in the short term.

Which are some of the prominent market players?

Prominent plant-based butter manufacturers include
Key Segments
Source
Oat Milk
Rice Milk
Corn Milk
Soy Milk
Pea Milk
Almond Milk
Coconut Milk
Cashew Milk
Flax Milk
Hemp Milk
Others
Distribution Channel
B2B
B2C

Hypermarket/Supermarket
Convenience Stores
Specialty Stores
Mom and Pop Stores
Discount Stores
Food & Drink Specialty Stores
Independent Small Groceries
Online Retail
Others
Region
North America (U.S. & Canada)
Latin America (Mexico & Rest of LATAM)
Europe, Middle East & Africa
Asia Pacific (Greater China, South East Asia, Japan, India, South Korea, Australia, New Zealand)
Need specific information?