Lactose Market by Form (Powder, Granule), End Use (Food and Beverage, Pharmaceutical, Animal Feed), Derivative Type (Lactose Monohydrate, Galactose, Lactulose, Lactitol) & Region - Forecast to 2020-2030
Lactose Market - Analysis, Outlook, Growth, Trends, Forecasts
January 2021

REP-GB-12375

300 pages
About the Report
The global lactose market is expected to generate credible expansion opportunities, characterized by heightened product launch frequencies, sustainability certifications, and enhance transparency and traceability of lactose products. The market has made unprecedented gains in the recent past, characterized by a shifting food demographics landscape.
The advent of 3D printing technology has made it possible to design and manufacture novel complex lactose products, further assisted by cloud based technologies. This has boded well for prominent manufacturers seeking to leverage these advancements to widen product portfolios.
In its new study, ESOMAR-certified Future Market Insights (FMI) offers insights about the key factors driving demand across the lactose market. The report tracks sales across 20+ high-growth markets, analyzing the potential impact of the COVID-19 pandemic crisis.
Historical and Future Outlook on Lactose Market
The lactose market exhibited a 3.2% historical CAGR between 2015 and 2019. In the past few years, lactose manufactures have established strong brands by creating products with long-term prospects, prompting manufacturers to focus on building a strong positive image.
For instance, Agropur, which is a leading manufacturer of lactose derivatives, believes in building various brands such as Natrel, Island Farms, Dairytown Lucerne, biPro, Agropur Signature, and many more. Extensive uptake is expected across the pharmaceuticals segment, owing to the burgeoning need for formulation various prescription drugs. Based on such prevailing trends, the lactose market is poised to increase to nearly US$ 3 Bn by 2030.
Why Demand from Cosmetics Industry is Key for Lactose Sales?
Lactose-based derivatives such as lactitol and lactobionic acid are used widely in cosmetic skin and hair care products due to their cleansing, moisturizing benefits and antioxidant properties. Naturally occurring capric, caprylic and capronic acids and triglycerides or good fats in goat milk provide a pH balance and are beneficial for hair and skin health.
Milk from goats contains of a short-strand protein structure which permits the skin care product to be easily absorbed into the applied skin. Using dairy vitamins, minerals and proteins offers extra benefits in personal care products.
Companies offer such products as premium products and differentiate them based on extra beneficial ingredients. Croda has effectively used lactitol in its cosmetic products, i.e. Hair spa and Ecodermine, which act as soothing, rebalancing and moisturizing agents for the skin. Lactobionic acid is a strong humectant, showing anti-aging properties, and leading to skin plumping and smoothing of surface topography with reduced appearance of fine lines and wrinkles.
Lactobionic acid also helps to heal wounds, and is beneficial for overall care of skin, nails, hair, and oral cavity and gums and because of this use of lactose has tremendously increased in lactose market.
How are Clinical Applications Driving Lactose Sales?
Lactose being one of the crucial ingredients in the manufacturing process of infant formulation gets widely used in clinical application. Lactobionic acid exerts potential prebiotic effects as a bioactive ingredient in functional foods. Lactobionic acid is valued for its chelating proprieties due to its capability to form complex structures with Manganese, Copper, and Iron.
The incorporation of lactobionic acid into foods may stimulate intestinal Ca2+ or mineral absorption. Due to the growing demand for these derivatives in various applications, it is estimated that the lactose market will grow at a notable CAGR. Lactobionic acid is extensively used in clinical areas such as pharmaceuticals, antibiotics, and preservative solutions for organ transplantation. Lactobionic acid's use as a stabilizer of pharmaceutical preparations comprising of liable therapeutic components is a key driver for the lactose market.
For example, Arla Foods, produces premium type of lactose which aims infant formula which demands high microbiological food safety. Its products are free from annatto and bleaching agents, follow all safety rules, and are suitable for dry blending. Dry blending infant formula with company's premium lactose increases flexibility and efficiency and can possibly increase production capacity by up to 25%.
Country-wise Insights
How Lucrative is the US Lactose Market?
FMI projects United States to remain the most profitable market over the course of the forecast period, accounting for over 60% share. The U.S Department of Agriculture estimated per capita dairy products consumption at 653 pounds as of 2019, thereby rendering the market highly opportunistic.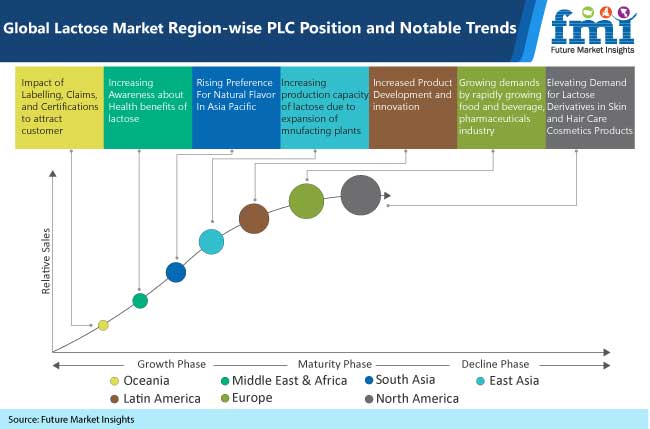 In the past decade, domestic per capita consumption of dairy products, including cheese, butter and yogurt collectively have increased by 50%. Overall, the USDA Economic Research Service (ERS) showing a 6% across the last five years. Hence, prominent players have increased their foray into the market.
Players such as Merck, Abbott Nutrition, Southwest Cheese Company, Kraft Heinz Company and Glanbia Foods have established a robust foothold across the U.S market. Merck's Monohydrate Lactose formulations are grabbing significant eyeballs, manufactured in spray dried and regular dried powder forms respectively.
Spain Lactose Sales to Expand amid a Flourishing Dairy Industry
FMI projects the Spanish lactose market to be valued at over US$ 50 Mn by 2021-end, expected to contribute nearly 15% in revenue. A flourishing dairy industry is likely to bring it to the forefront of European demand in upcoming years.
Dairy Global estimates that the Spanish dairy industry generates around € 13 billion annually. Furthermore, according to European Union, Spain is amongst the six major producers of cow milk, besides Germany, Poland, France, Italy and the Netherlands, contributing over 4% of the total milk production.
Europe is recognized by FMI as the second-leading lactose market, and it is anticipated that this position it is likely to remain same over the forecast period. With healthcare spending in the Spain, forecast to surge considerably, sales forecasts are expected to get improved.
Category Wise Insights
Lactulose to Remain a Key Derivative Type
The lactulose segment will continue to account for over one-fourth of the global share. According to FMI, the segment is expected to hold more than 25% of the market, in terms of derivative type, by the end of 2030. Lactulose is a non-absorbable sugar. Lactulose is marked as an important ingredients in World Health Organization's List of Essential Medicines.
Lactulose is widely used in the treatment of constipation and hepatic encephalopathy. It is available as a generic and branded product. Lactulose is available as a generic medication. It is available without prescription in some countries, but a prescription is obligatory in the United States and Austria. Lactulose is its international nonproprietary name (INN). It is sold under various brand names.
Why Pharmaceuticals is Emerging as a Highly Lucrative Category?
Accounting for over 45% of the overall share over the forecast period, pharmaceutical segment continues to account for bulk of demand. Growing investment in research and development in lactose result in various innovations of lactose and its derivatives in pharma and health care industry has fueled the growth for the segment.
For Instance, in 2017, DFE Pharma introduced a specialty grade of SuperTab 40LL consisting of Pharma lactose based derivatives such as lactitol monohydrate and lactose.
Developing countries are an exceptional opportunity for the pharmaceutical industry. Manufactures have invested heavily to penetrate untapped markets through generic drugs at low cost. Key stakeholders in Pharmaceutical Lactose have undertaken major renovations of their strategies in developing countries with the aim of increasing access to their products through relaxed patent protection.
Numerous governments permit grants and enter into contracts with public and private entities and individuals to assist in the development of various lactose which finally gets used in medicinal processes.
Powdered Lactose to Remain Preferred
According to FMI, the demand for Lactose devices will be higher for clinical treatments where in powdered form lactose will be in more demand than rest of forms.
To prepare tablets or capsules in pharmaceutical industry, a mixture of excipients as well as active ingredients must first be prepared and then final product is formed and Powder form fits perfectly for those requirements. Hence Powdered Form lactose holds more than 90% market share globally and it is anticipated that this segment will continue to grow with CAGR of 4.4% over forecast period.
Competitive Landscape
Companies operating in the Lactose market are targeting at strategic Merger and Acquisition. It is a key trend for both private, financial investors and present businesses to enter or grow in the fastest rising markets. Another reason for Merger & Acquisition is to expand business into new geographies.
Acquiring a company within a new region permits the purchasing company to acquire an already established brand in that region and considered as an excellent strategy to expand business. Growing through acquisitions is a vital part of long-term strategy, underpinned by company's financial flexibility and a disciplined approach.
For example, Saputo, a Montreal-based Canadian dairy company has completed has completed six acquisitions in last two year, bringing total to 31 merger and acquisition since IPO launch in 1997.
Along with Merger and Acquisition strategy companies are also focusing on increasing production capacities of manufacturing plants as there were few incidents were reported of supply – demand gap in past few years.
For instance, in 2020, Armor Pharma partnered with Nordmann for expanding its product footprint. Nordmann, an international chemical distributor, is supplying the German market with pharmaceutical-grade lactose products from the French manufacturer Armor Pharma. The investment in a new operation site strengthens the company's position as the global market leader in lactose products of the highest quality.
Some of the leading companies operating in the lactose market:
Alpavit Käserei Champignon Hofmeister GmbH & Co. KG
Armor Pharma
Ba'emek Advanced Technologies Ltd (Tnuva Group)
BASF SE
Davisco Foods International, Inc.
DFE Pharma (JV of Royal Friesland Campina & Fonterra Ltd.)
Hilmar Ingredients
Hoogwegt Groep B.V.
Kerry plc
Lactose (India) Limited
Merck KgaA
Milei GmbH
Molkerei MEGGLE Wasserburg GmbH & Co. KG.
*The list is not exhaustive, and only for representational purposes. Full competitive intelligence with SWOT analysis available in the report.
Scope of the Lactose Report
Attribute

Details

Forecast Period

2020-2030

Historical Data Available for

2015-2020

Lactose Market Analysis

USD Million for value and '000 MT for Volume

Key Regions Covered

North America, Latin America, Europe, East Asia, South Asia, Oceania Middle East & Africa

Key Countries Covered

US, Canada, Mexico, Brazil, Peru, Chile, Rest of Latin America, Poland, Germany, Italy ,Spain, France, U.K., BENELUX, Nordic, Russia, Rest of Europe, China, Japan, South Korea, Indonesia, Malaysia, Singapore, India, Taiwan, Thailand, Rest of South Asia,, Australia, New Zealand, GCC Countries, Turkey, South Africa, Rest Of MEA,

Key Segments Covered

Form, End Use, Derivatives Type and Region

Key Companies Profiled

Alpavit Käserei Champignon Hofmeister GmbH & Co. KG
Armor Pharma
Avantor, Inc.
Ba'emek Advanced Technologies Ltd (Tnuva Group)
BASF SE
Davisco Foods International, Inc.
DFE Pharma (JV of Royal FrieslandCampina & Fonterra Ltd.)
Hilmar Ingredients
Hoogwegt Groep B.V.
Kerry plc
Lactose (India) Limited
Merck KgaA
Milei GmbH
Molkerei MEGGLE Wasserburg GmbH & Co. KG.

Report Coverage

Lactose Market Forecast, brand share analysis, competition intelligence, DROT analysis, Lactose Market Dynamics and Challenges, Strategic Growth Initiatives

Customization & Pricing
World's Most Profilic Intelligence Engine
Get Access To The World's Largest Market Research Database.
Sign Up Now
Key Segment
Form
End Use
Food and Beverage

Bakery
Confectionery
Functional Food

Pharmaceutical
Animal Feed
Derivative Type
Lactose Monohydrate
Galactose
Lactulose
Lactitol
Other (tagatose, lactobionic acid)
Region
North America
Latin America
Europe
East Asia
South Asia
Middle East and Africa (MEA)
Oceania
Key Questions Answered in the Report
Which is the most lucrative market for Lactose?
U.S. currently leads the global market for Lactose. Sales in U.S. will be over 60% of total demand throughout the forecast period in North America.
Which Derivative type of Lactose is used widely?
Lactulose are highly sought-after in every market. The demand for lactulose is expected to remain high in the near future, especially due to its properties which makes it useful in healthcare and pharmaceutical industry widely.
Which technology are Lactose manufacturers using?
Cloud-based technologies are being incorporated in the development of lactose. Continuous developments in cloud-based drug discovery platforms are anticipated to contribute significantly to the growth of the global market for lactose.
Which are some of the leading companies offering Lactose Market?
Some of the leading companies offering Lactose Market are Armor Pharma, Avantor, Inc., Ba'emek Advanced Technologies Ltd (Tnuva Group), BASF SE, Davisco Foods International, Inc., DFE Pharma (JV of Royal FrieslandCampina & Fonterra Ltd.), Hilmar Ingredients, Hoogwegt Groep B.V., Kerry plc, Lactose (India) Limited, Merck KgaA, Milei GmbH, Molkerei MEGGLE Wasserburg GmbH & Co. KG and others.
Which End-Use accounts is driving sales of Lactose Market?
Wide number of lactose application in Pharmaceutical industry has fuelled the growth of lactose industry. Lactose and its various derivatives have continued showing the innovating characteristics which can be used for treatment of various diseases and hence result in growth of lactose market and extensively used in Pharmaceutical industry.
Need specific information?
Our Clients