Lactose Market Outlook & Key Findings
Future Market Insights (FMI) forecasts the global lactose market to exhibit a CAGR of 4.4% between 2020 and 2030
Growing demand for functional beverages will remain a key influencing factor
Powder form of lactose accounts for approximately 95% of the Market
The multi-purpose applications of lactose will boost overall growth prospects for the market
Digitalization along With Continuous R&D Initiatives by Market Players Propelling the Growth
Progressive developments in technologies not only in the food & beverage industry but also in cosmeceuticals, and other industries are creating ample growth opportunities.
Global players are coming up with several innovations in technologies that can foretell the various combinations in texture, and flavors. Innovations and technological advancements in the field will facilitate the food & beverage sector to fundamentally augment product development and flavour formulation.
Digital threads can assist in various tasks, ranging from the calculation of nutritional profile of products to finalizing recipes in laboratories and monitoring the entire supply chain.
Digital advancements also are expected to help tracking the sources of ingredients from many suppliers to the customers. Digitalization helps in resolving numerous complexities within the lactose market supply chain.
Therefore, Future Market Insights observes digital progresses as the key success factor for the market in the upcoming years.
Cost-effective Prices of Lactose Powder Providing Impetus to Sales
Pricing is one of the key variables determining growth witnessed in the global market and noticeably controls the demand of lactose. It is significant to comprehend price per/'000 MT of target products across the world that varies at a significant ratio, however reflects related pattern of alteration.
The weighted average prices of lactose in the global market, is approximately 1,081.9/'000 MT for powder form of lactose and near 1,294.4 /'000 MT for granule form of the lactose. Graph below represent a perspective of variation in prices across the regions and major segment categories.
While there is significant price variance between lactose in powder form and lactose in granule form, it is interesting to note that price per megaton of target reflects similar pattern of variance. As depicted in the image below the price of powder lactose is lower than granular in North America as well as East Asia.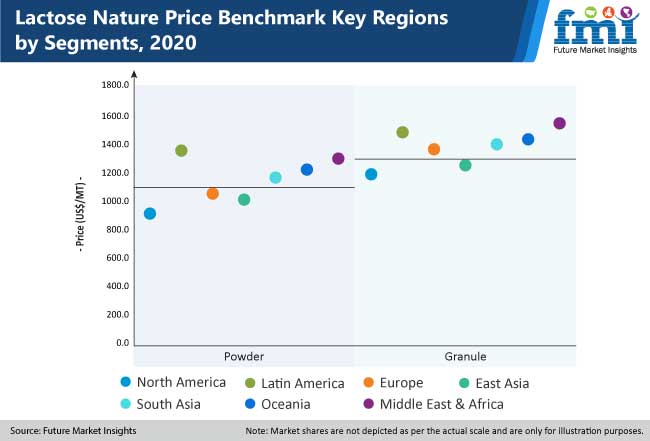 Rising Consumer Preferences for Organic as well as Clean Label Products
These days, consumers have become highly conscious about their food consumption habits. They are also more interested in information such as processing methods and ingredients used of products they buy.
The increasing focus on ingredients list can be attributable to the higher awareness regarding the many benefits of organic ingredients and clean label products.
Resultantly, food processors are compelled to shift their focus towards natural, organic, and free from artificial additives ingredients.
The clean label trend has driven the food industry to share information regarding ingredients present in food. With no signs of this trend slowing down, more companies are expected to look for natural sources of ingredients.
Spurred by this, more companies are expected to focus on organic lactose. For instance, Lactoprot Deutschland GmbH one of the German manufacturer that has a wide variety of products that includes organic lactose.
Applications in Food and Pharmaceutical Industries Creating Lucrative Growth Prospects
Lactose has several applications in the global food and pharmaceuticals industries. In the food sector, its applications are determined on the basis of its relative sweetness and role it plays as an energy source.
Lactose is less sweet as compared to sucrose and has the texture of crystallized sugar. When used as a sweetening agent in any food, it does not hinder with the sweetness of food products. The lactose market therefore comprises a range of low-volume and special uses in the food industry.
For instance, lactose is used to enhance the functionality of shortenings, or as an agglomerating or free-flowing agent to enhance flavor of food products. It is also used as a diluent for flavors, enzymes, or pigments. Lactose is also one of the key ingredients used across confectioneries to derive caramel flavors.
Apart from the food industry, lactose has major applications in pharmaceuticals and is used as a carrier for drugs as it is safe, it is available in a highly refined form, and helps in the production of good quality of tablets.
It has multiple applications in the pharmaceutical industry. Lactose monohydrate for instance is used as an excipient in tablet, however, it is also being finely milled to offer inhaler grade lactose.
Technology is Creating Opportunities for New Dairy Products
Recent technological advancements in dairy science along with manufacturing techniques are showing companies way to safer, better and more cost-effective production.
Particularly, advancements in membrane technology, analytical testing, and microbiological techniques are assisting the dairy industry to manufacture new range of products, improve the efficiency of processing and achieve a greater control on production processes.
Developments in membrane technology are primarily applicable in other fields and are also being used to produce dairy protein fractionations.
Mark Etzel (Professor) of University of Wisconsin-Madison Food Science has introduced a charged membrane technology which separates various forms of protein from non-protein nitrogen, lactose, and minerals on the basis of size and charge of the molecules.
Research and development initiatives in the field are expected to bode well for the market. These studies are aimed at uncovering ways for better usage of lactose.
Key Players are Focusing at Product Launches and Strategic Collaborations to Establish Stronghold
According to FMI, approximately 45% of the market belongs to Tier 1 producers and the prominent players are concentrated in North America and Europe.
Producers in the market are investing in e-Commerce and online sales, besides strengthening their presence across the multiple channels. They are collaborating with various retailers to increase its e online business.
Apart from that these manufacturers are also working on new product launches, merger & acquisition strategy to develop their business.
In March 2018, Merck KGaA announced its plans of introducing three new products for the flexible manufacturing of biologics. Pellicon® Capsule with Ultracel® Membrane, S® Final Fill Filter, and Mobius® Power MIX are the new innovations.
In April 2019, Hilmar Cheese Company, Inc. entered into an agreement to sell its milk powder facility, located at Turlock, California to California Dairies, Inc.
Scope for Application Increasing as Pharmaceutical Industry Seeks to Leverage Health Beneficial Properties of Lactose
Lactose is a carbohydrate (sugar) naturally occurring in dairy and milk products. Lactose is composed of galactose and glucose, two simpler sugar molecules that are used as energy directly by human body.
Lactase breaks lactose into galactose and glucose. Human milk has 7.2% of lactose that offers around 50% energy needs of infant (the milk produced from cows provide around 30% of energy requirement of infants). Glucose is found in several other food product types whereas, galactose is only sourced from the lactose.
Galactose has multiple biological properties and aids in immunological and neural processes. Galactose is a major component of various macromolecules including cerebrosides, mucoproteins, and gangliosides that are essential elements for the nerve cells membrane. Galactose is also present in the molecules on blood cells which regulate the ABO type of blood.
As per the recent findings, lactose supports the absorption of calcium and other minerals including zinc and copper, mainly during the infancy. Lactose and other milk-based sugar molecules also support the bifidobacteria growth in the gut and also has a long life role in defying the aging-associated immune functioning decline.
These health beneficial properties are creating opportunities for lactose in pharmaceuticals industry and is anticipated to increase over the forecast years.
Lactose Market Challenges- Lactose Intolerance among Some Users is Key Restraint to Growth
Lactose intolerance can be explained as the inefficiency to digest lactose that is majorly present in high amounts in bovine colostrum. Lactose is hydrolysed by an enzyme known as lactase.
Lactose intolerance is caused due to deficiency of lactase enzyme in the body that triggers symptoms including nausea, cramps, bloating, gas, and diarrhoea. Hence, due to increasing health concern consumers are avoiding lactose in their diet, which is causing loss of revenue for lactose and lactose-based product manufacturers.
Top Lactose Brands in the Market
Manufacturers operating in the global lactose market are likely to undergo a stagnant phase in the upcoming years due to the unprecedented outbreak of the COVID-19.
This has resulted in slowdown of economy for the next 4-5 years. However, since lactose supports the immunity, its demand is increasing in functional food and beverages.
Due to complete/partial lockdown, and closure of international boarders, the demand witnessed in the market is impacted and is anticipated to decline for 1-2 years and before it starts regaining momentum. Key manufacturers in the lactose market are expected to concentrate on expansion of their product portfolio to gain competitive advantage.
FMI profiles some of the leading companies in the market. These include:
Americas
Avantor, Inc.
Hilmar Ingredients Inc. (Hilmar Cheese Company, Inc.)
Europe
Alpavit Käserei Champignon Hofmeister GmbH & Co. KG
Armor Pharma (Savencia SA)
BASF SE
Koninklijke FrieslandCampina N.V. (DFE Pharma)
Hoogwegt Groep B.V.
Kerry Group plc
Merck KGaA
Milei GmbH (Morinaga Milk Industry)
Asia Pacific
*The list is not exhaustive, and only for representational purposes. Full competitive intelligence with SWOT analysis available in the report
Lactose Market: Region Wise Analysis
Europe and Asia Pacific have the largest consumer base for lactose, whereas North America is anticipated to grow at a CAGR of 3.2% during the forecast period.
Rising application in food science and pharmaceuticals will drive consumption in aforementioned regions. According to a survey conducted by the American Dairy Association, the U.S. recorded 150,000 tons of infant formula consumption in the year 2018.
This, coupled with the increasing demand for refined and edible grade lactose across pharmaceutical sector in the country will support expansion in North America. The region also exhibits high demand from confectionery and other segments within the food industry.
Europe as well is forecast to emerge as a lucrative market for lactose. The high consumption of infant formula, besides expansion of pharmaceutical sector is supporting the growth of the market in Europe. The region also boasts the presence of several leading companies, which is aiding the expansion of the market.
Lactose: The Way Forward
Branding and marketing has a major role in retaining and attracting consumers to make profits. Producers in the food sector are regularly working and updating branding and marketing approaches by developing a strong supply network linked with the retail points and processing units.
Creating social media buzz and new product awareness are among the key strategies adopted by companies. They are tapping into the healthy eating habit of consumers to gain traction.
The market also witnesses ample focus towards environmental-friendly and convenient packaging. Lactose products are therefore available in bags, cartoons, pouches, and sachets that are designed beautifully and creatively.
Consumers expect organic products to come in equally eco-friendly packages. They have become environmentally more responsible, which is driving the change in the market. In the coming years therefore the market will exhibit Key takeaways need to short and informative. For explanation, we have lot of opportunities in the preview.
Key Segment
Form
Grade Type
Food Grade
Pharmaceutical Grade
Industrial Grade
Derivatives Type
Lactose Anhydrous
Lactose Monohydrate
Galactose
Lactulose
Lactitol
Other (tagatose, lactobionic acid)
End Use
Food and Beverage

Bakery
Confectionery
Functional Food

Pharmaceutical
Animal Feed
Cosmetics and Personal Care
Region
North America
Latin America
Europe
East Asia
South Asia & Pacific
Oceania
Middle East & Africa
Need specific information?