Cocoa Butter Market By Product Type (Natural, Deodorized, Semi-deodorized), Nature (Organic, Conventional), Product Form (Blocks, Powder, Liquid), End Use (Food & Beverage Industry, Pharmaceuticals, Personal Care & Cosmetics & Region - Forecast to 2021 - 2031
Cocoa Butter Market - Analysis, Outlook, Growth, Trends, Forecasts
November 2021

REP-GB-5476

250 pages
Cocoa Butter Market Snapshot
[250 Pages Report] Demand for cocoa butter market is expected to reach US$ 6.7 Bn in 2021, according to the latest Future Market Insights (FMI) study. The market value has been forecast to total US$ 9.8 Bn by 2031, exhibiting growth at CAGR of 3.8% for 2021-31.
The rising demand for better texture and appearance of chocolates besides their flavor will create a conducive environment for the growth. Some of the leading cocoa butter processors are emphasizing on strengthening their trade relations with countries exporting cocoa beans.
Strategic alliances undertaken by the leading players are expected to emerge as chief growth driver for the cocoa butter market.
| | |
| --- | --- |
| Projected year (2021) Market Value | US$ 6.7 Bn |
| Projected year (2031) Market Value | US$ 9.8 Bn |
| CAGR% (2021-2031) | 3.8% |
Cocoa Butter Market 2016-2020 Outlook in Comparison to 2021-2031 Growth Forecast
As per Future Market Insights (FMI), the global cocoa butter market grew at a steady CAGR of 2.9% between 2016 and 2020.
Chocolate's continuous phase is formed by cocoa butter, which is a key element. As a result, it is responsible for the glossy appearance, texture, and melting behavior of enticing chocolate. As per FMI, the cocoa butter market is primarily driven by rising consumption of chocolate and other types of confectionery around the world, particularly in emerging nations.
The global cocoa butter market is expected to gain from the increasing use of cocoa butter in goods such as milk chocolate, dark chocolate, drinking chocolate, and other drinks.
A rise in spending power allows consumers to indulge in a meal that was once considered a luxury item. This is expected to bode well for the global market. Although health worries about the high sugar content in most cocoa-derived goods might pose threats, experts say the cocoa market's fundamentals are solid, thanks to new uses in the pharmaceutical and cosmetics industries.
The availability of a wide range of chocolate varieties and flavor has increased scope for sales in the market. Furthermore, producers are introducing new chocolates that combine cereals, fruits, and nuts, particularly to woo health-conscious consumers. As per FMI, these factors will help the market grow by a CAGR of 3.8% between 2021 and 2031.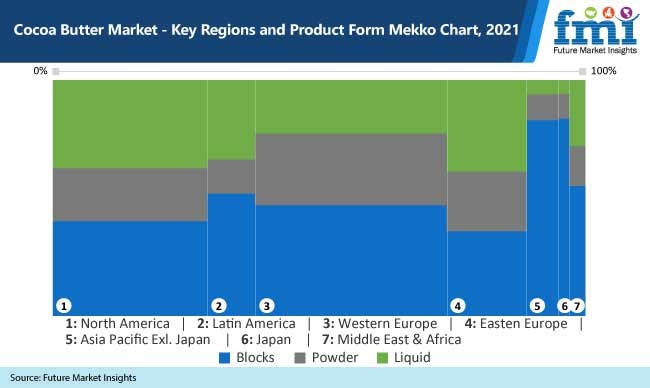 Why is Growing Consumption in Non-chocolate Segments Contributing to the Growth of Cocoa Butter?
Despite the slowing chocolate market, the demand for cocoa butter is increasing in areas such as bakery, dairy, and frozen desserts. The demand for cocoa products such as cocoa liquor, cocoa butter, and cocoa powder has been pushed by surging application in novelty products within the confectionery market. Cocoa butter is a by-product that is predicted to gain popularity as a result of increasing cocoa bean processing.
This trend is particularly prevalent in developed regions, where chocolate demand is either dropping or stagnating, and premium and new cocoa products are strengthening their grip on the food market.
In addition, manufacturers are increasingly following the trend of product customization to stay ahead in competition. The need for high quality cocoa butter is increasing in order to meet the unique needs of consumers and to match their desired taste and texture profiles, which is projected to fuel the market's growth.
Extensive Marketing and Promotional Campaigns by Chocolate Manufacturers Aiding Growth
Companies that make chocolate advertise their products aggressively in order to increase sales and expand their consumer base. They are working on spreading knowledge about various health benefits of chocolate, which is propelling the worldwide cocoa market. Cocoa-derived items are being promoted in restaurants, convenience stores, and retail locations, and consumers are occasionally given free samples.
Furthermore, celebrity endorsement is frequently used to promote products. Famous celebrities all over the world advocate chocolate brands, which has a tremendous impact on their fan base by instilling trust the product.
Cocoa Butter is Finding Place Households Kitchens
Cocoa butter is a healthy ingredient that can be used in both sweet and savory recipes to give creaminess to beverages and desserts. It can be used in place of coconut butter or oil, as well as a butter substitute in vegan or dairy-free recipes.
Cocoa butter is good for cooking at high temperatures. Because of its high smoke point; it won't burn easily. Demand in the household sector is expected to surge in the coming years, creating impressive growth opportunities for the market.
What is the Impact of COVID-19 on the Cocoa Butter Market?
Companies operating in the cocoa butter market witnessed supply chain disruptions as governments imposed stringent lockdown to contain COVID-19. Some of the leading companies made swift operational changes to keep pace with the dynamic environment.
Cargill Inc., for example, has implemented social distancing, temperature checks, and transportation policies to ensure that our employees arrive at work safely. It was a collaborative initiative including both the public and private sectors.
The use of digital tools has increased as a result of COVID-19. For instance, Cargill Inc. is now 100 percent digital in Ghana, and it has collaborated with mobile network carriers and banks in Côte d'Ivoire, with funding from IFC, to become 100% digital in the next 4-5 years.
These developments are expected to help companies stay afloat despite disruptions witnessed during the pandemic.
Cocoa Butter Market Country-wise Insights
What is Driving the Growth of Cocoa Butter Market in the U.S.?
The U.S. cocoa butter market is projected to register growth at a CAGR of 2.4%, during the forecast period. The high demand, purchasing power, and consumption pattern of consumers are encouraging cocoa butter use in food and bakery items. Chocolate is purchased twice a week on average in the U.S., with sales increasing on holidays and weekends as consumers are more likely to treat themselves and others with chocolate.
In terms of chocolate consumption and production, the U.S. has the greatest market share in North America. The market as a whole is saturated and increasing at a moderate rate. Nonetheless, the dark chocolate market category is expanding at a rapid pace, owing to consumer awareness about its health benefits, which is driving up demand for cocoa butter.
What is Driving Cocoa Butter Sales in India?
According to FMI analysis, the demand in India is forecast to grow at a CAGR of 8.9%. The increasing disposable wealth of Asian consumers, combined with their appetite for chocolate, is paving the way for Asia to become the next cocoa butter superpower.
Countries such as Indonesia, Malaysia, India, and China are offer extensive opportunities for major firms. As these countries have become a significant network center for expansion in Asia Pacific, several manufacturers are constructing processing facilities there.
Due to the low cost of cocoa butter, confectioners have been driven to invent novel goods. This tendency is particularly noticeable in places such as Asia Pacific and Eastern Europe, where the number of chocolatiers is increasing.
Furthermore, compared to developed nations such as Western Europe and North America, laws in these regions are comparably lenient, allowing more freedom in the creation and launch of innovative products.
How is Growing Chocolate Market in Germany Impacting Overall Cocoa Butter Demand?
According to the analysis, Germany is forecast to grow at a CAGR of 2.1%. As the German chocolate industry is currently one of the largest in Europe, it is predicted to continue to rise steadily in the future years, thanks to an increase in chocolate consumption among German consumers to satisfy their sugar needs.
Furthermore, consumers have begun to value quality and taste over quantity, resulting in an increase in demand for high-end and pricey chocolate ingredients in Germany. Furthermore, people prefer chocolate to any other present item, which has fueled the country's chocolate business, which in turn has increased demand for cocoa butter.
Can growing UK Cosmetic Industry Provide Opportunity for Cocoa Butter Market?
According to the FMI analysis, the demand in the U.K. is forecast to grow at a CAGR of 2.9%. Young female professionals as well as older adults are driving the growth of the UK cosmetics business as an elite, premium market.
The adoption of organic and natural personal care products is being driven by the increasing popularity of goods containing components such as cocoa butter, plant extracts and herbs, aromatherapies, and fruit extracts in the country. As a result, the country's skincare product market will be augmented.
Premium cosmetic brands are becoming increasingly popular in the market. As a result of the trend toward a more minimalist makeup appearance, as well as high-profile product releases, consumers have been increasingly interested in organic face cosmetics. This is expected to aid sales growth in cocoa butter market.
Cocoa Butter Market Category-wise Insights
Why are Blocks Most Preferred Form of Cocoa Butter?
Demand for cocoa butter in the form of blocks is expected to register healthy growth at 7.6% CAGR and is expected to hold a market share of more than 85%. As, the most common form of cocoa butter is in the form of blocks.
Cocoa butter blocks have a smooth texture and a light aroma that has been compared to chocolate by some. In addition, the ideal crystal form for chocolate in terms of beauty and taste is in the shape of blocks of cocoa butter. This form is shiny, snaps when broken, melts in the mouth, and has a smooth texture.
Why is Demand for Deodorized Cocoa Butter High?
Deodorized cocoa butter is a pure, pulverised butter made from premium cacao beans that has been prime pressed. Cocoa butter is deodorized after being taken from the cacao bean to minimize the strong, natural chocolate aroma.
As a result, the aroma of cocoa butter is softer than that of natural cocoa butter. The aroma of deodorized cocoa butter is still chocolate, but it isn't as strong, and therefore has less of an impact on the created end product. Considering this, the sales of deodorized cocoa butter is expected to rise in the coming years.
Why is Demand Rising in Confectionery Sector?
Application of cocoa butter in confectionery is expected to register healthy growth at 3.9% CAGR. The basic element in chocolate is cocoa butter; it is mostly made up of fat molecules, and the arrangement of these fat molecules affects the structure of chocolate.
The most important and most expensive component of chocolate goods is cocoa butter. The crystallization behavior of cocoa butter explains why chocolate products are so appealing, as they melt just below body temperature, giving them a pleasing sensation.
Chocolate is thinned with cocoa butter, and chocolate coatings are made with it. It's rarely used in baking since it solidifies at room temperature, rendering it unsuitable for creaming unless coupled with other liquid fats. When stored in an airtight, light-proof container, cocoa butter has a shelf life of 2–5 years.
What is Driving Application of Cocoa Butter in Personal Care & Cosmetics Products?
Application of cocoa butter in personal care & cosmetic products is expected to register healthy growth at 3.3% CAGR. As cocoa butter is heavy in fatty acids, it's known for its ability to moisturize and nourish the skin while also improving suppleness. Cocoa butter's fat produces a protective layer over the skin, keeping moisture in. It also is a rich source of phytochemicals, which are natural plant substances. By protecting the skin from the sun's harmful UV rays, these chemicals may increase blood flow and decrease skin ageing.
Cocoa butter is often used to in skincare products that promises to smooth wrinkles, scars, and other skin imperfections. Cocoa butter creams and lotions are thought to be effective in preventing and reducing the appearance of stretch marks during and after pregnancy by women. It also has been promoted as an eczema and dermatitis rash therapy. As a result, the multifunctional benefits of cocoa butter in skin care are increasing demand for its use in personal care and cosmetics.
Cocoa Butter Market Competitive Landscape
Consumers have conflicting reactions to new alternatives for cocoa butter, such as cocoa butter analogues. These replacements have failed to match the chocolate industry's flavor and texture criteria, therefore cocoa butter is less likely to be threatened by these newcomers.
As a result, despite decreased consumer demand for cocoa butter as a result of health-conscious tendencies, this situation is unlikely to last long, and the market is predicted to expand through the projection period.
As per FMI, leading companies operating in the market are focusing on expansion of their portfolio as well as global presence. For instance, Cargill Inc., an agro-ingredients firm, expanded its cocoa product portfolio investment in India in January 2018, owing to India's great market potential in the cocoa industry.
Scope of Report
Attribute

Details

Forecast Period

2021-2031

Historical Data Available for

2016-2020

Market Analysis

USD Million for Value

Key Countries Covered

US, Canada, Germany, U.K., France, Italy, Spain, Russia, China, Japan, South Korea, India, Thailand, Malaysia, Indonesia, Australia, New Zealand, GCC Countries, Turkey, Northern Africa, and South Africa

Key Segments Covered

Product Type, Nature, Product Form, End Use, and Region

Key Companies Profiled

Cargill Inc.
Shirin Asal Food Industrial Group PJSC
Olam International Ltd
SunOpta Inc.
Jindal Drugs Pvt ltd
Bolmay Cocoa
JB Foods Ltd.
Others

Report Coverage

Market Forecast, Company Share Analysis, Competition Intelligence, DROT Analysis, Market Dynamics and Challenges, and Strategic Growth Initiatives

Customization & Pricing

Available upon Request
World's Most Profilic Intelligence Engine
Get Access To The World's Largest Market Research Database.
Sign Up Now
Cocoa Butter Market by Category
By Product Type:
Natural
Deodorized
Semi-deodorized
By Nature:
By Product Form:
By End Use:
Food & Beverage Industry

Confectionery
Bakery
Frozen Desserts
Nutritional Drinks
Others

Pharmaceuticals
Personal Care & Cosmetics
By Region:
North America
Latin America
Western Europe
Eastern Europe
APEJ
Japan
Middle East & Africa
Key Questions Answered in the Report
What is the cocoa butter market size?
The cocoa butter market is poised to surpass US$ 6.7 Bn by 2021.
At what rate did the demand for cocoa butter grow between 2020 and 2021?
The demand for cocoa butter increased by 3.6% between 2020 and 2031.
What is the sales outlook for cocoa butter?
The sales of cocoa butter are expected to surge by 3.8% CAGR between 2021 and 2031.
Who are the top players in the cocoa butter market and what is their market share?
Cargill Inc., Barry Callebaut AG, Shirin Asal Food Industrial Group PJSC, and Olam International Ltd, SunOpta Inc. are the top market players. These companies together are expected to account for 30% to 50% sales in the market in 2021.
What is the growth outlook for North America cocoa butter market?
The North America cocoa butter market is expected to grow by 2.3% CAGR over the assessment period.
At what rate will sales of cocoa butter grow in Europe?
The sales of cocoa butter will grow by 2.7% in Europe.
What are the key trends shaping the cocoa butter market?
Demand for indulgent texture, appearance and flavor has paved way for creativity across the cocoa butter market. Besides this, manufacturers are increasingly focusing on emboldening the origin and provenance of the cocoa butter. These trends are expected to have positive impact on the global market.
Need specific information?
Our Clients