Introduction
Cocoa butter is a stable fat that is obtained by pressing cacao beans. Cocoa butter is white in color, soft in texture and has the flavor and aroma of cocoa. Cocoa butter is responsible for imparting the creamy and viscous texture to chocolate products. Cocoa butter is widely used in the confectionery & personal care products as a texture enhancing ingredient. The cocoa butter market is segmented into product type, product form, nature, and end use. On the basis of product type, the cocoa butter market is segmented into natural, deodorized and semi-deodorized.
On the basis of product form, the cocoa butter market is segmented blocks, powder and liquid. In terms of volume, the cocoa butter offered in the form of blocks constitute a much larger share than powder and liquid product forms in the cocoa butter market. Emerging substitutes for cocoa butter such as cocoa butter equivalents have been met with mixed reactions from the audience. These substitutes have failed to meet the taste and texture requirements of the chocolate industry and hence, cocoa butter is less likely to face threats from these emerging substitutes.
Hence, despite the declining consumer demand for cocoa butter due to greater health consciousness, this scenario is unlikely to persist for long and the cocoa butter market is ultimately expected to exhibit growth over the forecast period.
These reviews are also supported by the opinions of the food regulatory bodies in different regions who opine that products with cocoa butter equivalents are unfit to be called 'chocolate', signaling the reign of cocoa butter in the chocolate industry.
In Asia Pacific region, specifically China and India, and Indonesia and Viet Nam amongst the ASEAN countries have witnessed significant expansion in terms of the production capacities of cocoa butter and exhibited several opportunities for growth in the cocoa butter market. In addition, urbanization and the number of chocolatiers in this region is increasing, which is a factor fueling the demand for cocoa butter. These countries are also populous in terms of the target demographic for cocoa and chocolate-based products, that is, infants and teenagers.
Asian consumers' appetite for chocolate coupled with their rising disposable income paves way for Asia to become the next powerhouse in the cocoa butter market. Countries like Indonesia, Malaysia, India, and China have created new avenues for key market players. Many manufacturers are also expanding processing facilities in these countries, as they are becoming a major network center for expansion in Asia Pacific.
In terms of value, the global cocoa butter market is expected to represent an incremental opportunity of 171.6 Mn by 2018 end over 2017. By product type, semi-deodorized cocoa butter is expected to register a CAGR of 4.4% in terms of revenue in the cocoa butter market. The Middle East & Africa region is expected to register relatively low growth in the cocoa butter market.
Personalized Chocolate Confections Driving Demand for Cocoa Butter
Falling cocoa butter prices have encouraged confectioners to develop new products due to affordability. This trend is especially witnessed in regions like Asia Pacific and Eastern Europe, where chocolatiers are on the rise.
In addition, legislation in these regions are slightly more relaxed as compared to developed regions such as Western Europe and North America and offer more freedom for the development and launch of new products. For instance, in January 2018, the company Cargill Inc., which is an agro-ingredients based company, expanded its cocoa products portfolio investment in India, due to India's strong market potential in the cocoa butter market.
On the other hand, consumers often associate the origin and authenticity of the raw material of food products with the quality and richness of the product. The originality of the cocoa beans possesses high value in the cocoa butter market and hence the certified processing of cocoa butter plays an important role in an industry driven by authentic and premium products.
Amidst this trend, the main origin countries of cocoa beans such as Côte d'Ivoire and Ghana have exhibited potential for processing of cocoa beans as well. However, due to lack of speed and security in the supply, the growth of this sector is hindered in these regions. As an industry driven by the demand for high-quality cocoa butter, key players from developed regions who dictate the fate of the cocoa butter market have expressed doubts and uncertainty over the processing capabilities in the countries like Côte d'Ivoire and Ghana, and hence the industry growth in these regions is fairly obstructed.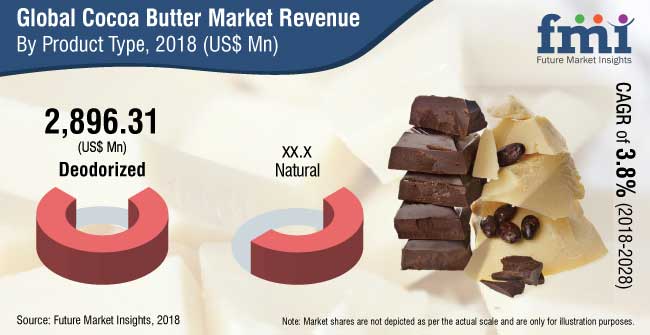 Western Europe Still Leading from the Front in Terms of Cocoa Butter Utilization
On the basis of region, the market in Western Europe is anticipated to dominate the global cocoa butter market in 2018. Eastern Europe is expected to gain significant market share in revenue terms by 2028 end. Moreover, Turkey is projected to exhibit significant CAGR during the forecast period in the cocoa butter market.
Market segmentation
Global Cocoa Butter Market – By Product Type
Natural
Deodorized
Semi-deodorized
Global Cocoa Butter Market – By Product Form
Global Cocoa Butter Market – By Nature
Global Cocoa Butter Market – By End Use
Food & Beverage Industry

Confectionery
Bakery
Frozen Desserts
Nutritional Drinks
Others

Pharmaceuticals
Personal Care & Cosmetics
Global Cocoa Butter Market – By Region
North America
Latin America
Western Europe
Eastern Europe
Asia Pacific excluding Japan
Japan
Middle East & Africa
Need specific information?