Cocoa Liquor Market By Product Type (Dutch, Natural), Cocoa Variety (Forastero, Criollo, Trinitario), Form (Wafers, Blocks, Chips, Liquid) & Region – Forecast 2021 - 2031
Cocoa Liquor Market - Analysis, Outlook, Growth, Trends, Forecasts
August 2021

REP-GB-5478

250 pages
Cocoa Liquor Market Snapshot
The cocoa liquor market value is expected to total US$ 6,317.37 Mn in 2021, according to Future Market Insights (FMI). The overall market value is expected to reach US$ 8,656.3 Mn by 2031, growing at a CAGR of 3.2% for 2021-31.
Introduction of an expansive portfolio of products taking into consideration the increasing demand for cocoa liquor and g focus on product innovations will aid the growth of the cocoa liquor market over the forecast period.
Key Points Covered in Cocoa Liquor Market Study
Market estimates and forecast 2015-2031
Key drivers and restraints impacting market growth
Segment-wise, Country-wise, and Region-wise Analysis
Competition Mapping and Benchmarking
Brand share and Market Share Analysis
Key Product Innovations and Regulatory Climate
COVID-19 Impact on Cocoa Liquor Market and How to Navigate
Recommendation on Key Winning Strategies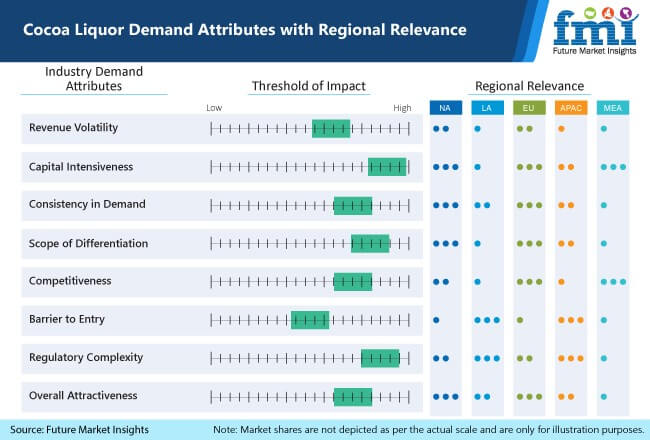 2016-2020 Cocoa Liquor Market Outlook in Comparison to 2021-2031 Growth Forecast
The market grew at a CAGR of 2.9% between 2016 and 2020. Forecasts for growth remain optimistic, with the sales of cocoa liquor predicted to grow at a CAGR of 3.2% between 2021 and 2031.
Some of the leading market players are incorporating citrus fruits and dairy products. Globally, the number of lemon flavored chocolates made with cocoa liquor has doubled in the past few years. In addition, manufacturers are focusing on introducing other ingredients in cocoa liquor end product such as pepper, yogurt, and lemon oil.
Their efforts are intended to offer innovative flavors to gratify changing preferences of consumers, who are keen on experiencing new culinary delights. They are also enjoying fresh and fusion-style drinks, and are open to trying them in treats and sharing their experiences with others.
The application of cocoa liquor in drinks has increased particularly among working population since the time required for preparation of these drinks is less. Furthermore, presence of cocoa liquors also enables these drinks to double up as energy booster. Manufacturers across the world are introducing chocolate infused drinks to attract the large customer base. This will have positive impact on the cocoa liquor market.
How will Innovative Flavors in Chocolate Help Attracting Consumers?
Consumers across the world are looking for more indulging experiences in terms of texture, flavor, and color, which is inspiring creativity in the cocoa liquor market. Flavors such as chocolate and vegetable are becoming increasingly popular across a range of categories, for example mixing chocolate flavors with beetroot in cakes and incorporating kale flavor in chocolate bars are among the latest trends marrying chocolate flavors to vegetables.
These chocolates added with beetroot and kale are made from cocoa liquor which enhances the texture and flavor.
Besides this, consumers are keen on trying varying textures in their food. Cocoa liquor also is widely used to offer various shades and colors. The unsweetened cocoa liquor is used to intensify the flavor of chocolates. Cocoa liquor is easily mixed with chocolates to obtain more intense color and taste and to prepare signature chocolate recopies.
For instance, Cocoa liquor offered by Callebaut® is used as a flavoring agent in ice creams, oaralines, and ganache to achieve darker, deeper color and more intense cocoa taste.
How is Popularity of Specialty Chocolate Fueling Demand for Cocoa Liquor?
While fine flavor cocoa liquor holds low share in the overall production of cocoa liquor, its demand has seen a spike in recent years. It is largely due to a growing popularity among end-users of premium and specialty chocolate.
The demand for premium chocolate products is increasing across the world. These high priced chocolate products are currently purchased only by a small percentage of customers but their penetration is increasing steadily. This has led to leading chocolate companies including Mars and Ferrero to invest in expanding their offerings and also incorporating cocoa liquor in their products.
Are Market Players Aiming at Health Conscious Consumers to Gain Competitive Strength?
The organic and clean label movement has swept the ever-evolving food and beverage sector. The effect of the organic and clean label movement is also felt amongst dark chocolate makers, with a spike in demand for sustainable and premium ingredients.
The key players in the industry are focusing on adding natural sweeteners, such as coconut sugar and Stevia to position their product in the most demanded category among health conscious consumers. Environment friendly and ethically produced chocolate is mostly demanded by consumers and companies manufacturing confectionery products.
Will Adulteration in Cocoa Liquor Restraint the Growth of Market?
Some of the common ways followed for adulterating chocolates and cocoa liquor include using low quality sugar, addition of minerals to increase product weight, inclusion of starch during manufacturing of chocolates, and use of non-permitted artificial colors may compromise with the taste and quality of chocolates and cocoa liquor. Consumers have become more aware of food safety issues as a result of exposure to social networking websites and extensive social media coverage.
The health effects caused due to the consumption of adulterated chocolate and cocoa liquor is likely to be a restraining factor to the growth of the cocoa liquor market.
What is the Impact of COVID-19 on the Cocoa Liquor Market?
COVID-19 only had a minor impact on cocoa supplies. The outbreak initially struck West Africa near the end of the primary crop, thus it was about April when it first began to spread. So, the main crop was finished, and it was a good one. In fact, it could have been a new high. As a result, it didn't have a significant impact on prices.
COVID-19 also had an impact on the chocolate business when it first emerged in 2020. However, after the relaxation of limitations in both importing and exporting countries, the market became more stable. During the lockdown, chocolate consumption at home increased dramatically; chocolates, like other consumables, were purchased in bulk, resulting in higher volume sales through supermarkets and hypermarkets.
Thus, the cocoa liquor market was not highly impacted due to outbreak of COVID-19.
Country-wise Insights
What is Growth Opportunity for Cocoa Liquor Market in the U.S.?
According to the latest study, the U.S. is estimated to account for more than 90% of the North America market in 2021. Dark chocolates and other quality chocolates are in high demand among US's consumers. Chocolate and confectionary both employ cocoa liquor as an ingredient.
As a result of the increasing demand for premium chocolates, chocolate makers are expanding their product line to include new flavors such as cocoa liquor, caramel-centered, and candy-coated lentil to appeal to premium chocolate enthusiasts. During the forecast period, this trend is likely to have a beneficial impact on the confectionary market as well as the expansion of cocoa liquor in the US.
Why is Germany Considered a High Potential Market for Cocoa Liquor?
According to the latest report, Germany is expected to hold dominant share of more than 18.3% in the Europe market.
Presence of some of the leading manufacturers of chocolate goods in Germany is responsible for the high demand for cocoa liquor. Germany is home to Europe's largest chocolate-making sector, which mostly uses bulk beans. A considerable portion of Germany's chocolate output is exported, making it one of the world's leading exporters of chocolate products.
Germany is a huge cocoa and chocolate market with many of prospects for producers, both in bulk and specialty. Germany is a significant chocolate consumer, with the second-highest per capita chocolate consumption in Europe.
Will the Growing Bakery Industry Support Demand in India?
According to FMI's analysis, the market in India is forecast to grow at a CAGR of 5.8%. As cocoa liquor is used in making bakery products, the rising demand for bakery products is parallel to the rising use of cocoa liquor.
India, trailing China, is the world's second-largest food producer, with the potential to overtake China in the food and agriculture industry. As a result, the bakery business in India has a lot of trends and issues. In India, the bakery business is one of the most important segments of the country's processed food industry.
The Indian bakery business has a competitive advantage in manufacturing since it has a plentiful supply of primary ingredients such as cocoa liquor.
Why is China Dominant in East Asia Cocoa Liquor Market?
According to FMI's analysis, China holds a dominant share of 48.5% in East Asia Market. Due to an increase in candy consumption in China, the market is expected to grow. Consumer tastes have shifted away from ice cream and other dessert categories, which has resulted in increased confectionery consumption.
During the forecast period, factors such as low pricing, a variety of taste options, familiar ingredients, the launch of new flavors, and the availability of compact packs of ice creams are expected to drive the Chinese cocoa liquor market.
What are the Growth Prospects for Cocoa Liquor Market in Brazil?
In the Latin America, Brazil is expected to account for 45% of market share in 2021. Consumer expenditure on food and groceries has changed dramatically as income levels have risen.
The introduction of confectionery items with a range of flavors, textures, and packaging is assisting the expansion of cocoa liquor in the country. Brazil has one of Latin America's largest confectionary markets. When compared to other confectionery categories, chocolate has the largest consumption, which is boosting demand for cocoa liquor.
Category-wise Insights
Why Dutch Cocoa Liquor Holds the Maximum Share?
According to FMI's analysis, Dutch cocoa liquor is estimated to hold more than 56%. This is because the Dutching procedure is widely used in the food business. Drinks, ice cream and frozen desserts, baked foods, pastry and complex coatings, and Dutch chocolates all contain Dutch cocoa liquor.
Natural chocolate liquid is also more acidic and bitter, whereas Dutch cocoa liquor, or cocoa that has been alkalized to a neutral pH, has a less astringent flavor profile. This allows a producer to produce multiple flavors from the same bean type, increasing demand even further.
Which Cocoa Variety is dominating the Market?
Forastero cocoa is estimated to account for more than 80.0% of market share in 2021, which is expected to witness growth rate of CAGR 2.5% over the forecast period.
What is the Market Share of Cocoa Liquor Wafers?
According to FMI's analysis, wafers is forecasted to hold a market share of more than 50% in 2031. Due to their versatility, cocoa liquor wafers are the most popular. Wafers are tiny discs of pure chocolate that melt easily and can be used in a variety of baked items.
Cocoa liquor wafers are flavorful and creamy, and they may be used in a variety of ways. Cocoa liquor wafers can also be used as baking chocolate or bittersweet chocolate. Cocoa liquor wafers melt readily and can be used in a variety of ways, including chocolate sauces, chocolate bark, frosting, and more.
Will Rising Demand for Dark Chocolate Propel the Growth of Cocoa Liquor?
According to FMI's analysis, beverage is forecasted to hold a market share of more than 35% in 2021.
Dark chocolate's market penetration has increased as a result of the premium chocolate industry and the availability of dark chocolate brands. Another factor driving dark chocolate demand is its low sugar content, as consumers have become more aware of the link between high sugar consumption and chronic disorders like diabetes. Thus, cocoa liquor being an active ingredient in chocolate is expected to be demanded more.
Competitive Landscape
Over the forecast period, new companies are expected to enter the cocoa liquor market, both locally and regionally, due to attractive opportunities. The industry is projected to remain competitive, with an estimated 100+ cocoa liquor players offering bespoke packaging, new tastes, and a variety of claims, including clean-label claims. Some of the key players in the cocoa liquor market are listed below.
Scope of Report
Attribute

Details

Forecast Period

2021-2031

Historical Data Available for

2016-2020

Market Analysis

USD Million for Value

Key Countries Covered

US, Canada, Germany, U.K., France, Italy, Spain, Russia, China, Japan, South Korea, India, Thailand, Malaysia, Indonesia, Australia, New Zealand, GCC Countries, Turkey, Northern Africa, and South Africa

Key Segments Covered

Product Type, Cocoa Variety, Form, Application, and Region

Key Companies Profiled

The Archer Daniels Midland Company
United Cocoa Processor, Inc.
Blommer Chocolate Company
Nestlé S.A
Valrhona
Barry Callebaut
Cemoi
India Cocoa
Charley's
Others

Report Coverage

Market Forecast, Company Share Analysis, Competition Intelligence, DROT Analysis, Market Dynamics and Challenges, and Strategic Growth Initiatives

Customization & Pricing

Available upon Request
World's Most Profilic Intelligence Engine
Get Access To The World's Largest Market Research Database.
Sign Up Now
Cocoa Liquor Market by Category
By Product Type:
By Cocoa Variety:
Forastero
Criollo
Trinitario
Other Cocoa Varieties
By Form:
Wafers
Blocks
Chips
Liquid
By Application:
Chocolate and Confectionery
Ice Cream
Food and Beverage Coatings
Beverages
Bakery
Other Applications
By Region:
North America
Latin America
Europe
East Asia
South Asia
Oceania
MEA
Key Questions Answered in the Report
What is the cocoa liquor market value?
The cocoa liquor market is expected to total US$ 6.3 Bn in 2021.
What is the cocoa liquor market demand outlook?
The cocoa liquor market is expected to rise at a CAGR of 3.2% between 2021 and 2031.
What are the key trends shaping the cocoa liquor market?
Increasing focus on product innovations by leading market players will create opportunities for growth of the market and shape its future.
At what rate did the demand for cocoa liquor rise in the last five years?
The demand for cocoa liquor increased at 2.9% CAGR between 2016 and 2020.
Who are the top players in the cocoa liquor market and what is their market share?
Cargill Inc., The Archer Daniels Midland Company, United Cocoa Processor, Inc., Blommer Chocolate Company, Nestlé S.A, Valrhona, and Barry Callebaut are the leading companies in the market. These companies together accounted for a share of 40-50% in the cocoa liquor market in 2020.
What is the North America cocoa liquor market outlook?
The demand for cocoa liquor will increase at 2.6% CAGR in North America over the assessment period.
At what rate will the demand for cocoa liquor increase in Europe?
The demand for cocoa liquor will increase at 2.9% CAGR between 2021 and 2031 in Europe.
What is the South Korea and Japan market outlook for sales of cocoa liquor?
The sales of cocoa liquor will increase at 3.3% CAGR and 4.1% CAGR, respectively in Japan and South Korea.
Need specific information?
Our Clients