Threat Intelligence Market Outlook & Key Findings
Threat Intelligence market to grow at over 16.0% in 2020 as SMEs gear up to detect and prevent cyber-attacks and data breaches
IoT security segment to register a CAGR of 30% by 2030 as need to secure connected devices remains dire
Cloud-based segment to achieve a CAGR of 16.8% as AI and ML make it a preferred choice of deployment
Wide usage of mobile money and e-banking to make BFSI segment key user of threat intelligence
Holistic risk management within healthcare sector to make cyber security integral to patient care
Artificial Intelligence and Machine Learning Enhanced the Threat Intelligence Capabilities
Artificial intelligence (AI) and in particular machine learning (ML) are both powerful technology buzzwords. ML is a specialized form of AI that enables computers to "learn" from data automatically. These technologies have high potential in analyzing data structuring information for accurate in development of threat intelligence solutions and software.
The cyber threat intelligence has evolved to incorporate advanced technologies like artificial intelligence and machine learning. A study carried by Webroot in December 2017, states that 88% of cybersecurity programs have some integrated AI-based solutions.
Sophisticated threat intelligence solutions or software that adopts ML improves security to unknown risks and strengthens the posture of the cognitive security operations centers (SOC). The machine learning algorithms provides accurate analysis to firms with significant reduction in the number of false positives. Thus, ML algorithms are changing the landscape of cybersecurity and helping organizations to level up their security infrastructures.
Low Entry Barrier and Deep Pockets Allow Start-ups to Compete with Better Services
The threat intelligence market boasts a strong presence of big security players like Trend Micro and IBM. However, a large number of start-ups are also entering the threat intelligence marketplace to develop advanced threat detection solutions and services. Sizeable funding from investors in these start-ups is expected to create tough competition in coming years.
In November 2019, IntSights, a threat intelligence company founded in 2015, raised a total funding of US$ 17 Mn from Tola Capital as its lead investor. Similarly, in February 2020, an Israel-based threat intelligence company raised US$15 Mn in a second funding round, which was led by Sonae IM and REV Venture Partners.
To ensure business continuity, modern businesses and organizations are adopting and driving digital transformation. This is expected to create a lucrative ground for threat intelligence landscape as attacks get complicated.
Companies are expected to focus on timely detection of attacks and quick response instead of just prevention. Adoption of anti-APT (advanced persistent threats) solutions is expected see a spike as it helps in detecting and preventing sophisticated attacks, using the gathered intelligence to develop sustainable countermeasures.
Mandatory Compliance Fuels Adoption of Threat Intelligence Solutions and Software
Recent trends and cybersecurity statistics reveal a huge increase in cyber-attacks on various industries including banking and retail sectors. For instance, a recent study on data breaches and cyber-attacks conducted in May 2020 states that around 8.8 billion records have been stolen using 105 threat incidents in one month.
This has shed light on the immediate need of organizations to continuously upgrade their security solutions and adhere to compliance regulations to ensure highest level of security. Organizations are complying to various regulations including GDPR, PCI, SOX, CCPA, HIPAA, MAS and many others to establish security standards and audit controls to ensure that business and customer data is protected at all times. Threat intelligence solutions plays a crucial role in compliance enablement and risk management by continuously monitoring customer data.
E-banking Increases Vulnerability of BFSI Segment Prompting Usage of Threat Intelligence
The BFSI industry vertical is estimated to hold the largest market size in the threat intelligence market in 2020. It continues to be the most targeted industry vertical, as it deals with huge amount of financial data and private information related to consumers.
Entry of e-banking, mobile money, and net banking have further pressed the need for better cyber security, as all of these make it exceptionally vulnerable. Today, the banking sector faces a huge challenge from Distributed Denial of Service (DDoS) attacks that are more complex. Attackers use slow modus operandi of by planting encrypted malware into networks in smaller volumes. As this goes unnoticed for a while, it takes on the server overtime, completing the attack.
In order to prevent massive losses, governments are strengthening the security of banking sector with well-developed threat intelligence solutions and software. In light of these trends, the BFSI segment will grow 3.5x times during the forecast period, emerging as crucial revenue generator to the market.
The graph highlights some of the key attributes of the market such as technology maturity, capital funding, inorganic growth strategies, and competitiveness with impression of regional variance of the same.
In terms of technology maturity, North America has reached the maturity curve by being the foremost user of threat intelligence solutions due to presence of prominent technology vendors, awareness about cyber security, and adequate and supportive legal structure.
APAC and MEA regions are in the growing phase, as organizations in this regions are still adopting advanced threat intelligence solutions for timely threat detection. Considering the competitiveness factor, APAC and MEA have limited number of cyber security vendors as compared to the developed regions like North America and Europe, making it a fair space for growing business.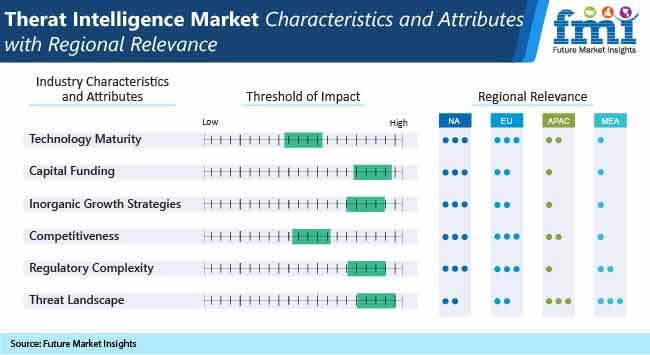 Cloud Computing to Enrich Threat Intelligence and Detection Technologies
The cybersecurity and threat intelligence ecosystem has extended the limits from single network to distributed network with cloud-based solutions. This has permitted innumerable services to spread across businesses and customers in a more efficient and speedy manner, urging the cloud segments to grow 4.7x times during the forecast period.
Cloud-based threat intelligence solutions provide added benefits to security professionals. It allows monitoring the customer and the overall internet activity, tracking of suspicious behavior and preventing attacks targeting a specific group of customers or businesses. By integrating cloud with threat intelligence, businesses can minimize their attack surface by blocking cyber threats, and leveraging the global threat community to detect unknown threats to stop them before occurring.
Recent Wave of Digitization Across South Asia & Pacific Opens Avenues for Threat Intelligence Market
South Asia & Pacific threat intelligence market is expected to witness a significant CAGR of 26% during the forecast period. The increasing trend of digitization across all verticals has prompted institutions and business to review their cyber security.
A strong presence of SMEs across this region is also expected to benefit market growth as the need for stringent data protection will be urgent to prevent business losses. India, China, and Japan are the forefront of this growth data theft remains a prominent threat in these economies.
Threat Intelligence: Threat Intelligence Providers
Product launches, enhancement in existing products, acquisitions, and partnerships with niche players is key strategies followed by the leading threat intelligence solution providers in the market.
The global threat intelligence market is fragmented in size, which remains a key factor for its dynamic competitive nature. Some of the key players in the threat intelligence market are:
FireEye
IBM Corporation
AT&T Cybersecurity
Webroot
McAfee
LogRhythm
Trend Micro
Quick Heal
NSFOCUS
*The list is not exhaustive, and only for representational purposes. Full competitive analysis available in the report
Healthcare Sector to Create a Big Business for Threat Intelligence as Hospital Admissions Increase
As remote workforces and mobile banking become essential to keep economies functional, it has opened up a huge scope for application of threat intelligence solutions. In addition to these two segments, the healthcare industry, which is struggling under the pressure of COVID-19, will also be under cyber threat. Mounting number of patient admissions is expected to generate massive data pool, tempting cyber criminals to conduct sly identity thefts through spams.
The vast number of connected devices in a hospital are also projected to be plagued by ransomware, data breaches, DDoS attacks, and insider threats amongst others. Data breach in a healthcare system can reveal sensitive patient data that has high value on the dark web and black market, which can be used to make fake claims, compromising patient care.
In order to prevent financial losses and identity breaches, the healthcare sector is will strengthen its core cyber security. As a life-critical service, it is expected to reassess its treatment and care in a holistic way, creating a lucrative ground for the market, predicts Future Market Insights
Threat Intelligence Market: Segmentation
The global threat intelligence market is segmented in detail to cover every aspect of the market and present a complete market intelligence approach to readers.
Solution
Threat Intelligence Platforms
Security Information and Event Management
Log Management
Security and Vulnerability Management
Identity and Access Management
Risk and Compliance Management
Incident Forensics
User and Entity Behaviour Analytics
Service
Professional Services

Consulting Services
Training and Support

Managed Services

Security Intelligence Feeds
Advanced Threat Management
Deployment Mode
Industry
BFSI
Government and Defense
IT and Telecom
Healthcare
Retail
Manufacturing
Education
Others
Region
North America
Latin America
Europe
East Asia
South Asia & Pacific
Middle East & Africa
Need specific information?