Introduction
The report covers comprehensive information about market dynamics, value (US$ Mn) and volume ('000 Tons) projections, competition landscape and key developments regarding the tool holders market for the forecast period 2018 to 2028.
The global tool holders market is anticipated to reach over US$ 1,604.5 Mn by the end of the projected period, growing at a CAGR of 5.1%.
According to the study, it is concluded that the market for tool holders is expected to witness healthy Y-O-Y growth in the coming years. Increasing installation of tool holders due to growing adoption of HMC machines is expected to create healthy demand for tool holders during the forecast period.
Furthermore, the healthy growth of many end-use industries will also boost the demand for tool holders during the forecast period. This can be attributed to capacity expansion and establishment of new manufacturing units across the globe to cater to the growing demand for high precision parts and components across the globe.
Hydraulic Tool Holders to Register Healthy Growth
The market, on the basis of tool holder type, has been segmented into collet chucks, end mill holders, hydraulic tool holders, milling chucks, shell mill holders and shrink fit holders. In terms of value, the collet chuck segment is expected to dominate the market and grow at a value CAGR of 5.5% during the forecast period.
The hydraulic tool holders segment is expected to gain significant traction during the forecast period. The hydraulic fluid present in tool holders eliminates vibrations by absorbing them. The hydraulic tool holders segment is projected to grow at a prominent value CAGR of 5.6% during the forecast period.
Rapidly Expanding Automobile Industry to Play a Crucial Role in Overall Growth of Tool Holders Market
The market for automotive is expanding rapidly. Growth in infrastructure-related industries, such as energy, railway and road construction, in countries such as India, Indonesia, Thailand and Vietnam, will also give a boost to the market.
This will drive the overall tool holders market as these tool holders are required during the manufacturing of engines, transmission components, turbochargers, gears, brake rotors, bearings, and other components.
On the basis of these factors, it is expected that the market for tool holders will continue to grow at a significant pace annually in developing countries. As a result, companies are opening new centers to strengthen their customer support structure in these markets.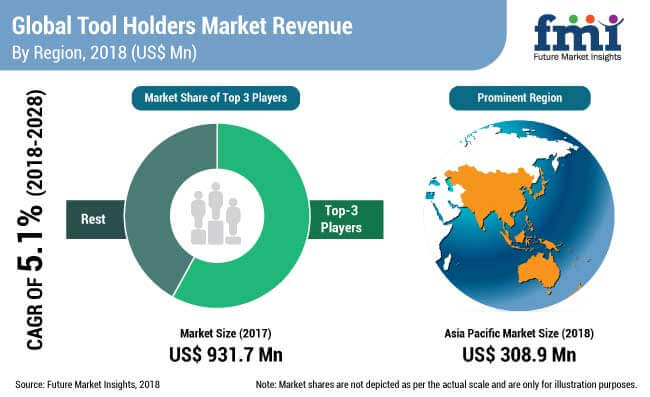 Increasing Penetration of Laser Cutting Technology May Hamper Tool Holders Market Growth
Aerospace and automotive manufacturers are increasingly shifting to fiber lasers to tackle manufacturing challenges. In areas where precision is important, fiber lasers make reliable and stable equipment as they offer best beam quality for material processing applications.
Compared to traditional manufacturing processes, fiber laser equipment offer improved energy efficiency, lower maintenance requirements, smaller machine footprint, faster cycle times for high-volume productions and improved machine lifetime.
Consequently, process speed can be maximized and material and operation costs are minimized. Thus, the growing adoption of Laser cutting technology will act as a challenge for the growth of the tool holders market.
Need for Skilled Professionals for Operation and Maintenance
Tool holders are highly used in CNC machines, lathe machines and drillers. Operators must be skilled and trained, otherwise there are chances of accidents. That apart, a significant increase in operation time can also be expected, which impacts a company's income.
Moreover, for the maintenance and installation of tool holders, trained labor is mandatory to ensure that preventive maintenance has been done properly and machines operate to their full potential after the maintenance cycle.
Competitive Landscape: Top Three Players Account for Dominant Share in the Tool Holders Market
The global tool holders market is moderately consolidated with tier-1 players accounting for a dominant share in the global market. However, the top three players in the market hold more than 50% share in the global market. In the past few years, the tool holders market has witnessed key developments from a competitive perspective.
Product innovation and expansion are some of the preferred strategies opted by key players to sustain in the global tool holders market.
For instance, Sandvik Coromant recently introduced Capto series tool holders and also introduced a new category of tool holders that can help machine shops in the implementation of this new methodology called PrimeTurning.
Some of the key players covered under this study are Sandvik AB, Kennametal, Guhring, Inc, CERATIZIT S.A., KYOCERA UNIMERCO, Kemmler Präzisionswerkzeuge GmbH, Haimer GmbH, Collis Toolholder Corp., Ingersoll Cutting Tool Company, T.M. Smith Tool, F L Tool Holders and BIG KAISER, among others.
Key Questions Answered
How has the market for tool holders evolved in the past few years?
How is the tool holders market expected to grow in terms of value and volume both during the forecast period?
What are the key market dynamics in the global tool holders market?
What are the important developments in the global tool holders market?
How are the underlying macro-economic and industry factors impacting the overall growth of the tool holders market?
What are the key opportunities and challenges for tool holders market players?
What are the market positioning and key strategies of manufacturers as per the tool holder market taxonomy?
How is the competition structured in the tool holders market at present and how has it evolved over the past few years?
Tool Holders Market: Segmentation
Taper Type
R8
Morse Taper
V-Flange Taper
BT Flange Taper
NMTB
HSK
Tool Holders Type
Collet Chuck
End Mill Holders
Hydraulic Toolholders
Milling Chucks
Shell Mill Holders
Shrink Fit Holders
Machine Type
CNC Machining Centre
Vertical Machining Centre
Horizontal Machining Centre
CNC Turning Centre
Others (CNC Drillers, CNC Lathe, etc.)
End Use
Automotive
Aerospace & Defence
Electronic
General Machining & Fabrication
Medical & Research
Construction
Heavy Engineering
Regions
North America
Latin America
Eastern Europe
Western Europe
SEA & Other APAC
Middle East & Africa
China
Japan
Need specific information?
Talk Show:
The Rise of Intelligent Packaging
Personalized, Connected and Sustainable
November 18, 2021
11:00-11:45 AM PST (USA & Canada)
This is a LIVE session