Four Column Testing Machine Remains in Demand
Owing to their simple test fixture and minimum sample machining requirement, four column testing machines continue to define manufacturers' bottom lines. As four column testing machines account for nearly half of market revenues, manufacturers are significantly focused on this product category. However, four column testing machines will see a dip in their demand due to their high upfront costs, thus, are likely to lose share to other UTMs - dual and single column testing machines through 2029.
Developed Regional Markets Leading the Way
The worldwide adoption of UTMs is primarily concentrated at the developed regions of North America and Europe, which collectively account for around 45% of total sales. The US and the UK are spearheading the regional markets respectively, with the market in former reflecting the most worthwhile sales opportunities. While these developed regional markets continue to lead the pack in the global landscape, market players are also eyeing growth potential in East Asia, owing to the thriving end-use industries – construction, automotive, and electronics & electrical.
Attracting Larger Customer Base with Application-centric Approach
Universal testing machines are finding utilization in several areas including, wood product testing, metal testing, and glass manufacturing. This increasing demand for diverse material testing is accenting for specific UTMs, which is further spurring manufacturers to develop UTMs wide a measuring range. Market players, therefore, must drive their focus on the application-centric approach in order to expand their global customer base.
How Growth will Unfold
The automotive industry will remain the key contributor to the global revenues of universal testing machines throughout the forecast period. Used to determine mechanical test data including, design stiffness, and material rigidity, a significant portion of stakeholders' investments will remain channelized towards this end-use industry. Following the same scenario, adoption of UTMs in the textile and paper & plastics industries is expected to rise rapidly, accenting collective revenues worth around US$ 200 Mn in 2029.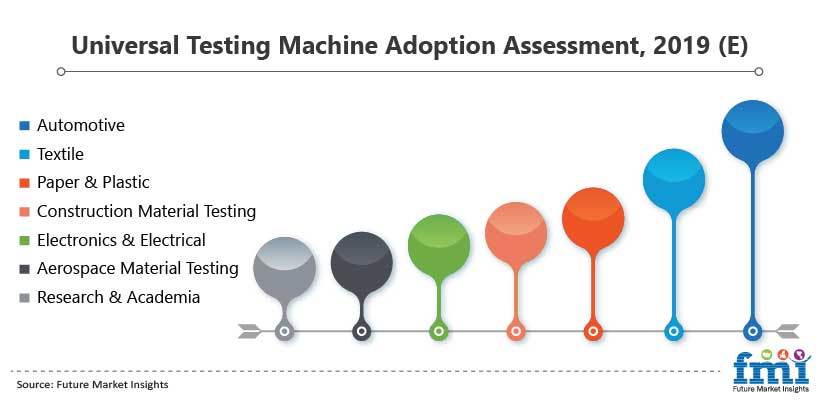 FREQUENTLY ASKED QUESTIONS ON GLOBAL UNIVERSAL TESTING MACHINE MARKET
What is the growth outlook for the universal testing machine market?
Universal testing machines are used to test mechanical properties of materials, such as tensile strength, compressive strength, flexural, friction, fracture strength, hardness, fracture resistance, creep rate, and others. Therefore, manufacturers prefer UTMs instead of instruments that can measure only one mechanical property. Increasing production of materials such as glass, metal, paper & plastic, rubber & ceramic, cement & concrete, automotive materials, and wood products is estimated to drive market growth in the near future.
Which application area holds potential growth opportunities for market players?
While textile industry continues to influence growth strategies, as it holds a major share in the universal testing machine market, growing demand for universal testing machines from automotive and paper & plastic industries is projected to boost the market share of these sectors in the near future.
Which end users will be the key contributors to growth of universal testing machine market?
Automotive industry remains the preeminent revenue contributor to UTM market. The industry demands UTM for measuring yield, tensile, fatigue, and compression strengths of automotive parts, in addition to testing of seating textiles, door trim panels, rubber bumpers, and seating foam. Increasing adoption by construction and textile industries will be a major highlight of UTM market in the near future.
What is the degree of competition in the universal testing machine market?
The universal testing machine market shows a perfect competition structure, with a good number of global and regional market players. In the current scenario, industry leaders such as Instron (Illinois Tool Works), AMETEK, Shimadzu Corporation, Keysight Technologies, Zwick/Roell, and MTS Systems Corporation collectively hold more than one-fourth of the total revenue share.
Which region will lead the global sales of universal testing machines?
North America remains in the forefront of the universal testing machine market, with high demand from end-use industries. Moreover, end users of universal testing machines are engaging in expansions, collaborations, and key strategic developments to expand their foothold in this region.
Which trend would be influencing sales of universal testing machine sales over the following years?
Several end users, particularly facing a budget constraint, prefer retrofitting of their older universal testing machines rather than investing in new machines altogether. Upgrades in terms of functions and supplies allows for remarkable cost savings. A number of companies are thus offering universal testing machine retrofitting packages, which would influence new machine sales.
UNIVERSAL TESTING MACHINE MARKET TAXONOMY
The global universal testing machine market is segmented in detail to cover every aspect of the market and present complete market intelligence to the reader.
Product
Single Column Testing Machines
Dual Column Testing Machines
Four Column Testing Machines
End Use
Automotive
Paper & Plastic
Textiles
Electronics & Electricals
Aerospace Material Testing
Construction Material Testing
Research & Academia
Others
Region
North America
Latin America
Europe
South Asia
East Asia
Middle East & Africa
Oceania
Need specific information?
Talk Show:
The Rise of Intelligent Packaging
Personalized, Connected and Sustainable
November 18, 2021
11:00-11:45 AM PST (USA & Canada)
This is a LIVE session