Walk-In Coolers and Freezers Market – Key Research Findings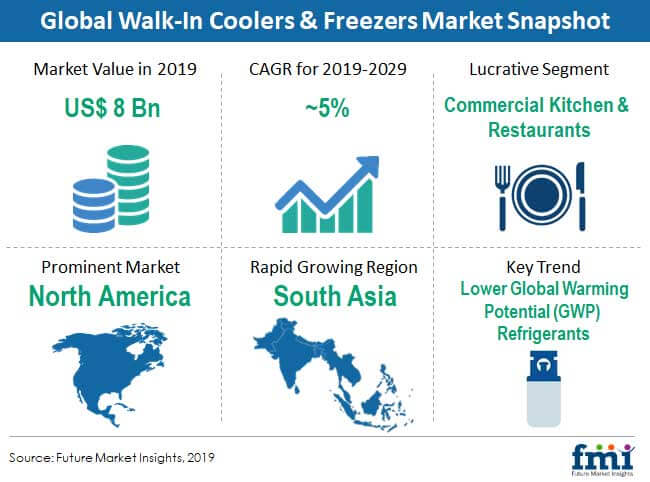 The global walk-in Coolers and Freezers market was valued ~US$ 8 Bn in 2019.
The walk-in Coolers and Freezers market is anticipated to witness a robust growth with a CAGR of ~5% over the forecast period of 2019–2029.
South Asia and East Asia markets are expected to remain prominent regional markets in the global walk-in Coolers and Freezers market.

Rapid urbanization in India and China resulting in an increase in commercial restaurants and retail food outlets chain in the region, which is expected to drive the sales of walk-in Coolers and Freezers market.

The South Asia market is expected to lead the walk-in Coolers and Freezers market in terms of CAGR growth, registering a growth of ~7% CAGR over the forecast period.

The growth is primarily driven by growing retail food outlets and franchises, cold storage warehouses, and restaurant chains in India and other ASEAN countries.

The commercial kitchen & restaurants segment is anticipated to create prominent demand for walk-in coolers & freezers, followed by retail food & beverage outlets.
Top 3 Factors Shaping the Walk-In Coolers and Freezers Market
Need for Extended Shelf Life and Control of Bacterial Growth Driving the Demand for Food Cold Storage and Warehousing

Food and beverages are required to keep in specific environment parameters to avoid food decay and extend the shelf life. These specific environmental parameters are achieved by several methods such as alteration of atmospheric gaseous contents, food irradiation, refrigeration, etc. to slow down the bacterial growth.

Among these, refrigeration helps to preserve the food for a long period and keeps bacterial growth at bay. Hence, refrigeration and cold storage plays an important role in commercial restaurants, supermarkets, breweries, and other retail food outlet stores. Growing urban population and increasing number of supermarkets are expected to increase the demand for walk-in coolers and freezers among these applications.

Moreover, in recent years, a rising trend towards the preference of minimal processed food, which is nutritionally superior and easy to prepare has been prominent among consumers. This has led to the need for food preservation among food service industry players, which in turn, is driving the demand for walk-in coolers & freezers.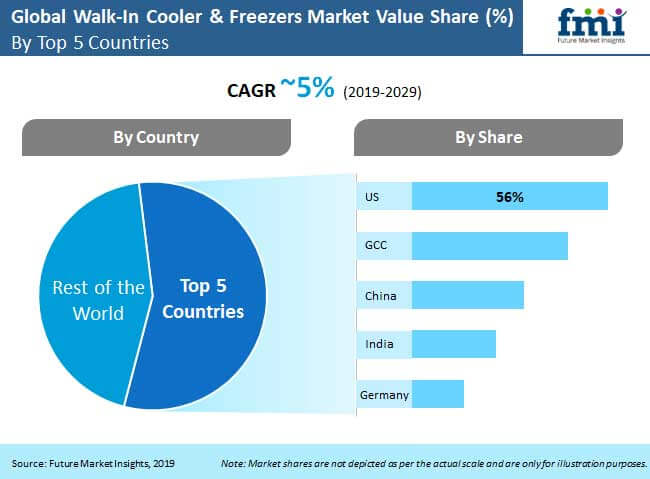 Emergence of Low GWP Refrigerants

Refrigeration system manufacturers are inclined towards producing energy efficient products with low Global Warming Potential (GWP). Walk-in Coolers and Freezers emit a large amount of greenhouse gases, which has become a concern. Moreover, governments of several countries have introduced strict laws and regulations to control and reduce GHG emissions from refrigerants and walk-in coolers & freezers.

Due to this, manufacturers are shifting their preference towards energy efficient and low GWP refrigerants in their products. This trend is expected to be prominent among walk-in Coolers and Freezers manufacturers in the near future.

Customized Walk-In Refrigerators

Customized walk-in Coolers and Freezers are gaining prominence among end-use customers. Every customer and application require a different product, designed to fulfill specific set of industrial process conditions. Walk-in coolers & freezer manufacturers are shifting their focus to develop customized products to better suit the customer needs in pharmaceutical, chemical, manufacturing, and petrochemical industries.

Unlike standard walk-in coolers & freezers, customized products provide flexibility and tailor-made options as per specific requirement of end users. The increasing trend towards preference of customized walk-in Coolers and Freezers by end-use industries is expected to drive manufacturers to develop and deliver customized refrigerants.
Walk-In Coolers and Freezers Market Structure Analysis
The global walk-in Coolers and Freezers market is significantly fragmented, wherein, tier-1 companies hold ~20-23% of the total market share.
Tier-1 companies include Danfoss A/S, Standex International Corporation, Welbilt, Inc., Hussmann Corporation, and Amerikooler LLC, among others.
A large number of local players in the walk-in Coolers and Freezers market have fragmented the competition landscape and these players account for ~60-65% of the overall revenue share.
Prominent players in the walk-in Coolers and Freezers market are focusing on delivering products as per clients' customizations as well as developing environmentally friendly products to keep in norm with government regulations.
Walk-in Coolers and Freezers: Emphasizing Low GWP, Efficient Solutions
A paucity of time among today's consumers has been paving greater grounds for frozen foods and ready-to-eat meals. As large businesses emphasize stock rotation and product integrity, walk-in coolers and freezers that suit to specific requirements will remain pre-requisites in the foreseeable future. End-user preference for tailor-made walk-in coolers and freezers continues to push developmental efforts of manufacturers to suit specific dimensions and workspace.
Manufacturers are also focusing on the development of low GWP walk-in coolers and freezers for remaining compliant with the government regulations on environment conservation. All these collectively remain key imperatives for success in the walk-in coolers and freezers landscape.
Steady Gains Ensued by Norms and Trade
Environmental concerns top the list when it comes to cooling technologies. Sensing the urging requirement for sustainable solutions, manufacturers are investing in R&D for low GWP refrigerants, even as enhancing the energy efficiency of walk-in coolers and freezers. The global food production is on the record high, as is the demand for food worldwide.
As the global trade for a diverse range of foods grows unabated, demand for solutions to keep these products fresh, while retaining their shelf-life is paramount. This has considerably complemented the adoption of walk-in coolers and freezers specifically for ready to eat food, frozen food , frozen ready meals and fresh meat products.
Macro-economic aspects such as urbanization and industrialization will also have notable impacts on the walk-in coolers and freezers landscape in the long run.
Developing Markets Remain a Goldmine of Opportunity for Stakeholders
Walk-in cooler and freezer sales are proportional to performance of downstream markets such as retail food & beverage and commercial kitchen space. As these sectors continue to perform well, especially in developing markets, older refrigeration units will witness fast replacement by walk-in coolers and freezers. Opportunities abound for walk-in coolers and freezers manufacturers in developing markets, with East Asia and South Asia collectively accounting for ~30% sales.
High replacement sales, primarily driven by changing emission norms abreast aging equipment space, have been one of the leading sales influencers of walk-in coolers and freezers in the recent past.
The Broader Perspective
Requirement-specific walk-in coolers and freezers that feature low GWP and greater energy efficiency continue to remain key winning imperatives for the market stakeholders. Leading players are focusing on increasing their sales force through collaborations and partnerships with regional players.
The capacity of the worldwide refrigerated warehouses has grown in recent years, with short-term storage being staged at strategic locations for meeting the requirements of retail distribution, import-export logistics facilities, and seasonally-produced foods.
These aspects have significantly impelled the erection of refrigerated warehouses for maintaining the freshness of food products, in turn creating lucrative opportunities for the walk-in coolers and freezers manufacturers.
How Growth Will Unfold?
Digitalization has become a pervasive trend among industry sectors, influencing refrigeration solution providers to focus on smart and energy-efficient product developments. The walk-in coolers and freezers landscape continues to witness the exploration of new technologies in areas such as temperature and operation controls.
Addition of unique product features, particularly safety sensors and smart functions, is being highly prioritized. Introduction of stricter laws by governments, apropos of ebbing and managing GHG emissions from refrigerants has led manufacturers to make R&D investments dedicated to production of eco-friendly solutions.
World's Most Profilic Intelligence Engine
Get Access To The World's Largest Market Research Database. Ngage with a revolutionary intelligence engine that scale and pricing that flexes as per your needs
Sign Up Now
Key Segment
Product Type
Walk-in Cooler
Walk-in Freezer
Combo (Freezer + Cooler)
Place of Use
Technology
Self-Contained
Remote Condensing
Multiplex Condensing
Door Type
Hinged
Power Sliding
Manual Sliding
Application
Cold Storage Warehouse
Breweries
Commercial Kitchen & Restaurants
Floral Storage
Pharmaceuticals
Chemicals
Research laboratories
Hospitals & Mortuaries
Mobile Refrigeration System
Retail Food & Beverage

Supermarket
Hypermarket
Convenience Stores

Other Stores
Sales Channel
Mounting Type
Region
North America
Europe
Latin America
South Asia
Oceania
East Asia
Middle East & Africa (MEA)
Need specific information?