An Incisive, In-depth Analysis on the Zika Virus Testing Market
This study offers a comprehensive, 360 degree analysis on the Zika Virus Testing market, bringing to fore insights that can help stakeholders identify the opportunities as well as challenges. It tracks the global Zika Virus Testing market across key regions, and offers in-depth commentary and accurate quantitative insights. The study also includes incisive competitive landscape analysis, and provides key recommendations to market players on winning imperatives and successful strategies.
COVID -19 : Impact Analysis
Request the coronavirus impact analysis across industries and markets
Request Covid -19 Impact
ELISA kits to be the most preferred tests for detection of Zika virus
Zika virus is a mosquito borne disease that affects pregnant women and their foetus the most. No vaccine against Zika virus has been developed yet and given the ongoing research, a cure or vaccine to treat the Zika virus remains years away. During the sudden Zika virus outbreak in 2016, there was a rapid increase in the use of POCT diagnostic tests. POCT or point of care test, does not require any laboratory setup. Any tests including RT-PCR, serology IgG/IgM Antibody detection, ELISA that may be performed without any laboratory setup can be considered as point-of-care tests. POCT tests can be performed in high risk settings, which include cases that display severe symptoms of Zika virus such as rashes in pregnancy along with fever, conjunctivitis, and muscle pain.
The research on the Zika virus point-of-care testing market considers two types of POCT tests, i.e. IgG and IgM Antibody Rapid Test and ELISA kits. According to the analysis reports, the market is expected to be dominated by ELISA kits, reaching a market size of over US$ 4,400 Mn by the end of 2020.ELISA is preferred more due to its specificity and sensitivity.The IgG/IgM Rapid Tests expected to hold a market value of just US$ 26 Mn by the end of 2020.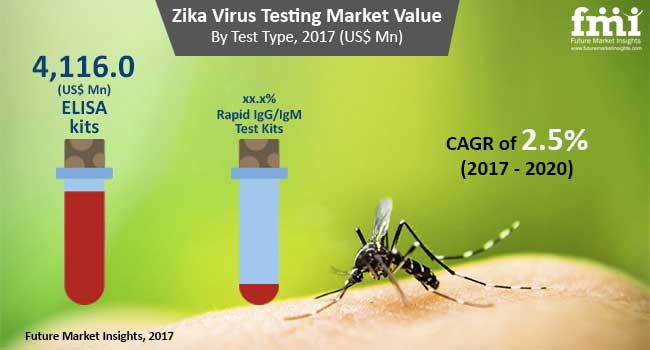 Emergency approval of POCT testing for Zika virus screening to result in a rampant growth of test kits
The recent outbreak of Zika in Brazil, the Caribbean, the United States, Canada and various parts of Europe was caused by a more virulent viral strain from Asia. This strain traveled across the Pacific region, infecting people in island nations there, including French Polynesia. Public health officials including CDC and WHO have declared that Zika virus infection causes microcephaly and other life-threatening neurological disorders. This has increased governmental spending on the development of innovative medical diagnostic tests. Rapid IgG/IgM Zika test cards, cassettes, strips and rapid ELISA kits are the current key advanced diagnostic test kits available in the market as they have shown promising results with less sample requirement and complications associated with their usage. IgG/IgM Rapid Test is a lateral flow immunoassay for the simultaneous detection and differentiation of ZIKV in human serum and plasma. Whereas, the Zika virus ELISA (Enzyme-Linked Immunosorbent Assay) test kit detects IgM/IgG antibodies specific to Zika virus in human serum and plasma. These test kits have emerged as powerful diagnostic tools.
In Oct 2017, Chembio Diagnostics Inc. received FDA emergency use authorization (EUA) for its DPP Zika system. Similar emergencies have also been approved by the Pan American Health Organization, and this has boosted the demand for POCT tests.There has also been an increase in the spending by the U.S. FDA as well as the Brazilian government to add the Zika Screening Program across all the hospitals and blood banks in America. Many organisations are also focusing on increasing national awareness campaigns about the Zika spread. These factors may further generate more revenue for the Zika virus point-of-care testing market.
Global Healthcare Services Sector Outlook
There is growing consensus among healthcare providers that the current fee-for-services payment mechanism needs an overhaul. While fee-for-services is the pervasive method of billing patients, alternative processes, such as capitation and pay-for-performance are also being considered. We anticipate fee-for-services to be supplemented by capitation and pay-for-performance in the future. In addition to charging patients for screening and doctor visits, pay-for-performance can lead to higher quality of care, as other essential tasks will also be billed. It may lead to an increase in healthcare costs, with the promise that quality of care will go up.
The healthcare system is in a phase where access to capital is constantly diminishing. Big spends are rare and there is increasing uncertainty among borrowers about their ability to repay loans and funding. Healthcare institutions are either postponing large capital-intensive projects or allocating resources to specialty areas that offer a high ROI. Cash-constraints will result into an increase in mergers and acquisitions and lead to fundraising from healthcare providers. However, as only a select few will qualify for an acquisition or funding, the effects of cash-crunch will be palpable in this sector.
Healthcare providers and insurers are aware of the rapidly increasingly population and their growing healthcare needs. The impact is more palpable in the U.S. and Japan – important markets in terms of their standing in the global healthcare market. Providers and insurers are strategizing to tap into the available opportunities in this demographic. Baby boomers around the globe are actively taking charge of their health. Smartphone remains the primary source of information-seeking for this segment. With over 70,000 websites and hundreds of apps disseminating information, providers and insurers will focus on strengthening their digital presence to effectively target this demographic.
Parent Indicators Healthcare
Current expenditure on health, % of gross domestic product

Current expenditure on health, per capita, US$ purchasing power parities (current prices, current PPPs)

Annual growth rate of current expenditure on health, per capita, in real terms

Out-of-pocket expenditure, % of current expenditure on healthcare services

Out-of-pocket expenditure, per capita, US$ purchasing power parity (current prices, current PPPs)

Physicians, Density per 1000 population (head counts)

Nurses, Density per 1000 population (head counts)
Research Methodology
FMI utilizes robust methodology and approach to arrive at market size and related projections. The research methodology for this report is based on 3 dimensional model. We conduct about 45-60 min duration detailed interviews with product manufacturers; apart from this we also collect market feedback from industry experts. To validate this data, we interact with senior panel members having more than 10 years of experience in relevant field. The panel members help in validating the findings and fill the gaps if any. In addition, we leverage on our existing pool of information, paid database and other valid information sources available in public domain. Usually industry interactions extend to more than 50+ interviews from market participants across the value chain.
Data Collection
FMI collects data from secondary sources including company annual reports, association publications, industry presentations, white papers, and company press releases apart from these we leverage over paid database subscriptions and industry magazines to collect market information and developments in exhaustive manner. After being done with desk research, detailed questionnaire and discussion guide is formulated to initiate primary research with key industry personnel; the discussion aims at collecting key insights, growth perspectives, prevalent market trends and quantitative insights including market size and competition developments. Both of these research approaches help us in arriving at base year numbers and market hypothesis.
Market Taxonomy
Test Type

End Users

Key Inclusions

Region

On-Site/POCT Testing

Rapid IgG/IgM Test Strips

Rapid IgG/IgM Test Cassettes

Rapid IgG/IgM Test Cards

ELISA Kits

Laboratory Tests

Government Funded

Hospitals & Clinics

Private Commercial Laboratories

Government/ Publicly Funded Programs

Zika Introduction

Timeline

Zika Vaccine Under Development

THE 2015 – 2016 ZIKA OUTBREAK

Zika Virus After Travel Prevention

North America &

Europe Cluster

Latin America Cluster

Central America

Cluster

Caribbean Cluster

South-East Asia Cluster

Rest of the World
Harish Tiwari
Global Head - Business Development
CASE STUDIES
See how our work makes an impact.
At FMI, we design strategies that are adaptive, impactful, and implementable.