Combinational Antiviral Therapy Will Create More Opportunities for Cytomegalovirus Treatment
The most important and effective strategy in the prevention of cytomegalovirus infection is to avoid immunodeficiency as it increases the risk of infection and cytomegalovirus reactivation. The wide use of combinational antiviral therapy is decreasing the rate of HIV infection in people. Direct acting antiviral medicines coupled with the use of cART affects immune restoration and will give a push to the cytomegalovirus treatment market worldwide.
Growing Prevalence of Congenital CMV Infection
Congenital Cytomegalovirus disease transpires in approximately 1% of all live births. The bulk of the cases are asymptomatic, but almost 5–10% of infants with congenital CMV will have significant chances of disease. CMV infection in the neonate generates attenuated interferon response associated to a similar infection in the adult.
Cytomegalovirus infection and risk of reactivation of cytomegalovirus infection have been reported during pregnancy. These can also lead to congenital CMV infection. Prediction for neonates with infection is poor, with a high possibility of mental deficits, hearing loss, prematurity, hepatosplenomegaly, jaundice. Morbidity & mortality are connected with congenital CMV infection, emphasizing the requirement for cytomegalovirus treatment and vaccine to inhibit CMV infection.
Antiviral agents such as ganciclovir, valganciclovir reduce the risk hearing disorders. Ganciclovir and valganciclovir provide advances in cytomegalovirus treatment because of oral bioavailability, efficacy, and limitation of toxicity. There is a need for new drugs, as comparatively few research programs are currently focusing on anti-cytomegalovirus treatment.
CMV Retinitis among AIDS Patients to Drive Cytomegalovirus Treatment Market Growth
The cytomegalovirus treatment market is expected to witness lucrative growth due to increasing cases of CMV retinitis. Cytomegalovirus retinitis is a moderately rare exhibition of cytomegalovirus disease in other immunocompromised populations. It is the initial indication of cytomegalovirus infection in patients with AIDS. Up to 25% of patients with AIDS developed cytomegalovirus retinitis.
Cytomegalovirus retinitis is a disease identified by necrotizing retinitis that can begin to cause retinal organization and blindness. Cytomegalovirus retinitis and other exhibitions of cytomegalovirus disease in individuals with HIV-1 infection are opportunistic infections, transpiring when CD4+ cell counts are extremely suppressed. High value-added active antiretroviral therapy will drive the growth of the cytomegalovirus treatment market.
The growing demand for cytomegalovirus treatment, due to the increasing prevalence of cytomegalovirus retinitis in AIDS patients is the major factor fueling the cytomegalovirus treatment market across the globe.
Growing Awareness of Cytomegalovirus Treatment in Stem Cell Transplant
The rising prevalence and incidences of cytomegalovirus infections is a prime driver of the cytomegalovirus treatment market. The cytomegalovirus treatment market is mainly growing because of the rising prevalence rate of cytomegalovirus infection in different indications such as congenital CMV, cytomegalovirus retinitis, stem cell therapy.
The growing awareness of herpes is also driving the cytomegalovirus treatment market. Increased educational programs about cytomegalovirus infection and cytomegalovirus treatment, by public health interventions and pediatric counseling, are needed for all pregnant women to prevent cytomegalovirus infections.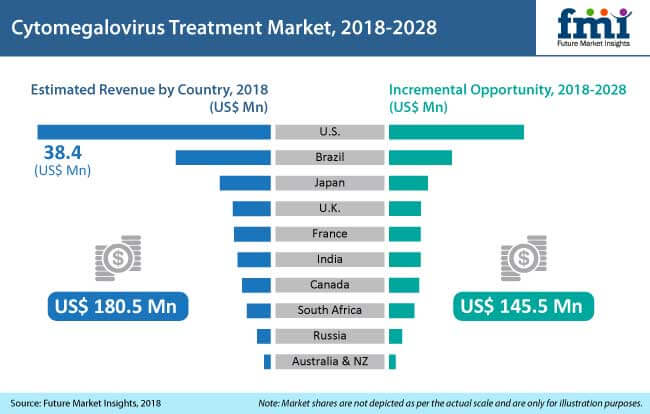 Competitive Landscape
The competition section of the report features profiles of key players operating in the cytomegalovirus treatment market based on their market shares, differential strategies, product offerings, marketing approach, and company dashboard. Examples of some of the key players featured in this report include Merck & Co. Inc, Mylan N.V., Chimerix, Inc., Thermo Fisher Scientific, Abbott, Becton, Dickinson and Company, Johnson & Johnson, Bio-Rad Laboratories, Inc., F. Hoffmann-La Roche Ltd, Pfizer, and among others.
Mergers and acquisitions, product innovations, and partnerships are the some of the key strategies being adopted by the manufactures of to gain maximum share in the cytomegalovirus treatment market. Manufacturers are also planning to invest in new facilities to increase productivity.
Definition
Cytomegalovirus is a common virus of the herpes family which also includes the herpes simplex viruses and causes chickenpox and mononucleosis. Cytomegalovirus infects people of all ages and CMV is spread through body fluids such as blood, saliva, tears, breast milk, urine, semen, and vaginal fluids. Antiviral drug and combinational of antiviral therapy are used to treat cytomegalovirus infections.
About the Report
The company has conducted a research study on the cytomegalovirus treatment market for the forecast period 2018 to 2028. The report offers a comprehensive evaluation of the business opportunities prevailing in the cytomegalovirus treatment market. The report elaborates the macroeconomic factors influencing the dynamics in the cytomegalovirus treatment market and its futuristic potential.
Additional Questions Answered
Some of the additional questions addressed in this report on the cytomegalovirus treatment market-
What is the revenue potential of the cytomegalovirus treatment market across regions of North America and Europe?
Who are the key competitors and what are their portfolios in the cytomegalovirus treatment market?
What are some of the major challenges influencing the growth of the cytomegalovirus treatment market?
How intervention from the regulatory authorities is shaping the cytomegalovirus treatment market growth?
Research Methodology
The cytomegalovirus treatment market has been estimated based on supply-demand approach. All the information has been further validated through rigorous primary research (including interviews, surveys, in-person interactions and viewpoints of seasoned analysts) and secondary research (including verified paid sources, authentic trade journals and resourceful databases).
The research study on the cytomegalovirus treatment market also includes top trends and macro as well as micro economic factors shaping the cytomegalovirus treatment market.
Key Segment
Based on drug type
ganciclovir
valganciclovir
foscarnet
cidofovir
other
Based on application
transplantation
organ transplantation
congenital CMV infection
others
Based on distribution channel
hospital pharmacies
retail pharmacies
e-commerce
Based on regions
North America
Latin America
Western Europe
Eastern Europe
Asia Pacific Including Japan
China
MEA.
Need specific information?
Talk Show:
The Rise of Intelligent Packaging
Personalized, Connected and Sustainable
November 18, 2021
11:00-11:45 AM PST (USA & Canada)
This is a LIVE session