Agri Natural Enemy Pest Control Market – Key Research Findings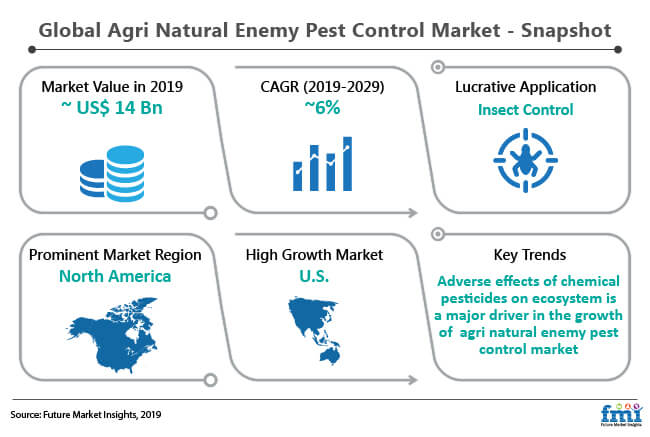 The global agri natural enemy pest control market in 2019 is estimated to be valued at ~US$ 14 Bn.
The agri enemy pest control market is projected to grow at a CAGR of ~6% during the forecast period of 2019-2029.
Significant growth of the agri enemy pest control market can be attributed to growing awareness of adverse effects of chemical pesticides on the agricultural land among farmers as well as the consumers.
North America will continue to maintain its leading position in the agri natural enemy pest control market, with relatively high revenue share.
Key Factors Shaping the Agri Natural Enemy Pest Control Market
Product Innovations to Achieve the Desired Effect

The formulation of agri natural enemy pest control is comparatively difficult as the product contains living organisms. Several market players are working on the development of technologies to ensure the long-term stability of agri natural enemy pest control products. Innovative product formulation to achieve the desired effect on the application of these pesticides is a crucial factor revolutionizing the agri natural enemy pest control market.

Companies focus on formulating products that are stable for a long span and viable. For instance, Marrone Bio Innovations Inc., formulated a bio-insecticide called Grandevo. It is derived from non-living bacteria that controls a wide variety of chewing and sucking insects and mites on a wide assortment of crops. It's a single action of multiple compounds through repellence, ingestion, and reduction of pest fertility.

Market Players' Focus on M&A Activities

With increased concern about biodiversity and adverse effects of using chemical pest control solutions, farmers are looking for biological pest control solutions that preserve the ecosystem by eliminating the unwanted pests substantially. Leading players in the global agri natural enemy pest control market are focusing on mergers with and acquisitions of small scale players in the market.

As emerging players produce innovative products, M&A activities are significantly opted by leading companies for extended line of products and wider global footprint. For instance, in June 2019, Bayer partnered with the pesticide corporation AlphaBio Control, gaining distribution rights for its innovative new biological pest control. Under this partnership, Bayer can commercialize the biological pesticide for agriculture and non-agricultural uses.

Regional Analysis of the Agri Natural Enemy Pest Control Market

The first wave of growth in the agri natural enemy pest control market was observed in the North America and Oceania regions, which were among the early adopters of organic farming that is integrated with agri natural enemy pest control products. At present, countries such as China and India are expected to fuel the growth of the global agri natural enemy pest control market, with increased focus on sustainable agriculture methods.

North America will continue to remain the largest regional market for agri natural enemy pest control. The usage of chemical pesticides to rapidly boost the production of crops and fruits has resulted in adverse effects on agricultural lands, which in turn, is stimulating the growth of the agri natural enemy pest control market in North America. Such products does not leave any harmful residues in the soil, unlike other conventional pesticides.

Land-use changes and an increase in the frequency of disturbances and modifications of the habitat have change the way species interact with each other. Agricultural intensification and effects of climate changes are also among the factors that are expected to support the growth of the global agri natural enemy pest control market during the forecast period.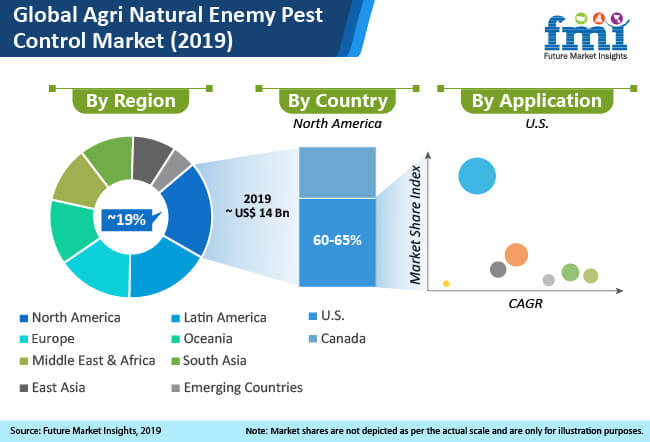 Agri Natural Enemy Pest Control Market Structure Analysis
Some of the top participants in the global agri natural enemy pest control market include BASF Agricultural Specialities, Bayer, Koppert B.V., Syngenta, Andermatt Biocontol AG, and Marrone Bio Innovation, among others. Leading market players have focused on their presence in regions of North America, Latin America, and Europe.
The report emphasised on technological overview in these regions for strategic developments of companies. Moreover, key market players are concentrating on strengthening the value chain and maintaining a strong position in both regional and global market.
Avoiding the Growth of Pests in Agriculture, Horticulture, and Forestry
For worthwhile agricultural yield, hindering the growth of pests causing destruction to crops becomes quintessential. Agri natural enemy pest control aids in restricting the count of pests below the damaging level via the selection of suitable organisms to manage the pest density in tandem with the growth and distribution of the control agents.
As such, agri natural enemy pest control encourages the farmers to cultivate crops, including potatoes, oilseeds, and cotton, exhibiting high nutritional values. Absence of chemical substances also ensures nil effect on the biodiversity of the cultivated area.
Rapid application of agri natural enemy pest control makes it easier for the beneficial organism to control the pests, including spider mites, weevils, and aphids, in horticulture settings. It works optimally in greenhouses following straightforward adjustment of conditions required by diverse beneficial organisms. In forestry, agri natural enemy pest control counters the attacks by Heterobasision annosum, a pest, from multiplying and causing root rot in spruce and pine plantations.
Parasitoids - Saving Plants from Getting Destroyed during Evolution
Conservation type of agri natural enemy pest control leverages the existing natural enemies, including parasitoids, while developing management strategies to support the distribution at the desired level. Parasitoids are considered the most ideal natural enemies for the elimination of hosts. Furthermore, parasitoids possess lesser food requirement per individual, essential in maintaining a balance with the host at lower host densities.
The physiological properties of the host work in the benefit of the parasitoids, allowing parasitoids to manage the host physiology when necessary.Application of pest control services for insect control is expected to increase significantly owing to growing population of insects in corporates, agricultural sectors, and households.
Parasitoids display predatory adult behavior without affecting the advancing interaction between the evolving parasitoid and the host. Consequently, the background levels of agri natural enemy pest control escalate sufficiently in complex landscapes, making enemy augmentation ecologically disruptive. Greater levels of habitat diversity impact positively on the potential of several natural enemies to co-occur following the availability of non-pest prey and wider array of microhabitats.
The host-parasitoid model is a highly specific strategy – the parasitoids combat the growth of pests sans affecting the nearby environment. Natural insect repellent market is estimated to boom in tropical regions, characterized by climatic conditions that highly favor insect breeding actoivities.
Market Players Target North America for Lucrative Opportunities
Studies suggest that the US houses about a billion acre of farming lands, with a typical US farmer able to feed 155 people. With concerns regarding food security on an upsurge, consumers in the US are representing a shift of approach towards organic labelled food products.
In addition, the FDA is instituting regulations on the application of chemical-based pest control mechanisms. As a consequence, agri natural enemy pest control solution providers are targeting North America for expanded market footprint.
Stakeholders Enhance Existing Solutions with Innovative Approaches
Service providers are launching bio-insecticide derived from bacterium - Chromobacterium subtsugae strain PRAA4-1T for delivering prolonged control on a wide array of chewing and sucking insects as well as mites on a multitude of crops.
The method of operation is multifaceted - reduces pest fertility, lethal to insects and mites during consumption, and staves off pest after application. In addition, innovators are creating gels for nematode products to sustain nematodes' survival and minimize residues on crops – ideal for application on ornamental and food crops.
With innovation entering into the agricultural fields, manufacturers are introducing advanced seed scripting tools that pair several data sets, aiding farmers in enhancing their farming capabilities. Integrating agricultural activities with the development of smart apps for scouting enable farmers to automatically examine catch plates. The combination of a microorganism and a biochemical shields against plenty of harmful nematode species, providing new-age crop protection products accompanied by quality foundational solutions.
How Growth Will Unfold
Agricultural pests, including insects, weeds, nematodes and disease pathogens, spoil and ruin greater than a third of crops globally. With concerns regarding biodiversity imbalance due to negative impacts of chemical pest control services at critical stages, consumers are hunting for bio-based pest control services that preserve the ecosystem by warding off the undesirable pests noticeably.
Traditional chemical pest control approaches affect the nearby crops and plants during the employment of synthetic pesticides, and insecticides. Agri natural enemy pest control, with its prey-predator model, works strictly on the control of pest growth without ruining the vegetation.
Key Segment
Application
Ant Control
Beetle Control
Bird Control
Insects Control
Mosquitoes and Flies Control
Rat and Rodent Control
Natural Enemy Service
Importation
Augmentation
Conservation
Control Agent
Predators
Parasitoids
Pathogens
Bacteria
Fungi
Oomycota
Competitors
Region
North America
Latin America
Europe
South Asia
East Asia
Oceania
Middle East and Africa
Need specific information?