40% Revenue Contribution of Leading Manufacturers
The allergy diagnostic market is largely dominated by local manufactures who are competing on the basis of pricing in the market. The fragmented nature of the market decreases the profitability of the business. However, growing awareness about food and drug allergy diagnostic and lack of test specificity and sensitivity for allergy diagnostic products manufactured by local companies have increased the revenue opportunities for global manufacturers.
Companies, such as Siemens Healthineers, Danaher Corporation and bioMérieux, hold more than 40% revenue share in the global allergy diagnostic market. These companies are continuously making efforts to launch novel product lines for allergy diagnostic. Further, companies operating in allergy diagnostic market are collaborating with local distributors/retailers to increase the penetration of their products in the allergy diagnostic market.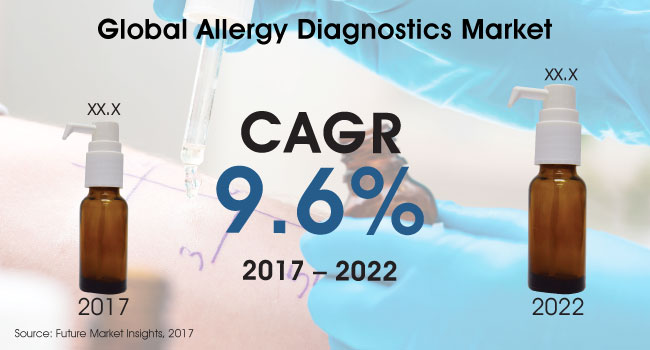 At Home Self-Diagnosis of Allergic Reaction
Rapid self-diagnosis of allergies is gaining popularity in the US market. Growing incidences of allergic reactions especially and longer waiting time for allergy diagnostic at hospitals and laboratories have increased the demand for self-diagnosis of allergy reactions.
Moreover, ease of application of home-based point of care allergy diagnostic and ready availability of test kits through traditional supply chains are leading to strong adoption of allergy diagnostic among home users.
For instance, MyAllergyTest FDA-cleared at-home test can be used to test 10 different typed of allergic reactions. Varied applications of at-home food sensitivity and availability of allergy diagnostic at cheaper prices will lead to promising growth potential in allergy diagnostic market. At home self-diagnosis also reduces the indirect cost associated with conventional laboratory based allergy diagnostic.
Abusive Consumption of Drugs (Pain Killers) Increasing Drug Allergy Incidences across North America
Opioid allergies are the most common type of drug allergies in the US. The trend of over prescription of pain management drugs in the US and European region is the major cause of drug allergies. Increase in the number of generic products in the market has led to growing availability of low price drugs pain management solutions.
Moreover, ready availability of generic opioids is also pushing other key players to be a part of the allergy diagnostic market. Thus, increasing overall consumption of opiates will also increase adverse allergic reactions. Most of the time, opioid allergies are misdiagnosed with symptoms of true allergies.
Hence, the diagnosis of opioid allergies is difficult between non-allergic and allergic patients. Skin biopsy is mostly used to diagnose drug allergies for patients with symptoms of multiple drug reactions.
Vertical Integration of Allergy Diagnostic Service Providers
Laboratory allergy diagnostic service providers are offering their services through retail channels. Allergy diagnostic service providers are offering their approved kits through retail channels to patients. The vertical integration strategy of such service providers has given them a competitive edge over standard kit manufacturers. Home-based users purchasing such allergy diagnostic kits are receiving monitoring benefits from government authorities.
For instance, FDA approved MyAllergyTest which is sold through retail sales channels, such as Walmart, Walgreens and Meijer, gets monitoring benefits. This allergy test is covered under Flexible Spending Accounts (FSA) and Health Savings Accounts (HSA).
Availability of Decentralized Allergy Diagnostic Tests
Lab-based diagnostic tests are being rapidly replaced with alternative decentralized point-of-care (POC) tests. Evolution of POC tests, such as lateral flow immunoassay (LFIA) technology, eliminate the requirement of supporting infrastructure and offer enhanced user friendliness, which widens the reach of POC tests equipment to patients.
Over 100 companies operate in the POC or rapid tests market and established organizations are entering into the market by launching rapid diagnostic test products. Several supermarkets, such as WallMart and Wallgreens, are selling their own brands, which gives consumers wider options to choose from.
Growing Impact of Drug and Alcohol Abuse on Public Health
Substance abuse has high impact on the health of individuals and their families. Prolonged drug and alcohol abuse may lead to mental illness and chronic diseases, such as diabetes and heart diseases, which in turn, can create high economic burden on the society. In order to curb this economic burden caused by drug abuse, governments are focusing on prevention and early intervention strategies are expected to drive demand for drugs of abuse.
For instance, according to the Substance Abuse and Mental Health Services Administration (SAMHSA), nearly 22.5 million individuals aged 12 and above were reported to seek treatment for alcohol and illicit drug use in the U.S. in 2014. Moreover, it is estimated that nearly US$ 600 Bn. is spent on addressing the impact caused by substance abuse each year in the U.S.
In order to prevent drug abuse, various initiatives have been introduced, such as the SAMHSA's 'Strategic Prevention Framework (SPF) initiative, which aims to provide professionals with a comprehensive process for addressing substance abuse problems. 'Now Is The Time Initiative' is another program in the U.S. aimed towards creating awareness about drug abuse among the youth.
Competitive Landscape
Competition section of the allergy diagnostic market features profiles of key players operating in the industry based on their market shares, differential strategies, product offerings, marketing approach and company dashboard. Some of the key players featured in this report include Hitachi Chemical Co., Ltd Thermo Fisher Scientific, Inc., Siemens Healthineers, Danaher Corporation, HOB Biotech Group Co, bioMérieux, Hycor Biomedical Inc. Stallergenes Greer, R-Biopharm AG and Lincoln Diagnostics, Inc.
bioMérieux offers a range of products for allergy diagnostic, which include VIDAS Allergy panels, mini VIDAS and VIDAS immunoassay analyzer systems. The VIDAS Allergy panels are preferred for food and respiratory allergy diagnostic. The VIDAS allergy panel is an equipment used in load & go systems.
The key manufacturers of allergy diagnostic are focusing on novel marketing strategies to increase product penetration. The companies offering point of care allergy diagnostic kits are concentrating on price floor strategies. These companies are offering their products with lucrative discounts. Conventional distribution channels, such as retail pharmacies, drug stores, supermarkets and hypermarket, are expected to be the key targets channel for local manufacturers.
Request Information on Allergy Diagnostic Competitive Landscape
Definition
An allergy is a disorder caused by an abnormal reaction to a harmless substance called an allergen. The word allergen literally means a substance capable of producing allergies. Allergens are tolerated without problems by non-allergic individuals. ~ European Academy of Allergy & Clinical Immunology
About the Report
FMI conducted a research study on allergy diagnostic market for the forecast period 2018 to 2022. The allergy diagnostic market report offers a comprehensive evaluation of the business opportunities prevailing in the allergy diagnostic market along with insights on the allergy diagnostic tests consumption trend, disease incidences, and awareness level for allergy diagnostic and allergy diagnostic market competition.
The report elaborates on the macroeconomic factors influencing the dynamics of allergy diagnostic market and its futuristic potential.
Segmentation
By Product Type
fungal Allergy Diagnostic
neutral lactase enzymes
Based on End User
diagnostic laboratories
hospitals
academic research institutes
other end users
Based on the Allergen Type
Inhaled Allergens
Food Allergens
Drug Allergens
Other Allergens
Based on the Test Type
In-vivo allergy tests
In-vivo allergy tests
Need specific information?