About the Report
The demand for automated CPR devices rose amid the Covid-19 pandemic in keeping with the trend of increasing investment in the overall healthcare sector, especially for devices that are used to respond to medical emergencies. Furthermore, the general perception of the use of automated CPR devices as a key element in healthcare for the elderly also underwent a shift and these devices are now universally acknowledged as being essential for emergency response in general.
As a result, the skew in demand for automated CPR devices in North America and Europe, who collectively account for almost two-third of the market share due to their high ageing population and high levels of development, is expected to correct slightly in the coming years.
Furthermore, overall sales of automated CPR devices are expected to increase at higher rates than previously estimated as a result of the general increase in healthcare spending by governments all around the world. Almost every government that has released a national budget since the outbreak of the Covid-19 pandemic in early 2020 has increased its spending towards healthcare.
Additionally, this increase in government spending towards healthcare is also pushing private healthcare providers to increase their spending. These providers had already been spending higher in 2020 due to the increase in demand for their services. The total governmental and non-governmental spending in the US towards healthcare in 2020 breached the US$ 4 trillion mark and is now around 25 percent of the US GDP; furthermore, this amount is higher than the GDP of all but five countries. As a result of these factors, sales of automated CPR devices are estimated to continue at their current high levels in the coming years as well.
Introduction
CPR Devices are chest compression systems that provide high quality compression to chest of patients suffering from sudden cardiac arrest to provide a steady flow of oxygen and blood in the brain as well as heart. The CPR device finds application in EMS, hospitals, ambulances, coronary & intensive care units, cardiac catheterization labs, air medevac units, EMT rescue units, etc.
The devices does the Cardiopulmonary resuscitation (CPR) process mechanically. CPR is a compression technique used in various medical emergencies to maintain or initiate blood circulation in the heart and oxygen supply in the brain.
The observational studies have demonstrated that improved hemodynamic effect & better coronary perfusion and increased incidence of return of spontaneous circulation can be achieved by mechanical and automated CPR devices.
On the basis of power source used the devices are classified as Pneumatically Driven CPR devices, Battery Driven CPR Devices, and Mechanically Actuated and Battery Driven CPR devices. On the basis of kind of device the CPR devices can be classified as Piston Devices, Load Distribution Devices, and 3D Compression Devices.
Will Demand from EMS Drive Demand for Automated CPR Devices?
Increasing demand from EMS (Emergency Medical Services), surge in public awareness about cardiac arrest and clinical benefits of the CPR devices, increasing government funding and grants and growing geriatric population are some of the major drivers of the market.
The increasing incidences of cardiovascular diseases and increasing out-of-hospital cardiac arrest across the globe are also expected to drive the market significantly.
Conversely, high cost of automated CPR device, its substantial weight, high training requirements and conflicting results of observational studies are some minor restraints for the market.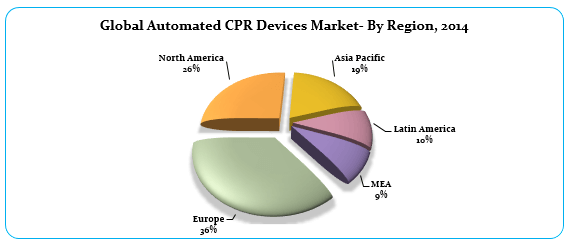 Europe Remains a Key Market for Automated CPR Devices
Geographically, the global automated CPR devices market is segmented into five regions: Europe, North America, Asia Pacific, Middle East and Africa and Latin America of which the most prominent regional markets are Europe and North America which together constituted around 62.4% of the current market 2014.
Europe market is expected to remain dominant in the global market throughout the forecast period. Highly advanced EMS, high adoption rates of CPR technologies and high consumer understanding of clinical benefits in charge to the increasing need of automated CPR devices in the concerned region.
Despite huge investments by key players and new entrants in the North America market the North America market is expected to be at second position owing to some inhibitors such as reluctance of the health professionals to do the CPR process and high capital requirements for employment of CPR devices in the large EMS systems of U.S.
Technological advancements coupled with rising awareness of cardiac arrest management in developing regions such as Asia Pacific and Latin America are projected to boost demand for automated CPR devices. This is further expected to present new opportunities for global and regional niche players to enter the markets in these regions with cost-effective offerings in order to gain large market share
Middle East and Africa market is expected to exhibit a comparatively higher CAGR than other segments.
Key Segment
By Region
North America
Latin America
Europe
Asia Pacific
Middle East and Africa
Need specific information?