Automated People Mover Market - Key Research Findings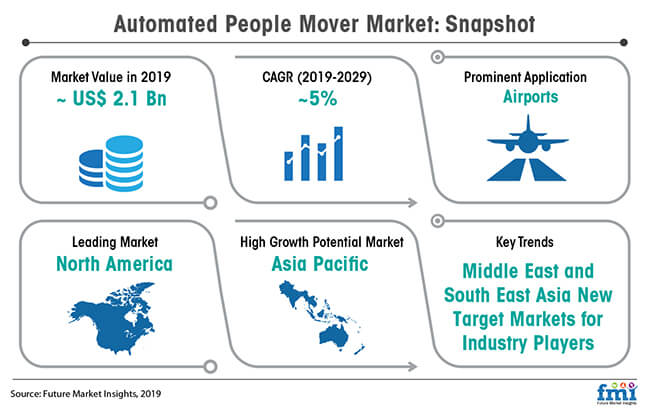 The global automated people mover market was valued at ~US$ 2 Bn in 2018.
The automated people mover market is estimated to increase at a CAGR of ~5% during the forecast period of 2019-2029.
Necessity of efficient interconnection between airport terminals and city centres ensures high demand for automated people movers.
Collectively, markets in North America, Europe, and Middle East & Africa are expected to account for ~70% of the value of the global automated people mover market by the end of 2029.

North America is estimated to be a key region with high margin range for automated people movers, owing to increasing air passenger density and expansion of airports.

The urban transit segment is anticipated to be a significant investment area for automated people mover market players in the coming years.

Increasing requirement for sustainable and reliable transport solutions for short distances in urban areas is expected to propel the demand for automated people movers.
Key Factors Shaping the Automated People Mover Market
Low Capital and Lifecycle Costs of Automated People Movers Boost Demand
In the era of urbanization, an effective transportation system is a key requirement to achieve sustainable mobility of people. An automated people mover is a technologically-advanced transit system with more operating effectiveness than a conventional transit system. The associated operational cost is a prominent factor for operators as well as passengers.
Automated people movers require low capital investments as these come with smart technologies and optimum design solutions, which ensure maximum passenger room in the system.
Additionally, automated people movers operate on electric power and cable population mechanism that leads to low operational cost of the system as well. Maintenance activities hold majority share in the total cost of transit systems.
Reliable and effective design solutions of automated people movers impose less maintenance costs, as conventional transit systems require periodic maintenance activities that incur high expenses. Low capital, as well as lifecycle costs of automated people movers are estimated to drive the market growth positively.
Manufacturers, to achieve sustainability, are focusing on offering automated people movers with customised solutions as per client requirements. Moreover, market players are developing products with low operational costs. Most of the manufacturers are growing their businesses across Asia Pacific and Middle East & Africa regions by establishing strong sales partner networks and additional offices in respective areas.
Most of the market players such as Siemens AG, Bombardier Inc., and Mitsubishi Heavy Industries, Ltd. are expanding their sales footprint by entering emerging markets to gain competitive advantages. The combined effect of these factors is expected to contribute significantly to the rising demand for automated people movers.
Growing Need for Efficient Urban Transit Solutions for Short Distances
Urban transit systems have changed rapidly in the past decade, creating the requirement for fast, reliable, and cost-effective transportation solutions. An automated people mover is a highly accessible vehicle with an optimum design solution, which gives minimum headways and ensures maximum availability of passenger room.
An automated people mover produces less noise as compared to conventional transit systems. Reduction in noise level is an important parameter in the urban transit system. Urban transportation is full of congested transportation, which requires a compact solution to avoid the increased travel time.
Automated people movers have a compact structure with minimum length that gives additional benefit to tackle the problem of congested transportation. These factors are estimated to drive the market growth positively. The rising requirement for efficient urban transit solutions is anticipated to bolster the demand for automated people movers.
Middle East and South East Asia - New Target Markets for Industry Players
Market players are focusing on expanding their businesses by acquiring new contracts across the globe. The number of airports and urban transit requirements are gaining momentum in emerging economic regions such as the Middle East and Southeast Asia. Countries like the United Arab Emirates, Singapore, and Indonesia are witnessing increasing air passenger density.
Additionally, the growth of urbanization in Indonesia, Malaysia, Singapore, Thailand, etc., is expected to demand reliable urban transit solutions. These factors are expected to help automated people movers gain traction in the Middle East and Southeast Asia regions in the coming years.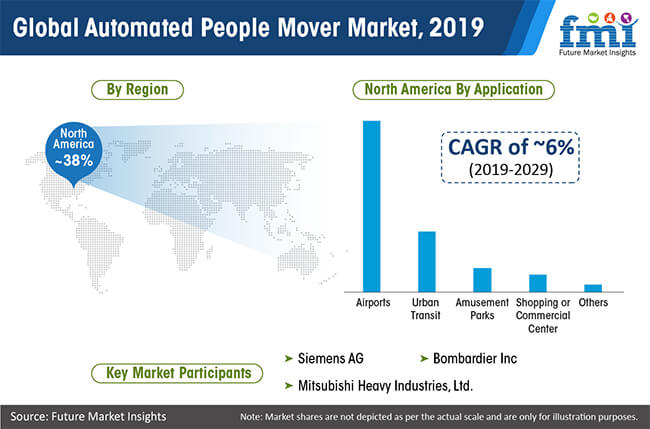 Automated People Mover Market Structure Analysis
The global automated people mover market is a highly consolidated market, where majority of the key players are implementing the strategy of acquiring and retaining contracts for automated people mover manufacturing.
Middle East and South East Asia regions are new target markets for prominent manufacturers of automated people movers.
Winning operation & maintenance contracts is the new key strategy of the industry players.
Delivering Seamless Passenger Experience through Enhanced Functionality
The frequency of air travel has ramped up substantially over the last couple of decades, owing to growing affordability of airfares, enhanced connectivity, and convenience in term of time. In addition, with the implementation of epassport, the air tourism activities are further expected to grow multifold.
The volume of air passengers is expanding at a rapid pace and thus, airport planners are continuously investing in enhancing the efficiency of passenger transportation between and within the different airline terminals and airport security. Thus, in the current scenario, airport planners worldwide are focusing on the adoption of cutting-edge transit technologies such as the automated people movers to ease passenger traffic congestion and provide a seamless passenger experience.
Further, by leveraging state-of-the-art technology, architects, civil engineers, and airport planners are implementing infrastructural enhancements in numerous airports worldwide – a task ridden with infrastructure expansion constraints especially in airports located in urban areas. At present, automated people mover systems have become a core component of airport expansion, and according to recent stats, are operational at around 51 airports worldwide – and the number is expected to surge in the foreseeable future.
Resolving Passenger Congestion in Urban Transit Systems
As mentioned, the blazing growth of air travel and the rapid rise in passenger congestion have paved the way for innovations in modern-day transportation models. Moreover, as passenger efficiency continues to remain a priority, automated people movers have emerged as an efficient, sustainable, and convenient alternative to address the existing challenges.
Automated people movers, which are often driverless, can accommodate nearly 100 passengers and provide point-to-point service to airport terminals and intermodal transit facilities. In addition, some of the modern and next-generation automated people movers offer connectivity to city centers.
Efforts are in store to provide a spotless passenger experience by improving the connectivity of automated people mover systems with buses, light rails, and other modes of transportation systems. Further, the benefits of implementing an automated people mover system go beyond enhancing the passenger experience.
Automated people mover systems also play an imperative role in minimizing traffic congestion around the vicinity of the airport. In addition, the current transit deficits and capacity problems are some of the other challenges that are likely to be addressed by automated people mover systems.
At present, automated people mover systems are finding applications in various transport development projects in medical facilities, exhibitions, amusement parks, shopping malls, and more on the global scale – a trend that is expected to generate significant demand for automated people mover systems in the near future.
Airports in Developed Regions Seeking Improved Accessibility
North America and Europe are tipped to witness a considerable amount of activity in terms of the adoption of automated people mover systems. Moreover, several airports in these regions are expected to witness extensive expansion plans wherein automated people mover systems are likely to take the center-stage.
For instance, the 2.25-mile automated people mover project, a part of the Landside Access Modernization Program at the Los Angeles International Airport, is projected to provide connectivity to transit and rail services and improve the accessibility to and within the airport. In addition, the ultramodern automated people mover named Airval at the Frankfurt Airport is an excellent example of how airport planners are addressing energy management challenges and improving passenger convenience, simultaneously.
Multiple Expansion Projects Underway - A Range of Opportunities for Stakeholders
As per the International Air Transport Association, around 7.8 billion passengers are likely to travel in the year 2036 – an approximate two-fold growth in comparison with the numbers in 2018. Thus, sensing the significant growth in the number of passengers in the upcoming years, market players in the automated people movers market are eyeing the lucrative opportunities worldwide.
In addition, in their efforts to solidify their presence in the market and improve global positioning, market players are expected to leverage the benefits of innovative technologies to develop modern automated people movers.
Automated people mover system projects that are currently in the pipeline are designed to enhance connectivity from airport terminals to landside premises, including, car rental offices, parking areas, hotels, regional transport facilities, and more. Further, market players are expected to invest time and resources in formulating robust design management processes that include innovation, leadership, and collaboration as key elements.
How Growth Will Unfold
The growth of the automated people mover market is expected to be primarily driven by the rising number of infrastructural development projects and improving airport ground transportation across multiple airports, wherein automated people mover systems play a critical role. For instance, the automated people mover, SkyConnect at the Tampa International Airport, Airval – the automated people mover at the Frankfurt Airport, and the newly designed automated transport system by High Speed 2 (UK) among others.
Furthermore, personal rapid transit (PRT) is likely to emerge as a growing trend in the automated people mover space in the upcoming years. Although automated transit networks have been in use since the 1950s, only a few were in operation, worldwide. However, with the advent of technologies and significant improvements in functionality and design, the adoption of automated people movers is expected to grow at a rapid pace in the near future.
Key Segment
System Type
Monorail
Duorail
Automated Guideway Transit or Maglev
Application
Airports
Urban Transit
Amusement Parks
Shopping or Commercial Centers
Others
Region
North America
Latin America
Europe, Middle East & Africa
East Asia
Asia Pacific
Need specific information?