Automated Cell Culture Systems Market Outlook & Key Findings
Automated cell culture systems market is expected to witness a CAGR of 8% through 2030
Growing applications of cell lines in drug discovery to be a key growth driver
Consumables to hold more than 60% of market value owing to ever-increasing research in stem cells and oncology
North America to capture more than 40% of market value and is expected to witness a CAGR of 6% through 2030
Biotech companies to remain prominent end user throughout the forecast period
Automated Cell Culture Systems Market Snapshot
Growing incidences of chronic diseases have resulted in upswing in research related to cell biology and cytology. This, in turn, has driven the automated cell culture systems market.
Besides, limited applicability of conventional pharmaceuticals, coupled with less influx of players in biotechnology industry, is fueling the cell culture technology.
Moreover, development of culture techniques ensuring specificity and specialty growth media, and rising application of high-end technologies to scale up culture production are expected to bolster the market growth over the following decade.
Research pertaining to reagents, sera, and cell culture media are bound to influence key market players to innovate automated cell culture systems, for instance,
The "TEMPEST", a non-contact, bulk reagent dispenser, was used recently for plating both – media and cells
On Jul 1, 2020, Hitachi entered into collaboration with ThinkCyte for developing cell analysis and sorting system driven by Artificial Intelligence (AI)
In Jul 2020, Incucyte Live-Cell Analysis System and Incucyte 3D Multi-Tumor Spheroid Assays were used for evaluating 3D spheroids' development with either non-invasive reagents or label-free in real time. The depth on the part of Brightfield image acquisition allows long-term imaging of numerous tumor spheroids that are developed on Matrigel (extracellular matrix)
Incucyte S3 live-cell analysis system was devised lately for defining spontaneous neuronal activity as well as connectivity from hiPSC (human-induced pluripotent stem cells)-derived neurons after transducing GECI (genetically encoded calcium indicator).
In Jun 2020, ThermoGenesis announced the launch of X-SERIES cell processing products at the commercial level.
Market Players to Think 'Green'
Automated cell culture system manufacturers have been extensively investing in research activities to come up with sustainable solutions to cater to both – biopharmaceutical and packaging industry. Recyclable plastics and glass bottles majorly constitute sustainable vessel solutions.
At the same time, recycling also comes with its challenges. For instance – recycling a multi-layer flexible vessel that contains barrier material and base material plastic is a tedious job.
As such, market players are increasingly investing in research oriented towards simplifying the process of recycling.
On the above-mentioned grounds, in 2019, W. L. Gore and Associates announced the launch of GORE® STA-PURE™ flexible freeze containers at Bioprocess International. Moving on, Danaher Corporation, in 2018, acquired Pall Corporation, a manufacturer of 2D single-use bioprocessing bags.
Collaborations and Innovations to Define Stakeholders' Tactics
The automated cell culture systems market players are focusing on innovations and collaborations to enhance their market presence.
For instance –
In May 2020, HORIBA Medical entered into collaboration with CellaVision regarding automated digital cell morphology solution. The digital cell morphology systems of the latter could be integrated with HELO automated hematology platform of the former, thereby, enabling exclusive two-way data flow with quick validation of cell morphology results.
In Mar 2020, Molecular Devices launched ImageXpress Pico Automated Cell Imaging System. This fully automated, compact imaging system has CellReporterXpress software embedded within.
In Feb 2020, Selexis put its best foot forward by emphasizing on applying Bioprocessing 4.0. As such, it incorporated single-use automated bioprocessing systems such as Beacon and ambr optofluidic platform to trigger accelerated cell line development.
In Dec 2019, Sartorius Stedim Biotech, through its ambr 15 cell culture (an automated microbioreactor system), evaluated a high-throughput solution (small-scale perfusion mimic) to accelerate media/clone selection for upstream-intensified process development.
In Oct 19, Thermo Fisher launched novel automated incubator for delivering cell growth across a plethora of microplate applications.
Impact of COVID-19 on Automated Cell Culture Systems Market
The COVID-19 pandemic is expected to turn the tide in favor of automated cell culture systems market, the reason being – research activities to develop COVID-19 vaccines require cell lines.
Even after the appropriate vaccine is developed, demand for cell lines continue to grow as advancements in this field would continue.
Automated Cell Culture Systems Market: Regional Analysis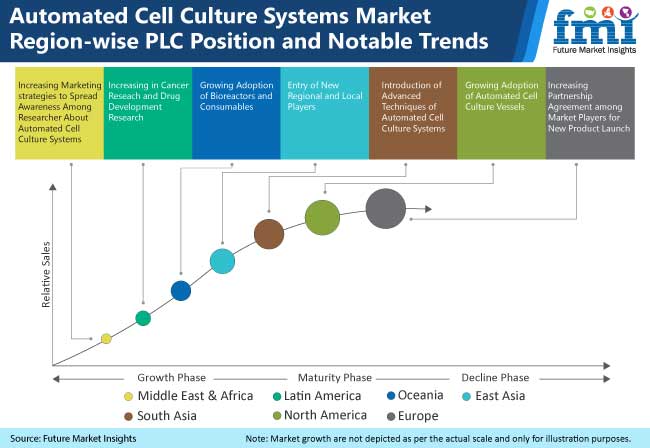 North America and Europe collectively hold more than 50% of the overall automated cell culture systems market. This could be attributed to increasing adoption of automated cell culture vessels owing to increase in research pertaining to oncology and development of drugs
Presence of advanced laboratory infrastructure is also expected to hold the flag high for these two geographies
East Asia will be the most lucrative market for automated cell culture systems, given increasing demand for cell-based drug delivery
Automated Cell Culture Systems Market: Key Players
The automated cell culture systems market players are focusing on offering broad range of automated cell culture vessel consumables, products, and reagents for cell analysis. Furthermore, inorganic growth strategies are being employed to penetrate into various geographies.
For instance,
In Nov 2019, Sphere Fluidics, along with Peak Analysis and Automation, introduced integrated single-cell analysis and micro-plate handling capabilities, which was a result of integration of Cyto-Mine Single Cell Analysis System of the former into S-LAB, automated plate handler, of the latter.
Entegris Inc., in 2018, acquired Flex Concepts, Inc. to bring the production of bioprocessing single-use bags under its umbrella.
In 2017, Lonza entered into partnership with Sanofi for building and operating a mammalian cell culture facility for production of monoclonal antibody in Switzerland.
Some of the key players operating in automated cell culture systems market include Thermo Fisher Scientific, Merck KGaA, Corning Incorporated, and Sartorius AG
Automated Cell Culture Systems Market - The Way Forward
The research report by FMI states that the global automated cell culture systems market is expected to be worth US$ 9 Bn in 2020. Innovation is the key to this growth. Moreover, the COVID-19 pandemic is acting as a catalyst as cell lines will be the first requirement to devise a vaccine herein. Inorganic growth strategies need to be dedicatedly employed along with new product launches, so as to have a diverse reach across the globe.
Key Segment
Product Type
Automated Cell Culture Storage Equipment
Automated Cell Culture Vessels
Bioreactors
Consumables
Cell Culture Type
Finite Cell Line Cultures
Infinite Cell Line Cultures
Application
Drug Development
Stem Cell Research
Regenerative Medicine
Cancer Research
End User
Biotech Companies
Research Organizations
Academic Institutes
Region
North America
Latin America
Europe
East Asia
South Asia
Oceania
MEA
Need specific information?
Talk Show:
The Rise of Intelligent Packaging
Personalized, Connected and Sustainable
November 18, 2021
11:00-11:45 AM PST (USA & Canada)
This is a LIVE session