Growing Popularity of Breastfeeding Fuelling the Adoption of Breast Pump Products Globally
In 2020, the overall sales for the breast pump market witnessed a massive decline due to the Covid-19 crisis as lockdown was implemented and all the factorial units were closed which led the manufacturing companies to face immense losses. Now in 2021, the global manufacturers are giving entire focus on improving their sales and profitability through product innovations and upgrades.
Leading corporations including Ameda AG, Bailey Medical, Medela AG, Philips, Hygeia Health, Lansinoh Laboratories, Buettner Frank GmbH, Linco Baby Merchandise Works Co., Ltd. and Whittlestone Inc, are taking initiatives to increase awareness regarding the benefits of breast pumps in the healthcare of women and are also focussing on the establishment of research institutes in different regions to come up with improvements in their offerings. They are adopting business strategies such as sales contracts, strategic alliances, acquiring technical expertise, product approvals, patents and events, joint ventures, partnership agreements, collaborations, digital marketing, mergers and acquisitions, capacity utilisations, technological advancements etc to lead the global market for the breast pumps with largest market share.
For instance, in March 2021, Philips Avent, announced the launch of the Philips Avent Double Electric Breast Pump, Advanced. The breast pump has been created to serve the demands of the mothers in this contemporary world so that they can balance their busy lifestyles along with breastfeeding their newborn. In addition to this, the company is striving hard to drive sustainable healthcare across the regions. For instance, it is revising its business models, driving the adoption of circular practices, and applying EcoDesign principles to all the products.
North America is predicted to rule the global market for breast pumps through 2030 owing to increasing awareness amongst women. The European market is projected to be second in the list as UNICEF took a breastfeeding initiative recently across the UK. The asia pacific region is leading to market expansion as the number of working mothers is rising which is further augmenting the progress exponentially.
Breastfeeding exclusively or in combination with pumping is recommended by all doctors globally for the first six months of a baby's life. In addition, greater availability of hospital grade breast pumps and breastfeeding accessories are used to collect breast milk for storage and sale in breast milk banks is fuelling the demand for suitable hospital grade breast pump products across the world. Human breast milk collection was first started in the 1930s.
Since then, the importance of breast milk and awareness about donation to milk banks has increased remarkably. As per International Milk Genomics Consortium, in 2015, Brazil had around 217 human milk banks and around 166,848 women breast milk donors. Thus, increasing awareness about milk donation and increased number of human milk banks in developed and developing countries are expected to boost overall revenue growth of the global breast pumps market in future.
Obamacare, a Blessing for Breast Pump Manufacturing Companies
In the U.S., breast pump manufacturer Medela noticed a 34% increase in sales over two years, i.e. between 2014 and 2015 after the Affordable Care Act was initiated and put into effect. Breast pump manufacturers have noted that the company's butter-yellow breast pumps are now found in most lactation rooms in companies and institutions and enjoy widest institutional insurance coverage.
Mandatory coverage of breast pumps under insurance schemes has fuelled the adoption of breast pumps among women from various socio economic strata. Medela has noted that more moms have access to pumps as breast pumps are now covered under insurance. This is also contributing to breast pump manufacturers' brand equity.
Engorgement Condition Leads to Immediate Demand for Breast Pump Products
Breast pump is an immediate requirement in case of the engorgement condition. The engorgement condition leads to pain in breast because of excessive milk production. This is common during the first three days after a baby born. If this condition continues for several days, it leads to mastitis and milk flow reduces. To prevent engorgement condition, removal of excessive milk using breast pump is the only option.
The hand expression method and breast pumps are the only two methods to elicit excessive milk from breasts in a healthy way. Engorgement is thus one of the primary factors expected to drive the demand for breast pump products over the forecast period.
Superior Quality of Alternative Lactation Methods Could Deter the Growth of the Breast Pump Market
Revenue from breast pump market is expected to falter due to the availability of other suitable lactation inducing remedies. For example, galactogogues are medications used to induce milk production in a mother who is unable to produce sufficient amount of breast milk. Further, synthetic drugs, such as domperidone, metoclopramide and natural herbal ingredients, which are known to increase breast milk production could potentially deter revenue growth of the breast pump market.
Shift Towards Introduction of Portable Device or 'Smart Breast Pumps' to Boost Breast Pump Adoption
Of late, breast pump manufacturers have been focusing on introducing improved, more efficient, lightweight and portable breast pumps, both in healthcare facilities and homecare settings. These breast pump products target the affluent consumer segment and the revenue derived from this segment is anticipated to witness a surge in market share globally by 2026.
Currently, majority of these breast pump products are used by consumers in North America and Europe where availability of internet is seamless and disposable income levels are high. Most smart breast pump products can be app-based, which helps mothers to keep track of their pumping schedule closely. These advanced product features will help boost the market revenue over the forecast period.
Product Innovation and Sales Management are Key Success Factors in Breast Pump Market
Major breast pump manufacturers are targeting alternative end users, such as homecare settings and healthcare facilities, to further strengthen their market presence globally. Companies are focusing on innovations in the designs of breast pump products to make them more natural to a baby's natural sucking pattern. Majority of these companies are headquartered in North America and Europe. Small scale companies are making significant investments in R&D to improve their product designing and enhance their presence in the global market. Low cost production of breast pump products will substantially help these players to increase their market revenue share.
Definition
A breast pump is a medical device used to elicit breast milk from lactating women. Breast pump products are available in two models: manual breast pumps and electrical breast pumps. Electric breast pump products are of two types: single electric breast pumps and double electric breast pumps. This report analyzes total revenue generated through the sales of breast pump products, which includes manual breast pumps and electric breast pumps used for breastfeeding.
About the Report
The market study on the Breast Pump market, recently published by FMI, provides comprehensive information about the most important market dynamics that will prove to be instrumental for the growth of the Breast Pump market during 2017-2027.
Segmentation
The FMI report on Breast Pump market provides salient information on market players. The Breast Pump market has been segmented by geographical region, product type, technology type and end user. Based on geographical region, the Breast Pump market is segmented into seven regions – North America, Latin America, Western Europe, Eastern Europe, Japan, Asia Pacific Excluding Japan (APEJ) and the Middle East & Africa (MEA).
By product type, the Breast Pump market is segmented into open system breast pumps and closed system breast pumps. Based on technology type, the Breast Pump market is divided into electric breast pumps and manual breast pumps. By end user type, the market is segmented into homecare settings and healthcare facilities.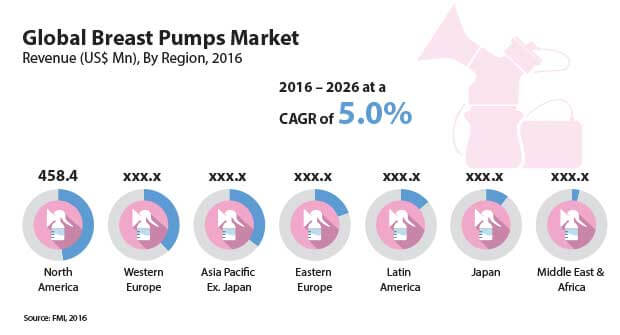 Additional Questions Answered
Readers can find detailed information about the important positive and negative factors likely to affect the Breast Pump market during the forecast period. Additionally, this Breast Pump market report also contains valuable information that can provide Breast Pump manufacturers with answers to critical questions, such as
Which types of products account for the maximum demand in Breast Pump market and why?
Why is the sales of Breast Pump services and products highest in North America?
Which regulations in various regional segments are influencing the strategies of players in the Breast Pump market?
Why is APEJ currently attracting traction in the Breast Pump market?
What are some of the current technology types and trends adopted by various Breast Pump companies?
What are the promotional strategies being applied by breast pump manufacturers in order to sustain themselves in the competitive Breast Pump market?
Research Methodology
The process of market research followed at FMI commences with extensive secondary research of the Breast Pump market. Analysts obtained industry-validated, historic and current data regarding the demand for Breast Pumps across the globe. Comprehensive secondary research was followed by extensive and in-depth primary research, where detailed information about the Breast Pump market was obtained in terms of value (US$ Million). Based on thorough secondary and primary research on the growth parameters of the Breast Pump market, analysts came up with the most precise forecast on how the Breast Pump market revenues will grow during the forecast period.
Key Players
Breast Pump market players featured in the report include Koninklijke Philips N.V., Pigeon Corporation, Newell Brands, Medela Inc., Ameda Inc., Hygeia II Medical Group Inc., Bailey Medical, Mayborn Group Ltd. and Linco Baby Merchandise Works Co., Ltd.
Key Segments Covered
by Product Type
Open System Breast Pumps
Closed System Breast Pumps
by Technology Type
electric
manual breast pumps
by End User
homecare settings
healthcare facilities
by Region
North America
Latin America
Western Europe
Eastern Europe
Japan
Asia Pacific Excluding Japan (APEJ)
the Middle East & Africa (MEA).
Need specific information?
Talk Show:
The Rise of Intelligent Packaging
Personalized, Connected and Sustainable
November 18, 2021
11:00-11:45 AM PST (USA & Canada)
This is a LIVE session