Canine Arthritis Treatment Market - Key Research Findings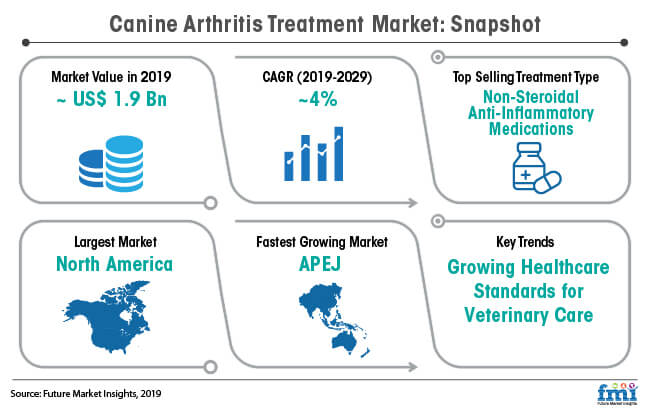 The global canine arthritis treatment market in 2019 is estimated to reach a value of ~ US$ 1.9 Bn.
The canine arthritis treatment market is expected to grow at a CAGR of ~ 4% during the forecast period of 2019-2029.
Increasing prevalence of obesity associated with arthritis, rising adoption rate of canines, growing awareness of the pet-related diseases, high disposable income, and ease in the regulatory approvals for innovative drugs have been driving factors for the growth of the canine arthritis treatment market.
Collectively, Europe and North America, are expected to account for half of the revenue shares in the canine arthritis treatment market by the end of 2029.

North America will continue to be a prominent regional market for canine arthritis treatment, due to increasing prevalence of arthritis, consumer spending on vet, awareness of diseases, and accessibility of treatment and diagnostic methods.

Non-steroidal anti-inflammatory medication remains the most preferred option for treatment. Non-steroidal anti-inflammatory medication is being used as a first choice of treatment for inflammatory diseases by veterinary physician, as it has better anti-inflammatory action, safety profile, and fast onset of action. Opioids therapy is further likely to gain significant momentum over the forecast period.

Increase in the number of non-steroidal anti-inflammatory drugs and use of stem cell therapies for canine arthritis treatment will continue to contribute to the market growth.

Oral medication has been increasingly used for canine arthritis treatment, due to its ease to use and better animal compliance. Greater availability of medications in oral formulations is likely to result in increased share in the canine arthritis treatment market.
Key Factors Shaping the Canine Arthritis Treatment Market
Launch of Veterinary Regenerative Medicines for Canine Arthritis Treatment

Fast FDA approvals for veterinary therapeutic drugs and veterinary regenerative medicines to repair diseased/damaged tissues and organs in animals are contributing to the growth of the canine arthritis treatment market. While veterinary drugs for canine arthritis treatment continue to account for higher sales, veterinary regenerative medicines prove to be an interesting area of research and development for developing novel therapies, such as stem cell therapy.

High Adoption of Allogeneic Stem Cell Therapy

There is an increase in number of allogeneic stem cell therapy for canine arthritis treatment, due to its higher success rate coupled with 100% safe therapy with better outcomes.

Direct Customer Interaction Facilitating Revenue Generation

Animal healthcare product manufacturers mainly rely on direct sales force to gain better access to distribution channels. Through this method, companies also seek to raise awareness, provide training, and support in areas of disease management and adherence to treatment protocols. In this regard, Zoetis directly sells its products to a variety of distribution channels such as veterinarians, third-party veterinary distributors, and also major retail pharmacies, veterinary clinics & hospitals.
Growth of Canine Arthritis Treatment Market in Developing Economies
An increase in investment in the animal healthcare domain, rapid development of animal healthcare infrastructure, and increasing prevalence of canine arthritis in the Asia Pacific region are factors offering a strong impetus to the growth of the canine arthritis treatment market.
The launch of better therapeutic drugs prominently accounts for the growing popularity of canine arthritis treatment across developing regional markets. Consistent rise in the number of manufacturers and distributors, is likely to contribute to the growth of the canine arthritis treatment market in the near future.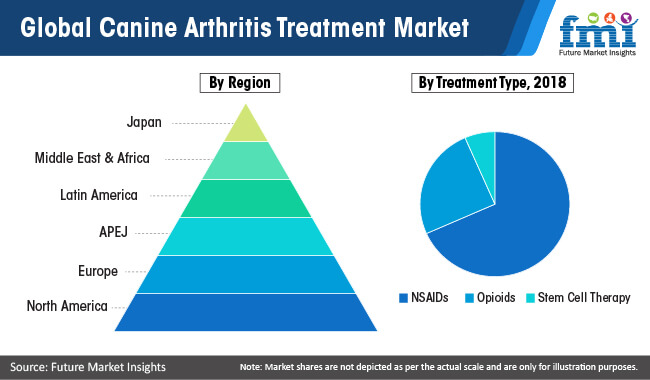 Canine Arthritis Treatment Competition Analysis
Key players in the canine arthritis market continue to increase their share with the launch of new products.
Joint ventures and partnership with distributors are the strategic actions practised by majority of key players.
Prominent players continue to address the unmet needs in the market through inorganic strategies, such as mergers and acquisitions.
The canine arthritis treatment market has been relatively moderate in size and likely to remain dynamic, growing in steady pace throughout the forecast period.
Major players focus on inorganic growth strategies to make a strong hold on targeted in-licensing and acquisitions through expanding their R&D activities and distribution channels, particularly including specialist retail chains.
World's Most Profilic Intelligence Engine
Get Access To The World's Largest Market Research Database. Ngage with a revolutionary intelligence engine that scale and pricing that flexes as per your needs
Sign Up Now
Canine Arthritis Treatment: Segmentation
Treatment
Non-steroidal anti-inflammatory Medications (NSAIDs)
Opioids
Stem Cell Therapy
Allogeneic Stem Cells
Autologous Stem Cells
Route of Administration
Distribution Channel
Veterinary Hospitals & Clinics
Retail Pharmacies
Drug Stores
E-Commerce
Region
North America
Latin America
Europe
Asia Pacific excluding Japan
Japan
Middle East & Africa
Need specific information?