Global Car Rental Market to Rise at 7% CAGR between 2019 and 2029
The global car rental market is valued at US$ 116 Bn in the year 2019 and is expected to register a CAGR of 7.0% during the forecast period of 2019-2029. North America is anticipated to hold the highest revenue share in 2019 in the global car rental market, while East Asia is expected to account for the highest growth rate in the car rental market as compared to other regions.
FAQ – Car Rental Market
How will the car rental market be critical in the future?
Car rental market is expected to register a modest CAGR during the forecast period of 2019-2029, owing to the increasing number of commuter's worldwide, increasing tourism, growing use of car rentals for daily commuting and intercity travel, and high adoption rate of mobile platforms to book car rental services.
Which will be the preferred booking mode in future?
Mobile applications segment is expected to see robust growth during the forecast period, followed by other internet access modes, as compared to the offline segment. Growing number of platforms such as Uber, and Lyft dominate the U.S. market. Other internet access segment that includes car rental from websites is also expected to grow substantially during the forecast period.
What type of car is expected to be preferred by customers?
In 2029, intermediate cars are expected to be the most preferred car type and hold the highest share in terms of value in the global car rental market. It is also expected to register the highest CAGR during the forecast period of 2019-2029, and dominate the car type segment by 2029.
What will be the future trend in car rental market?
Innovative offerings by the car rental companies are anticipated to change the market landscape. FMI has identified driverless car rentals as the future trend in car rental market.
Which customer group holds the largest market share? Which customer group is anticipated to hold the majority of the market share during the forecast period?
The car rental market is primarily divided into two categories- business and leisure. Customers from the business category held the major market share in 2019. However, customers from the leisure group are expected to drive the market forward, owing to increasing tourist number in countries. Leisure group customers represent the highest CAGR during the forecast period, and are expected to hold the highest value share by 2029.
Which region is expected to emerge as the most lucrative for players in the car rental market?
East Asia is expected to register at highest CAGR (~11%) during the forecast with the presence of two major car rental market China, and Japan. India is expected to drive the growth of the South Asia car rental market.
Rising On-airport Car Rentals Boost Growth Opportunities
Worldwide growing tourism, especially of tourists using airplanes for business & leisure, primarily drives the growth of the car rental market across the globe. Growing tourism activity ensures higher demand for car rental services as renting a car is identified one of the most preferred modes of transportation for business and leisure. Moreover, airports are mostly situated outside of the city, which increases need for hiring car rental services for faster movement. People travelling for business, often use car rental services due to greater comfort, and faster commuting. In 2018, as per United States Department of Transportation (Bureau of Transportation Statistics) the total number of passengers were ~1,013 million (including domestic & international airport) for all U.S. and foreign carriers.
Recent studies show that car rentals for intercity and intracity travels have considerably increased over the past few years. The trend is unlikely to diminish in the coming years, giving considerable impetus to the market.
North America and Europe to Dominate Car Rental Market
North America currently holds the dominant share in the global car rental market. In the coming years, however, demand is likely to increase from East Asia as well. The expansion of tourism in China and Japan will create lucrative growth opportunities for the market in East China. In addition to this, infrastructural growth, rise in government spending, and the flourishing medical tourism sector in these countries will fuel the demand for car rentals. Largely, factors such as easy booking of rental cars through online channels, increasing globalization of corporate operations, growth in the travel and tourism domain, growth in air travel, and shift in customer preference towards comfort travelling are influencing the growth of the U.S. car rental industry.
Increasing Usage of Online Platforms to Bolster Growth
Car rental has become popular across the globe, owing to easy booking and availability through online platforms. Tourists mostly prefer use of online booking platform as it provides an easy, hassle-free money transfer facility through digital payment, along with live tracking and enhanced safety. Increasing number of smartphone users and growing penetration of internet plays a crucial role in the car rental market. Daily commuters prefer online platforms to book shared cabs for office commute or riding within city. Lyft is among the companies that offers a ride sharing option, which is a global trend. In 2019, developed regions such as North America and Europe had a high penetration rate for internet (more than 85%). In the U.S. alone, the number of smartphone users were as 257 million in 2017, and share of the population that uses smartphones was ~70%.
Economy Cars holds leading revenue share
Intermediate Cars to showcase noteworthy CAGR
On-Airport holds leading revenue share
On-Airport to showcase noteworthy CAGR
Business Type  holds leading revenue share
Leisure Type to showcase noteworthy CAGR
Offline Access  holds leading revenue share
Mobile Application to showcase noteworthy CAGR
How Growth will Unfold
Economy cars are identified as the most preferred mode of transport in the global car rental market. Economy car rental services offer less expensive rides, which are affordable to mass customers. In contrast, customers on business and leisure trips prefer luxury and premium car rental services. However, majority of riders or customers prefer economy cars. The sharing/pooling concept also attracts customers with a pre-determined mindset for less expensive ride. These factors along with the high availability of such cars accelerates the demand for economy cars in car rental services market. Growing health & environment consciousness has led the customers to adopt earth-friendly products and services. Rising concern regarding pollution has pushed the conscious riders to opt for sharing cabs or sharing car rental services for lower emissions, which reduces air pollution levels and number of cars on the road.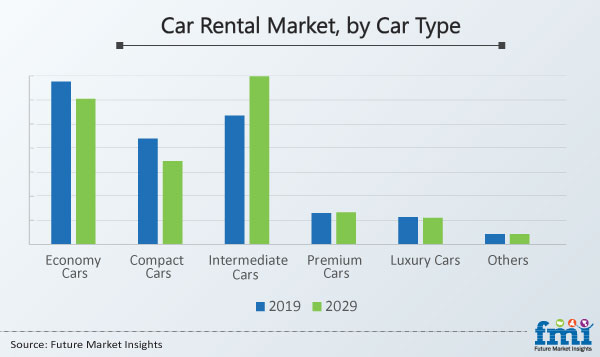 * This data is only a representation. Actual data may vary and will be available in report.
Click Here To Know How The Growth Will Unfold
Custom Market Research Services
FMI offers custom market research services that help clients to get information on their business scenario required where syndicated solutions are not enough.
Overview
Car Rental Market: Global Industry Analysis 2014 - 2018 and Opportunity Assessment 2019 - 2029
A recent market study published by Future Market Insights on the car rental market offers global industry analysis for 2014-2018 and opportunity assessment from 2019-2029, and provides a comprehensive assessment of the most important market dynamics. After conducting thorough research on historic as well as current growth parameters, growth prospects of the market are obtained with maximum precision.
Car Rental Market Taxonomy
The global car rental market is segmented in detail to cover every aspect of the market, and present a complete market intelligence approach to readers. The segmentation is done on the basis of car type, end-use, customer type, booking mode, sector, and region.
Car Type
Economy Cars
Compact Cars
Intermediate Cars
Premium Cars
Luxury Cars
Others
End-use
Intercity
Intracity
On-Airport
Others
Booking Mode
Offline Access
Mobile Applications
Other Internet Access
Region
North America
Latin America
Europe
South Asia
East Asia
Oceania
Middle East & Africa
How the research was conducted?
Primary Research
Primary research interviews with key opinion leaders and other participants were conducted for data collection and validation of the below information:
New developments in car rental manufacturing
Leading players in car rental industry
Key strategies followed by car rental companies
Key developments in car rental market
Key trends and opportunities
Region-wise dynamics
Market share information
Competition & key vendor strategies of car rental service providers.
Secondary Research
American Car Rental Association
The American Rental Association
ACRISS – The Association of Car Rental Industry System
European Car and Truck Rental Association
ERA European Rental Association
National Travel & Tourism Office
World Bank
World Travel and Tourism Council
Primary Interview Splits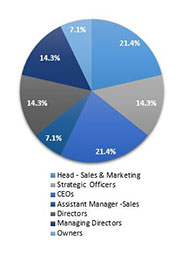 To Learn More About our Comprehensive Perspective on Car Rental Market,
Get in touch
COVID -19 : Impact Analysis
Request the coronavirus impact analysis across industries and markets
Request Covid -19 Impact
CASE STUDIES
See how our work makes an impact.
At FMI, we design strategies that are adaptive, impactful, and implementable.