Water Hauling Services Market By Application (Irrigation & Agriculture, Swimming Pools & Outdoor Recreations, Construction & Projects, Oilfield Demand, 24 hour emergency Response & Fire Fighting), End-Use (Residential, Commercial, Industrial) & Region - Forecast to 2018–2027
Water Hauling Services Market - Analysis, Outlook, Growth, Trends, Forecasts
March 2019

REP-GB-9028

90 pages
Water Hauling Services Market Revenue Growth Assessment
Water hauling services include the water logistics services offered by various service providers for the transportation of wastewater/water from one location to the other. With the progression of time, various water hauling service providers have established their business globally.
However, due to the complexities associated with long-distance transportation and increasing fuel prices, the global water hauling services market is witnessed to be highly fragmented. Water hauling services are needed especially for the transportation of wastewater collected across oilfields as well as for the filling of swimming pools.
Swimming Pools & Outdoor Recreation Activities Demand Maximum Water Hauling Services
In this report, FMI has segmented the global water hauling services market on the basis of application type, end-user, and region. By application, the water hauling services market is segmented into irrigation & agriculture, swimming pools & outdoor recreation, construction & projects, oilfield demand, 24-hour emergency response & fire fighting, and others such as residential applications and storage tanks.
Swimming pools & outdoor recreation and oilfield segments hold a collective share of nearly 2/3rd of the total market value, which is attributed to growing demand and cost-effectiveness associated with water transportation across the aforementioned segments.
However, due to increasing investments in the construction industry undertaken by governments to boost industrialization, the construction & projects segment is more likely to witness higher demand for wastewater/treated water, in the years to come. This will in turn contribute to the growth of the water hauling services market.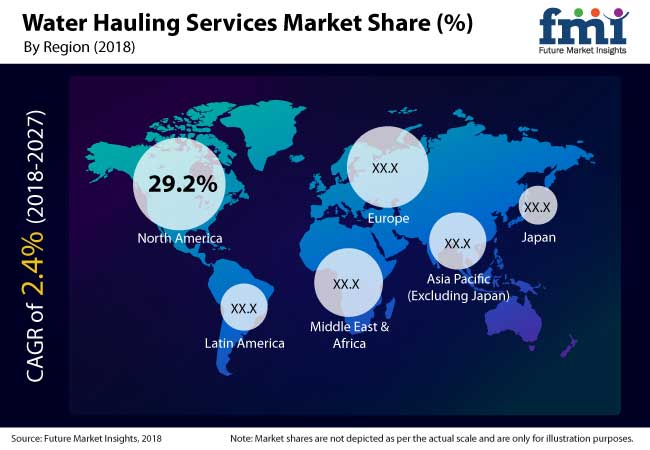 Water Hauling Services Market Remains a Low-growth Landscape, Sustained Demand Expected from Industrial Sector
While demand for efficient water hauling services is rising with the expansion of hospitality industry, particularly the outdoor recreation sector, the revenue growth of water hauling services market has been anticipated at a gradual pace in coming years. FMI's analysis projects a mere 2.4% CAGR for water hauling services market over the period of 2018-2028.
However, increasing government initiatives regarding backup water storage as well as growth in the number of oil extraction activities may provide a modest push to the demand growth of water hauling services in the near future.
The growth of the hospitality industry and ascending incorporation of advanced amenities into leisure properties to deliver excellent customer experience will be an important factor sustaining demand for water hauling services. However, regulatory limitations over swimming pool installation within water-sparse regions continue to restrict the demand for water hauling services within residential and commercial sectors, according to the report.
However, the industrial end-use sector is cited as a relatively attractive segment for water hauling services providers, in terms of the market incremental opportunity. The report attributes attractiveness of the industrial sector to the increasing number of oil extraction and well drilling activities that have been observed in the recent past – especially in North America.
Sustenance of Water Hauling Services Demand to Prevail in Developed Regions
North America's water hauling services market is estimated hold the leading position owing to the strong presence of a majority of water hauling service providing brands, the highest number of swimming pools, and consistently growing demand for water hauling services across industries.
Europe is also cited as a key market for water hauling services providers owing to the increasing number of government-driven initiatives for necessitating efficient water hauling services. The increasing establishment of local companies in the water hauling services market is also among the factors boosting the global adoption of water hauling services in developed regions.
On the other hand, new and innovative corporate as well as residential construction projects emerging in Europe and MEA are also expected to propel the demand for water hauling services in these regions. Disaster conditions witnessed across Africa are also boosting the growth of water hauling services market in terms of value.
Water Hauling Services – Balancing Act Between Leisure and Labour
The water hauling services vicinity is broadening its scope by opening avenues for leisure activities, in light of financial leeway of modern consumers. Adherence to water conservation norms has fuelled water conservation activities, under which wastewater from residential and commercial buildings is treated and reused for construction activities. The water requisites to such projects ride on the back of water hauling services and reinforces bright prospects for the landscape.
Market Projected to Grow 1.2X Between 2018 and 2027
Race among the players to keep up with the water requirements for underpinning the oil drilling activities has been driving their focus towards the contemporary water handling services. A quick response to disaster conditions and fire fighting reinforces the demand for storage tanks to combat unpleasant situations by efficient time management and avoidance to large-scale collateral damage.
Developed Economies Exhibit Razor-sharp Growth
Popularity of swimming pools and outdoor recreational activities in the developed countries like the U.S. and Canada has been gaining grounds for water hauling service landscape. Throat-cut competition prevailing in the hospitality industry to upgrade customer experience by offering advanced amenities will lend attractiveness to the water hauling services arena.
A Magnified View
Efforts in the direction of streamlining water logistics services by transporters to facilitate horizontal import-export of goods have been creating business opportunities for the commercial sector, which puts the water hauling services landscape in its best light through 2028.
End-user Segment
Demand for water hauling services is expected to grow at a steady pace in the commercial sector, where fierce competition prevails for fulfilling the water requirements ascending from the hospitality industry. Evolution of efficient water treatment facilities has led to its recycling has untapped its use in industrial applications.
World's Most Profilic Intelligence Engine
Get Access To The World's Largest Market Research Database.
Sign Up Now
Key Segments
By Application
Irrigation & Agriculture
Swimming Pools & Outdoor Recreations
Construction & Projects
Oilfield Demand
24 hour emergency Response & Fire Fighting
Others (Storage Tanks, Residential Drinking Purposes)
By End User
Residential
Commercial
Industrial
Region
North America
Latin America
Europe
Japan
APEJ
MEA
Need specific information?
Our Clients