Cathodic Protection Market By Solution (Product, Service), Type (Galvanic (Sacrificial Anodes), Impressed Current), Application (Pipelines, Storage Facilities, Processing Plants, Water & Wastewater) & Region - Forecast to 2018–2028
Cathodic Protection Market - Analysis, Outlook, Growth, Trends, Forecasts
March 2019

REP-GB-6526

221 pages
Cathodic Protection Market Key Research Findings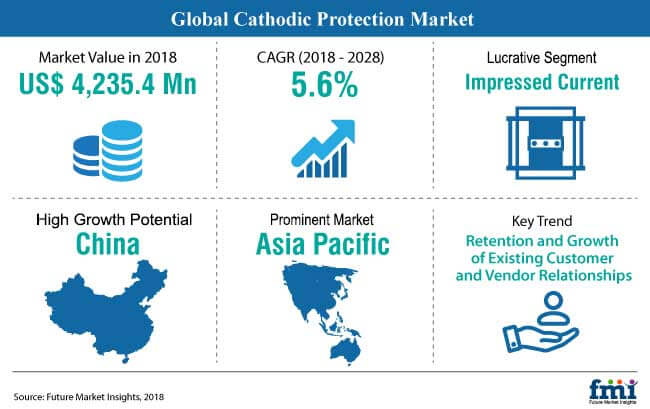 Cathodic protection market surpassed revenues worth US$ 4,000 Mn in 2017.
The cathodic protection market is expected to record a steady CAGR of nearly 6.0% through 2028, to exceed revenues worth US$ 7,000 Mn.
Regulatory framework continues to play an important role in the growth of cathodic protection market -

Government bodies such as the Environment Protection Agency, European Environment Agency (EEA), and United States Code of Federal Regulations (CFR), have imposed stringent regulations related to corrosion protection in industries.
According to the study of the National Association of Corrosion Engineers (NACE), titled 'International Measures of Prevention, Application and Economics of Corrosion Technology (IMPACT),' the costs associated with corrosion protection worldwide surpassed US$ 2,500 Bn in 2013, which was equivalent to 3.4% of the world's GDP at the time.
It has been noted that using currently available corrosion control practices, only around 15% to 35% of this total global cost of corrosion can be reduced, which is between only US$ 375 Bn to US$ 875 Bn. This will significantly impact growth of the cathodic protection market.

Asia Pacific is projected to lead the global cathodic protection market, underpinned by the requirement for corrosion protection systems, and services entailed by construction and infrastructure development activities, along with the maintenance activities associated with old structures.
Cathodic protection market will also witness significant growth opportunities in the Middle East & Africa, owing to surging demand from the industrial sectors, particularly in the oil & gas industry.
Cathodic protection by means of impressed current remains preferred among end-users. Revenues from the impressed current-based cathodic protection accounted for bulk shares of the market in 2018. Demand for impressed current cathodic protection remains undergird by increasing demand for corrosion protection for underground pipelines and subsea pipelines in suburban and rural areas.
Top 3 Factors Shaping the Cathodic Protection Market
Growing Infrastructure Development Activities Worldwide to Underpin Cathodic Protection Demand
There has been a marked rise in the construction and infrastructure development activities worldwide, particularly in the developing economies, along with the requirement for maintenance activities associated with the old infrastructure.
Additionally, government spending on the aging public infrastructure in developed economies has further created the demand for various construction consumables and equipment, and cathodic protection is no exception. As the number of infrastructure upgradation projects continue to rise worldwide, opportunities will rise for growth of the cathodic protection market in the near future.
Key players focusing on Strengthening and Retaining their Customer Relationships
Growing competition and increasing number of players in regional as well as global cathodic protection market has meant that project acquisition has become a key challenge to be addressed.
Leading players in the cathodic protection market are now focusing on expanding their customer base, and strengthening their relationships with existing customers to increase their foothold in the cathodic protection market.
Growing Infrastructure and Urbanization across the Globe
According to a recent research, infrastructure spending is expected to grow at a significant rate in the foreseeable future, with almost 60% of infrastructure spending between 2018 and 2025 expected to be witnessed in the Asia Pacific region.
The trend has been increasingly pervasive in developing nations such as India and China. Such robust infrastructure spending by governments will significantly drive the demand for cathodic protection in the upcoming years.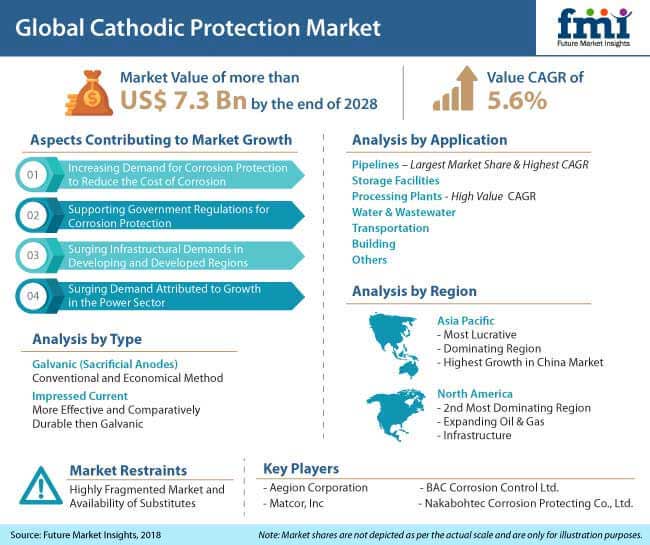 Global Cathodic Protection Market: Structure Analysis
Fragmented nature of the global cathodic protection market is expected to prevail. However, leading players in the cathodic protection market continue to hold over 30-40% revenue share.
As a part of their business growth strategies, established players in the cathodic protection market, have been focusing on expanding their presence in North America and Europe, as these two regions hold potential opportunities for infrastructure and corrosion protection services.
Key players in the cathodic protection market have also been eyeing expansion in the Middle East & Africa, and Asia Pacific, sensing the opportunities entailed by growth in production facilities, transportation, and energy infrastructure.
As a differentiating strategy, cathodic protection market participants are focusing on cost reduction in their services, and the development of new techniques used for cathodic protection.
World's Most Profilic Intelligence Engine
Get Access To The World's Largest Market Research Database.
Sign Up Now
Global Cathodic Protection Market: Segmentation
Solution
Products

Anodes
Power Supplies
Junction Boxes
Test Stations
Remote Monitors
Coatings
Instrumentation
Others

Services

Inspection
Design & Construction
Maintenance
Type
Galvanic (Sacrificial Anodes)
Impressed Current
Application
Pipelines
Storage Facilities
Processing Plants
Water & Wastewater
Transportation

Bridges
Airports
Fuelling Systems
Metros

Building
Others
Region
North America
Latin America
Western Europe
Eastern Europe
China
India
Japan
SEA and Other APAC
Middle East & Africa
Need specific information?
Our Clients