KEY FACTORS SHAPING DRIVING PROTECTION GEAR MARKET
Soaring Sales of Two-Wheelers
Rise in sales of two wheelers has gained momentum across the world. According to European Association of Motorcycle Manufacturers (ACEM), the number of motorcycles registered in EU was 830,694 units in the first nine months of 2018. In Asia Pacific, sale of two wheelers, especially in India (which has emerged as the largest two wheeler market in the world) has increased giving considerable tailwind to the driving protection gear market.
As per Society of Indian Automobile Manufacturers (SIAM), the domestic sales of two wheelers in India has seen a stupendous rise pushing the market to greater heights at a CAGR of 7.9%.
Lightweight Driving Protection Gear Gaining Impetus, Demand in Asia Pacific Heightens
Light-weight protection gear is preferred globally and is witnessing an increasing demand. Light-weight materials such as carbon fiber-reinforced plastic are increasingly being used during manufacturing. These are further fuelling driving protection gear products such as helmets. Indian driving protection gear manufacturer Steelbird Hi-Tech India Ltd. (SBHT) launched carbon fiber-reinforced plastic helmets in India which are stronger, lighter, durable, and can tolerate high temperatures.
The average weight of the helmet is considered to be 1368 grams. The worldwide popular helmets have seen to maintain the standard weight of the helmets such as AGV Sportmodular Carbon Adjustable Helmet (1347 grams), Shark Race-R Pro (1305 grams), Arai RX-7V (1416 grams), AGV Sport Helmet (1430 grams), X-Lite X-803 Ultra Carbon (1249 grams) etc.
Online Sales of Driving Protection Gear to Contribute Major Share
Significantly lower prices are proliferating sales of driving protection gear on online portals. Between 2002 and 2010, U.S., saw a near six-fold increase in the number of riders purchasing helmets online (from 4.0% in 2002 to 23.0% in 2010). Women are increasingly swaying toward motorcycle riding. Thus there has been a steady uptake of driving protection gear within this segment.
According to the latest survey conducted by Motorcycle Industry Council (MIC), one in five motorcycle owners is a women, compared to one in 10 a decade ago. Motorcycle ownership among women has gone up 9% from 10% in 2009 to 19.0% in 2018. Women are spending close to US$ 574 a year on protection gear and motorcycle maintenance as compared to US$ 497 by men.
Driving Protection Gear Regional Overview
Increasing sales of motorcycles and stringent traffic laws have created demand for driving protection gear in almost every country. However, the global driving protection gear market is primarily concentrated in Europe, North America, and Asia Pacific including East Asia and South Asia. Asia Pacific sales have surpassed those of Europe and North America while East Asia is expected to hold the highest CAGR (~7.0%) during the forecast period, 2019-2029 owing to high sales of motorcycles in China and Japan.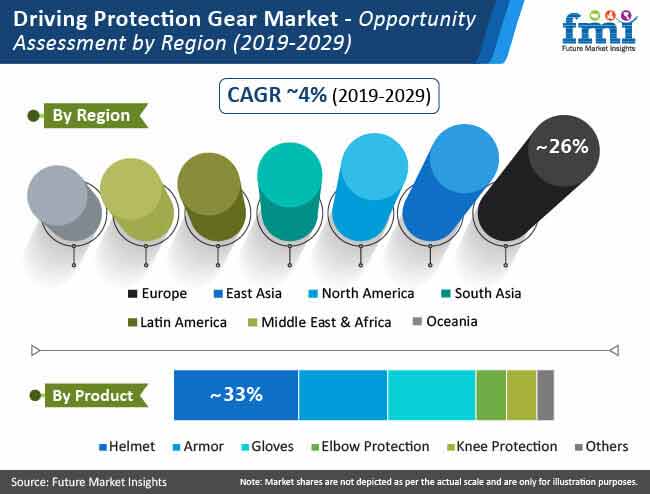 Asia Pacific to Witness Spurring Demand for Premium Driving Protection Gear
Premium products in driving protection gear such as helmets are ranked as one of the most preferred driving protection gear. In an independent motorcycle helmet satisfaction study, the top three premium helmet companies are named as Arai, Icon and Shoei. Shoei had ~30% business only in Japan in 2016 for premium helmets.
In recent years, the growth of middle class and high-end consumers have been recorded in the Asia Pacific, which, in result, creates demand for premium products in the driving protection gear market. Currently, the middle class or upper-middle-class population is estimated at around 150 million in the Asia Pacific and is expected to grow by 100 million in the next few years. The helmet penetration rate in India is very low, close to 2.5% as 85% of the market is unorganised. This also presents an opportunity in driving protection gear market with increasing middle and upper middle class population.
Studds Accessories limited, a helmet manufacturer showed its sales data which represented its annual sales of helmets are higher for premium segment as compared to the regular one. In 2018, the company sold 27.79% of premium helmets in India whereas regular helmets market share was only 25.66% in 2018. In an independent survey, Arai, Icon, and Shoei are named as the top three premium helmets in motorcycle helmet satisfaction study.
DRIVING PROTECTION GEAR LANDSCAPE CONSOLIDATED, NORTH AMERICA AND EUROPE NECK TO NECK
The global driving protection gear market represents a fairly consolidated competition landscape, where majority of key players maintain their strategic focus on product innovation.
Leading manufacturers of driving protection gear are currently prioritizing R&D and new product launches that resonate with the growing demand from leading countries such as China, India, USA, Europe etc. Manufacturers are currently focusing on technology advanced driving protection gear products, especially on helmet and gloves such as smart helmet, smart gloves (lane changer gloves) etc.
Mergers and acquisitions are also identified as key developmental strategies adopted by manufacturers of driving protection gear. In 2019, Ojo, a California electric scooter company has acquired Gotcha, a scooter and bike rental Service Company for US$12 M to become top three players in North America rideshare market.
In Asia Pacific, consumers are price sensitive and prefer cheaper driving protection gear products. Increasing number of low cost or unbranded products and rise in counterfeit products hampering market growth. All these factors act as barriers for driving protection gear products.
Synthetic Driving Protection Gears Remain Sought-after
Currently accounting for revenues worth of about US$ 6 Bn, synthetic driving protection gears continue their hegemony in the global market. Manufacturers of synthetic driving protection gears will reap maximum returns in Asia towards the end of projection period. Despite accounting for a meagre share, driving protection gears derived from leather and natural fibers are displaying remarkable growth, particularly in developing regions.
East Asia and South Asia Leading the Way
Europe currently leads the global driving protection gear market with slightly over a fourth market share. Increasing sales of high-capacity motorcycles are substantiating the market growth in the region. The market in France and Italy is expected to collectively generate revenues worth of over a billion by 2029 end. Sales of driving protection gears are also notable in North America owing to increasing sales of mid and high-capacity motorcycles as well as rising motorcyclist mortalities.
However, there are strong indications of East Asia and South Asia surpassing Europe and North America in the following years, respectively. Strict traffic laws, and swelling motorcycle production in India, China, Indonesia, and Vietnam could particularly contribute to market growth in this region.
Product Innovation at its Peak
In a bid to offer enhanced protection to riders, market players are developing driving protection gears with a blend of innovation. Smart helmets, integrated with multi-directional impact protection system (MIPS), are beneficial in negotiating rotational motion. Some smart helmets are equipped with features, including front & rear cameras, live map, and head-up display. Further, manufacturers are launching innovative gloves that allow riders to use their smartphones via Bluetooth.
How Growth will Unfold
Two wheeler drivers remain top adopters of driving protection gears, accounting for over 90% of the total market value. Surging worldwide sales of motorcycles are primarily fueling the application of driving protection gear market in this vehicle category. Increasing two wheeler accidents are again driving the demand growth. On the other side, application of driving protection gears in four wheelers is moderately increasing.
DRIVING PROTECTION GEAR MARKET TAXONOMY
The global driving protection gear market is segmented in detail to cover every aspect of the market and present a complete market intelligence approach to readers. The segmentation has been done as per product, material, vehicle, consumer group, distribution channel and region.
Product
Helmet
Armor
Gloves
Knee Protection
Elbow Protection
Others
Material
Leather
Synthetic
Natural Fibers
Vehicle
Two Wheelers
Four Wheelers
Consumer Group
Distribution Channel
Region
North America
South America
Europe
East Asia
South Asia
Oceania
MEA
Need specific information?
Talk Show:
The Rise of Intelligent Packaging
Personalized, Connected and Sustainable
November 18, 2021
11:00-11:45 AM PST (USA & Canada)
This is a LIVE session