KEY FACTORS SHAPING FIRE PROTECTION SYSTEMS FOR INDUSTRIAL COOKING MARKET
Progressive Technologies Act as Product Differentiators among Manufacturers
Rising integration of automation in the industrial sector is anticipated to create demand for advanced and cost-effective products. Manufacturers have made substantial investments in research and development to develop advanced systems with unique features, such as early suppression fast response fire sprinkler systems (ESFR). These systems are capable of releasing a high volume of water for industrial warehouses with high-piled inventory.
Introduction of intelligent fire alarm systems, combined with voice evacuation, has helped improve survivability in the event of fire, as these are highly customizable to provide improved life safety and fire emergency alerts.
Wireless Technologies and Compact Designs in Hardware to Gain More Relevance
By virtue of high efficiency, demand for technological advancements in fire protection systems such as intrusion detection and video surveillance are anticipated to gain more relevance. These devices are inexpensive and provide improved flexibility and lesser interruption during installation due to lack of cable and drill requirements. Conventionally, these systems were wired but with increasing traction towards space optimization, ease of installation has gained more relevance. This ease and convenience in installation will propel the demand for wireless industrial cooking fire detection systems.
Stringent Government Regulations and Safety Concerns Drive Market Growth
As a result of increased fire outbreaks in the industrial sector, numerous countries are creating rules and regulations for fire safety and management. National Fire Protection Association (NFPA) of U.S. has laid down several regulations, which mandate the installation of fire protection systems for industrial cooking. One such regulation is NFPA72, which provides the latest safety provisions to meet society's changing fire signaling, detection, and emergency communication demands.
Inaccuracy of old fire and security systems has created demand for new or upgraded fire protection systems for industrial cooking, providing lucrative growth opportunities to fire system suppliers or system integrators and manufacturers.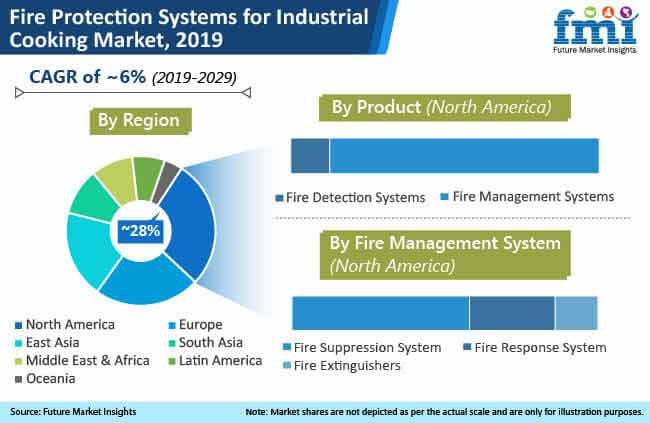 Increasing Food Processing and Manufacturing Units Open New Avenues
Manufacturing deeds in the Asia Pacific, Latin America, and the Middle East and Africa region are anticipated to entice many new market participants. Growing number of food processing and manufacturing units is predicted to have a high-level impact on the fire protection systems for industrial cooking market.
Fire Protection Systems for Industrial Cooking Market Structure Analysis
With the presence of multiple installers, service providers, and integrators, the fire protection systems for industrial cooking market is fragmented.
Tier I players such as Honeywell International Inc, Siemens AG, United Technologies Corporation, Emerson Electric Co., Johnson Controls International Plc, Gentex Corporation, together, are anticipated to account for nearly 30 percent of the global market share.
Industrial cooking fire protection system manufacturers will continue to rely on approaches such as launch of technologically-enhanced fire protection systems for a stronger foothold in target markets.
Adoption of Fire Protection Systems for Industrial Cooking to Grow 1.7X by 2029
Fire stands amongst the most significant risks to commercial kitchens, where next-generation ingredients, robotic appliances, foodservice equipment, and novel cooking methods are set to fundamentally change the operational landscape. The fire protection systems market, catering to industrial cooking sector, is heavily driven by regulation and compliance.
With fire protection becoming a condition of insuring properties where industrial cooking takes place, the market is projected to grow at a CAGR of 5.8% during the period, 2019-2029. While fire protection systems are not exactly at the forefront of the recent advancements in industrial cooking, companies are focusing on developing new methods of approaching fire-related threats in commercial kitchens and food processing units.
Fire Management System Stays in Demand
Accounting for over 60% revenue share, fire management systems continue to witness higher innovations and investments that that in fire detection systems. Greater emphasis on effective fire management systems is allowing market stakeholders to leverage an array of technologies to target more customers.
Fire suppression systems such as fire pumps and fire extinguishers continue to garner significant traction, as commercial kitchens have a large amount of flammable substances, potential fire sources, and the risk of rapid spread. On the other hand, low average unit cost of fire response systems continues to translate into greater volume sales over value gains.
North America at Forefront, Opportunities Abound in South Asia
Fire protection systems for industrial cooking worth of around US$ 1.9 Bn are set to be sold by 2019 end, in North America. The region thus holds a significant revenue share in market. Government initiatives to renovate older infrastructure to improve safety aspects and easy access to newer technologies will further open new avenues of market growth in North America.
Stakeholders in fire protection systems market are viewing South Asia from target market perspective, attributing to the increasing number of foodservice outlets, chain restaurants, and quick service restaurants in the region.
Market Witnessing Synergy of Advanced Fire Protection Technology and Cloud Kitchen
Technological advances will continue to make firefighting quicker, easier, and more effective. Emergence of sound wave fire extinguisher, throwable fire extinguisher, water mist system, integrated voice evacuation and messaging system, and personalized vocal smoke alarms has been increasingly contributing to the demand for advanced fire protection systems for industrial cooking.
Market players are targeted towards capitalizing on growing popularity of virtual or cloud kitchen. With booming food delivery market, many foodservice operators are forced to trade-off dine-in experience with rapidly expanding delivery business, leading to significant investments in cloud kitchen.
Rise in number of this new form of commercial kitchen is expected to open a window of opportunity in the market for fire protection systems for industrial cooking. Ongoing trend of integrating fire protection systems with emergency elevator evacuation system is also compelling market players to innovate and set their products apart from the competition.
How Growth Will Unfold
Demand for fire protection systems for industrial cooking is currently based on growing stringency of industrial fire safety standards and regulations in line with companies' strong focus on developing high-return products, especially the ones that connect end users with popular trends.
Adoption of fire protection systems in industrial kitchens continues to account for major share of stakeholders' bottom lines, while growing use in food processing units, especially in North America, is projected to result in increased market share. Demand for fire protection systems for industrial cooking is further gaining a significant boost from a large number of industrial kitchens in Europe and food processing units in East Asia.
FIRE PROTECTION SYSTEMS FOR INDUSTRIAL COOKING MARKET TAXONOMY
The global Fire Protection Systems for Industrial Cooking market is segmented in detail to cover every aspect of the market and present complete market intelligence to the reader.
Product
Fire Detection System

Flame Detectors
Smoke Detectors

Fire Management System

Fire Extinguishers

Water Extinguishers
Foam Extinguishers
Dry Chemical Extinguishers
CO2 Extinguishers

Fire Suppression System

Water Fire Suppression Systems
Gaseous/Clean Agent Fire Suppression Systems
Foam Fire Suppression Systems
Powder Fire Suppression Systems

Fire Response System

Emergency Lighting
Fire Alarm Devices
End Use
Food Processing Units

Meat and Fish
Dairy Products
Sugar and Confectionery
Tortilla and Bakery
Other Food and Kindred Products

Industrial Kitchens
Region
North America
Latin America
Europe
South Asia
East Asia
Oceania
MEA
Need specific information?