Chopper Pumps Market Outlook & Key Findings
The chopper pumps market is expected to grow at a CAGR of ~4.7% through
Of every 10 chopper pumps being purchased for municipal applications, at least 7 are being used for sewage and wastewater treatment
Savings accrued from maintenance and capital costs are pivotal to high demand growth of chopper pumps
100-150mm diameter chopper pumps remain sought-after; likely to account for 40% market share by 2030
Chopper Pumps Market Analysis – Boosting 'Torque' and 'Drive' Efficiency Key Focus Area for Manufacturers
Projected to reach a value of US$ 1.20 Bn by the end of 2030, the popularity of chopper pumps can be attributed to their growing applications in sewage and waste water treatment applications.
Chopper pumps are helping operators overcome clogging – a common problem faced at waste water treatment plants. Solids-laden water from industrial sewage, agricultural waste and untreated waste water from chemical factories is utilizing chopper pumps on a large scale.
Torque plays a crucial role in chopper pumps as they are frequently subjected to solids and hydraulic load. With 70%-90% of waste water comprising of solids, chopper pumps that are able to chop down/cut solids 25% of the volume of waste water are being highly preferred. High torque also comes into play when the motor is switched on to prevent motor overheating and clogging.
The market for chopper pumps is witnessing a high inclination towards variable frequency drives for myriad pumping applications. This is attributable to less wear and tear, energy savings and a smaller wet well size in case of submersible chopper pumps
Chopper Pumps Sales - Aftersales Services and Cost Savings a Key Differentiating Strategy
Sales of chopper pumps are primarily taking place through a large network of retailers and distributors with a multi-pronged branding strategy. Offerings that are largely integrated with additional products, accessories and a robust after-sales service program is helping stakeholders considerably reduce their overall budget.
For instance, Vaughan, a pump supplier in the UK has installed a chopper pump (SP10R) at Thames Water Banbury in the year 2006. The pump has been reportedly installed and has been operational for 13 years with no performance issues or blockages. A second pump was installed in 2019 and both pumps went through a comprehensive after sales assessment and overhaul.
The turnaround time for both pumps from removal, servicing and re-installation was approximately two weeks which included shipment of parts from the US.
Thames water reported minimal overheads and pumping costs and claimed their services pumps were as good as new. They also reported that yearly lifecycle costs over the original investment price has been 1400-1500 pounds over the entire 13 year cycle.
Similarly, Zenit, an Italian pump manufacturer has provided the Hadera municipality its Uniqa series chopper pumps which has improved the municipalities' hydraulic efficiency from 60% to 75% and has helped them save 11/KW/hr of energy costs
Chopper Pumps Gaining Ground in Municipal Applications
The labelling of hygiene products as 'flushable' has led to severe clogging problems in sewage and wastewater treatment plants. Slated to account for 22% of the market share in 2020, the municipal application segment of chopper pumps market will witness high value and volume growth through 2030.
Chopper pumps help cut down rags and solids in wastewater and sewage plants. While many of these pumps are found in wastewater treatment plants, facilities such as hotels rely on these pumps to pump and move the sewage to a distant tank.
Similarly, any facility located at a height below the septic tank will need a pump to pump up the mud and slurry and transport it to its intended destination.
Another tangible plus point of chopper pumps is their use in manure slurries which yield good quantities of fertilizers that can be used for a host of agricultural applications. Use of chopper pumps for agricultural applications are poised to capture one-fourth of the chopper pumps market.
Chopper Pumps Market – Regional Analysis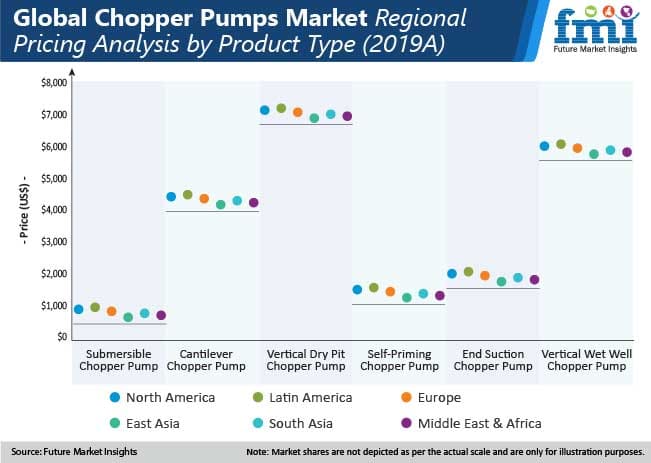 Asia Pacific accounts for a significant chunk of waste material generated tantamount to 460 million tons each year of which China alone makes up for 70%.
This makes the region a hub of profitability for pump manufacturers. The proliferation of paper and pulp industries in China, making it the second largest in the world, is also boosting the demand for chopper pumps
Developed countries are seeing an overhaul in their pumping systems owing to the rapidly evolving food processing, industrial and agricultural landscapes. Thus countries such as the US and UK demand pumping systems that are not only energy saving and cost saving but also enhance production efficiency.
Europe is the leading shareholder in the market for chopper pumps and will account for 25% of the overall market by the end of 2030. Within Europe, pump manufacturing is gathering momentum.
Currently, the region boasts of a large number of SMEs who are engaged in the production and retail of chopper pumps. It also holds half of world's exports for pumps and 40% of patents for its innovative solutions.
Chopper Pumps Market Trends – Repowering the Pump Market Landscape
Advancements in water treatment and modernization of wastewater plants are also paving way for trend-setting changes in pumping solutions. Despite construction in wastewater applications experiencing a flattened curve, the industrial wastewater market landscape is seeing a plethora of efforts aimed at modernization.
With infrastructural investment taking center stage, many developed regions are being forced to confront and overhaul their aging pumping systems
As pumps undergo innovation, they are also seeing a slight increase in rates which is forcing pump manufacturers to re-think their business models
Manufacturers are collaborating and partnering with one another to invest in smart water infrastructure and smart water pumping using IoT, big data and analytics. Smart water solutions are helping customers maximize their operational efficiency
Stakeholders at wastewater treatment plants are leveraging the vast network of distributors for pump inspection and maintenance activities. Here uptime takes prominence so distribution networks have to be well staffed and well equipped
Chopper pumps with vertical configurations are gaining a lot of traction as they are ergonomic and can be pulled out during repairs
Streamlining of maintenance is further being done with symmetrical and smaller number of components
Chopper Pumps Market Manufacturers
The chopper pumps market is highly fragmented in nature. Xylem, Sulzer, Cornell, Eddy Pump, Vaughan and Landia A/S account for ~25% of the overall market share.
Innovation, reduction of capital expenditure and maintenance costs are key focus areas of manufacturers engaged in the chopper pumps market landscape.
For instance, Landia, a Denmark based pump manufacturer in June 2020 manufactured an innovative chopper pump for a biogas plant in Ireland. The long-shaft chopper pump measures over 7m long and will be used in a 5m slurry pit to mix cow slurry with other raw materials before pumping it to another tank. The material will then be used as feedstock on the farm. The long shaft ensures trouble-free and cost-effective pumping with just one single unit.
Similarly, McCain Foods, a New Zealand based food processing company acquired a chopper pump from Vaughan that was needed for their bean waste which would regularly clog up their systems. A vertical wet well chopper pump installed by Vaughan, a US based pump manufacturer helped chop the bean waste to a manageable size in all their downstream pipes.
Further, the pump also came attached with an upper cutter that would break down stringy solids stuck to the pump shaft. Vaughan boasts of 20 patents for its innovative pump solutions and also endeavors to provide services in minimum delivery times.
Chopper Pumps Market – Environmental Footprint and Future Roadmap
Pumping solutions do leave an environmental impact and this warrants the manufacturing of 'green' pumps and 'green' systems. This can be done by life cycle analysis, scrutinizing the impact of these pumps across their product lifecycle. This has led to the institution of innumerable standards outlining methodologies that are environmentally friendly. This threatens manufacturers who have to surmount stringent standards. To overcome this, regional players are laying foundations for a common set of protocols and a single market landscape for green products.
The future roadmap for chopper pumps and other pumping solutions also takes into consideration the system approach for pumps in which individual components may be efficient but total system is analyzed along with operating conditions to check efficiency levels. This offers energy savings within motor systems, reduced maintenance and high reliability. Size needs to be factored in as an oversized system will lead to energy wastage with a control valve needed to bring back larger systems to operating points.
World's Most Profilic Intelligence Engine
Get Access To The World's Largest Market Research Database. Ngage with a revolutionary intelligence engine that scale and pricing that flexes as per your needs
Sign Up Now
Market Taxonomy
Product Type
Submersible Chopper Pump
Cantilever Chopper Pump
Vertical Dry Pit Chopper Pump
Self-Priming Chopper Pump
End Suction Chopper Pump
Vertical Wet Well Chopper Pump
Outlet Diameter
Up to 50 mm
50 – 100 mm
100 – 150 mm
Above 150 mm
Application
Agriculture
Municipal

Water Treatment
Sewage Treatment

Automotive
Steel
Chemical & Petrochemical
Food Processing
Mining
Paper & Pulp
Region
North America
Latin America
Europe
East Asia
South Asia Pacific
Middle East & Africa (MEA)
Need specific information?