Coffee Grounds Market Outlook & Key Findings
The coffee grounds market will exhibit a CAGR of 5.5% between 2020 and 2030
With a share of 27%, North America dominates the global coffee grounds market in 2020. It is expected to remain the leading market over the next few years
Europe is also expected to emerge as the second-leading market in the global coffee grounds market.
Emerging economies such as China and India are likely to show considerably high demand for coffee grounds, enabling growth in the market in Asia Pacific
In terms of application, the agriculture sector will exhibit high demand for coffee grounds
Coffee Grounds Market Analysis
Large amount of residues are produced in the coffee industry. Coffee grounds are the primary residue obtained in this sector. It is produced during the roasting of beans. Coffee grounds are also derived from the process of preparing instant coffee.
COVID-19 resulted in many being unable to work across borders, implying that some coffee may rot before it is picked or the overall quality of the harvest may deteriorate before it is picked. Government-mandated social distancing and stay at home have forced millions of coffee shops around the world to shutter down.
This has impacted the sale of coffee grounds as well. The ongoing scenario may affect the price of coffee grounds in the exchange rate, which would have a direct effect on farmers, exporters and foreign buyers. Coffee farmers are expected to bear the burden of this move, which will be worsened by the fact that most are already facing major coffee production challenges.
Product Development and Innovations will Drive Growth
New product portfolio and product diversity are the main approaches adopted by manufacturers to increase their market share. In addition to this, coffee grounds producers have adopted competitive pricing techniques to boost their sales. Introduction of attractive packages combined with adequate investment in promotion across social networks are boosting the global coffee grounds market.
The impact of competitive rivalry on the global market for coffee grounds is significant due to high number of players, strategies adopted by operating firms, and high degree innovations. Players operating in the global coffee grounds market are also focusing on developing new products to establish a strong foothold amidst prevailing competition.
The companies are also working with manufacturers in the coffee grounds market to develop new offerings. For instance, coffee flour is derived from coffee and is suitable for gluten-free, high-protein and high-fiber recipes. Key applications of the coffee flour is in bakery & confectionery, healthy snack bars and pizza & pasta. It is yet to get recognition in the food & beverages industry.
Coffee Ground Application Forecast to Remain High in Agriculture Segment
Coffee grounds are a source of nitrogen which can help improve the structure of soils. They can be scattered over the soil or mixed into it to improve its fertility. It is a widespread practice to add coffee to the compost or worm bin. This technique helps in creating nitrogen-rich soil, making it more fertile for farming.
Studies have also found that coffee grounds help maintain optimum temperature in compost piles. This allows the compost to remain free of potentially harmful pathogens that impact delicate seedlings. These factors are contributing to the rising use of coffee grounds in the agriculture industry.
The chart below represents the application of coffee grounds in various segments across key regions. Besides agriculture, the demand witnessed in the food and beverages sector is expected to remain high as per the given figure.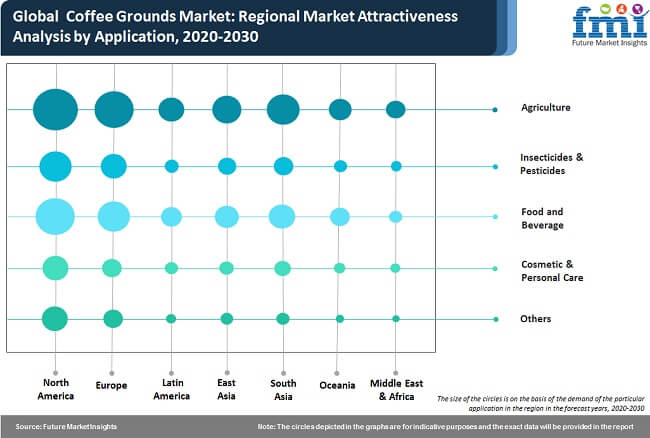 Insecticides and Pesticides Segment is Projected to Exhibit High Growth
Coffee grounds when used fertilizer are slightly acidic and full of nitrogen, a mineral which helps in improving growth of various vegetables and plants. For tomato plants which flourish on nitrogen, soil infused with coffee grounds is considered remarkably brilliant.
If used for planting, coffee grounds produce a natural acid type of bacteria which stimulates the growth of acid-loving plants such as roses, blueberries, evergreens and tomatoes. Coffee grounds also protect plants against veggie and flower munching slugs and snails. Hence, the demand in the insecticides and pesticides segment will increase considerably in the coming years.
Growing Demand in Cosmetics Industry to Boost Growth Opportunities
Consumers of beauty products are becoming increasingly eco-conscious, with an increasing number of shoppers expecting their products to be sustainable, organic and carbon neutral. Rising concerns about the side effects of chemical content in cosmetics and their inclination for natural products have compelled manufacturers to introduce beauty products containing coffee grounds as one of the key ingredients. Caffeine helps to improve cell turnover and blood circulation, which is a key factor behind the rising use of coffee grounds in lotions and soaps.
Environment Benefits of Coffee Grounds Fuelling their Demand
Coffee grounds have gained tremendous popularity due to various environmental benefits, such as improved soil quality and water conservation. The awareness among farmers about the nutritional benefits and role of coffee grounds in promoting plant-based microbiological activities will drive their adoption in the coming years. The coffee grounds market is gaining considerable traction from various industries, a trend which will continue over the forecast period.
Coffee Grounds Market: Region-wise Analysis
During the forecast period North America is projected to emerge as the fastest growing region. Increasing per capita income results in a high demand for organic products, which also drives the ground coffee market. The utilization of waste is being followed among the consumers, manufacturers as well as regulatory authorities.
This has been pushing businesses in North America and in Europe to make use of the waste generated in their facilities and convert it into something useful and productive. Although the coffee grounds market is in its introductory phase, this trend is expected to bolster their adoption especially in these regions.
Leading suppliers in Coffee Grounds Market
The introduction of fresh coffee grounds is a result of businesses around the world focusing on concepts of zero waste and circular economy. Some of the leading companies operating in the coffee grounds market are focusing on product developments and strategic partnerships with emerging companies to strengthen their foothold. Besides this, the focus on product launches is expected to remain high through the forecast period.
Some of the key players in the coffee grounds market are,
Americas
Starbucks
Red Thread
Death Wish Coffee Company
Folgers Coffee
The Kraft Heinz Company
Peet's
Jo Coffee
Kicking Horse
Royal Kona
Hills Bros. Coffee
Asia Pacific
*The list is not exhaustive, and only for representational purposes. Full competitive intelligence with SWOT analysis available in the report
Coffee Grounds: The Way Forward
The introduction of the idea of organic farming has been an aid to growth in the demand for coffee grounds. The market has witnessed unequivocal adoption, fuelled by promises and claims of higher yields and potential position in ending the extreme volatility faced by farmers in parallel with unpredictable natural forces.
With the functionality of the coffee grounds in various applications and their adaptability to be made available by an array of distribution channels will support consumption, enabling growth in this market growth.
Market Segmentation
The global coffee grounds market is segmented in detail to cover every aspect of the market and present complete market intelligence to readers.
Application
Food and beverage
Agriculture
Cosmetic and Personal care
Insecticides and pesticides
Others
Region
North America
Latin America
Europe
South Asia
East Asia
Oceania
Middle East and Africa
Need specific information?