Corneal Ulcer Treatment Market Snapshot (2022-2029)
[244 Pages Report] The global demand for corneal ulcer treatment market is expected to experience a significant growth of 5.7% CAGR from 2022 to 2029, with an estimated market value of around US$ 867.3 Mn as of 2022. As per Future Market Insights' projections, Antibiotics hold a substantial share of around 76.4% in 2021 within the global market.
Market Outlook:
| | |
| --- | --- |
| Data Points | Market Insights |
| Market Value 2021 | US$ 817.9 million |
| Market Value 2022 | US$ 867.3 million |
| Market Value 2029 | US$ 1.27 billion |
| CAGR 2022-2029 | 5.7% |
| Market Share of Top 5 Countries | 72% |
Corneal ulcer treatment market holds nearly 2.7% market share in the overall Ophthalmology therapeutics market valued at around 30 Bn in 2021.
A corneal ulcer is an open sore on the cornea. Cornea covers iris and pupil of the eye. It is also known as keratitis. If it is left untreated, corneal ulcers can hamper vision causing permanent scarring. Normal treatments for this condition involve surgical treatment in which the damaged cornea is replaced by a healthy donor cornea. After infection subsides, ulcer is further treated with additional medication.
Don't pay for what you don't need
Customize your report by selecting specific countries or regions and save 30%!
How The Market Progressed Till June 2022?
| | |
| --- | --- |
| Particulars | Details |
| H1, 2021 | 5.72% |
| H1, 2022 Projected | 5.72% |
| H1, 2022 Outlook | 5.72% |
| BPS Change - H1, 2022 (O) – H1, 2022 (P) | (-) 10 ↓ |
| BPS Change – H1, 2022 (O) – H1, 2021 | (-) 13 ↓ |
FMI provides a comparative study of the global corneal ulcer treatment market's growth rates and development prospects. Product adoption of contact lens, as well as the impact of macro and industrial factors, have an impact on the market.
Due to advancements in medical administration and microsurgical techniques, the frequency of corneal perforations has reduced in recent decades, resulting in improved outlook for corneal ulcers and a diminution in complications associated with the condition, and is a key impeding factor in this sector.
According to FMI, the corneal ulcer treatment market will drop by 13 basis point share (BPS) in H1-2022 (O) as compared to H1-2021. Furthermore, on comparing H1-2022 projected and H1-2022 outlook period, the declining growth rate is expected by nearly 10 BPS for this market.
One of the main reasons for the deterioration in BPS is corneal scarring, vascularization, or perforation, glaucoma, uneven astigmatism, cataracts, endophthalmitis, and vision loss, which are all complications of untreated or improperly treated corneal ulcers.
The surgical management of corneal ulcerations and perforations, can conversely provide a lucrative growth impact on the corneal ulcer treatment market.
Sales Analysis Of Corneal Ulcer Treatment Market From 2014 To 2021 Vs Market Outlook For 2022 To 2029
Global corneal ulcer treatment sales were valued at around US$ 817.9 Mn at the end of 2021. The development of innovative medical treatments has witnessed a high boost over the past few years. In comparison to the traditional methods for ulcer treatment, researchers are adding value to this domain by creating various cost-effective treatment options.
The corneal ulcer treatment displays a substantial number of benefits to the patients which include enhanced diagnostics capabilities, minor incisions during surgery, greater precision, lower risks of infections, better patient outcomes with a reduced time for healing, and longer lifespan.
Currently many such novel treatments are undergoing clinical trials. Most of the current treatment methods include drug related therapies, scientists also are working in order to develop new drugs to treat corneal ulcer.
The current corneal ulcer treatment market includes different drug types such as antibiotics, antifungals, antivirals and many more. By drug type, antibiotics was the dominant market segment in global market in 2021 which contributed 76.4% of the revenue share due to its effective action against disease causing pathogens.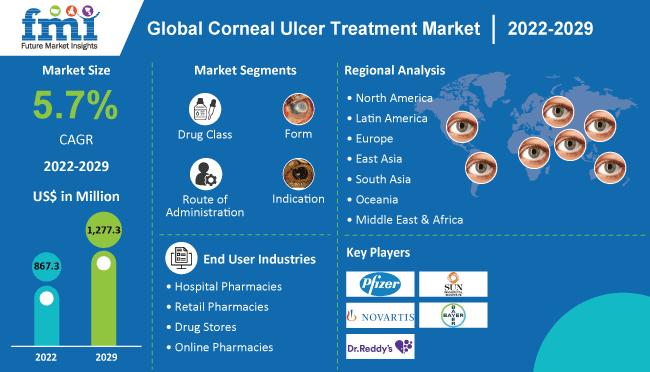 The applications for improvement of corneal ulcer treatment are set to rise in number with increase in awareness of treatment methods, proper usage of contact lenses in order to improve the health of people with and expedite healing process. The global corneal ulcer treatment market is expected to be valued at US$ at 1.27Bn by the end of 2029 and is projected to register a CAGR of 5.7% in the forecast period.
What Are The Key Opportunities For Corneal Ulcer Treatment Manufacturers?
Manufacturers in the global corneal ulcer treatment are primarily focussing on enhancing their regional product offering because they want to cater a larger patient audience. Medical researchers are constantly developing new and innovative strategies to tune treatments for corneal ulcer treatment.
Various novel treatment options are for bacterial keratitis, fungal keratitis is undergoing clinical trials. Increasing the number of R&D activities for developing new drugs for treatment is one of the important factors which is expected to grow in market in the forecasted years.
Awareness of proper usage of contact lenses is also an important factor because it is closely linked to corneal ulcer. Especially in countries like India, where majority of our population is into agricultural activities are likely to be prone to corneal ulcers. These following opportunities could fuel the demand for manufacturers to expand their units and increase the production of the treatment options in order to serve the growing patient audience.
What Are The Factors Restraining Demand For Corneal Ulcer Treatment?
Antibiotics are primarily used to treat bacterial keratitis. With excessive use of antibiotics comes the alarming concern of antibiotic resistance. When many antibiotics are consumed to treat keratitis, micro-organisms can become resistant to that particular medication and in turn the infection will not be treated adequately. Hence there is a dire need of addressing this problem.
Various modern therapy options for corneal ulcer treatment are costly and are have limited availability. By hindering product acceptance, this prevents potential patient care as well as income generation. Natamycin, for example, is the primary anti-fungal medication for treating fungal keratitis, but it is quite expensive and in limited supply in developing countries. These factors could indeed hamper the growth of corneal ulcer treatment market in long term if not addressed.
Country-Wise Insights
What Makes the U.S. the Largest Market for Corneal Ulcer Treatment?
The U.S. dominates the North American region with a total market share of over 87.3% in 2021, and is projected to continue experiencing high growth throughout the forecast period. The growth of this market is driven by the high number of people using contact lenses. Additionally, the growth in the country is also associated with increase in epidemiological data and rise in awareness about various treatment options.
Why is U.K. Considered a Lucrative Market for Corneal Ulcer Treatment in Europe?
U.K. is set to exhibit a CAGR of over 5.7% in the European corneal ulcer treatment market during the forecast period. U.K. is at the topmost leading position when it comes to R&D in Europe. Main driver for this market is that U.K. has sophisticated infrastructure and cutting edge technology which will help expedite the treatment development options for corneal ulcer.
What Makes China an Emerging Market for Corneal Ulcer Treatment?
China is projected to increase at a CAGR rate of 7% during the forecast period. The growth of the corneal ulcer treatment market in the country is attributed to the rising wave of innovation therapy strategies in the region of East Asia, with China as the prime contributor in the development industry for drugs to treat various infections as well as highest consumers of contact lens usage in eastern Asia.
What makes India a lucrative market for Corneal Ulcer Treatment?
India is set to witness an increase in CAGR of 6.7% during the forecast years. India has a higher incidence rate of corneal ulcer as compared to other south Asian countries hence this makes India a lucrative region for the local players to collaborate with giant players in the market and increase the manufacturing of various treatment options and enhancing their product portfolio.
Get the data you need at a Fraction of the cost
Personalize your report by choosing insights you need
and save 40%!
Category-Wise Insights
Which Corneal ulcer treatment Drug class is driving the market growth?
Drug class of antibiotics contributes about 76.4% of market share in 2021 and is expected to have a CAGR of 5.8% in the forecast period. The growth is associated with the ability of antibiotics to be fast acting, their low cost and their efficiency to act on a broad spectrum of bacteria especially its efficacy in treatment of corneal ulcer treatment compared to other drug classes.
Which Distribution channel Benefits the most by Employment of Corneal Ulcer Treatment?
Hospital pharmacies benefit the most in this segment with market share of more than 36% share in revenue and is expected to grow with a CAGR of 5.4% in the forecast period. They are the main components because the drugs used in treatment are easily available, they will have better access to medical records of patients and there will be increased interaction with health care professionals and treatment facilities.
Which indication category is in the lead of driving the market growth?
Bacterial keratitis is in the lead as it is caused by normal opportunistic flora like Pseudomonas and Staphylococcus which can cause increase infection rate due to prolonged use of contact lenses, weak immune system. It has a valuation of U.S. $ 409.8 Mn in 2021 and is expected to increase with a CAGR of 5.8% in the forecast period.
Bacterial infections are the most likely cause of corneal ulcers and generalised drug therapy is available which is suitable for all. For example, USA has an incidence of 11 per 100,000 persons for microbial keratitis.
Which category by Form is mostly benefitting to increase market growth for corneal ulcer treatment?
Tablets are a major driving component for increasing market growth and is expected to show a CAGR of 3.5% in the forecast years. Tablets are easy to administer, they have longer shelf life, they can accommodate a higher dose of active ingredient and they usually have a fast release mechanism.
What is the Impact of COVID-19 on the corneal ulcer treatment Industry?
The COVID-19 pandemic originally had a restrictive impact on growth of corneal ulcer treatment market. This impact was registered principally due to the guidelines published by different regulatory bodies, advising that patients getting treatment for non-urgent medical issues are at a greater risk of spread of COVID-19 infections.
The rise in the prevalence of infectious diseases, chronic diseases and the increasing disease burden over the globe due to the COVID-19 pandemic led to advancements in current treatment options as well as novel innovative therapy formation.
Competitive Landscape
Leading corneal ulcer treatment manufacturers are focusing on geographical expansion to gain high revenue & expand their sales footprint in emerging countries by acquisition of local market players.
Strategic collaborations, acquisitions, expansion, product launches, agreements and research sponsorship are the key strategies adopted by manufacturers to increase the product sales in different geographies.
In December, 2019 Mallinckrodt plc enrolled its first in company's Phase 4 multi centre, multiple- dose, open-label study to assess the effects of Achtar Gel as a therapy for patients with severe keratitis.
In 2019, Dr Reddy's Laboratory had filed 20 new Abbreviated New Drug Applications with USFDA.
Similarly, recent developments related to companies manufacturing corneal ulcer treatment products have been tracked by the team at Future Market Insights, which are available in the full report.
Report Scope
Attribute
Details
Forecast Period
2022-2029
Historical Data Available for
2014-2021
Market Analysis
US$ million for Value
Key Regions Covered
North America, Latin America, Europe, South Asia, East Asia, Oceania and Middle East & Africa
Key Countries Covered
USA, Canada, Brazil, Mexico, Argentina, Germany, UK, France, Italy, Spain, Russia, BENELUX, China, Japan, South Korea, India, Thailand, Indonesia, Malaysia, Australia, New Zealand, North Africa, GCC Countries, Turkey and South Africa
Key Market Segments Covered
Drug class, Form, Indication, Route of administration, Distribution channel and Region
Key Companies Profiled

Pfizer Inc.
Allergen plc
Bayer AG
Teva Pharmaceutical Industries Ltd
Mallinckrodt Pharmaceuticals
Dr Reddy's Pharmaceuticals
Sun Pharmaceutical Industries Ltd.
Baxter International Inc.
Fresenius Kabi

Pricing
Available upon Request
Key Market Segments Covered In Corneal Ulcer Treatment Industry Research
By Drug class:
Antibiotics
Antifungals
Antivirals
Corticosteroids
NSAID's
By Form:
Tablet
Eye Drops/ Ointments
Vials
By Route of Administration:
By Indication:
Bacterial Keratitis
Fungal Keratitis
Viral Keratitis
Acanthamoeba Keratitis:
By Distribution Channel

Hospital Pharmacies
Retail Pharmacies
Drug Stores
Online Pharmacies

By Region

North America
Latin America
Europe
South Asia
East Asia
Oceania
Middle East and Africa (MEA)
Frequently Asked Questions
The global corneal ulcer treatment market is worth US$ 817.94 Mn at present and is set to expand 1.5X times over the next seven years.
The corneal ulcer treatment market is expected to reach US$ 1.27 Bn by end of 2029 at a CAGR of 5.7%
The key trends for growth of corneal ulcer treatment include excessive usage of contact lens improving awareness about potential risk factors that cause corneal cancer, increasing investments in R&D and development of novel treatment therapies.
The key restraints affecting growth of corneal ulcer treatment include increase in prevalence of antibiotic resistance and the higher cost of drugs which are used in novel treatment of corneal ulcer.
The North American region has the highest market share of 26% by value in the global corneal ulcer treatment market.
Better corneal ulcer diagnosis, aided by unambiguous signs and symptoms, and, more crucially, established criteria, can result in huge revenue creation prospects. This opportunity will be most beneficial for growth in this market.
The U.S., China, Germany, Japan, and India are the top five countries which are expected to drive demand in corneal ulcer treatment market.
Pfizer Inc, Bayer AG, Allergen plc, Novartis AG,Teva Pharmaceutical Industries Ltd, Mallinckrodt Pharmaceuticals. Dr Reddy's Pharmaceuticals. Sun Pharmaceutical Industries Ltd. Baxter International Inc., Fresenius Kabi are the key manufacturers in this market.