Corneal Ulcer Treatment Market By Drug Class (Antibiotics, Antifungals, Antivirals, Anti-amoebic Drugs, Corticosteroids, NSAIDs), Indication (Bacterial Keratitis, Fungal Keratitis, Viral Keratitis, Acanthamoeba Keratitis), Distribution Channel (Hospital Pharmacies, Retail Pharmacies, Drug Stores) & Region - Forecast to 2019 - 2029
Corneal Ulcer Treatment Market - Analysis, Outlook, Growth, Trends, Forecasts
February 2020

REP-GB-6953

244 pages
Demand for Eye Drops/Ointments Remains Sustained Through 2029
[244 Pages] Attributes such as cost-efficiency has led to a spurt in the adoption of eye drops/ointments, accounting for over 98% share the total demand. As eye drops/ointments eliminate the need for further interventional and oral route for drug dosage, they will continue to define stakeholders' bottom lines throughout the forecast period. Further, by 2025, their sales will pass the billion-dollar mark. While they remain the preferred form of corneal ulcer treatment, tablets and pharmaceutical vials are likely to see sluggish demand growth through 2029.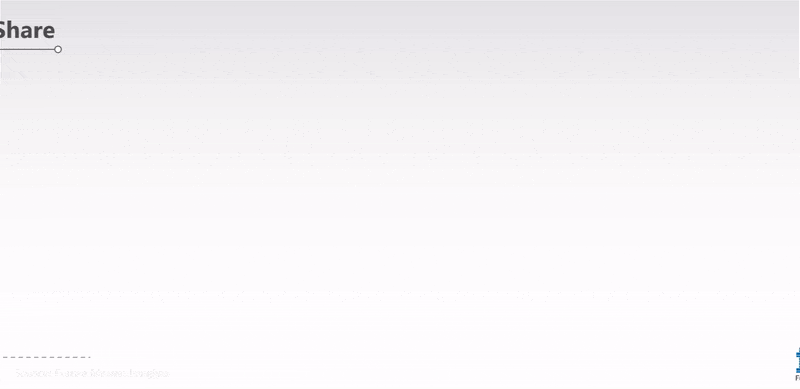 North America Leads; Asian Markets to See Rising Adoption
Given the well-established supply chain of generic manufacturers as well as favorable reimbursement policies in developed regions, the corneal ulcer treatment market in North America continues to lead the pack in the global landscape. Being an early adopter of advanced healthcare, North America would remain the leader over the next decade.
Although the market in Europe is also a significant revenue contributor, stakeholders are eyeing Asia for expanding their regional market presence. Primarily represented by China, and India, rising patient pool and increasing healthcare spending are key factors boosting market growth in these developing countries.
Exploring Novel Treatment Options for Better Disease Treatment
There are possibilities of patients complaining of scarring of the cornea and blurred vision despite early diagnosis and treatment of corneal ulcers, which, in turn, is compelling market players to explore novel treatment alternatives. In case of acanthamoeba keratitis, for instance, conventional antibiotics could be effective to some extent. As such, manufacturers are considering alternative approaches, including anti-amoebic drugs. Additionally, addressing corneal ulcers with dual therapy is also offering white spaces to players in the corneal ulcer treatment market.
How Growth will Unfold
Adoption of various drug classes relies on the estimated caseloads of bacterial, viral, and fungal keratitis treatment, especially in developing regions. By capturing over 3/4 share of total demand, antibiotics will continue to be the preferable drug class for treating corneal ulcers during the period of projection. While antivirals are also witnessing a healthy adoption rate, increasing usage of antifungals are opening wide avenues of growth. Further, both medicinal drugs would account for a collective share of nearly 20% through 2029.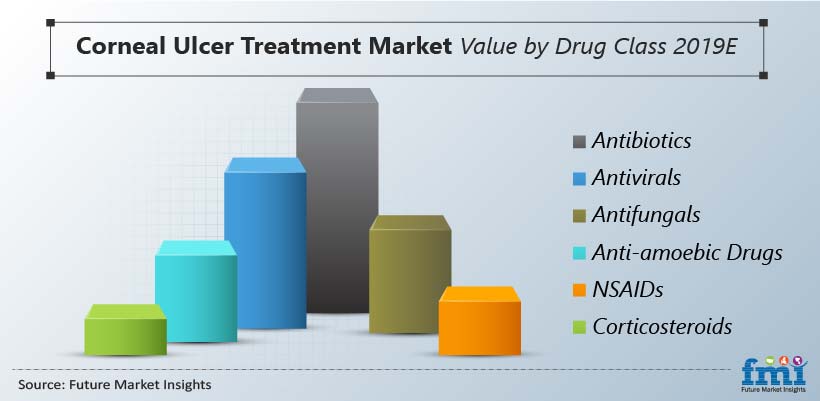 FREQUENTLY ASKED QUESTIONS ABOUT CORNEAL ULCER TREATMENT MARKET
What is the global status of the corneal ulcer treatment market?
The global corneal ulcer treatment market is poised for a healthy CAGR over the period of forecast (2019-2029). Towards the end of 2025, the market for corneal ulcer treatment is most likely to surpass the billion-dollar market in revenue.
Will increase in the use of contact lenses affect the growth of the corneal ulcer treatment market?
It has been observed that people who use contact lenses are more susceptible to developing corneal ulcers as compared to the general population. Thus, increasing number of contact lens users due to reluctance of using eyeglasses is expected to result in increased number of corneal ulcers over the years, leading to healthy market growth during the forecast period.
How will new and alternate treatment options influence the corneal ulcer treatment market?
Treating corneal ulcers with conventional medications often leads to scaring of the cornea and blurred vision. This has prompted manufactures to develop novel and alternative medications such as dual therapies (drug combinations), which are expected to drive the growth of the corneal ulcer treatment market.
Who are the leading players in the corneal ulcer treatment market?
Some of the leading players in the corneal ulcer treatment market are:
Pfizer Inc.
Allergan plc
Novartis AG
Bayer AG
Why are corneal ulcer treatment market players focusing on North America and East Asia?
Owing to increasing per capita healthcare expenditure, favorable reimbursement policies, and strong presence of generic drug manufacturers, corneal ulcer treatment market players are eyeing North America and East Asia for increased revenue and bigger margins.
What is driving the corneal ulcer treatment market?
Rising prominence of corneal ulcers and increasing usage of contact lenses are currently driving the corneal ulcer treatment market. Increasing awareness regarding the prominence of corneal ulcers and emergence of novel treatment options are projected to boosting the popularity of corneal ulcer treatment in the near future.
Which distribution channel is expected to the most lucrative?
According to FMI, market players will continue to target retail pharmacies for lucrative returns during the forecast period of 2019-2029, followed by hospital pharmacies, online pharmacies, and drug stores.
World's Most Profilic Intelligence Engine
Get Access To The World's Largest Market Research Database.
Sign Up Now
CORNEAL ULCER TREATMENT MARKET TAXONOMY
The global corneal ulcer treatment market is segmented in detail to cover every aspect of the market and present a complete market intelligence approach to the reader.
Drug Class
Antibiotics
Antifungals
Antivirals
Anti-amoebic Drugs
Corticosteroids
NSAIDs
Indication
Bacterial Keratitis
Fungal Keratitis
Viral Keratitis
Acanthamoeba Keratitis
Form
Tablets
Eye Drops / Ointments
Vials
Distribution Channel
Hospital Pharmacies
Retail Pharmacies
Drug Stores
Online Pharmacies
Region
North America
Latin America
Europe
East Asia
South Asia
Oceania
Middle East and Africa (MEA)
Need specific information?
Our Clients