Custom Dry Ingredient Blends Market Value to surpass US$ ~27,018 Mn in 2029
Exhibiting an impressive CAGR of ~8.5%, the global custom dry ingredients blends market will surpass US$ ~27,018 Mnmark by 2029. This FMI study reveals that the market will grow at a steady pace during 2019 - 2029.
As a result of the rising prevalence of nutritional deficiencies, fortification programs are undertaken as public health initiatives. The demand for custom dry ingredients will therefore continue to rise as a result of challenges posed by malnutrition to various government and international authorities. It is estimated that around 2 billion people in the world lack essential vitamins and minerals required for healthy and sustainable lives. Food fortification involves purposefully increasing the content of essential micronutrients such as vitamins and minerals, so as to improve the nutritional content of food with a minimal effect on taste.
Moreover, it has proven to be a cost-effective public health measure to combat malnutrition with minimal health risk. On the back of these factors, the adoption of food fortification is being widely encouraged by government and consumers to improve the nutrition outcome for this large segment of the global population. Manufacturers of custom blends are fortifying food ingredients with organic acid, probiotics, enzymes, omega-3 fatty acids, minerals, vitamins, and collagen. This is targeted at the health and wellness conscious customer base. Food ingredients such as flour, salt, oil is being typically used for fortification as it is consumed by the masses, including vulnerable group of people affected by malnutrition.
Key Research Findings
The global custom dry ingredients blends market surpassed its US$ 11.9 Bn mark in 2019.
The demand for dehydrated fruit/vegetable blend is increasing because it is packed with vitamins and minerals that human body needs, especially when it is depleted from long days of hiking.
North America and Europe show high demand of custom dry ingredients blends. Therefore, hold the major share in the global custom dry ingredients blends market.
Manufacturers' focus on flavor innovation in custom dry ingredients, has led to the rise the demand of custom dry ingredients blends market over the coming years in the developing countries.
KEY FACTORS SHAPING THE CUSTOM DRY INGREDIENTS BLENDS MARKET
Rapid Growth of Tourism & Hospitality Sector
Hoteliers are striving to capitalize on the growing preference for innovative and extravagant food experiences, as a majority of young travelers are developing a keen interest in exploring unique taste and flavor profiles. At the same time, evolving guest preferences are prompting big hotel brands to modify their food recipes. Changing food categories is a key trend that is being observed in the industry. Moreover, travelers, especially millennials, are more price-conscious and experience-focused, which is forcing hoteliers to develop innovative alternatives to traditional lodging products.
e-Commerce Expansion
Transparency and Product Penetration Sales through e-Commerce have strengthened the custom dried ingredients blends market, and has helped it flourish in a new way through this better sales medium. E-Commerce platforms, along with review sites, make it easy for clients to compare custom dried ingredients blends and price levels, and offer information about the origin of the food product and details of the producer or supplier. This availability of information and relevant details is resulting in a more transparent custom dried ingredients blends market.
Declining Consumption Amidst COVID-19 Pandemic
The coronavirus (COVID-19) pandemic is expected to adversely affect custom dry ingredients blends market. Alerted by soaring caseloads and fatalities due to the pandemic, governments all over the world are enacting nationwide lockdowns, and social distancing regulations in order to break the trajectory. This has led to manufacturing slowdowns in the food & beverage industry due to shortage of staff, and raw materials. As such, custom dry ingredients blends market is poised to witness notable drop in consumption in the near term.
CUSTOM DRY INGREDIENTS BLENDS MARKET STRUCTURE ANALYSIS
Tier one companies are focusing on research and development to innovate new flavor in the custom dry ingredients blends.
Companies are focusing on acquisition and mergers to increase geographical reach and to broaden product portfolio.
Robust supply chain in the food industry helps food manufacturing companies to stay ahead of their competition.
New players are entering into the custom dry ingredients blends market due to which competition is getting intense.
Report Metric

Details

Base year considered

2018

Actual estimates/Historical data

2014 – 2018

Forecast period

2019 – 2029

Market Value in 2019

US$ 11,950.0 Mn

Segments covered

End Use Application, Nature, Form.  

Regions covered

North America, Latin America, Europe, APEJ, Japan, and MEA.

Key Players

ABS Food Ingredients, JES Foods, Blendex Company, H T Griffin Food Ingredients, Pacific Blends Ltd, Stewart Ingredient Systems Inc, Brisan Group, Brisan Group, Georgia Spice Company, and All Seasonings Ingredients Inc.

Growth Drivers

Increasing consumer demand for natural flavorings to boost sales.
Use of custom dry ingredients blends streamlining operation of food manufacturing companies.
Longer shelf life to increase applications of custom dry ingredients blends.

Report coverage

Revenue forecast, company share, competitive landscape, growth factors, and trends
Millennials Prefer Natural Ingredients, which is Chief Driver of Growth
Due to ongoing innovation and changing customer trends, there are considerable changes in researches undertaken on food and beverage ingredients. As a result, product developers have turned to new devices in digital technology, big data, artificial intelligence, and bioinformatics to stay in sync with food and beverage companies that need creative and unique thoughts to improve their market penetration. Food and beverage companies are also focusing highly on research and development activities to enhance the nutritional and multifunctional profile of their food items. 
Organic Custom Dried Ingredient Blends Exhibit Significant Growth
A significant rise in the demand for organic custom dried ingredient blends has been noticed in the recent years. Despite being relatively expensive as compared to conventional counterparts, global sales of organic custom dried ingredient blends has continued to grow. Increasing awareness among consumers about the health benefits of use of organic products has a positive impact on the global consumption of organic ingredients. Modern consumers are inclined towards organic items and are willing to spend more on healthier food products. Factors such as rising disposable incomes and growing concern regarding adverse effects of consuming grade-b food and artificial flavors is prompting consumers to shift to more healthy options. This in turn is increases the use of organic custom dried ingredient blends.
Use of Custom Dry Ingredient Blends Enables Streamlining Operation of Food Manufacturing Companies
Custom dry ingredient blending is a process that consolidates multiple nutrients into a single ingredient source, delivers high-quality, batch-to-batch uniformity of products and ingredients, increases homogeneity and consistency of the final product, reduces purchasing, warehousing and inventory costs, and minimizes waste and ingredient losses, which eventually helps big food manufacturers to streamline their operations. Increasing interests of manufacturers to streamline their process and deliver high quality products is thus a factor that contributes to growth of the custom dry ingredient blends market.
Conventional Custom Dry Ingredients Blends holds leading revenue share
Organic Custom Dry Ingredients Blends to showcase noteworthy CAGR
Flour Form Custom Dry Ingredients Blends holds major share in revenue share
Flakes Custom Dry Ingredients Blends to showcase significant Growth
Blend Flour application holds leading revenue share
Dehydrated Fruit/Vegetable Blend show high market growth
How Growth will Unfold
The concept of 'premiumization' is persuading the food and beverage industry at large, ranging beyond pricing to include incredible quality and a grander experience. Premiumization has improved consumer perception about high quality and value-added products with the right quality ingredients that promise improved health benefits. Consumers are thus willing to pay a premium price for products offering obvious health benefits - the only prerequisite being the promise of a unique offering that meets their basic dietary and health needs, along with sensory indulgence. The increasing awareness regarding health and wellness worldwide is one of the factors that contributes to the sales of natural food products and custom dry ingredients blends are one of them. These factors will also play a crucial role in influencing strategies adopted by key market players.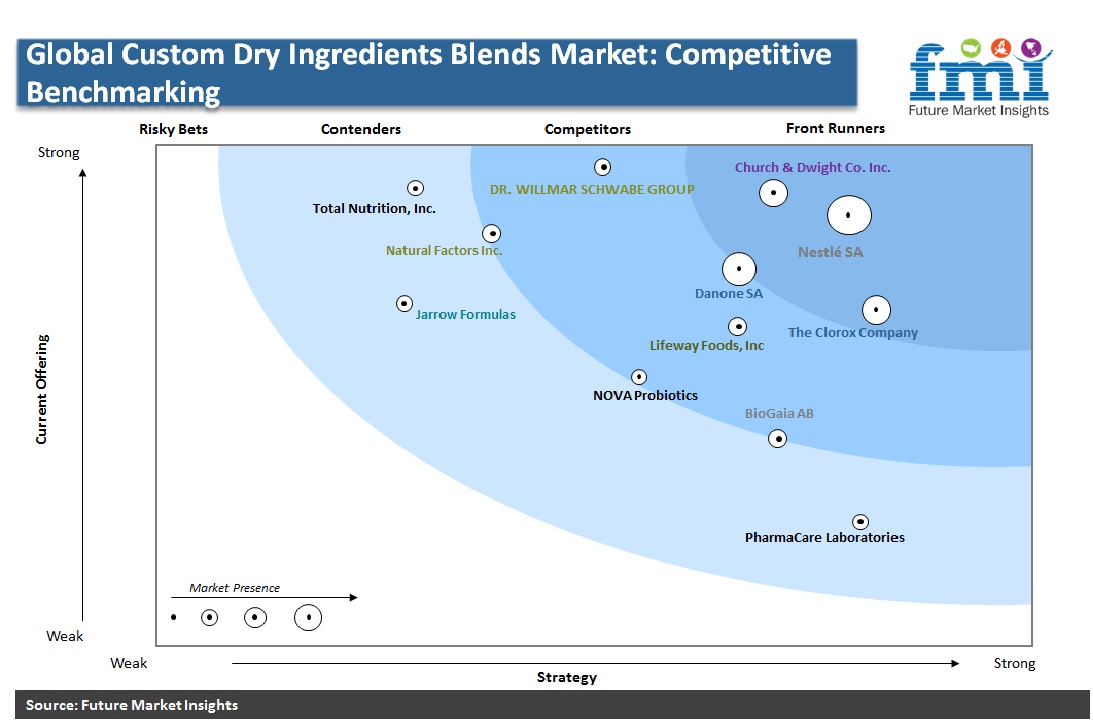 * This data is only a representation. Actual data may vary and will be available in report.
Click Here To Know How The Growth Will Unfold
Custom Market Research Services
FMI offers custom market research services that help clients to get information on their business scenario required where syndicated solutions are not enough.
Overview
Custom Dry Ingredients Blends Market: Global Industry Analysis 2014-2018 & Opportunity Assessment 2019-2029
A recent market study published by Future Market Insights on the Custom dry ingredients blends market offers global industry analysis for 2014-2018 & opportunity assessment for 2019-2029. The study offers a comprehensive assessment of the most important market dynamics. After conducting a thorough research on the historical, as well as current growth parameters, the growth prospects of the market are obtained with maximum precision.
Custom Dry Ingredients Blends Market Taxonomy
The Global Custom dry ingredients blends market is segmented in detail to cover every aspect of the market and present complete market intelligence to readers.
By End Use Application
Sauce Mixes
Seasoning Blends/Mix
Soups & Bouillons Mixes
Salad Dressing Spice Mixes
Bakery Mixes

Bread/Batter Mixes
Cake Mixes
Pancakes (Hotcakes) Mixes
Pastry Mixes
Muffins Mixes
Donuts Mixes
Brownie Mixes
Cookie Mixes

Cereal Mixes
Drink Mixes
Meat and Meat Products Mixes
Drehydrated Fruit/Vegetable Blend
Blended Flours
Food Service Industry
Form
Flake
Flour
Bran
Whole Form
Region
North America
Latin America
Western Europe
North & Eastern Europe
APEC
China
MEA
How the research was conducted?
Primary Research
C - Level Executives
Marketing Directors
Sales Heads
Production Managers
Distributors Heads
Sales Executives
Product Manufacturers
Distributors
Traders
Industry Experts
End Users
Current Market Dynamics and Challenges
Market Characteristics
Market Performance and Growth Quadrants
Competition Structure and Market Structure
Strategic Growth Initiatives
Near-term and Long-term Market Growth Prospects
Market Segment Splits and Authenticity
Opinions on Market Projections and Validity Of Assumptions
Secondary Research
Industry Publications

Industrial Week
Industrial Product Review
Industrial Magazine

Industry Associations

Dieticians Association
Food and Agriculture Organization

Company Press Releases
Annual Reports and Investor Presentations
Research Papers
Government Websites and Publications
Trade Websites
Primary Interview Splits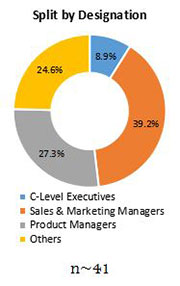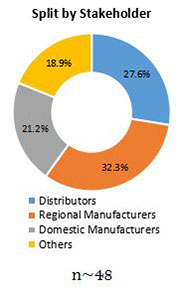 To Learn More About our Comprehensive Perspective on Custom Dry Ingredients Blends Market,
Get in touch
COVID -19 : Impact Analysis
Request the coronavirus impact analysis across industries and markets
Request Covid -19 Impact
CASE STUDIES
See how our work makes an impact.
At FMI, we design strategies that are adaptive, impactful, and implementable.