Custom Dry Ingredients Blends Market By End Use Application (Sauce Mixes, Seasoning Blends/Mix, Soups & Bouillons Mixes, Salad Dressing Spice Mixes, Bakery Mixes, Cereal Mixes, Drink Mixes, Blended Flours), Nature (Organic, Conventional), Form (Flake, Flour, Bran) & Region - Forecast to 2019 - 2029
Custom Dry Ingredients Blends Market - Analysis, Outlook, Growth, Trends, Forecasts
March 2020

REP-GB-9784

200 pages
Millennials Prefer Natural Ingredients, which is Chief Driver of Growth
Due to ongoing innovation and changing customer trends, there are considerable changes in researches undertaken on food and beverage ingredients. As a result, product developers have turned to new devices in digital technology, big data, artificial intelligence, and bioinformatics to stay in sync with food and beverage companies that need creative and unique thoughts to improve their market penetration. Food and beverage companies are also focusing highly on research and development activities to enhance the nutritional and multifunctional profile of their food items.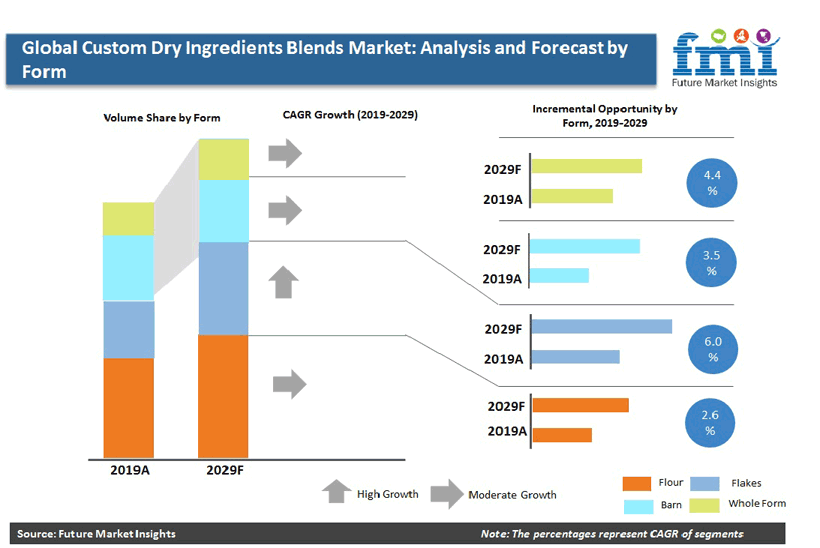 Organic Custom Dried Ingredient Blends Exhibit Significant Growth
A significant rise in the demand for organic custom dried ingredient blends has been noticed in the recent years. Despite being relatively expensive as compared to conventional counterparts, global sales of organic custom dried ingredient blends has continued to grow. Increasing awareness among consumers about the health benefits of use of organic products has a positive impact on the global consumption of organic ingredients.
Modern consumers are inclined towards organic items and are willing to spend more on healthier food products. Factors such as rising disposable incomes and growing concern regarding adverse effects of consuming grade-b food and artificial flavors is prompting consumers to shift to more healthy options. This in turn is increases the use of organic custom dried ingredient blends.
Use of Custom Dry Ingredient Blends Enables Streamlining Operation of Food Manufacturing Companies
Custom dry ingredient blending is a process that consolidates multiple nutrients into a single ingredient source, delivers high-quality, batch-to-batch uniformity of products and ingredients, increases homogeneity and consistency of the final product, reduces purchasing, warehousing and inventory costs, and minimizes waste and ingredient losses, which eventually helps big food manufacturers to streamline their operations. Increasing interests of manufacturers to streamline their process and deliver high quality products is thus a factor that contributes to growth of the custom dry ingredient blends market.
How Growth will Unfold
The concept of 'premiumization' is persuading the food and beverage industry at large, ranging beyond pricing to include incredible quality and a grander experience. Premiumization has improved consumer perception about high quality and value-added products with the right quality ingredients that promise improved health benefits.
Consumers are thus willing to pay a premium price for products offering obvious health benefits - the only prerequisite being the promise of a unique offering that meets their basic dietary and health needs, along with sensory indulgence.
The increasing awareness regarding health and wellness worldwide is one of the factors that contributes to the sales of natural food products and custom dry ingredients blends are one of them. These factors will also play a crucial role in influencing strategies adopted by key market players.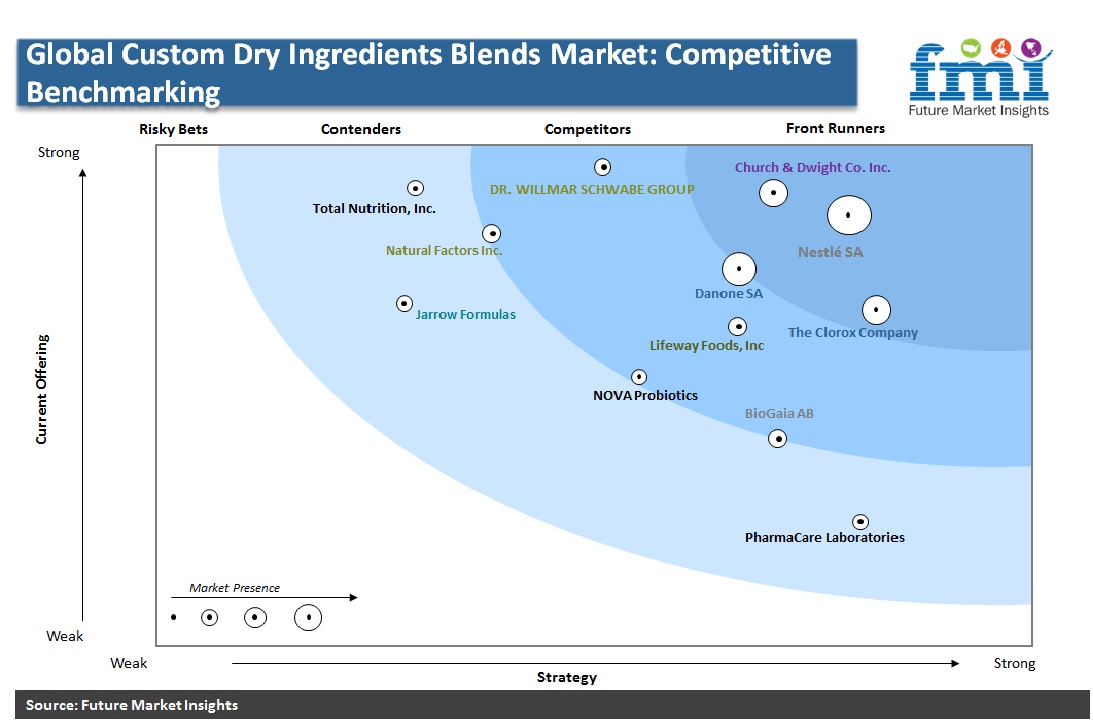 World's Most Profilic Intelligence Engine
Get Access To The World's Largest Market Research Database.
Sign Up Now
CUSTOM DRY INGREDIENTS BLENDS MARKET TAXONOMY
The Global Custom dry ingredients blends market is segmented in detail to cover every aspect of the market and present complete market intelligence to readers.
By End Use Application
Sauce Mixes
Seasoning Blends/Mix
Soups & Bouillons Mixes
Salad Dressing Spice Mixes
Bakery Mixes

Bread/Batter Mixes
Cake Mixes
Pancakes (Hotcakes) Mixes
Pastry Mixes
Muffins Mixes
Donuts Mixes
Brownie Mixes
Cookie Mixes

Cereal Mixes
Drink Mixes
Meat and Meat Products Mixes
Drehydrated Fruit/Vegetable Blend
Blended Flours
Food Service Industry
Nature
Form
Flake
Flour
Bran
Whole Form
Region
North America
Latin America
Western Europe
North & Eastern Europe
APEC
China
MEA
Need specific information?
Our Clients