Global Customized Premixes Market to Surpass US$ 2026.66 Mn by 2030
Global Customized Premixes Market to Surpass US$ 2026.66 Mn by 2030
The global customized premixes market is projected to reach US$ 2.0 Bn by the end of 2030. The market was valued at US$ 1.0 Bn in 2020. If these figures hold true, the market will exhibit a CAGR of 7.3% between 2020 and 2030. Asia-Pacific is the fastest growing region in the market since it is currently witnessing a higher demand for functional foods. In addition, demand for food with unique health benefits is expected to rise, creating growth opportunities for the market across the world.
Key Highlights
Customized Premixes Market - Key Research Findings
The global customized premixes market will expand at a CAGR of 7.3% over 2020-2030
Demand for powder customized premixes will remain considerably high than liquid form, which is forecast to gain traction gradually over the forecast period
With key manufacturers increase their investment in fortified foods, the market is likely to gain traction in the coming years
Several leading companies are likely to aim at capitalizing on opportunities prevalent in Asia. Rising working population and subsequently increasing demand for convenience food will strengthen growth prospects in the region
Inelasticity of the demand for customized premixes will enable the market maintain a sustainable growth despite quarantine and lockdowns issued to curb the spread of COVID-19
Key Factors Shaping Customized Premixes Market
Rising Health Concerns Support Growth
The increasing health concerns and awareness regarding associated health benefits of various foods and are encouraging consumption of functional food. Food & beverage businesses are dealing with significantly reduced demand and fragmented supply chains. At-home consumption has risen, but out-of-home consumption has almost come to a standstill – which traditionally produces the highest margin. Consumer behaviour and demand can change over long periods of time.
Focus on Maintaining Gut Health to Fuel Demand in Customized Premixes Market
Change in the eating habit is one of the prominent factors that is boosting the market for customized premixes. Irregular eating pattern has an impact on health, and environmental. The developed nations are also facing various health issues related to ageing populations, unbalanced diets, and high energy foods. The potential of functional foods in alleviating health issues, mainly the GI tract (gastrointestinal tract) infections boosting the growth of premixes market. Certain microbes of gut microflora have a very significant role in host health because of its participation in nutritional, physiological, and immunologic functions.
Customized Premixes Market: Structure Analysis
Some of the key players of the global customized premixes market are Glanbia plc., Vitablend, Corbion, DSM, Stern Vitamins GmbH, Arla, Cargill, Watson, The Wright Group and Farbest Brands.
In terms of volume and revenue, numerous global companies are contributing the downward growth to the globally customized premixes market.
North America and Europe's key players contributed leading shares to the world's personalized premixes market.
Report Metric

Details

Base year considered

2020

Historical Period

2015 – 2019

Forecast period

2020 – 2030

Market Value in 2020

US$ 1000.0 Mn

Segments covered

Form, Application, Nutrients, and Region

Regions covered

North America, Latin America, Europe, East Asia, South Asia, Oceania and MEA

Key Players

Glanbia plc., Vitablend, Corbion, DSM, Stern Vitamins GmbH, Arla, Cargill, Watson, The Wright Group and Farbest Brands

Growth Drivers

Innovative Advertisements for Customized Premixes Market
Increasing Supply Chain Transpency for Customized Premixes
Increasing Urbanization & Changing Food Pattern
Powder to Emerge as Leading Segment among Forms
Due to its durability, the powder segment is expected to account for a large share in the market and. Customized nutrient premixes are commonly used in powdered form as they are considered relatively more stable in the powdered form than in the liquid form. Furthermore, convenient packaging eliminates complexity in the supply chain processes, resulting in this type becoming more common. Powdered premixes cover a wide variety of food applications, including low-fat milk powders, health drink powders, soup mixes, and desert mixtures. The powder type is thus the dominant and fastest-growing segment on the custom premixes market.
Based on nutrients, the market can be segmented into vitamins, minerals, amino acids, nutraceutical and nucleotides. Of these, the demand for vitamins and amino acid segments are likely to register high demand.
North America Leads Global Market
The customized premix market in North America is expected to account for the largest revenue share contribution and is predicted to dominate the global market for custom premixes. Growth in this market is driven by rising demand for nutritious and functional foods. Demand witnessed in Europe is likely to rise considerably. The region will witness moderate sales of customized premixes. Rising awareness regarding various health benefits of customized premixes besides the increasing demand for fortified food items will support the expansion of the market in the coming years.
Awareness Regarding Healthy Lifestyles is Driving Market Growth
Customers are drawn towards ready-made meals and convenient foods, which in turn is driving the custom premixes market. From a nutritional standpoint, they prefer multiple ingredients rather than single ingredients. People are eating packaged foods to save time spent on cooking while fulfilling the basic nutrition requirement to fit their busy lifestyle. This is expected to promote the growth of the customized premixes market. Advertising and promotional campaigns on customized premixes will bolster their sales. Nonetheless, high prices of enriched and fortified products and incorrect labelling of food products may impede growth witnessed in the market to some degree.
Powder segment held the leading market share
Liquid segment forecast to higher rate of growth
Food and beverages segment holds dominance
Supplements and human health segment to rise at a higher CAGR
Amino acids segment holds dominance
Vitamins segment to rise at a higher CAGR
How Growth will Unfold
The increasing demand for fortified and functional foods as a result of increasing customer awareness regarding various nutrient-rich products used for improving taste, colour, and textureof food products is expected to drive the global personalized premixes market. Additionally, rising consumption of convenience foods, coupled with increasing demand for packaged food will enable growth in the market over the forecast period. Increasing consumption of processed and ready-to-eat food products in developed and developing countries will the expansion of the market. Rising inclination among consumers in favor of health-based food products and investment in R&D activities are expected to generate new sales opportunities for the market players.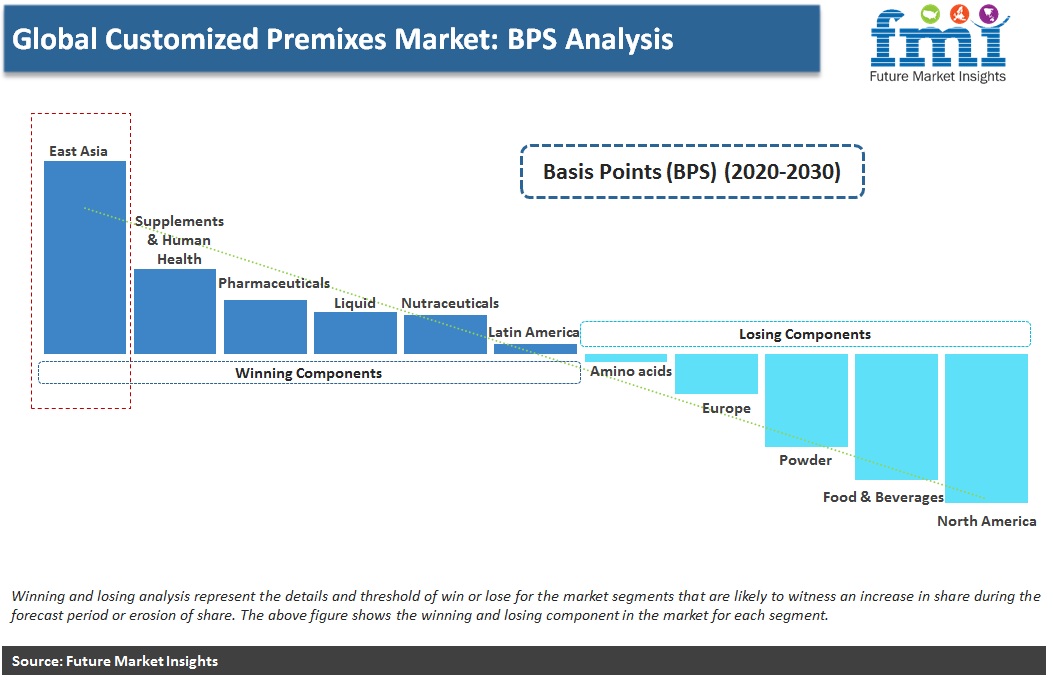 * This data is only a representation. Actual data may vary and will be available in report.
Click Here To Know How The Growth Will Unfold
Custom Market Research Services
FMI offers custom market research services that help clients to get information on their business scenario required where syndicated solutions are not enough.
Overview
Customized Premixes Market: Global Industry Analysis 2015-2019& Opportunity Assessment 2020-2030
A recent market study published by Future Market Insights on the Customized Premixes market offers global industry analysis for 2015-2019 & opportunity assessment for 2019-2029. The study offers a comprehensive assessment of the most important market dynamics. After conducting a thorough research on the historical, as well as current growth parameters of the Customized Premixes market, the growth prospects of the market are obtained with maximum precision.
Customized Premixes Market Taxonomy
The global Customized Premixes market is segmented in detail to cover every aspect of the market and present complete market intelligence to readers.
Nutrient
Vitamins
Minerals
Amino acids
Nutraceuticals
Nucleotides
Application
Beverages
Dairy
Cereals
Bakery & Confectionery
Nutrition products
Dietary supplements
Functionality
Bone health
Skin health
Energy
Immunity
Digestion
Region
North America
Latin America
Europe
Asia
Oceania
MEA
How the research was conducted?
Primary Research
C - Level Executives
Marketing Directors
Sales Heads
Production Managers
Distributors Heads
Sales Executives
Product Manufacturers
Distributors
Traders
Industry Experts
End Users
Current Market Dynamics and Challenges
Market Characteristics
Market Performance and Growth Quadrants
Competition Structure and Market Structure
Strategic Growth Initiatives
Near-term and Long-term Market Growth Prospects
Market Segment Splits and Authenticity
Opinions on Market Projections and Validity Of Assumptions
Secondary Research
Industry Publications

Industrial Week
Industrial Product Review
Industrial Magazine

Industry Associations

Dieticians Association
Food and Agriculture Organization

Company Press Releases
Annual Reports and Investor Presentations
Research Papers
Government Websites and Publications
Trade Websites
Primary Interview Splits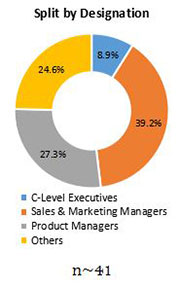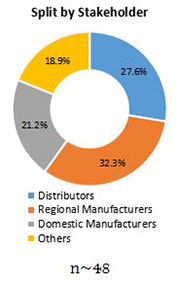 To Learn More About our Comprehensive Perspective on Customized Premixes Market,
Get in touch
COVID -19 : Impact Analysis
Request the coronavirus impact analysis across industries and markets
Request Covid -19 Impact
CASE STUDIES
See how our work makes an impact.
At FMI, we design strategies that are adaptive, impactful, and implementable.