Deblistering Machines Market Analysis: Growing Demand Generated by Pharmacies is Expected to Boost the Sales of Deblistering Machines
The global market for deblistering machines was valued around US$ 110 Mn in 2018. The deblistering machines market is projected to expand at a CAGR of 3.2% during the forecast period of 2019-2027.
Pharmaceutical and healthcare industries end up generating a large amount of medical waste every year which requires medical waste management system. This waste includes a sizeable amount of rejected blister packaging. Blister pack rejection might happen due to multiple reasons, such as incorrect product filling, incorrect batch coding, empty pockets, leak test failure, and others.Conventional manual deblistering used to be a laborious task done manually, which required a lot of time as well as manpower.
The use of deblistering machines enables the easy removal of drugs from blister packs so that they can be re-packaged into other blister packs by the manufacturer or pharmacy.
The global deblistering machines market has been segmented on the basis of automation type, machine output, and end user. The automatic deblistering machines segment holds a prominent share in the global deblistering machines market, which can be attributed to their extensive use by large-scale pharmaceutical manufacturers, followed by medical waste recyclers.
Deblistering machines can process all kinds of blister packs, such as child-resistant blisters, push-through blisters, paper-backed blisters, and multi-product blisters. All kinds of blister packaging formats need different deblistering techniques for deblistering. By machine output, the 30-60 bpm segment remains a prominent segment in the deblistering machines market, as most automatic as well as semi-automatic machines can process blisters at this speed.
Deblistering Machines Aid in Reducing Medical Waste and Disposal Costs Incurred by Pharma Manufacturers
Rejected blister packs need to be removed from the product line in order to either recover the medication or remove an expired drug. This creates a high demand for an efficient solution for deblistering. Pharma manufacturers use deblistering machines to empty blister packs and reuse them so as to minimize the waste generated by them, and also reduce costs at the same time.
The use of deblistering machines also aids in reducing their impact on the environment. Thus, deblistering machines are extensively used by pharma manufacturers, pharmaceutical contract packaging manufacturers, and medical waste recycling businesses. The need for reducing medical waste is expected to fuel the demand for deblistering machines during the forecast period.
Europe is Expected to Remain a Major Exporter of Deblistering Machines
Most of the tier 1 manufacturers of deblistering machines, such as Sepha Limited, RBP Bauer GmbH, O.M.A.R. S.r.l., Stripfoil Deblistering Technology, and others, are based in Europe. Established pharma manufacturers and other end users prefer using high quality European made deblistering machines rather than Taiwanese or Chinese made low-cost machines, as these machines many times fail to provide the output that they claim, plus the power consumption of these machines is also relatively higher.
Need for Low Volume and Compact Deblistering Machines at Pharmacies
Leading manufacturers of deblistering machines such as Sepha Limited and Omnicell Inc. are manufacturing automated deblistering machines for low volumes, which are ideal for short production runs and multiple changeovers. For instance,
Sepha's PressOut Universal Mini is an automated deblistering machine that can process a variety of blisters such as child-resistant and peelable blister packs. This unit works on the same cutting technology as the PressOut Universal (Sepha's automatic deblistering machine line), but is apt for lower volumes.
Recent Developments in the Global Deblistering Machines Market
In the year 2017, Scanware Electronic GmbH presented a single tablet inspection unit at the Interpack fair for deblistering machines designed by RBP Bauer GmbH. This unit individually inspects deblistered capsules and only passes the flawless products in packaging process.
In order to maximize usability, leading manufacturers of deblistering machines are providing innovative features such as two different blister sheet configurations, touch screen user interfaces, and variable speed control, along with adjustable deblister rings. Primarily, these features are intended to optimize operational capability while maximizing cost reduction in the deblistering process.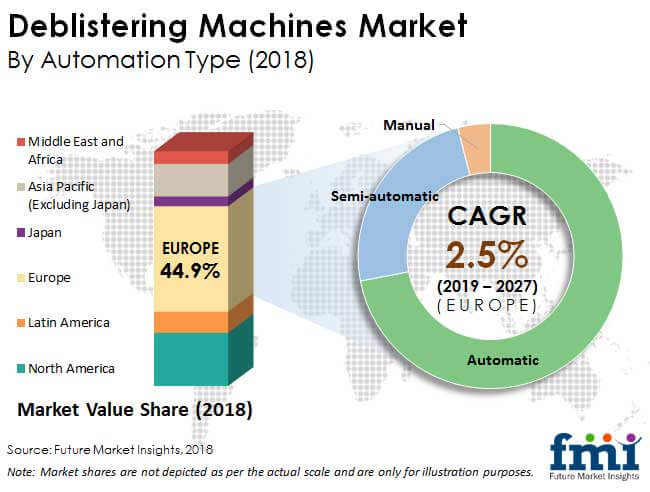 By automation type, the semi-automatic segment in the deblistering machines market was valued at around US$ 75 Mnin the year 2018. By machine output, the 30 to 60 bpm segment is anticipated to be the most rewarding segment in the global deblistering machines market. Pharma manufacturers are expected to be the most prominent end users of deblistering machines during the forecast period.
Global Deblistering Machines Market: Competitive Landscape
Detailed profiles of companies are also included in the deblistering machines marketreport to evaluate their strategies, key product offerings, and SWOT analysis, along with the recent developments.
Key players in the global deblistering machinesmarket are Omnicell, Inc., Sepha Limited, O.M.A.R. S.r.l., RBP Bauer GmbH, Uhlmann Pac-Systeme GmbH & Co. KG, Stripfoil Deblistering Technology, SaintyCo International Group, Nuova ICS Automazione SRL, Pearson Medical Technologies, LLC, and ACG Worldwide Private Limited, Pentapack NV, Jornen Machinery Co., Ltd., Healthmark Services, ELMACH Packages India Pvt. Ltd. and Jicon Industries. Many local and unrecognized players are expected to contribute to the global deblistering machinesmarket during 2019-2027.
Key Segments Covered in the Deblistering Machines Market
By Automation Type
Automatic
Semi-automatic
Manual
By Machine Output
Less than 30 bpm
30- 60 bpm
61 bpm and above
By End Use
Pharma Manufacturers
Pharmacies
Medical Waste Recyclers
Key Regions Covered in the Deblistering Machines Market
North America
Latin America

Brazil
Mexico
Rest of Latin America

Europe

Germany
U.K.
Spain
France
Italy
Rest Of Europe

Japan
Asia Pacific Excluding Japan (APEJ)

China
India
ASEAN Countries
AUS & NZ
Rest of APEJ

Middle East & Africa (MEA)

GCC Countries
South Africa
Northern Africa
Rest of MEA
Need specific information?