Destructive Testing Market By Device Type (Texture Analyzer, Moisture Analyzer), Configuration (Benchtop/ Table top, Stationed Units), Operation (AC Mains Supply, Battery Operated), End Use (Packaged Food, Dairy, Confectionery, Bakery) & Region - Forecast to 2021-2031
Destructive Testing Market - Analysis, Outlook, Growth, Trends, Forecasts
October 2021

REP-GB-13972

300 pages
Destructive Testing Market
In 2021, the destructive testing market grew by 4.8% year on year. Across the entire globe, the overall sales of equipment in destructive testing market is expected to surpass 355,908 units by 2031. As a result of soaring concerns pertaining to food safety and resultant integration of advanced technologies in production will enable growth in the market at 6% CAGR between 2021 and 2031.
Key Points Covered in Destructive Testing Market Survey
Destructive Testing Market Demand Outlook 2021-2031
Assessment of Historic Growth Trajectory for 2016-2020
Destructive Testing Market Size and Sales Estimation
Key Trend Analysis and Risk Assessment
Category-wise Assessment
Competition Assessment Amongst Key Destructive Testing Market Players
Pre and Post-COVID-19 Market Performance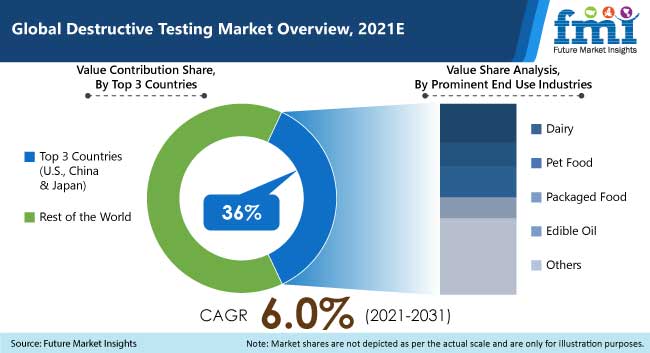 Destructive Testing Market Demand Outlook Comparison Between 2016-2020 and 2021-2031
The demand for destructive testing has hit all-time high, thanks to focus on food security. Industry players have upped their game with the introduction of cutting-edge technologies to prevent food contamination and microbiological hazards.
Food analysts are showing greater interest for obtaining information about diverse properties of food. Destructive testing offers data on various aspects of a food item, including their composition, structure, physiochemical properties and sensory attributes.
Focus on making tested good available in the market at a shorter time will encourage investment in destructive testing. Future Market Insights (FMI) identifies this as growth opportunity for the market.
Since the last five years, manufacturers have begun implementing Industry 4.0 norms. This will enable integration of smart digital technologies, machine learning, and big data in physical production and operations in the food industry. This also will offer a more holistic and better connected ecosystem for companies that focus on manufacturing and supply chain management.
Spurred by this, the demand for destructive testing is expected to increase at 6% CAGR in 2021-2031, in comparison to 5.4% CAGR registered in 2016-2020.
What Is the Impact of COVID-19 Crisis on Global Destructive Testing Market?
The destructive testing market growth is expected to be affected by the COVID-19 crisis and is expected to witness a substantial drop in demand in 2020. During this time capital expenditures in research and development of new products for almost entire food industry, including packed food, dairy, and other sectors were suspended which is expected to result in a significant drop in Y-O-Y growth. However, growth is projected to witness a V-shape recovery rate as the economic activity gets back to pre-crisis levels post the containment of pandemic.
Country-wise Insights
What % of Destructive Testing Sales will be based out of U.S.?
FMI has projected the U.S. to remain one of the lucrative markets throughout the course of the forecast period. One of the key factors supporting expansion in the U.S. is the growth in demand for dairy, pet foods, and packaged foods in the retail and foodservice sectors of the country.
Demand in the U.S. is expected to increase at little below 7% CAGR in the forthcoming years. As an established market for destructive testing, the U.S. is expected retain dominance in North America.
This is attributed to burgeoning retail and hospitality/ aviation based foodservice industry which has been clocking a healthy growth rate coupled with stringent quality and hygiene standards implemented by the U.S. Food and Drugs Administration and complied by processed/ packaged food manufacturers.
What are Prospects for Destructive Testing Market Growth in Japan?
Being the second leading shareholder in Asia, Japan destructive testing market is pegged to grow at over 6% CAGR during the period 2021-2031. In recent years, manufacturers are pursuing omni-channel sales, creating pool of new customers in the nation
Growth in fast food outlets and pet food and hospitality based packaged food markets in the country will support the market growth.
What's the Growth Outlook of Destructive Testing Market in France?
France destructive testing market is estimated to be the second leading in Europe and is projected to register highest growth during the forecast period. Pet foods and dairy industries have emerged as key end users of destructive testing technology and equipment in France.
EU regulations on food law covers definitions, procedural rules, and product-specific rules. Implementation of stringent regulations has bode well for the processed food industry based in France.
It defines general food safety and health protection rules, addresses labeling requirements, regulates inspection, detention, and seizure rules for suspect food. Other legislations within Europe state similar regulations for ensuring the safety of food, presentation, traceability, import, exports, etc.
Implementation of stringent food security laws will create scope for destructing testing application in the country.
Category-wise Insights
Which is the Preferred Configuration for Destructive Testing?
Benchtop based destructive testing units are likely to be preferred by end users on account of mobility in remote places and lightweight ergonomics in wake of smart devices. Therefore, the segment is expected to record increase in sales with substantial growth in the forecast period over its counterpart.
Which Operating type of Destructive Testing is most likely to be Preferred?
Battery operated or wireless based destructive testing device is expected to account for over (40%) of the bulk of demand for destructive testing equipment by the end of forecast period. This is due to the fact that several food and beverage companies strive for the speed with which they deliver finished and tested goods to the end-use markets.
Battery operated devices will enable instantaneous response which can be achieved using extended wireless networks, delivering end-results of tests directly to the computer/mobile phone/ laptop in no-time.
Which are top 3 End Users of Destructive Testing?
Dairy, packaged food and pet food segments are expected to be remain leading end users of destructive testing and are estimated to nearly half of market share. The cumulative average growth rate for the aforementioned segments is projected to be 5.6% during the forecast period.
Competitive Landscape
The destructive testing market is fairly consolidated, with weighted presence of tier-1 players operating in the market. The market has robust partnerships throughout the value chain and players exhibit high focus on innovations.
Compact destructive testing equipment is being used by manufacturers to improve operations and reduce liability. Manufacturers are developing equipment that may be used in a wide range of sectors. They also are designing multi-functional solutions to decrease the overall cost.
Scope of Report
Attribute

Details

Forecast Period

2021-2031

Historical Data Available for

2016-2020

Market Analysis

USD Million for Value and Volume by Units

Key Regions Covered

North America, Latin America, Europe, East Asia, South Asia & Pacific, Middle East & Africa

Key Countries Covered

US, Canada, Brazil, Mexico, Germany, Italy, France, UK, Spain, BENELUX, Russia, NORDICS, China, Japan, South Korea, India, ASEAN, ANZ, GCC Countries, Turkey, and South Africa

Key Segments Covered

Device Type, Configuration, Operation, End Use, and Region.

Key Companies Profiled

Thermo Fisher Scientific
Ametek Mocon
Mettler Toledo
METER Group, Inc.
Anéolia
WITT-GASETECHNIK GmbH & Co KG (Oxybaby)
Metrohm
PCE Deutschland GmbH
Sartorius AG
KERN & SOHN GmbH
OHAUS
Xylem, Inc.
Shimadzu Corporation
IMADA Co., ltd.
Hanna Instruments, Inc.
Texture Technologies Corp.
S.I. Instruments

Report Coverage

Market Forecast, Company Share Analysis, Competition Intelligence, DROT Analysis, Market Dynamics and Challenges, and Strategic Growth Initiatives

Customization & Pricing

Available upon Request
Key Highlights from Report
Which is the most Lucrative Regional Market for Destructive Testing?

North America is expected to spearhead the growth as well as consumption in the global market for destructive testing. The U.S. will emerge as the leading market in North America.

Which Device Type is Deemed Top-selling Segment in Destructive Testing Market?

Texture Analyzer is expected to remain top-selling device type in the market.

Who Is the Leading End User For Destructive Testing Devices?

Pet Food is expected to remain a highly lucrative end-use vertical for destructive testing, registering impressive growth through 2031.

Which Are Some Of The Leading Companies Offering Destructive Testing Devices?

Top players in the market are Thermo Fisher Scientific Inc., Ametek Mocon, Shimadzu Corporation, Xylem Inc. and Sartorius AG. These companies are expected to account for over 67% of sales in the market in 2021.

What Is The Destructive Testing Market Demand Outlook?

The demand for destructive testing within the food sector is expected to rise at 6% CAGR between 2021 and 2031.

What Is The Projected Destructive Testing Market Value?

The overall market valuation is expected to surpass US$ 3.1 Bn by 2031.

Who Are The Key Exporters Of Destructive Testing Equipment?

The U.S. and Germany are key exporters of destructive testing equipment.

What Is The Demand Outlook For Destructive Testing Market In North America?

The demand for destructive testing equipment will increase at 7% CAGR in North America through 2031.

At What Rate Will The Demand For Destructive Testing Rise In Europe?

The demand for destructive testing is expected to increase at 6.3% CAGR in Europe between 2021 and 2031.

What Is South Korea's And Japan's Contribution towards Global Sales of Destructive Testing Equipment?

Japan and South Korea are expected to account for 10% of global sales in 2021.
World's Most Profilic Intelligence Engine
Get Access To The World's Largest Market Research Database.
Sign Up Now
Global Destructive Testing Market by Category
By Device Type:
Texture Analyzer
Moisture Analyzer
Corrosion Detector/ Tester
Pressure/ Burst Tester
Karl Fischer Titrator
By Configuration:
Benchtop/ Table top
Stationed Units
By Operation:
AC Mains Supply
Battery Operated
By End Use:
Packaged Food
Dairy
Confectionery
Bakery
Pet Foods
Frozen Food
Edible Oil
Snacks
By Region:
North America
Latin America
Europe
East Asia
South Asia Pacific
Middle East and Africa
Need specific information?
Our Clients