KEY FACTORS SHAPING GLOBAL DIGITAL POWER CONVERSION MARKET
Expansion of Consumer Electronics Space
Rising disposable income, expanding middle class demographics, rapid urbanization, and education attainments are driving the consumer electronics market growth in developing countries like India and Brazil. Consumers are increasing their spending on products designed to be used by single consumer rather than a group of people.
This is stimulating the demand for certain consumer electronics categories, namely smart home appliances, including smart TV and smart refrigerators. This is projected to drive the digital power conversion market growth in coming years.
Increasing Adoption of Advanced Power Control Solutions
Digital power conversion product applications are on the rise in the automotive industry. The production of power trains, automatic and self-driving cars is increasing with advanced technologies. Due to this, the demand for digital power conversion products is expected to rise.
Developed economies are providing locomotive products, services, and other infrastructure facilities to developing countries like India for their smart city projects. Manufacturers are also offering more advanced power control technologies. All these factors are expected to drive the digital power conversion market growth.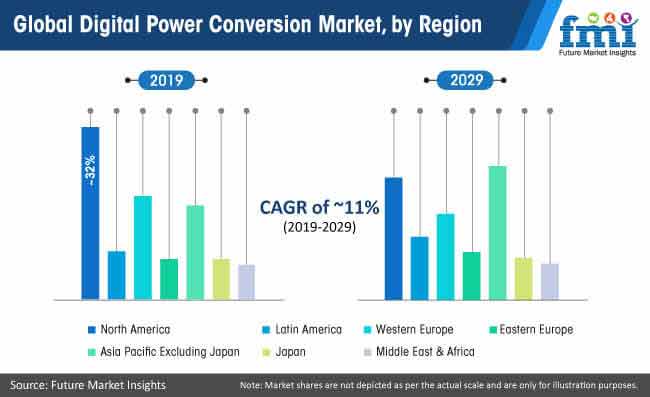 Asia Pacific's Growing Opportunistic Potential
Major digital power conversion solution providers are focused on expanding their business across Asia Pacific countries such as India and China. Increasing investments in digitalization by governments in these countries have led numerous companies to intensify their businesses. Furthermore, there is high manufacturing activities in India, by focusing more on local manufacturing rather than importing products from other countries. In addition, the invention of mobile devices is rising.
This is projected to drive the growth of telecommunication and infrastructure industries, which in turn, is expected to generate significant growth opportunities for the digital power conversion market during the forecast period.
DIGITAL POWER CONVERSION MARKET STRUCTURE ANALYSIS
The global digital power conversion market has a competitive market, where most of the key players are maintaining a strategic emphasis on business collaborations and product developments to achieve a stronger global sales footprint.
Growing application areas for digital power conversion and competitive market have resulted in manufacturers differentiating and increasing their products. Such factors bring a competitive edge to the desired end-use industry and strengthen its market share.
Leading manufacturers of digital power conversion account for around 40% of the overall market. Vendors like Ericsson AB and Texas Instruments Inc. are among the industry's biggest and most successful, with broad geographic exposure worldwide.
Opportunities Abound in Automotive and Communication Infrastructure
Digital power conversion is widely used in communication infrastructure. However, advent of digital power conversion has broadened the application scope across various industrial verticals. In recent years, robust, cost-effective, and efficient digital power converters are witnessing traction in automotive industry, wherein DC to AC converters are specifically used to charge vehicle batteries. Automotive and communication infrastructure industries will continue to account for over half the market value throughout the projection period.
APEJ Set to Overtake Developed Regional Markets
North America currently leads the digital power conversion market, closely followed by Western Europe. High adoption of HEVs and significant demand for cloud computing applications will drive the growth of the digital power conversion market in these regions. However, there are strong possibilities of Asia Pacific excluding Japan (APEJ) outpacing North American market by 2029 end, as regional governments of former are rapidly augmenting investments in digitalization and telecom infrastructure development.
Efficiency and Endurance Remain Critical to Improve Sales
Leading market players account for nearly 40% of total market revenues. Prominent companies such as Texas Instruments Inc., and Ericson AB have strong global presence. To have a stronghold in global market, key companies continue to focus on efficiency and durability of their digital power converters. In addition, several market players are following the thriving trend of tailor-made power conversion solutions.
How Growth will Unfold
Although AC/DC converters are expected to remain the gold standard of digital power conversion, the demand for isolated DC-DC converters will gain ground in the near future. Isolated DC-DC converters are one of the most critical components of power management systems.
Further, adoption of DC-DC converters is set to expand 3X over the forecast period. In addition, participants in the global digital power conversion market whould focus more on improving the efficiency of DC-DC converters while designing the power supply framework.
DIGITAL POWER CONVERSION MARKET TAXONOMY
The global digital power conversion market is segmented in detail to cover every aspect of the market and present a complete market intelligence approach to the reader.
Product
AC/DC
Isolated DC/DC
Sequencers
DC/AC
Power Conditioning/Active Power Filtering
Hot Swap
Application
Communication Infrastructure
Enterprise & Cloud Computing
Automotive
Industrial
Region
North America
Latin America
Western Europe
Eastern Europe
Asia Pacific
Excluding Japan
Japan
Middle East and Africa
Need specific information?