ELECTRONIC LAB NOTEBOOK (ELN) SOFTWARE MARKET - KEY RESEARCH FINDINGS
The global electronic lab notebook (ELN) software market was valued at ~US$ 307 Mn in 2018.
The electronic lab notebook software market is expected to grow at a CAGR of ~13.3% during the forecast period of 2019-2029.
Growing automation in laboratories and technological advancement are creating potential growth opportunities for the electronic lab notebook (ELN) software market. However, other factors such as emerging cloud-based technology, rising government focus on digitization and laboratory infrastructure, and growing life science industry are driving market growth.
North America is a prominent region in terms of value in the electronic lab notebook market, which accounted for market share of ~27% in 2018. Digitalization trend is increasingly gaining popularity in labs of various industries and sectors. Increasing government funding for research activities as well as growing trend of bio-banks in major countries have increased the usage of electronics lab notebook over conventional paper lab notebook practices.

Factors such as capability of ELN to help access, analyse and share data, which are not possible in case paper lab notebook, improved quality, and compliance are projected to be responsible for the prominence of regional markets in Asia Pacific Excluding Japan.

In order to offer electronic lab notebook (ELN) software, providers are opting for mergers and acquisitions with other prominent players to meet its growing demand in various end-use industries, including pharmaceuticals, chemicals, and academics.

For instance, in August 2019, Agilent completed the acquisition of BioTek Instruments to expand the global presence in biopharma, academia and research, as customers required complex cellular environments and interactions.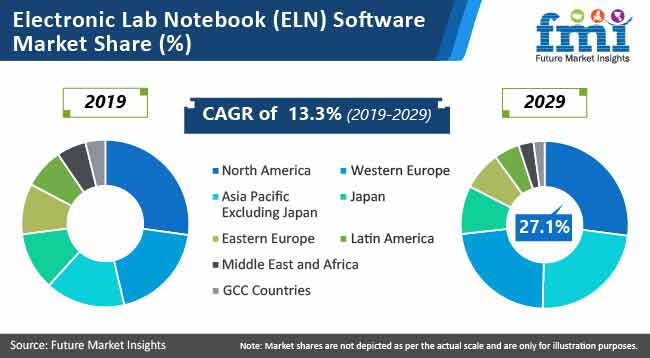 KEY FACTORS SHAPING ELECTRONIC LAB NOTEBOOK (ELN) SOFTWARE MARKET
Growing Need for Efficient Data Management to Have Positive Impact
Professional laboratories deal with vast volumes of data that need to be efficiently recorded and maintained for various purposes. Over the years, the daily recording of laboratory activities has become increasingly essential. The traditional method of manually recording data often resulted in data loss, forgery, or other such security-related issues. An electronic lab notebook, on the other hand, is capable of storing data related to lab experiments or researches.
It enables the user to access stored data for future reference and data sharing. Also, it helps in storing data in an orderly manner and ensures data safety. Thus, owing to the efficiency and ease of data maintenance offered by ELN, popularity among labs is increasing globally, which is further driving market growth.
Increased Application of ELN over Traditional Lab Notebooks
The need to reduce documentation time and promote easy search of data in the pharmaceutical industry are projected to be responsible for propelling the electronics lab notebook market growth, during the next few years. Moreover, ELN provides various benefits over conventional lab notebook. Electronic lab notebook offers different advantages such as ease in terms of searching for data, efficient record keeping, data management, portability, permanent data storage facility, lower possibility of a loss of sensitive and crucial data, and others.
Raising Awareness of Technological Advancements
In the recent past, many researchers and scientists have been using paper lab notebooks for maintaining records of activities and data generated in labs. However, digitalization is a trend that is rapidly gaining traction in labs for record-keeping. Growing awareness about time constraint and cost-efficiency offered by an electronic lab notebook system are resulting in a steady and gradual shift among scientists and researchers towards ELN solutions, which are also driving their demand in public and private labs globally.
Growth Opportunities in Asia Pacific Region
The electronic lab notebook (ELN) software providers are focusing on increasing their business opportunities across countries in the Asia Pacific region due to rising availability and awareness of laboratory solutions. Moreover, increasing number of clinical trials in emerging economies such as India, China, and Singapore are also expected to drive the growth of the APEJ electronic lab notebook market.
ELECTRONIC LAB NOTEBOOK (ELN) SOFTWARE MARKET STRUCTURE ANALYSIS
The global electronic lab notebook (ELN) software market consists of competition landscape, where majority of key players are focusing on cloud-based ELN, mergers & acquisitions, and strategic partnerships and collaborations to target a strong global footprint.
The global ELN software market represents a fairly consolidated competition landscape, where prominent key players focus on the digitalization, web and cloud-based ELNs, joint ventures, and wide distribution networks.
Tier-1 electronic lab notebook (ELN) software providers account for ~60% of the overall market. Key participants such as Dassault Systems SA., PerkinElmer, Inc., Abbott Informatics Corp., Agilent Technologies, Waters Corporation, Thermo Fisher Scientific Inc., LabArchives LLC., ID Business Solutions Ltd., LabWare, Inc., and Scinote LLC are among the largest and most experienced companies in the electronic lab notebook (ELN) software market, with a significant regional coverage across the globe.
Academic and Pharmaceutical End Users Account for 50% Share
Academic institutions and pharmaceutical industry account for a collective revenue share of nearly half of the global market value. Concerns over reproducibility and dire need to streamline documentation have played a crucial role in boosting the demand for electronic lab notebook software. With the onset of cutting-edge ELNs that save significantly on time and effort, their adoption for data searching, copying, and archiving will witness a steep rise in the following years. Demand from academic institutions will particularly reflect 4.5X growth over the assessment period.
Developed Regional Markets Remain in Bandwagon
Owing to large scale advances in technology and solid market presence of global leaders, North America and Western Europe will remain at the forefront of electronic lab notebook software adoption. Further, progress in cloud technology and data analytics, coupled with the advent of bio-banks, would be offering lucrative opportunities to companies operating in these regions.
However, owing to growing investments towards digitalization and laboratory infrastructure across nations such as China, South Korea, and India, a paradigm shift towards digital data management and documentation can be observed.
Market Stakeholders Focusing on User-friendly Features
As digital lab notebooks continue to gain acceptance as an ideal replacement for paper notebooks, stakeholders are focusing on improving the 'user-friendly' quotient of their products. In addition, user experience and ease-of-use along with pricing are some of the leading factors that influence the purchasing decisions of end-users.
How Growth will Unfold
In the current scenario, the demand for open-source electronic lab notebooks is on the rise particularly in multiple nations across Western Europe. However, although open source license type is gaining traction, proprietary electronic lab notebooks will remain highly preferred owing to the dwindling storage prices. In addition, the adoption of proprietary electronic lab notebooks is on the rise owing to high demand from academic institutions that tend to make investments that rely on long-term returns.
ELECTRONIC LAB NOTEBOOK (ELN) SOFTWARE MARKET TAXONOMY
The global electronic lab notebook (ELN) software market is segmented in detail to cover every aspect of the market and present a complete market intelligence approach to readers.
Solution
Software

Laboratory Information Management
System Platform
Electronic Lab Notebook Software

Services

Validation Services
Consulting Services
Implementation & Integration Service
Support & Maintenance
Training
Deployment
Enterprise Size
Industry
Healthcare & Life Sciences
Energy
Food & Beverages
Academic & Scientific Research
Petrochemicals
Mining & Metals
Others
Pricing Model
Subscription Model

Monthly Subscription
Annual Subscription

One- Time License
Region
North America
Latin America
Western Europe
Eastern Europe
Asia Pacific excluding Japan
Japan
Middle East & Africa
GCC Countries
Emerging Countries
Need specific information?