Fluorinated Solvents Hold Prominence with Nearly 70% Share
Solvent-based cleaners are highly efficient, offering a convenient single-phase cleaning process and a broader temperature cleaning range. Usage of fluorinated solvents is equivalent to nearly 70% share of total sales, and, as such, they are the largest contributors to global market revenue.
Their benefits such as zero ozone depletion potential, low global warming potential, and high solvency, have been drawing huge attention from manufacturers. As formulated hydrocarbon solvents are steadily emerging as a cleaning solution for PCBs and other electronic goods, they exhibit the potential to reshape market strategies in the near future.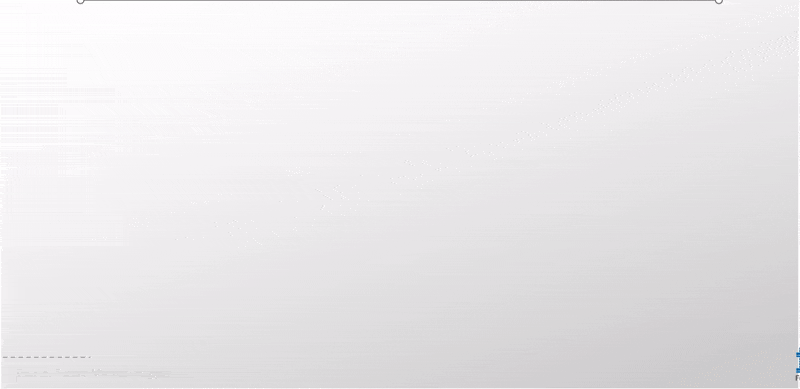 Strong Presence of Electronics & Electrical Manufacturers Drives Market in APEJ
Considering the strong foothold of automotive and consumer electronics industries, the electronics cleaning solvents market in APEJ will stay ahead of the curve through 2029. Moreover, the emergence of new electrical & electronics entrants in the industry is setting high hopes for manufacturers. While leading players would be better positioned to expand their customer base through application-centric solutions, rise of industrial automation is influencing manufacturers to upgrade their existing business models and supply chains.
Customization – A New Disruptive Trend
As tech-enabled innovations pick pace in the electronics sector, including nanotechnology and micro electromechanical systems (MEMS), industrial end users are expecting customized solutions that can sustain in extreme conditions, and, in turn, require electronics cleaning solvents for their prolonged performance. Thus, manufacturers in the electronics cleaning solvents market are turning their attention towards customized solvents for specific application areas to gain substantial increase in revenue, margins, and profits.
For instance, Tesla Blatna, A.S. develops customized electronic modules for various electronic equipment - a comprehensive solution starting from hardware and software development and finishing with automated testing of the finished product.
How Growth will Unfold
The vapor phase degreaser cleaning process has been maintaining a positive trend, up at a 5.6% CAGR. By the end of the forecast period, electronics cleaning solvents in this industrial degreaser process would record a value of over US$ 600 Mn.
However, this share in the market is likely to weaken gradually, despite being a preferable cleaning process in the electronics industry. Meanwhile, the separated co-solvent process, which uses formulated hydrocarbon solvents as cleaning agents, is utilized extensively in the printed circuit board (PCB) industry, owing to its better cleaning outcomes.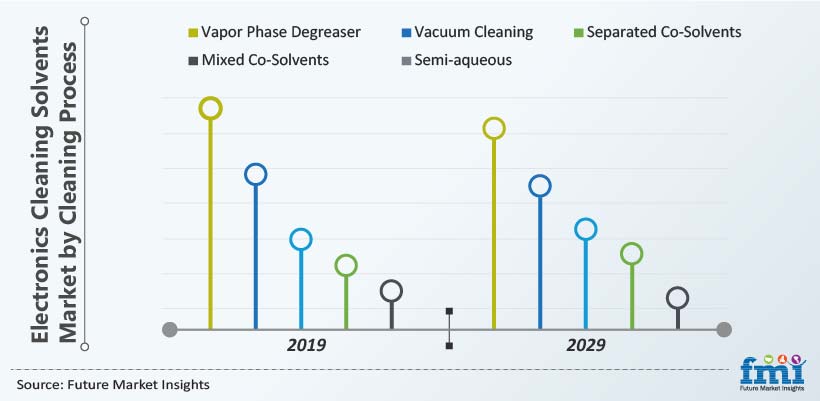 FREQUENTLY ASKED QUESTIONS ABOUT GLOBAL ELECTRONICS CLEANING SOLVENTS MARKET
How will the electronics cleaning solvents market fare in the coming years?
The demand for electronics cleaning solvents is anticipated to be majorly generated from the industrial and residential electrical & electronics market, as these are used to clean electronic products. The market is expected to grow at a decent pace over the coming years, owing to increase in consumption from growing end-use sectors. The global electronics cleaning solvents market is expanding at a steady rate, supported by growth of the automotive and electrical & electronics industries, along with other end users.
Will the electronics cleaning solvents market head towards consolidation?
Currently, the market is partially consolidated; however, it is projected to head towards fragmentation, with an increase in tier II and III players in the electrical and electronic industry. This factor could result in the fragmentation of the electronics cleaning solvents market. Although, if major manufactures successfully implement growth strategies such as mergers and acquisitions, the market could remain consolidated.
What are the major challenges observed in the electronics cleaning solvents market?
While the electrical & electronics industry continues to influence growth strategies, end users and manufacturers tend to face multiple challenges in the electronics cleaning solvents market. In cases where electronics cleaning needs to be combined with deposition of protective coatings such as rust preventives or addition of a surface finish such as a brightener, the aqueous cleaning process is considered to be more effective. Cleaning solvents are highly volatile in nature, and require effective storage techniques, which adds to the cost of using electronics cleaning solvents.
Which region will lead the global sales for electronics cleaning solvents?
APEJ (Asia Pacific Excluding Japan) is anticipated to lead as far as sales are concerned in the electronics cleaning solvents market, with the emergence of China as a prominent consumer. The region also has high as well as emerging presence of automotive, consumer electronics, electrical & electronics, and aerospace industries.
ELECTRONIC CLEANING SOLVENTS MARKET TAXONOMY
Product Type
Formulated Hydrocarbon Solvents
Glycols & Glycol Ethers
Fluorinated Solvents
Brominated Solvents
Light Petroleum Distillates
Cleaning Process
Vapor Phase Degreasers
Vacuum Cleaning
Mixed Co-solvents
Separated Co-solvents
Semi-aqueous
Region
North America
LAMEA
Europe
Asia Pacific Excluding Japan (APEJ)
Japan
Need specific information?