Electronic Stethoscopes- Key Research Findings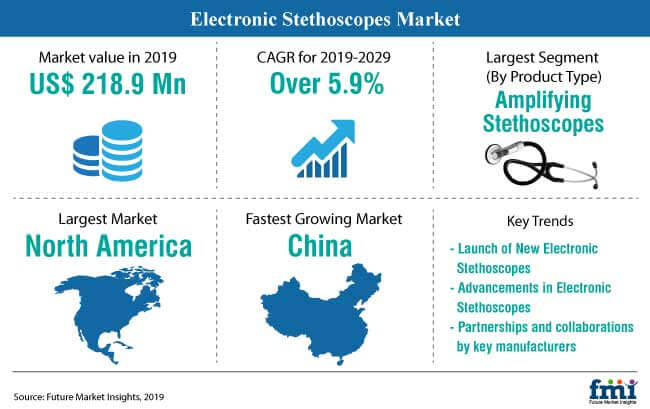 Global electronic stethoscopes market size in 2018 – nearly US$ 210 Mn
The electronic stethoscopes market is projected to record a CAGR of 5.9% during the forecast period (2019–2029).

According to the US Centers for Disease Control and Prevention (CDC), the prevalence of Coronary Heart Disease (CHD) among the US population was more than 43% in 2018.
According to American Heart Association, in 2018, cardiovascular disease accounted for nearly 836,546 deaths in the U.S., which is about 1 of every 3 deaths in the country.

North America and Europe will continue to hold dominant revenue share in electronic stethoscopes market.

Advancements in technology, the adoption of new electronic stethoscopes, and increase in population suffering from cardiac disorders are likely to contribute to the significant growth of the electronic stethoscopes market.

East Asia holds high growth potential for the electronic stethoscopes market due to the rising demand for new medical devices and increase in healthcare spending.
Sales of amplifying stethoscopes accounted for a significant share of the electronic stethoscopes market revenue.

Greater ease of operability, low maintenance cost, and high accuracy in providing amplified sounds has led to the wide use of amplifying electronic stethoscopes.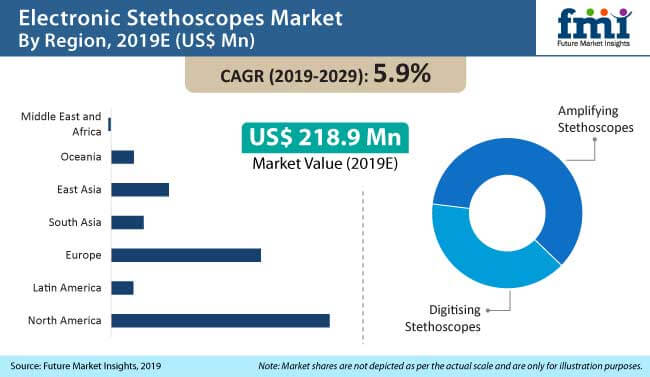 Top 3 Factors Shaping the Electronic Stethoscopes Market
Advantages over conventional stethoscopes boosting the market

Electronic stethoscopes have overcome the drawbacks of conventional stethoscopes. Conventional stethoscopes are currently outdated, which is boosting the preference for electronic stethoscopes. Electronic stethoscopes have several advantages over conventional stethoscopes, for instance, they can amplify cardiac and lung sounds more appropriately. They can convert the acoustic signals of auscultated sound into digital signals, which are processed further for optimal listening.

In addition, electronic stethoscopes reduce external noise and help medical professionals identify the signals and mentor them properly. Some of the electronic stethoscopes that are currently in the market are the 3M Littmann electronic stethoscope, Cardionics E-scope, eKuore Pro digital stethoscope, Thinklabs One Digital Stethoscope, and AD Instruments MLT209. Owing to the abovementioned factors, electronic stethoscopes are gaining more popularity, which is resulting in market growth.

Increasing availability of technologically advanced electronic stethoscopes

Manufacturers are currently focusing on developing electronic stethoscopes by providing greater ease of operability. Some electronic stethoscopes in the market can record and replay audio signals as well as the sound captured by them.

Electronic stethoscopes have the capability to amplify and adjust the frequencies for listening, which facilitates the diagnostic capacity. In addition, with advancements in technology, manufacturers have developed electronic stethoscope that are fully Android-based, just like smartphones.

For example, in April 2018, Steth IO launched a smartphone-based digital stethoscope that received FDA approval in 2016. Similarly, in August 2016, Eko launched the first Android–connected digital stethoscope. Advancements in technology are resulting in new developments in electronic stethoscopes, and this is another factor that is expected to drive the market in the near future.

The usage of electronic stethoscopes is likely to improve healthcare delivery across the world

Stethoscopes help professionals hear the sounds of the heart and lungs. Technological advancements have resulted in the advent of electronic stethoscopes, which have enabled medical professionals to improve their diagnostic capabilities. Electronic stethoscopes have the ability to convert acoustic sounds into digital sounds, which provides optimal listening. Since they minimize the external noise, doctors find it easy to identify and detect the sound and provide the appropriate treatment for several diseases.

Accuracy is another important factor that has resulted in the growing popularity of electronic stethoscopes among healthcare professionals. Thus, the increasing adoption of electronic stethoscopes is expected to result in better treatment, which will, in turn, be beneficial for healthcare providers as well as patients in the coming years.
Electronic Stethoscopes Landscape Transitioning Towards the Connected Future of Telemedicine
With the advent of next-generation technologies, such as Internet of Things (IoT) and Artificial Intelligence (AI), leading manufacturers are launching advanced electronics stethoscopes. Wireless electronic stethoscopes that can be connected to various devices, such as mobiles and laptops, are becoming the fastest-growing segment as the healthcare industry is advancing towards a smarter future with state-of-the-art telemedicine products.
Noise Cancellation, Dearth of Skilled Professionals, and High Cost Create Challenges
The electronic stethoscope market is witnessing steady growth, however manufacturers are struggling to push profitable sales and trigger adoption across various healthcare organizations. Low penetration in developing countries is one of the primary factors to restrict market growth, which is mainly attributed to the lack of skilled healthcare professionals and high cost of electronic stethoscopes. Manufacturers are integrating noise canceling modules with electronic stethoscopes to ensure accurate results, however failing to achieve reduction in production costs.
North America to Lead the Market with High Healthcare Spending
The North American healthcare industry is undergoing digitalization with the increasing per capita spending on healthcare services. A mounting number of healthcare organizations are shifting to digital medical devices to boost medical outcomes, which is providing an impetus to the sales of electronics stethoscopes in the region.
While North America maintains the lead with the largest revenue share of the market, the healthcare industry in the Asia Pacific region has witnessed a quantum leap with a significant rise in medical tourism across the region. Manufacturers are likely to expand their footprint in South-East Asian countries along with the North American region in the upcoming years.
What Does it Mean for Manufacturers?
The global demand for amplifying electronic stethoscopes will only increase with time and intensifying competitive in the market will boost manufacturers to adopt new technologies to launch innovative products in the market to gain an edge.
Leading manufacturers are introducing unique features of amplifying electronic stethoscopes to cater to healthcare professionals with specialized needs, such as professionals with hearing loss, to remain ahead of the curve. Innovation will become inevitable in the cut-throat competition in the electronic stethoscopes market in the foreseeable future.
Key Segment
By Product Type
Amplifying Stethoscopes
Digitizing Stethoscopes
By Application
Integrated Chest-Piece System
Wireless Transmission System (Bluetooth)
Integrated Receiver Head-Piece System
Other
By End User
Hospitals
Clinics
Medical Institutes
Ambulatory Surgical Centers
Homecare Settings
Medical Camps
Catheterization Laboratories
By Region
North America
Latin America
Europe
South Asia
East Asia
Oceania
MEA
Need specific information?
Talk Show:
The Rise of Intelligent Packaging
Personalized, Connected and Sustainable
November 18, 2021
11:00-11:45 AM PST (USA & Canada)
This is a LIVE session